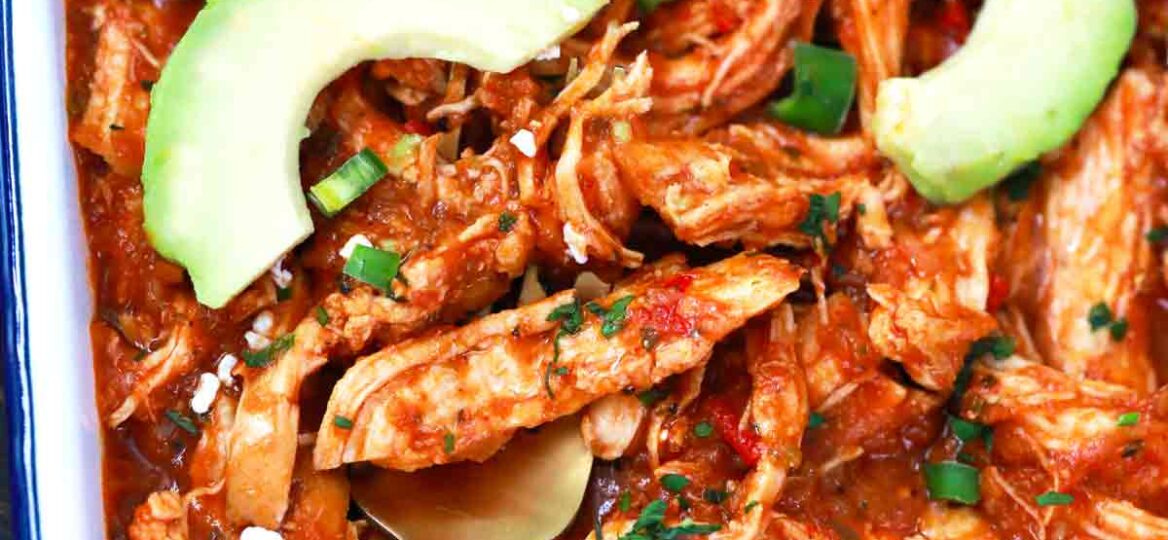 Chicken Tinga is a Mexican dish made with chicken breasts, lime, onion, chiles, chipotle peppers, tomatoes, chicken broth, and a few other ingredients. The whole thing takes less than an hour and will serve the entire family.
The meat is great to serve on rice, tacos, quesadillas, or stuffed into wraps. Also, you can use it on top of salads or make sandwiches. For an even spicier taste, drizzle some of this homemade Chipotle Sauce over it after cooking. In addition, if you want to try another fantastic and easy chicken meal, try this Blackened Chicken recipe.
Mexican Chicken Tinga or Tinga de Pollo
Chicken tinga is a great Mexican recipe also known as tinga de Pollo, which is great served in tacos! It can be a meal on its own and will go with instant pot Mexican rice or with this amazing Mexican street corn recipe.
The combination of garlic, chiles, and adobo sauce with the onion contrasts work well with the honey and brown sugar for an especially zesty but sweet flavor, unlike any other chicken dish you have had before.
Whether you have ever had this dish before in a restaurant or made by a friend, it is simple to make it uniquely your own by adding or removing the ingredients that you like. For example, substitute the can of fire-roasted tomatoes with fresh tomatoes off the vine that you roasted yourself. Another option is to add some fresh homemade tomato salsa on top when serving.
All you need to get started is chicken breasts, lime, onion, chiles, jalapeno, tomatoes, chicken broth, honey, adobo sauce, and a few other spices and herbs. And if you have a larger family, just double or triple the recipe.
I enjoy making this recipe with rotisserie chicken as well. It definitely saves me some time and since the meat has already been roasted, it is extra tender. Also, using other poultry parts, not just the breasts, will make the dish juicier and more tender.
Why is it called tinga?
This dish originated in the town of Puebla in Mexico. Now, actually "tinga" means a stew made of tomatoes, seasoned with garlic, onion, and chipotle peppers. Authentic Mexican spices and herbs are also added. Therefore, when using poultry or other meat cooked into this stew, it is called tinga.
Ingredients needed:
For the exact measurements, refer to the recipe card below. Here is what you will need:
How to make authentic chicken tinga from scratch?
Get ready: First, add oil to a large pot over medium-high heat.

Sauté: Then, add the onion and sauté for five minutes while stirring occasionally.

Mix: After that, toss in the garlic for one to two minutes while stirring frequently. Make sure the onions and garlic are translucent.

Remove: Next, take the pot off the heat and pour the mixture into a blender.

Purée: Then, to make the sauce, add the chipotle in adobo sauce, jalapeno peppers, lime zest, lime juice, brown sugar, honey, broth, tomatoes, and seasoning to the blender and purée until it is smooth. Pour the sauce back into the pot.
Brown: Next, brown the meat in a pan over medium-low heat for about 15 to 20 minutes or until it is cooked and tender.
Shred: Finally, shred and add the poultry to the sauce in the pot, cooking on low for another 10 minutes. Add salt and pepper to taste.

Serve: Lastly, serve the dish while still warm with whatever toppings you like.
Store: If there are any leftovers, pack them into a sealed container for up to three days in the fridge.
Recipe variations:
How to serve:
Serve chicken tinga warm, fresh off the stove. Do not stir the meat too much or it will get too soft and will not have that substance you want for a meal.
There are many ways you can serve them, here are our favorites:
Frequently asked questions
Can I freeze the leftovers?
Chicken tinga will stay fresh in the freezer for up to three months. First, let it cool, and then put it in an airtight container or freezer bag. Make sure there is no air in the container or bag. Defrost on the stove or in the microwave before serving.
Can chicken tinga be made in a slow cooker?
Cooking it in a slow cooker is easy. But first, mix all the ingredients and make the sauce. Then, brown the chicken and add it to the slow cooker with the sauce. Then, cook for three to four hours on high or six hours on low. Shred the meat before serving or leave it whole for a fabulous entrée.
What about an instant pot?
Likewise, try making this recipe in an instant pot and you will be able to use frozen chicken if you do not have any fresh. Add all the ingredients to the inner pot and pressure cook on High for 10 minutes, followed by a 15 minutes Natural Pressure Release for fresh meat. However, if you are using frozen meat pressure cook on High for 15 minutes, followed by a 15 minutes Natural Pressure Release.
Recipe tips:
Deliciousness to your inbox
Enjoy weekly hand picked recipes and recommendations