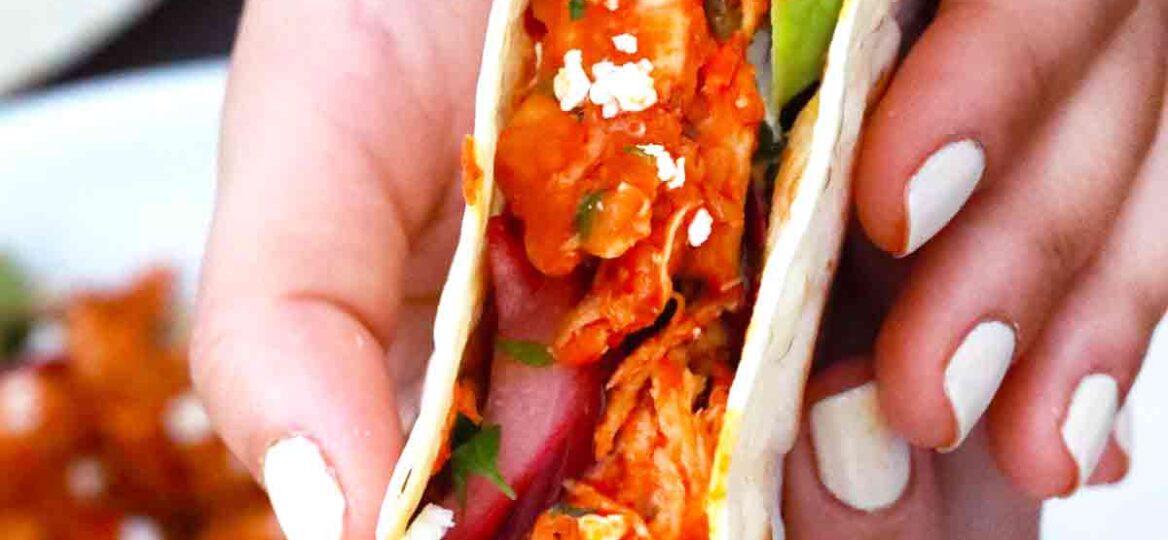 Chicken Tinga Tacos Recipe [Video]
Chicken Tinga Tacos are made with chicken tinga, lime, cilantro, red onions, avocados, cotija cheese, and corn tortillas. The whole thing takes less than an hour and will serve the entire family.
This is a terrific meal made from Chicken Tinga that can be eaten with the family or a whole group. Tacos are a favorite for many people and your guests will love being able to add the ingredients they want and leave out what they do not want. There are many recipes on my blog you can combine with this dish. If you have leftover chicken tinga, add it to Grilled Chicken Souvlaki for a Mexican twist to a Greek dish.
Chicken Tinga Tacos – Tinga de Pollo Tacos
These tacos are great served as a meal or a side dish with other Mexican foods like Mexican beef stew or with a pot of instant pot Mexican chili. Add some Mexican wedding cookies or Mexican bunuelos for dessert. This dish is perfect for Cinco de Mayo.
This is one of my favorite recipes for those busy nights when I already have the tinga leftovers prepared. All you need to get started is leftover tinga, lime, cilantro, red onions, avocados, cotija cheese, corn tortillas, and a few other spices and herbs. And if you are cooking for a group meal, it is easy to just double or triple the recipe.
The flavors are outstanding from the spiciness and smokiness of the chipotle peppers. Also, the meat is incredibly tender and flavored from all the spices and the tomato stew.
Ingredients needed:
For the exact measurements, refer to the recipe card below. Here is what you will need:
Chicken tinga: Prepare this recipe ahead of time to save yourself some effort.
Chicken tortillas: Make these yourself or use store-bought to save even more time.

Lime wedges: Use freshly bought limes from the farmer's market or homegrown to add a tingly lime flavor.
Cilantro: Fresh and finely chopped.

Red onions: Sliced or chopped. Or use quick pickled red onions.
Sliced avocados: From a farmer's market, garden, or grocery store.
Cojita cheese: Or Mexican crema.
How to make chicken tinga tacos from scratch?
Preheat the oven: Start by setting the oven to 375 degrees F.

Make the tinga filling: First, use leftover filling from a previous meal or make it fresh. Next, warm it on the stove in a large skillet or prepare per recipe instructions.
Prepare the tortillas: Then, toss the corn tortillas in virgin olive oil and season with salt and pepper. After that, bake them for 15 or 20 minutes on a baking sheet on parchment paper for crispy tacos or five minutes for soft tacos.
Fill the tacos: Also, you can fill each taco yourself with one tablespoon of the filling and a squirt of lime juice. Another option is to let your guests serve themselves.

Topping: Finally, add the toppings you like and let your guests add their own favorites.

Serve: Lastly, serve on a warm platter next to toppings of your choice.
Store: If you have any leftovers, store them in the refrigerator individually wrapped in plastic wrap and placed in an airtight container.
Recipe variations:
Use other proteins: For a different flavor, use beef, shrimp, or pork. Beef works very well too.
Add some beans: Also, toss some black or pinto beans into the mix when heating the tinga or add refried beans as a topping.
Bring on the heat: Another addition for those who like spicy food, add tabasco sauce, cayenne, or spicy aji peppers.
Sweeten it up: In contrast, make your tacos sweeter by adding honey or sugar to the filling when reheating.

Spices: No need to stick to one taste, hence add other seasonings or use our homemade taco seasoning.

Sauces: When it comes to dressing up this recipe, the condiments are key. However, we have a great variety of sauces you should choose from.
How to serve:
Serve these delicious chicken tinga tacos warm on a heated platter or pizza stone to keep the tortillas warm. Make sure to heat the chicken all the way through with no cold spots.
There are many ways you can serve them, here are our favorites:
Toppings:
The possibilities are endless here, but we are sharing a few of our favorites.
Frequently asked questions
How would you describe tinga?
Tinga is a Mexican dish prepared with shredded chicken in a red sauce with chipotle peppers, adobo sauce, tomatoes, and other ingredients like lime, cilantro, and onions. It is a spicy, hearty, and filling meal with bold Mexican flavors.
What is chicken tinga at On the Border?
This quick and easy Spanish dish is served at the On the Border Mexican Grill & Cantina Tex Mex Restaurant all over the US. However, they prepare the dish similar to our recipe but ours is made fresh when you want it for a better taste.
What part of Mexico is tinga from?
The dish was actually created in Puebla, Mexico but it served all over Mexico as well as the US and other countries around the globe. Hence, this dish is a favorite for anyone who enjoys a bit of spicy taste in their chicken.
More Mexican Recipes:
Recipe tips:
Use the leftovers in a sloppy joe or chili recipe for an extra kick.
Freeze the leftover tinga by storing it in a freezer bag or airtight container.
Make a Mexican pizza or pizza pasta by tossing this onto a pizza crust.
Don't forget to char the tortillas on a grill for a nice change of pace.
Also, add some beans to make it more filling.
Similarly, use diced tomatoes instead of fresh ones to save time.