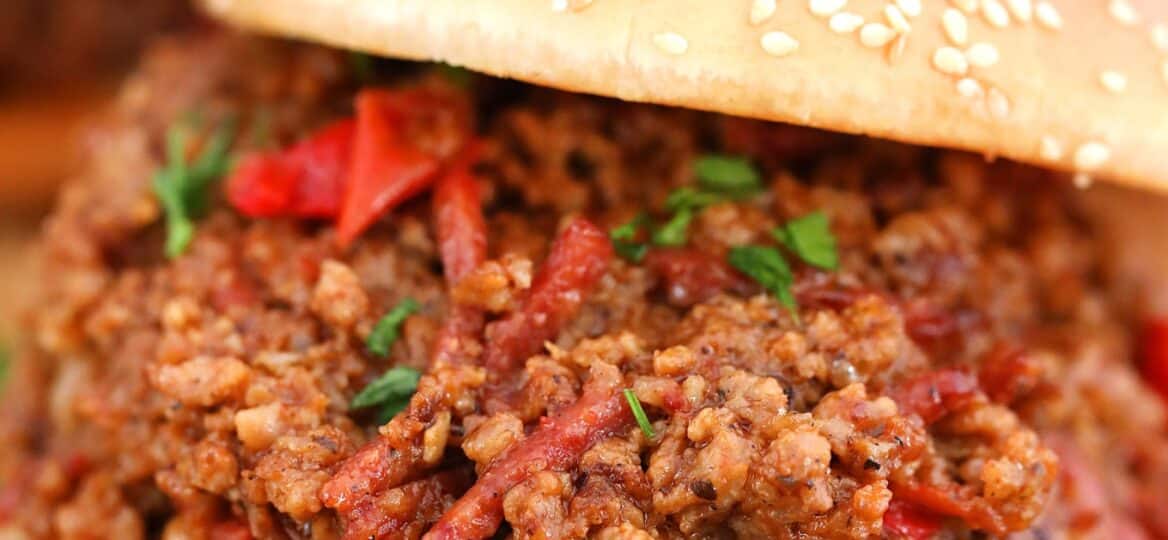 Pizza Sloppy Joes [video]
Pizza Sloppy Joes are a rich and savory dish inspired by two American favorites! Give this classic dish a twist with this easy homemade recipe!
It is definitely a crowd-pleaser with its simplicity and ease of preparation just like these other American favorites: Oven Baked Chicken Tenders, Tater Tots, and Hash Browns!
Pizza Sloppy Joes
Pizza Sloppy Joes are loose meat sandwiches that have the classic ground beef cooked in tomato sauce but with a touch of Italian influence in the form of another American favorite – the pizza!
You can easily make this dish at home for a quick dinner and even store some for later. The kids will love it for its flavor and texture.
And since this is such a hit for the whole family, you need to make sure that your family gets the best. You can make it healthier by opting for a homemade sauce rather than cooking it with a store-bought one. This way, you can control the ingredients and season it according to your liking.
We all grew up eating this dish and I can still remember loving it! Have a trip down memory lane with this easy recipe!
What are Sloppy Joes?
The classic ones are made with loose ground beef cooked in tomato sauce and then, served on a bun.
Why do they call it Sloppy Joes?
The name might have come from the Sloppy Joe's restaurant in Key West, Florida that serves this sandwich. This restaurant started in the early 1930s and its history has it that Ernest Hemingway, a patron of the restaurant, suggested the name.
It used to be a term referring to a bar in Havana that had floors that were always wet and were then called a sloppy place. A certain Jose (Joe) owns the place, and so, it became known as Sloppy Joe's.
But some believe that the sandwich had some Cuban connection like this story and that the American version was a copycat of a Cuban dish.
Are Sloppy Joes bad for you?
It all depends on the quality of the ingredients and how you opt to prepare them. The tomato sauce could have been good because tomatoes are rich in lycopene. However, most recipes call for store-bought sauce which has high sodium content, so keep that in mind.
Beef is a good source of protein and iron but could also be high in calories and fat. The best way is to drain any excess fat. This is exactly how you should cook it in this easy recipe.
What are the ingredients in Pizza Sloppy Joes?
In this recipe, we will use the following ingredients:
Meat: lean ground beef and pepperoni
Vegetables: yellow onion, red bell pepper, parsley
Sauce: beef broth, cornstarch, marinara sauce
Seasoning and herbs: kosher salt, black pepper, dried oregano, dried basil
Others: brioche hamburger bun, mozzarella cheese
How do you make Pizza Sloppy Joes?
Cook the meat: Brown the beef in olive oil. Remove the beef and set aside. Drain the excess fat, and then, add in the pepperoni.
Cook the vegetables: Add in the onion and the red bell peppers.
Put the beef back: Put the beef back in the pan and season the whole thing with salt, black pepper, and the herbs.
Finish with the sauce: Put in the marinara sauce. In a separate bowl, combine beef broth and cornstarch to make a slurry and then, add it in. Cook some more for another 3 to 5 minutes.
Add the cheese: Fold in the mozzarella cheese to melt.
Serve: Garnish with parsley and serve on toasted brioche buns.
What to serve with Pizza Sloppy Joes
Here are some dishes that pair well with this sandwich, texture-wise or flavor-wise, or both:
How to store
Refrigerator: Store the filling in an airtight container and refrigerate for a few days, about one or two.
Freezer: If frozen, the filling can last for up to two months.
To reheat: For frozen ones, thaw overnight in the refrigerator. Then, reheat using the microwave, or stovetop on a pan.
More sloppy joes recipes:
Bacon Cheeseburger Sloppy Joes
Recipe Tips:
Since the filling can be made in advance, you can make it double and serve a half. Put the other half in the fridge (or freezer) for a quick dinner. Serve with new buns every time.
You can add fiber to this dish by using whole-wheat buns and adding mushrooms.
You may substitute ground turkey instead of ground beef.
Deliciousness to your inbox
Enjoy weekly hand picked recipes and recommendations