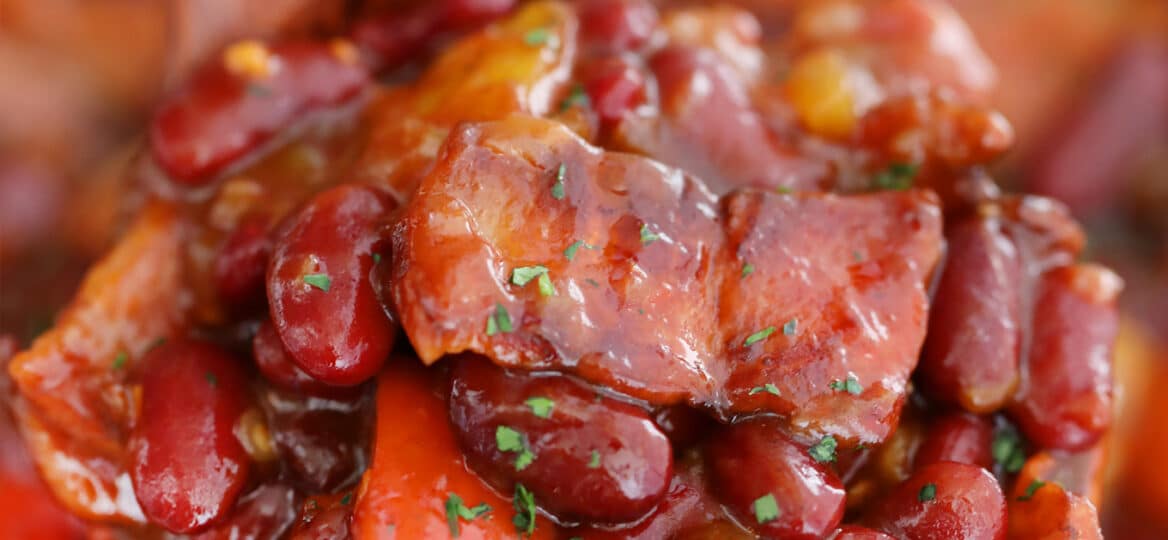 Best Homemade Baked Beans [Video]
Baked Beans are the only recipe you are going to want to make. This easy dinner brings the cozy feeling straight to your belly by using this recipe to make it from scratch.
This recipe is such a staple in our house, and we make it very often because they are the best-baked beans recipe you can get. You can enjoy it as is, or serve it with some meatloaf, barbecue ribs, or fried chicken.
Easy Baked Beans Recipe
Baked Beans are so much fun to make and so nostalgic. We love it so much because it makes us think of family time and camping. Whenever our family or friends would go camping, we would always have these with us. So this is the perfect opportunity to be able to make them at home.
The secret to making the perfect recipe is by using a variety of beans with bacon, then adding a little bit of brown sugar to them. As a result, you will have the epitome of a family classic.
We enjoy this recipe because it is so flavorful, with a sweet note to it. Also, it is very versatile and goes well with different meals. Personally, we prefer them as a side dish, but you can serve them as a main dish as well.
The best part about this being a side dish is that it can be served with absolutely anything. With the main course being any sort of meat it will also bring the south straight to your home. Don't forget all of the flavors are in the bacon add some brown sugar and voila, you have exactly what gives them that delicious taste.
How do you make baked beans from scratch?
This is one of the easiest and most rewarding homemade recipes you can make.
Simply start by preheating the oven to 375 degrees, then put bacon in a large skillet and cook it.
After that cook onion, garlic, and bell peppers.
In a large bowl add all of the ingredients and mix it well.
Next, pour everything into a baking pan and cover it with foil, then bake it for an hour in the oven.
Take the foil off and bake it for an additional ten minutes after the hour is up.
Are beans good for you?
They can be good for you if you do not add any ingredients that are high in calories and low in nutrients. Because this classic recipe has added sweetness to them and also fatty meat, they tend to be higher in calories and lower in nutrients.
To make them more on a healthier side, try to reduce the brown sugar in them and also skip the bacon. That way, you will have a perfectly healthy meal.
How long do you bake beans in the oven?
Baking them in the oven is very simple and easy. We usually bake them for about one hour at 350 degrees F.
How to make beans in a crockpot?
Drain all the liquid from the beans then place them in the crockpot.
Then, add the rest of the ingredients to it.
Cover them and cook them on low heat for about 4 to 6 hours and stir them occasionally if you so desire. It is not necessary for you to stir them, but it is a good idea to do so.
How to make beans in the Instant Pot?
Making this dish in the Instant Pot is fast and easy, resulting in some of the best beans imaginable. We are making them regularly in the Instant Pot, and love how they always turn out. You can check the step by step recipe with video by clicking on this link.
Can I make this recipe on the stovetop?
Absolutely. Just add all the ingredients to a large dutch oven and cover and simmer for about an hour, or until completely cooked.
What is the difference between Boston and baked beans?
Classic "baked" beans are put in a stew or some type of sauce and do not have any molasses, salt, or pork. Meanwhile, Boston "baked" beans are made with a sauce that contains molasses and salt pork.
More bean recipes: