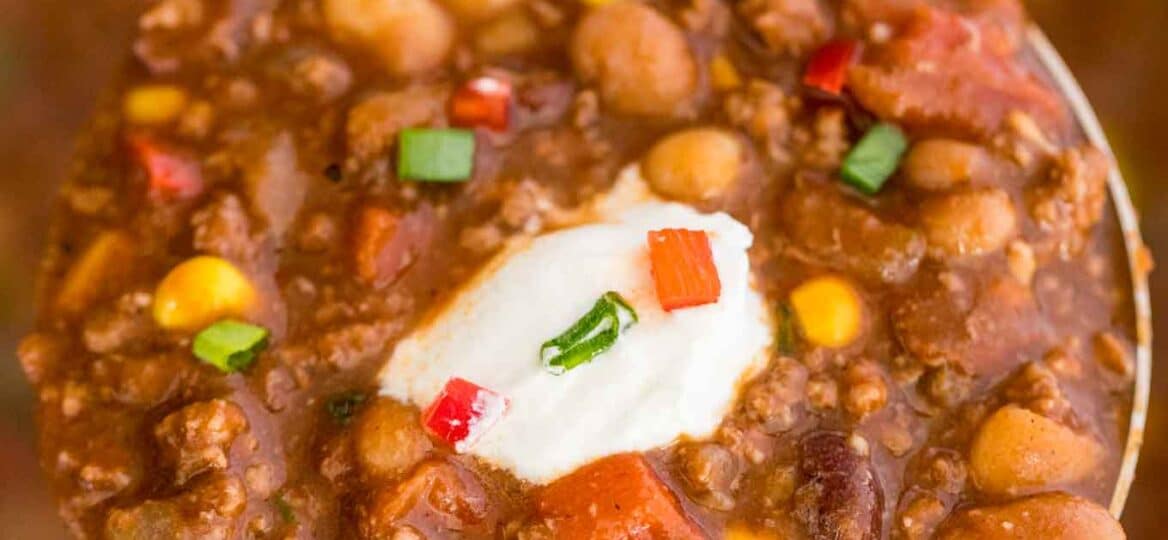 Instant Pot Three Bean Chili
Instant Pot Three Bean Chili is flavorful and very easy to make in the pressure cooker. This is one of the best comfort meal you can have in less than 30 minutes!
We love a good chili recipe especially during this time of the year. Enjoy it as is, or with some corn on the cob, rice, or fried chicken.
Easy Instant Pot Three Bean Chili Recipe
It's all about chili today, and this recipe is one that we make over and over again. It took us a few trials to perfect this Instant Pot Three Bean Chili recipe, and this is finally it. We really love it a lot, and it is one of our favorite chili recipes. Plus the fact that it is made in the pressure cooker at a fraction of the time, adds some bonus to it!
This three-bean version is hearty, filling, and super delicious. In addition, it has plenty of proteins and can be made in various combinations. So you can add or skip ingredients as you like. We love this dish with ground beef, but it can easily be made vegetarian by skipping the meat.
Also, it's easy to add more heat to it, like red chili flakes, minced habaneros, whatever you want to add. All is needed is a few simple ingredients and less than 30 minutes of your time, and you will end up with the best 3-bean chili recipe ever!
How to brown meat in an Instant Pot?
As noted above, we love this dish with ground beef. In addition, for a deeper flavor, we add some bacon to it. Whenever bacon is going in a dish we crisp it first, drain the fat, and leave the browned bits only.
Start by pressing the Saute button on your pressure cooker.
Then, add the chopped bacon, stirring occasionally until crisp. Remove to a paper towel-lined plate and drain the fat. If not a bacon fan, skip this step.
Next, add the ground beef. Any kind is fine for chili since other flavors are in there, but there's more flavor in an 80/20 versus the leaner option.
While the beef cooks, stir occasionally in order to crumble the meat instead of having big chunks. It only takes 3-5 minutes to cook it, just until no longer pink.
How to make slow cooker 3-Bean Chili?
Making it in the slow cooker is a perfect alternative because the crockpot cooks it for a longer period of time which results in a deep, rich, and flavorful dish.
Start by cooking and stirring the beef in a large skillet until completely browned. About 5 to 7 minutes; transfer to slow cooker.

Stir in the rest of the ingredients in the slow cooker.

Cook on High for 4 hours or on Low for 7 hours.
What types of beans are used in this chili recipe?
When making Instant Pot three-bean chili, we usually go with cannellini, pinto and kidney bean mix. However, this is totally optional and other kinds can be substituted as desired. We just like the flavor mix they bring and are usually sticking to these three.
WHAT DO YOU TOP three-bean CHILI WITH?
In addition to the chili ingredients listed in this recipe, you may also want to have these things as toppings:
Shredded cheddar cheese
Sour cream
Sliced green onions
Crackers or oyster crackers
Croutons
Diced avocado
Jalapeno
HOW TO FREEZE Instant Pot three Bean CHILI?
This recipe is super easy to freeze as there isn't any dairy or fibrous vegetables to mess with texture and flavor. First, make sure to cool it completely and store it in Ziplocs with all the air pressed out. Also, you could use an airtight container for freezing.
Store it in the freezer for up to 3 months. When ready to serve, transfer to the fridge overnight so it is thawed the next day.
Expert Tips and Tricks
We use a 6 QT Instant Pot, and we highly recommend it for cooking.
For more flavor, add bacon prior to sauteing the beef.
To make it vegetarian, skip the bacon and the beef altogether. Also, you can add extra beans in that case.
In addition, this recipe can be made with other meat types, such as ground turkey, chicken, or even lamb. The cooking time will remain the same.
If you want it a little thinner add an extra can of tomato sauce.
Also, for a spicier kick, add extra red pepper flakes or diced jalapeno to it.
Make sure that the bacon does not stick to the bottom of the pot and cause a burn notice. Therefore, stir occasionally and do not walk walked away and leave the meat to burn.