How to Make Bread and Butter Pickles [video]
Bread and Butter Pickles are a sweet, sour, and crunchy addition to your sandwiches, hamburgers, and salads! Learn how to easily make this side dish at home!
You can prepare this very easily with just a few ingredients, and enjoy it with some of our other recipes like the Crockpot Cheeseburger Soup, Deviled Eggs, and Macaroni Salad!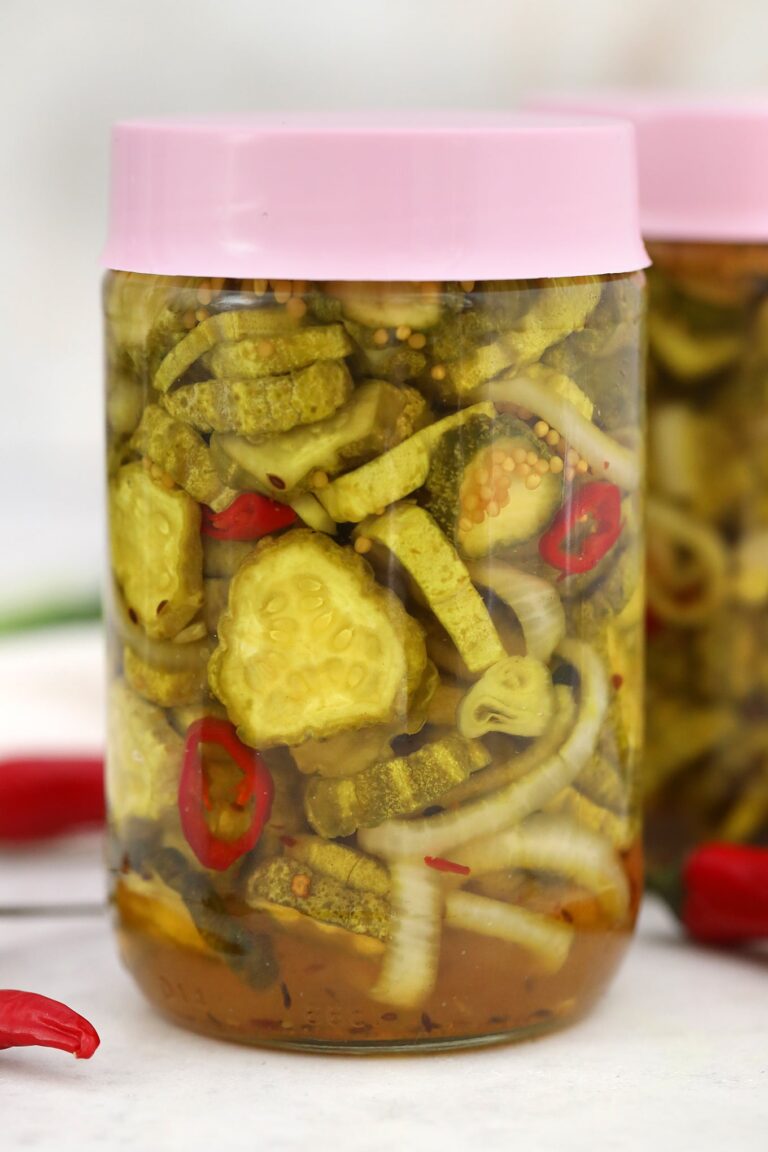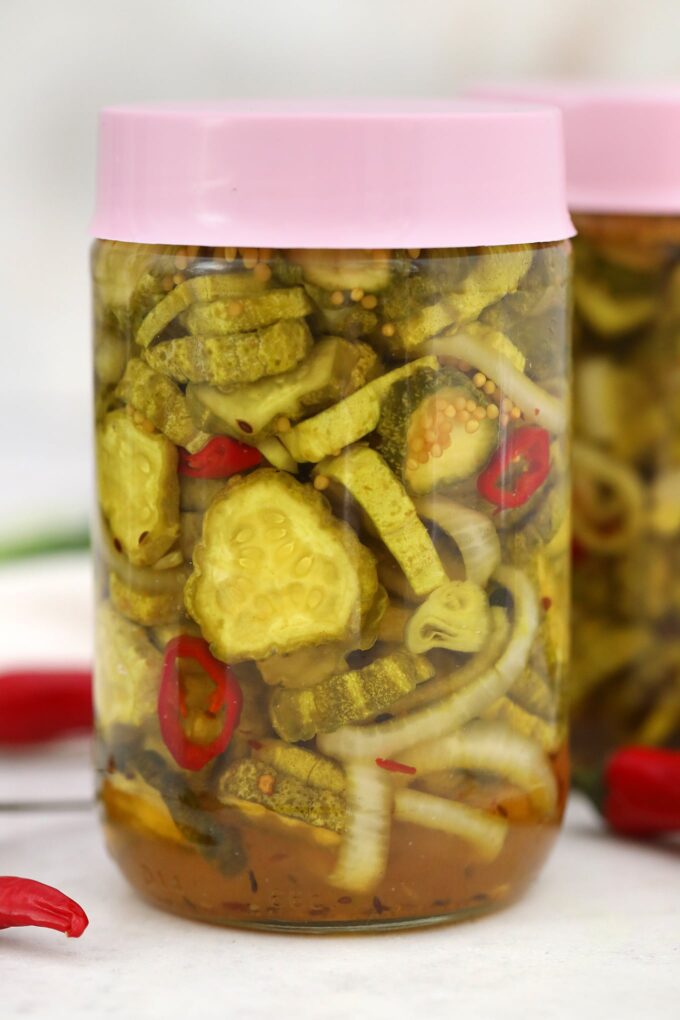 Bread and Butter Pickles Recipe
Bread and Butter Pickles are so flavorful, and they pair well with almost anything with their savory sweet, and sour taste. Not to mention, the crunchiness each pickle lends to any dish is a welcome addition to texture.
I personally like them on top of my hamburgers, and I also prefer making my own! So, here is the recipe that you all might be wanting to try. And yes, you can make it at home with just a few simple ingredients and some patience!
Aside from being able to save some money, you will also be able to adjust how they taste according to your needs. Also, if you have a surplus of cucumbers, then, this recipe is for you to preserve them.
What are bread and butter pickles?
They are sliced cukes that are pleasantly sweet and sour due to the use of sugar and vinegar in the brining process. Spices are also added in the mixture to enhance the flavor.
They are crunchy and are best enjoyed in sandwiches, as a snack, side dish, or even part of an appetizer tray. For this recipe, it is best to use grown cucumbers. Unlike the other pickle recipes that cater to smaller ones, we recommend using medium-sized ones.
Why are they called bread and butter pickles?
It is uncertain as to how this name evolved but there is one nice story about its origin.
It is about a couple who used to have a cucumber farm and what made them get through their tough times is trading their pickles for bread and butter in groceries.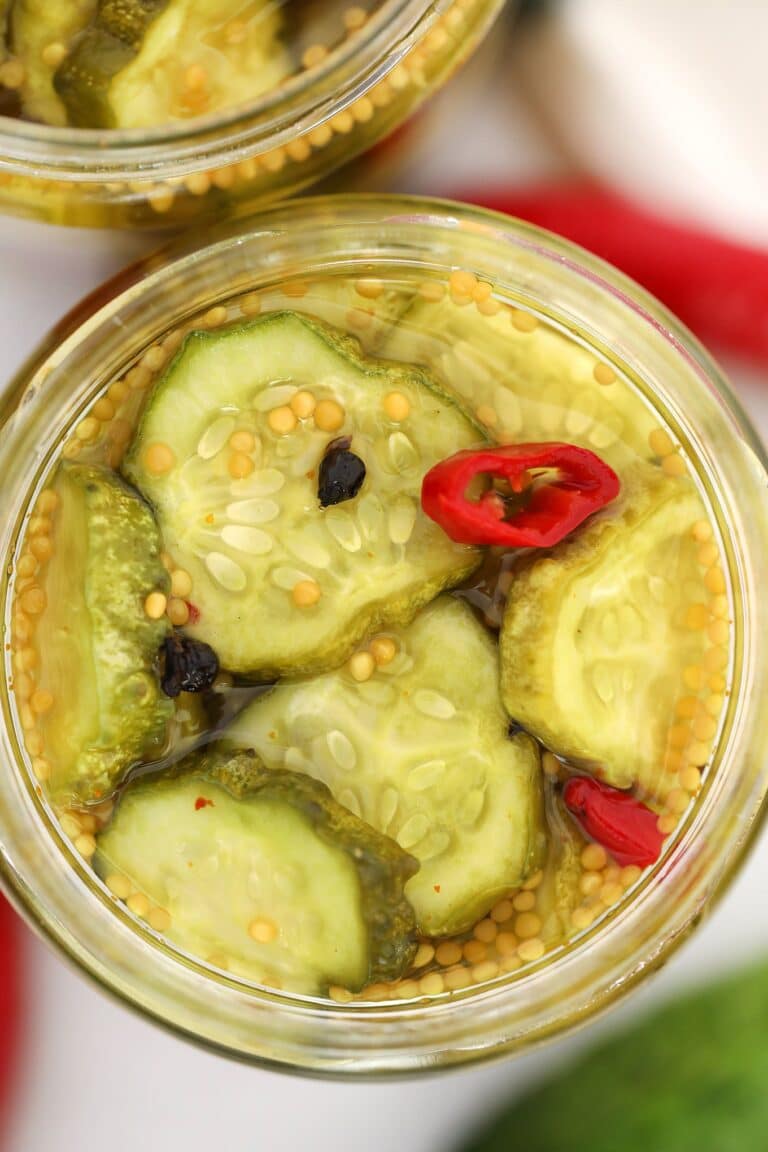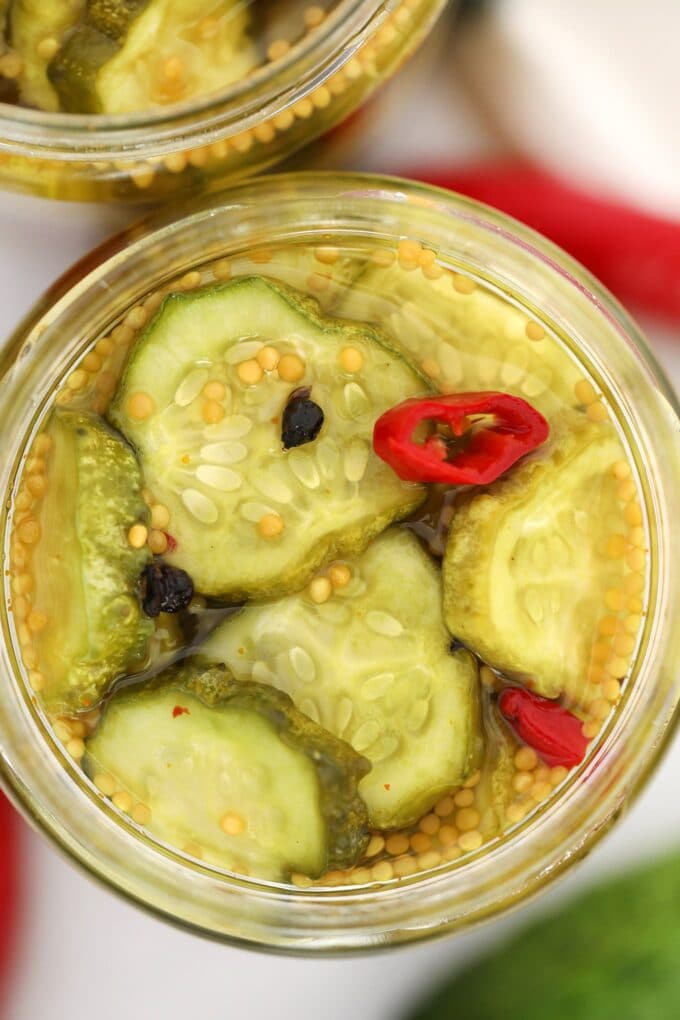 How do you make bread and butter pickles?
Slice: Thinly slice fresh cucumbers, jalapeno peppers, and onions into rings.
Combine: In a bowl, combine the sliced vegetables and garlic and pour the generous amount of kosher salt. Make sure that each piece is coated well.
Refrigerate: Cover the bowl and refrigerate for 2 to 4 hours, with occasional stirring.
Rinse: Take the bowl out of the refrigerator and rinse the mixture with water for about 3 to 4 minutes then, drain.
Simmer: In the saucepan, combine the sugar, water, vinegar, and spices. Cook until the mixture simmers for about 2 minutes. Add in the cucumber mixture. When the mixture is almost coming to a boil, remove it from heat and cool.
Preserve: Once the mixture is cooled to room temperature, transfer to clean jars, and then, refrigerate.
How to can?
In canning, you let the brine solution boil along with the cukes. Then, quickly transfer them into jars leaving about half an inch of headspace. Seal the jars and process in the canner for about 10 minutes more. Once cooled, you can then refrigerate the jars.
But this recipe does not call for any other canning equipment since you can just pop it in the refrigerator once you have transferred the mixture and brine into the jars. It is that easy!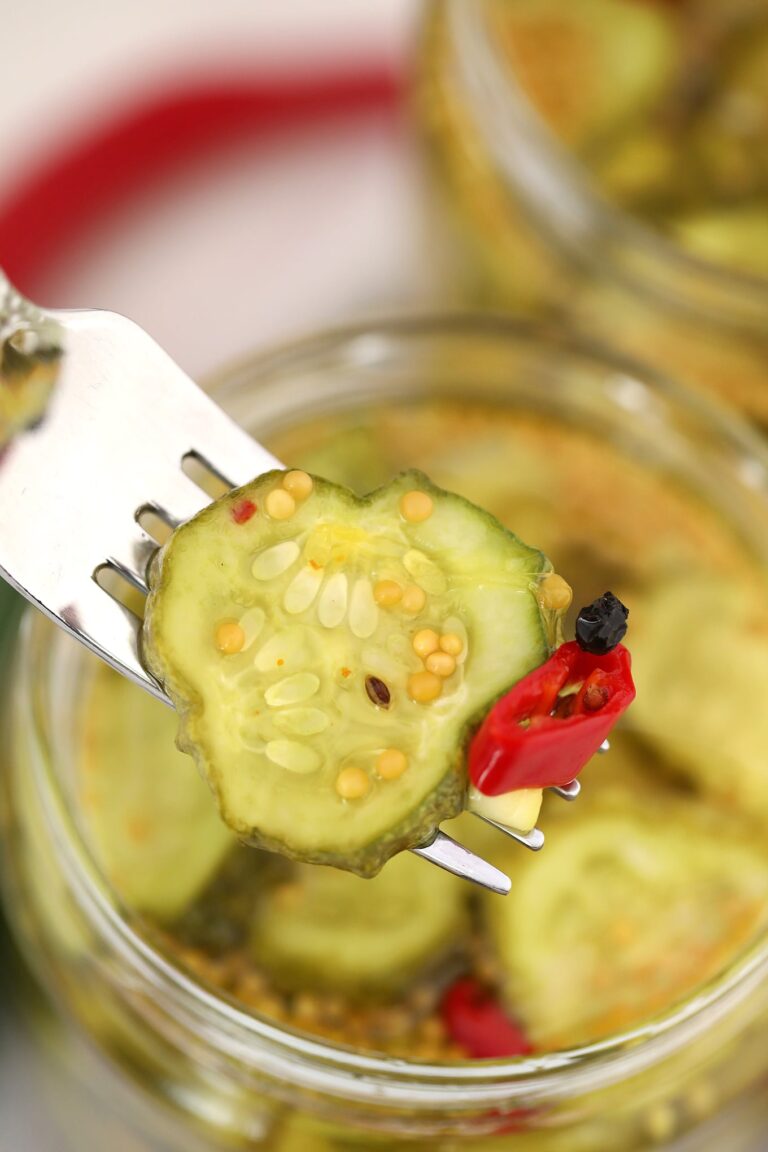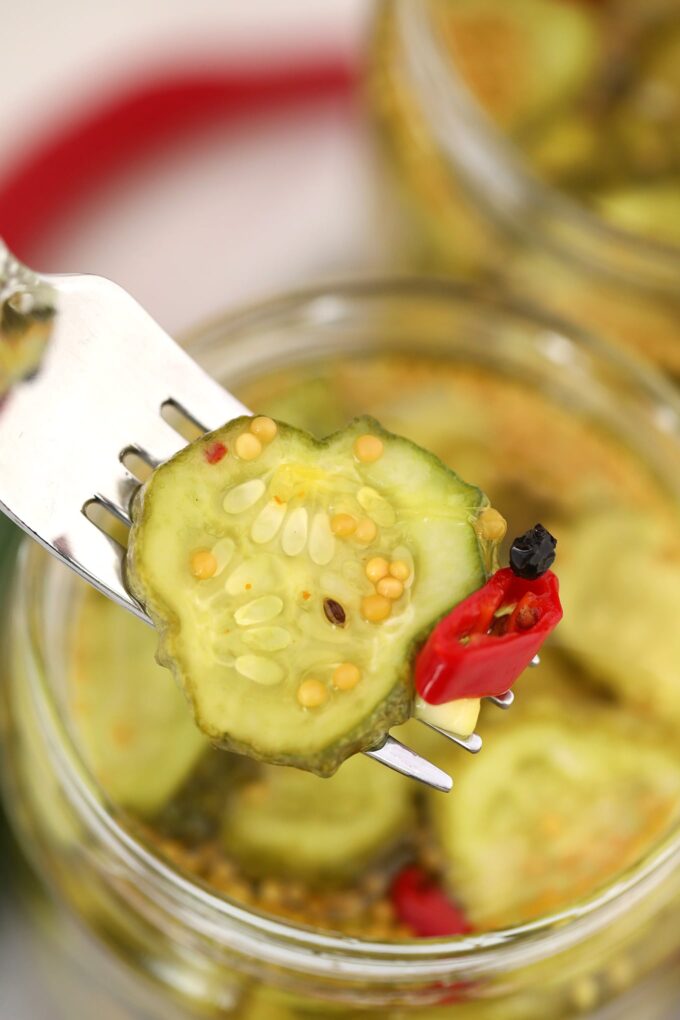 Storing Recommendations:
Left in the refrigerator, they last for a month. The shelf life can be extended up to a year if proper canning is done.
Recipe Tips
Select the crunchy variants of cucumber-like the Persian or Japanese variants. But the English cukes which are more common can do.
The longer the cukes are left with the salt, the drier they become and will then yield crunchier ones.
Before trying your finished product, let it sit in the refrigerator for at least 24 hours to let the flavors integrate.
It will set you back by 69 calories with a half-cup of serving. It is not much considering all the flavors it imparts to dishes!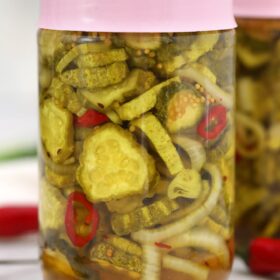 Bread and Butter Pickle
Bread and Butter Pickles are a sweet, sour and crunchy addition to your sandwiches, hamburgers, and salads! Learn how to easily make this side dish at home!
Save
Share
Print
Pin
Rate
Ingredients
2 1/2

lbs

fresh cucumbers

(sliced into rings)

2

yellow onions

(thinly sliced)

2

chili peppers

(sliced into rings)

6

cloves

garlic

1/4

cup

Kosher salt

(do NOT use table salt)

1

cup

white distilled vinegar

1

cup

apple cider vinegar

1/4

cup

water

2 1/4

cups

sugar

1

tablespoon

mustard seeds

1

teaspoon

crushed red pepper flakes

3/4

teaspoon

celery seeds

1/2

teaspoon

whole black peppercorns

1/2

teaspoon

turmeric

1/4

teaspoon

ground cloves
Instructions
Combine cucumbers, onion, garlic, and peppers in a bowl, sprinkle kosher salt over the top and stir to coat well. Cover the bowl with plastic wrap and refrigerate for 2 to 4 hours, stirring occasionally from time to time.

Rinse cucumbers in a colander under cold water until all salt is washed away. Drain well.

In a saucepan over medium heat, stir white vinegar, apple cider vinegar, sugar, water, garlic, mustard seed, celery seed, peppercorns, red pepper flakes, turmeric, and ground cloves.

Bring to a simmer and cook for about 2-3 minutes.

Add sliced cucumbers to the saucepan and heat until almost boiling, remove from heat, and cool completely.

Transfer to jars, cover with the lid, let cool and after that store in the refrigerator.
Nutrition
Calories:
1097
kcal
|
Carbohydrates:
252
g
|
Protein:
6
g
|
Fat:
6
g
|
Saturated Fat:
0
g
|
Cholesterol:
0
mg
|
Sodium:
14194
mg
|
Potassium:
1079
mg
|
Fiber:
7
g
|
Sugar:
238
g
|
Vitamin A:
835
IU
|
Vitamin C:
26.3
mg
|
Calcium:
157
mg
|
Iron:
3.3
mg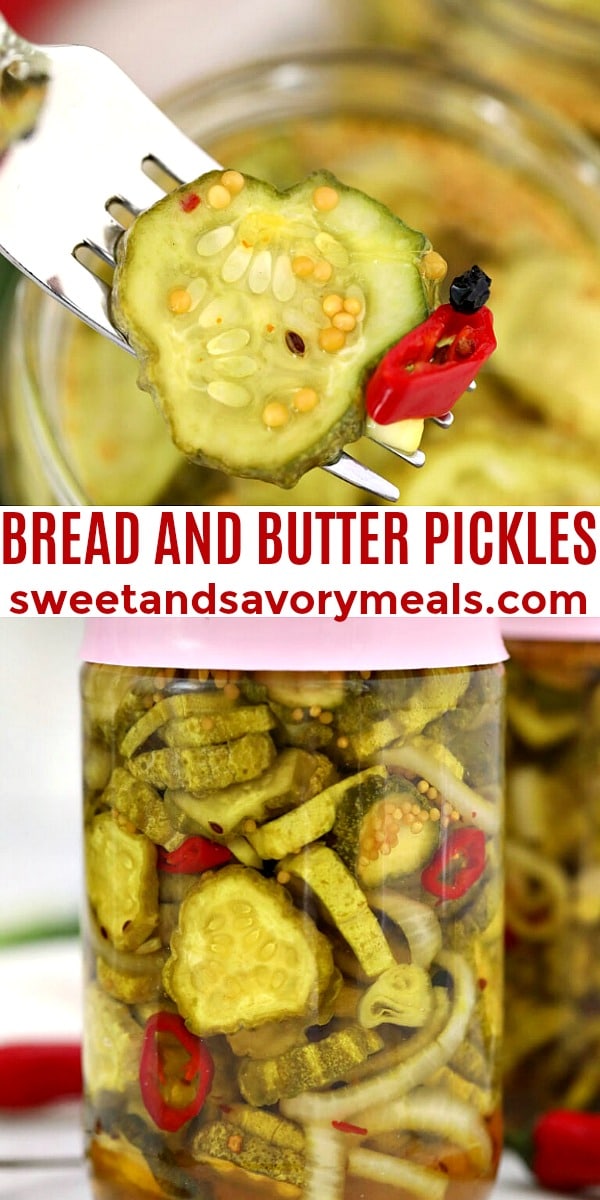 More recipes you might love