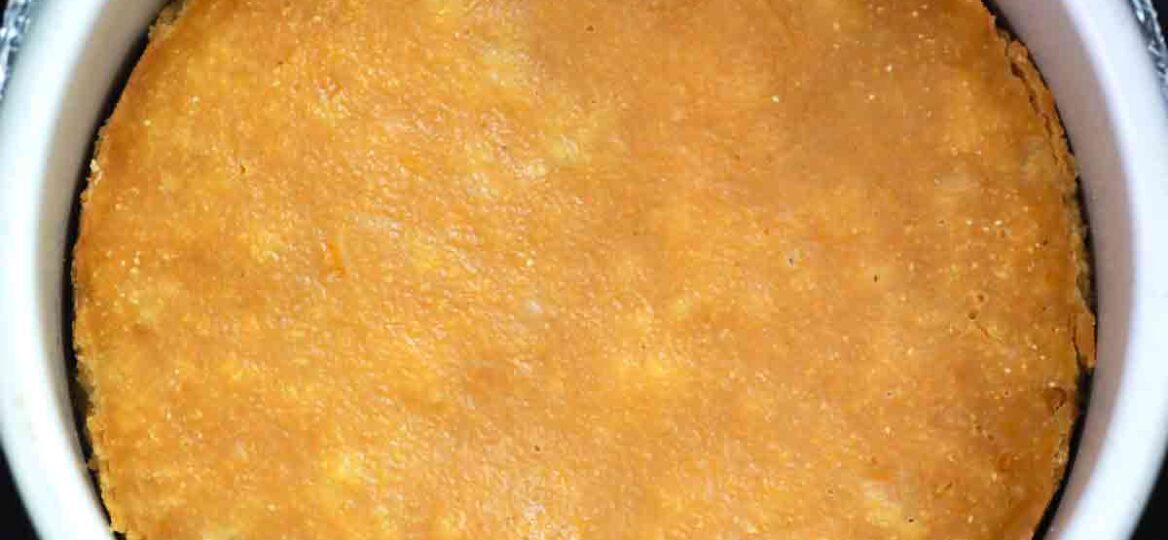 Instant Pot Cornbread Recipe
Instant Pot Cornbread is a quick and easy recipe resulting in moist, tender, and buttery bread! It goes well with a bowl of chili or jambalaya. In this post, we will teach you how to make the best Corn Bread recipe in the pressure cooker!
You can serve for breakfast with some fried eggs. But my favorite way to serve this dish is with a bowl of Potato Soup or Chicken Tortilla Soup. An irresistible combination!
The Best Instant Pot Corn Bread Recipe
This Instant Pot Corn Bread is moist, buttery, tender with a distinct golden color. It has all the characteristics you will want for homemade comfort food. When the oven is not an option, the pressure cooker is an excellent and quick alternative.
Although this dish is widely used in the South, it is definitely a staple in our house. I already have a Southern Cornbread recipe on my blog, but making it in the IP is so much quicker and easier.
The flavors are outstanding and it simply melts in your mouth. You can use it as a side dish with salads or soups, for breakfast with a cup of tea or coffee, or even as a dessert with some homemade whipped cream topping.
This side dish is especially nice during summertime at the pool with some lemonade, or for BBQ. It stores really well, and you can double or triple it.
Ingredients Needed:
For exact measures, please refer to the recipe card below. You will need the following ingredients:
Yellow Cornmeal – It gives the bread its beautiful golden-brown color and grainy, texture. If you cannot find it, you could replace it with polenta.
Eggs
Buttermilk – Makes it fluffier and moist.
All-purpose flour – This allows the bread to rise a bit and give it the spongy, caky consistency.
Vegetable oil
Sugar – we use a mix of white and brown sugar.
Corn – adding sweet corn makes it chewier.
Baking powder and baking soda
Salt
Water
How to make Instant Pot Cornbread from scratch?
For the exact steps, please follow the recipe box below. But the general steps are the followings:
Grease the pan: Spray a 7 by 3-inch cake pan with some vegetable oil. Also, you can use a half-sized bundt pan that fits in the IP. Set it aside.
Make the batter: In a bowl, whisk together egg, buttermilk, and oil for about 30 seconds until fluffy. Then, add the flour, cornmeal, sugars, salt, nakimg soda and baking powder. Stir in the corn kernels. Pour the mixture into the pan.
Cook: Next, add a cup of water to the bottom of the pressure cooker. Then, add the pan to it, and cook under HIGH pressure.
Serve: When done cooking, let it rest for 3-5 minutes. Then, using a sharp knife, slice it and serve warm.
Recipe variations:
Oven: Learn how to easily make it in the oven in this link.
Bacon Cheddar Cornbread: Add some diced cooked bacon into the batter along with cheddar or parmesan cheese.
Honey: Turn it into a dessert by serving with some honey on top. Alternatively, add some honey into the batter to make it sweeter.
Gluten-Free: Use gluten-free flour and cornmeal.
Jalapeno: For a spicier kick, add some chopped jalapeno to the mix.
Pumpkin Cornbread: This is perfect during Thanksgiving and the winter holiday season.
Add fruits: Feel free to add fruits to it, such as blueberries, or various berries.
What is Cornmeal?
Cornmeal is basically dried and ground corn. You can easily find it in your local grocery stores in the baking aisle. Also, for this recipe, you should use yellow cornmeal to get the golden color, and not the white version.
Can I replace the cornmeal?
If you cannot find cornmeal or do not have it available, swap it with polenta or fresh corn kernels blended with buttermilk.
Topping Ideas for Cornbread
Try incorporating these topping ideas next time you make this dish:
Butter – Salter, unsalted or flavored butter can be used.
Jam – Homemade strawberry jam or persimmon jam is really delicious.
Honey
Ham and pepperoni
Shredded cheeses
Dried fruits – raisins, cranberries, etc.
What to Serve with Instant Pot Cornbread?
Feel free to serve it with the following:
Can you make it ahead?
Yes. The bread can be made ahead and stored at room temperature for up to 3 days. If refrigerated, it can be consumed for up to 5 days.
Also, you can freeze it. Use a freezer-sage container, and freeze it up for 3 months. Let it thaw overnight on the kitchen counter.
Recipe tips:
It is important to add water at the bottom of the pan when cooking in the pressure cooker. This created moisture and also avoids getting the burn error.
In addition, remember not to overmix the ingredients, as this might cause cracks in the crust.
You can use a pan or half-size bundt pan that fits in the IP.
Similarly, you can replace the buttermilk with regular milk. Adding some extra milk/buttermilk will also make the bread fluffier.
Prior to slicing, let it cool down for a few minutes.
Instant Pot Cornbread
Ingredients
1

egg

1

cup

buttermilk

1/4

cup

vegetable oil

1

cup

all-purpose flour

1

cup

yellow cornmeal

1/4

cup

granulated sugar

1/3

brown sugar

1

tablespoon

baking powder

1

teaspoon

baking soda

1

teaspoon

kosher salt

1/2

cup

corn kernels
Instructions
Spray a 7×3-inch cake pan with baking spray and set aside.

In a large bowl, whisk the egg until fluffy. Add buttermilk and oil and whisk to combine.

Add the flour, cornmeal, both sugars, kosher salt, baking soda and baking powder. Beat until smooth.

Stir in the corn kernels.

Pour batter into the prepared pan. Wrap the pan (top and bottom) in foil.

Pour 1 cup of water into the bottom of the Instant Pot. Place a trivet.

If your trivet doesn't have handles, make a sling out of foil to lower the cake pna into the inner pot.

Lock the lid and make sure the valve is pointed to "Sealing".

Cook on HIGH PRESSURE for 55 minutes. Once done, allow pressure to release manually for 15 minutes, then do a quick release.

Remove the pan from the inner pot, and let the cornbread cool in the pan for 10-15 minutes.

Slice and serve with a drizzle of honey.
Deliciousness to your inbox
Enjoy weekly hand picked recipes and recommendations