Instant Pot Jambalaya Recipe
Instant Pot Jambalaya is loaded with shrimp, sausage, chicken, and juicy bell peppers in a creole spiced rich and hearty tomato broth. Full of flavors, heat, and incredibly tasty, this recipe is so easy to make in your pressure cooker!
That thanks to the pressure cooker dinner recipes are usually cooked in a matter of minutes. We are huge fans of this Shrimp Boil, BBQ Ribs, and Shrimp Creole, to name a few. Also, make sure you take a peek at our Instant Pot Recipes so you can find your next quick and easy dinner recipe.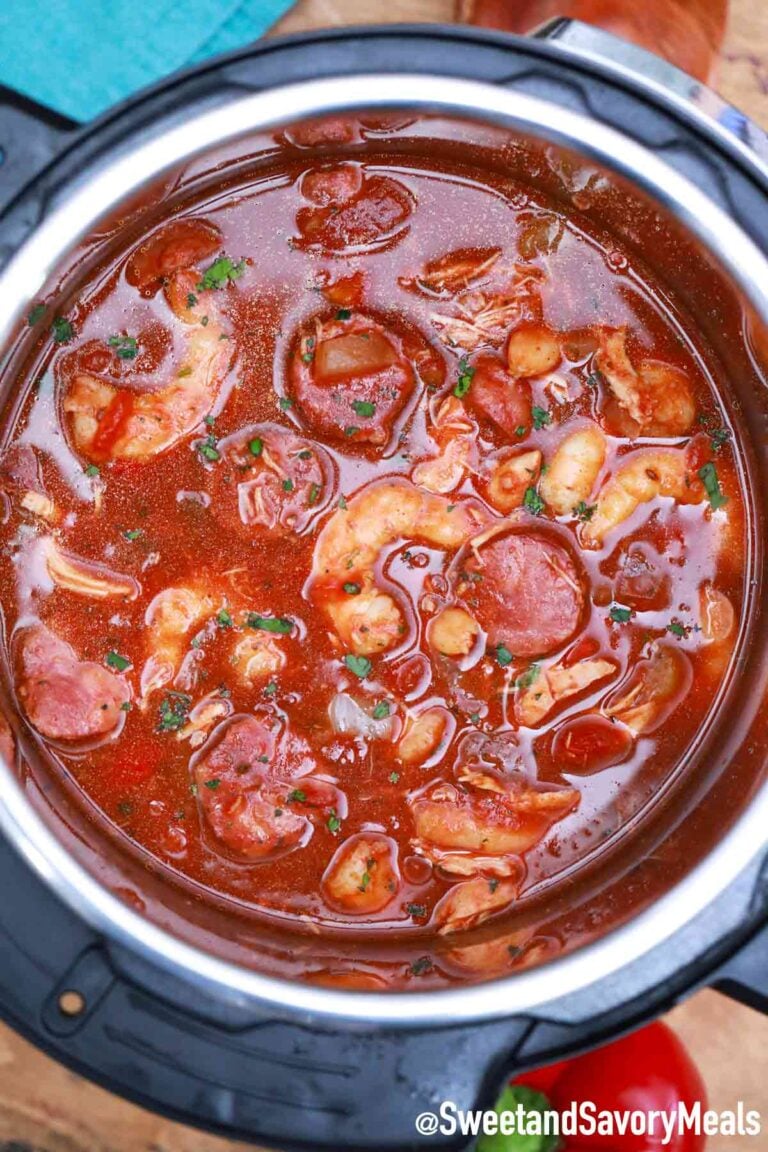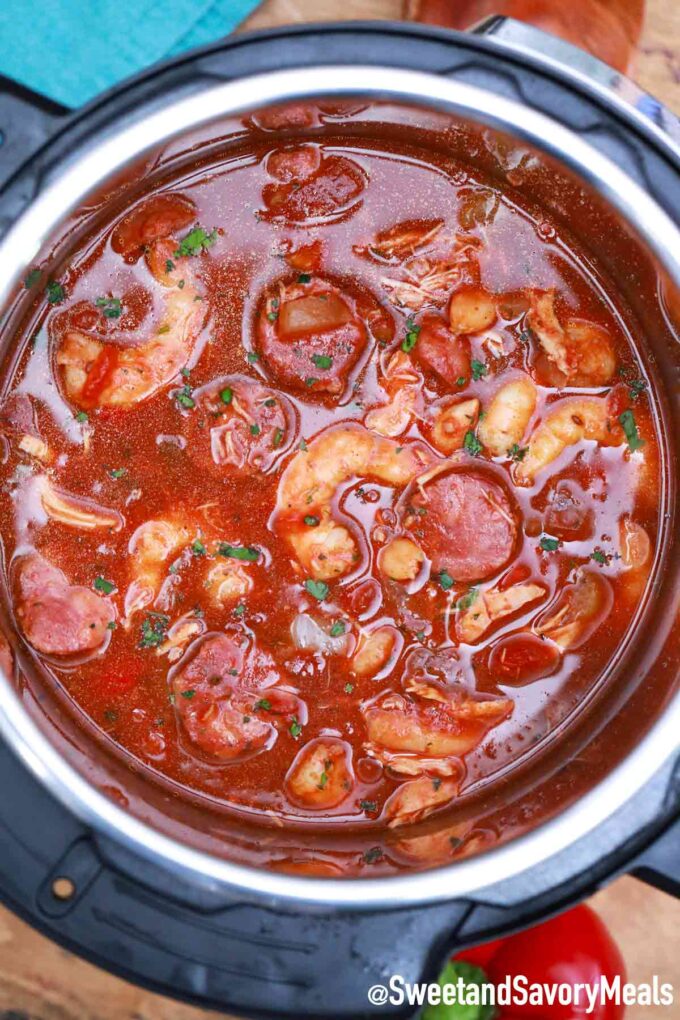 Pressure Cooker Jambalaya Recipe
Instant Pot Jambalaya has quickly become a favorite recipe in our house. You see, we love seafood, and we love flavorful, spicy, hearty food. This recipe fits the bill when it comes to all those. The best part is that it's so incredibly easy to make, and the end result is absolutely outstanding.
If you do not have an Instant Pot, you can make this recipe in the slow cooker. Having a pressure cooker on hand is such a blessing, it helps me create some amazing meals in such a short time. So even if it's a busy weeknight, I know I can still quickly put together something fancy and special.
This Instant Pot Jambalaya is loaded with smoked sausage, tender vegetables, juicy chicken breast, shrimp, and obviously lots of Creole seasoning! We like ours on the spicy side, but you can adjust it to your liking.
Another thing that I prefer, is to cook the rice separately, more as you would do with Gumbo. And I know this is a bit controversial, you can stir it into the Jambalaya once it's done. But I prefer to serve it simple over white or brown rice. This way your Jambalaya will NEVER be mushy, even if it stays in the fridge for a few days.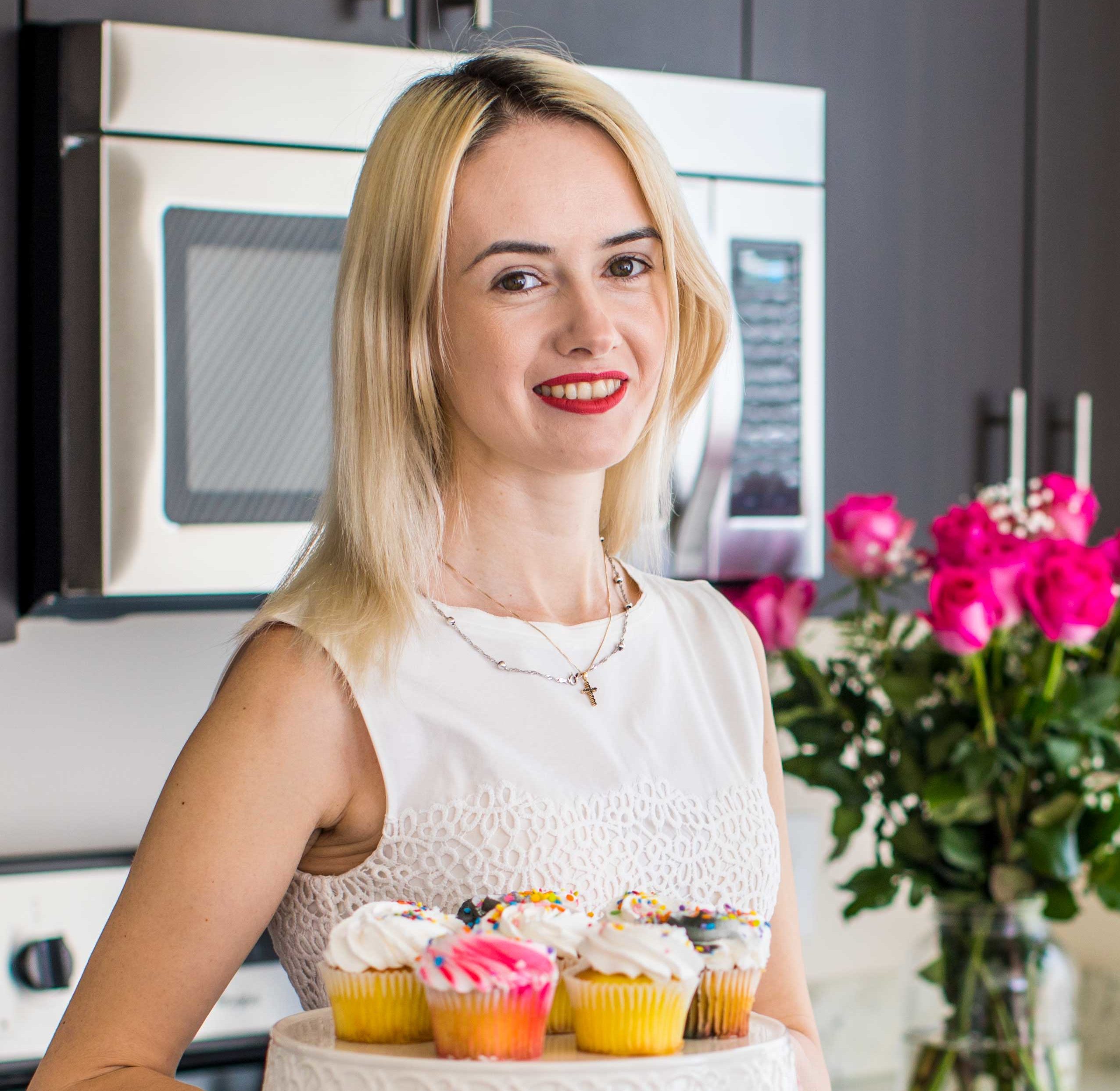 Follow us on Pinterest for more delicious recipes!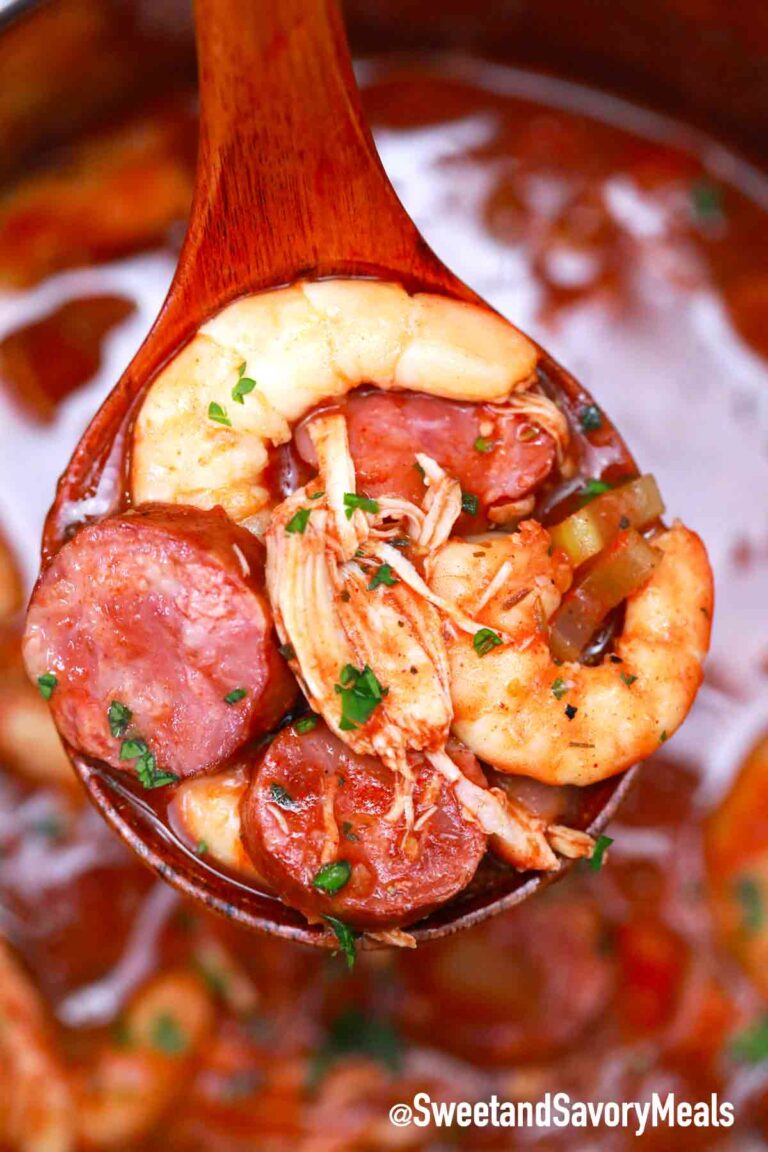 What is Jambalaya?
It is a dish that has originated in the South, to be precise in Lousiana, New Orleans and it consists of rice cooked with different types of meat and seafood in a tomato mixture spiced with Creole seasoning.
Standard jambalaya includes rice, protein, vegetables, and spices. Other versions, like Creole jambalaya, contain tomatoes. Cajun or brown jambalaya does not contain tomatoes.
Also, the dish is supposed to have a pasty, little wet texture, when cooked together with the rice. It should not be soupy or gooey.
What is the difference between Gumbo and Jambalaya?
Mainly in the texture. Gumbo is soupier, and usually, a roux make in a skillet is used to thicken it, to give it a stew-like texture. Because of that, the Gumbo has a darker brownish color.
Also, it contains thickening veggies like okra and it is served with long grain rice on the side.
On the other hand, in Jamabalaya the rice is usually cooked in the pot. However, you can cook the rice separately like in this recipe. This way, you will be able to preserve the perfect texture if you want to keep leftovers for a few days.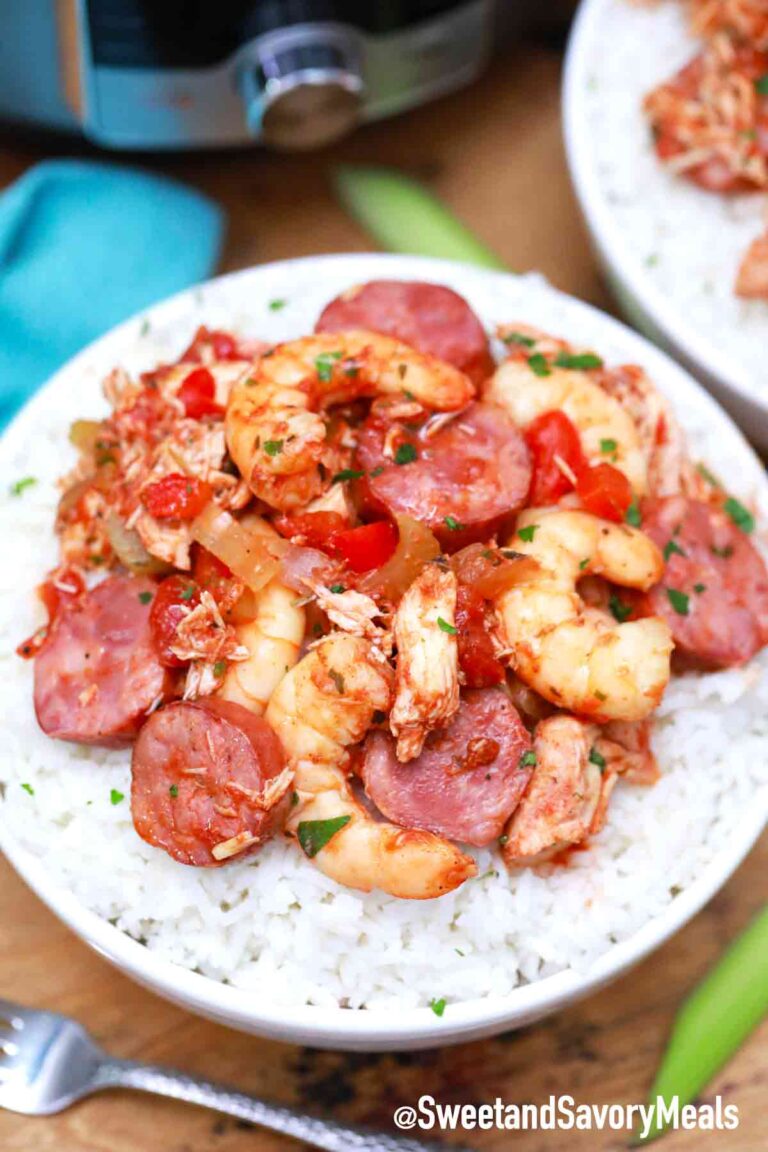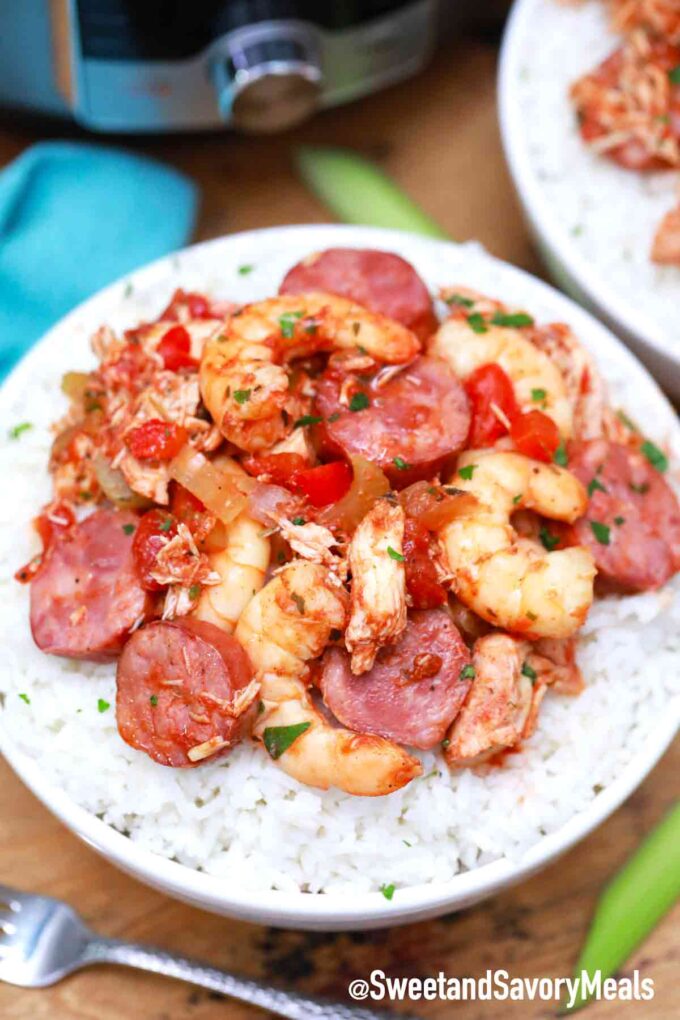 How to make Instant Pot Jambalaya?
Saute the Seafood and Meat: First, you start with your IP on Saute mode, and in batches brown the shrimp, the sausage, and the chicken. Set it aside.
Sauté the Veggies: Next, sauté the veggies and the aromatics.
Combine: Once the veggies have been browned, add the meat WITHOUT the seafood back to the inner pot, add the broth and diced tomatoes. Stir everything really well.
Add the Rice: Now for the rice, you have two options: add the rice on TOP of the meat and veggie mixture, and gently press it down a bit. Or add a long-legged trivet and the rice with water to a pressure cooker safe pot, cover it and place it onto the trivet.
Pressure Cook: Pressure Cook for 5 minutes, followed by a 10-minute Natural Pressure Release.
Add Shrimp: Lastly, open the lid and stir the mixture. If you cooked the rice in a pot remove it and set it aside. Select Saute and add the shrimp, cook it just for a few minutes.
Serve: Taste and adjust for seasonings and serve.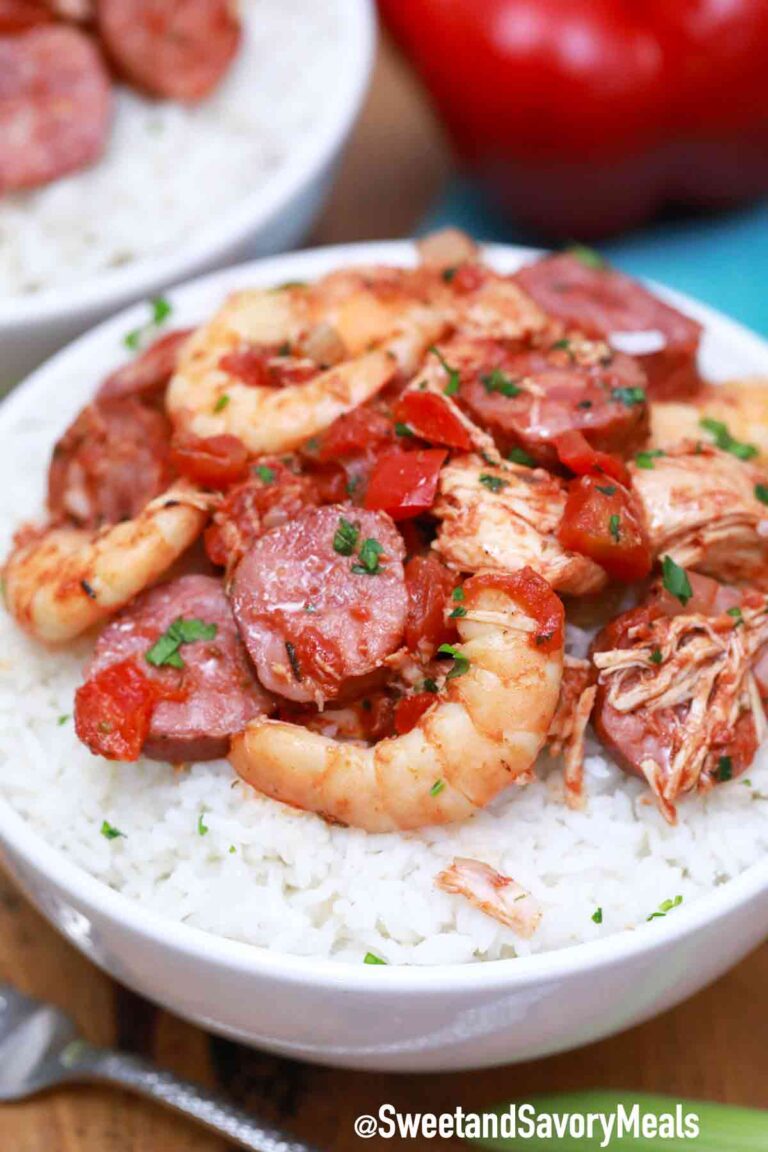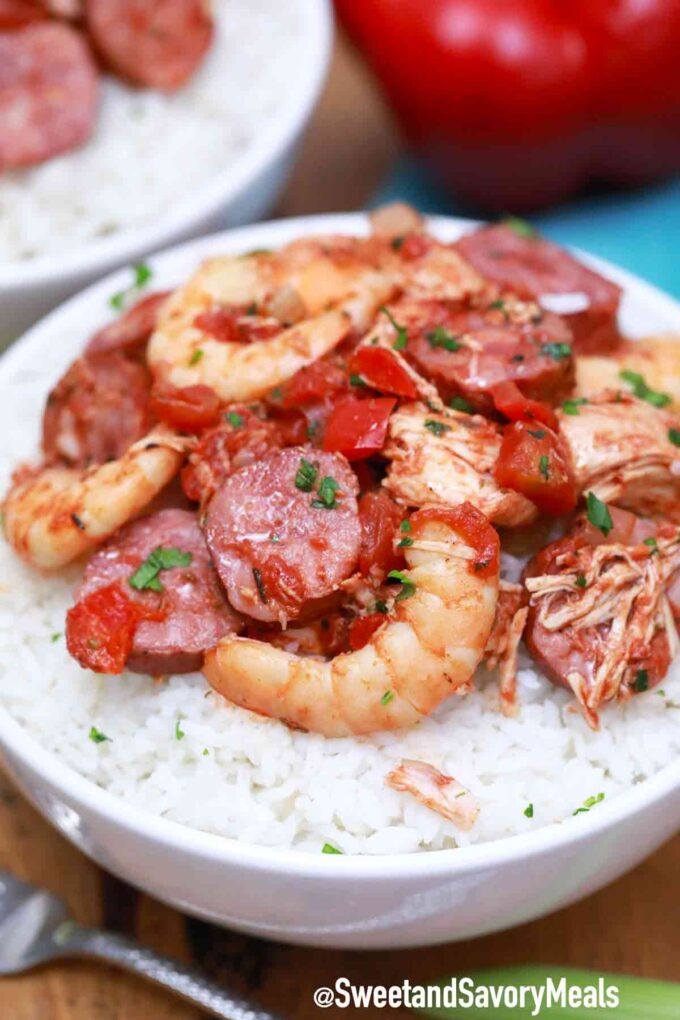 Recipe Variations:
Seasoning: Play with the seasoning as you please. You can add more Creole seasoning mix, or make the Instant Pot Jambalaya spicier by adding more cayenne pepper and even some hot sauce.
Meat: Here the sky is the limit, you can use chicken breasts or thighs. Also, feel free to add your favorite type of smoked sausage. I also enjoy adding shredded pulled pork, smoked ribs, and sometimes mussels.
Veggies: Add more veggies, bell peppers are delicious, but you can also add celery, okra, corn, and even mushrooms.
More Easy Instant Pot Recipes: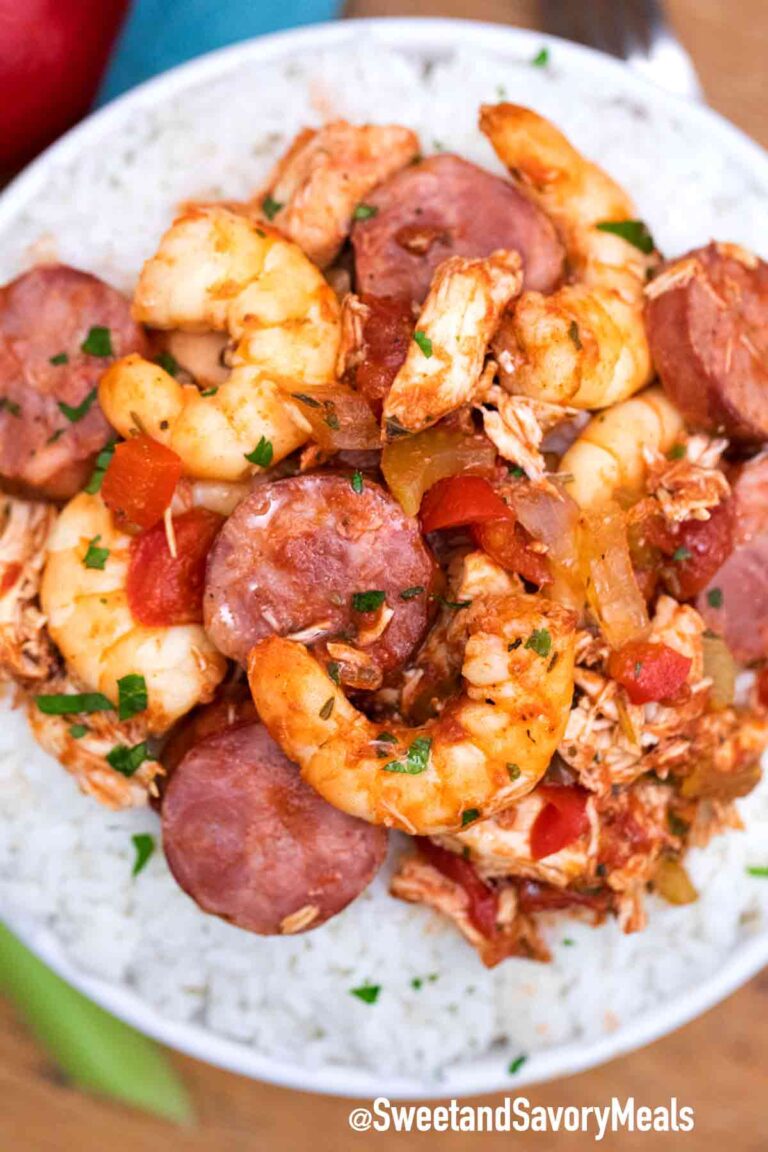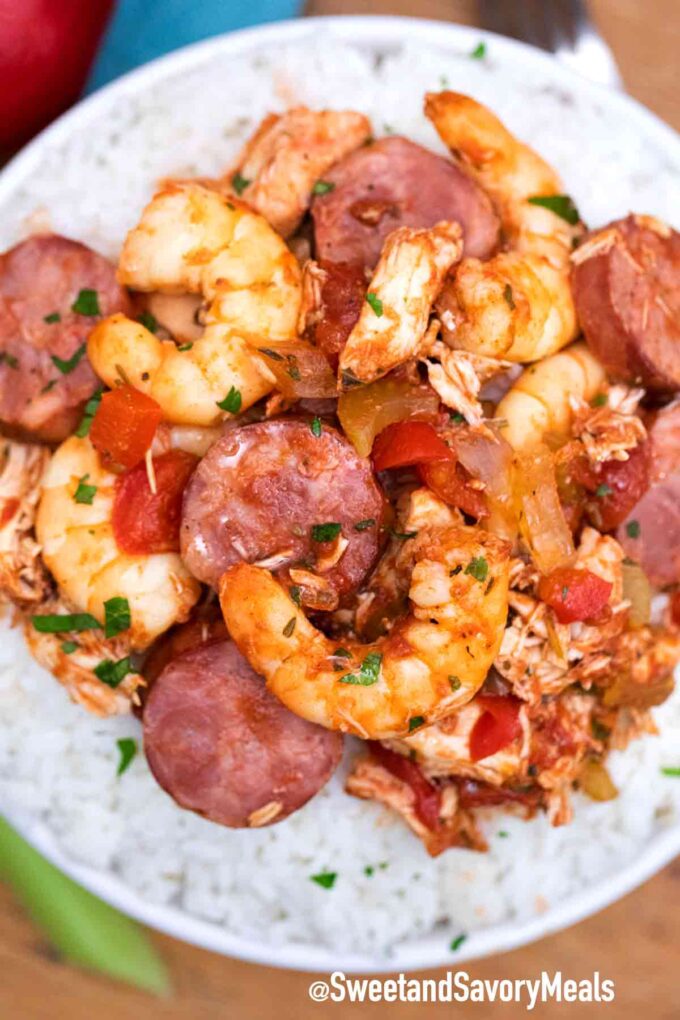 Recipe Tips:
To freeze leftovers, make sure you first cool them to room temperature. After that, add it to a freezer-safe container. Freeze it for up to 3 months. But for the best flavor, I recommend consuming it within the first month.
In addition, I prefer to cook the rice separately in this pot, and after that add it to the Jambalaya. This way it's easier to control the ratio of rice vs the Jambalaya mixture, and it will help you achieve the perfect texture and final dish!
If you want to make this extra savory, I recommend browning some bacon in the pot first. After that, chop it and add it to the mixture. It will give the whole dish an amazing smoky flavor!
Save Recipe
Instant Pot Jambalaya Recipe
Instant Pot Jambalaya is loaded with shrimp, sausage, chicken and juicy bell peppers in a creaole spiced rich and hearty tomato broth.
Author: Catalina Castravet
Serves: 6 servings
Prep time:

30

minutes
Cook time:

5

minutes
Total time:

1

hr
Ingredients
Meat & Seafood:
Veggies:
Spices & Herbs:
Instructions
Add the Rice:
Pressure Cook:
Nutrition information
Carbohydrates: 47 Protein: 51 Fat: 36 Saturated Fat: 9 Cholesterol: 302 Sodium: 1751 Potassium: 1034 Fiber: 3 Sugar: 5 Vitamin A: 1647 Vitamin C: 62 Calcium: 191 Iron: 5 Calories: 626
Save Recipe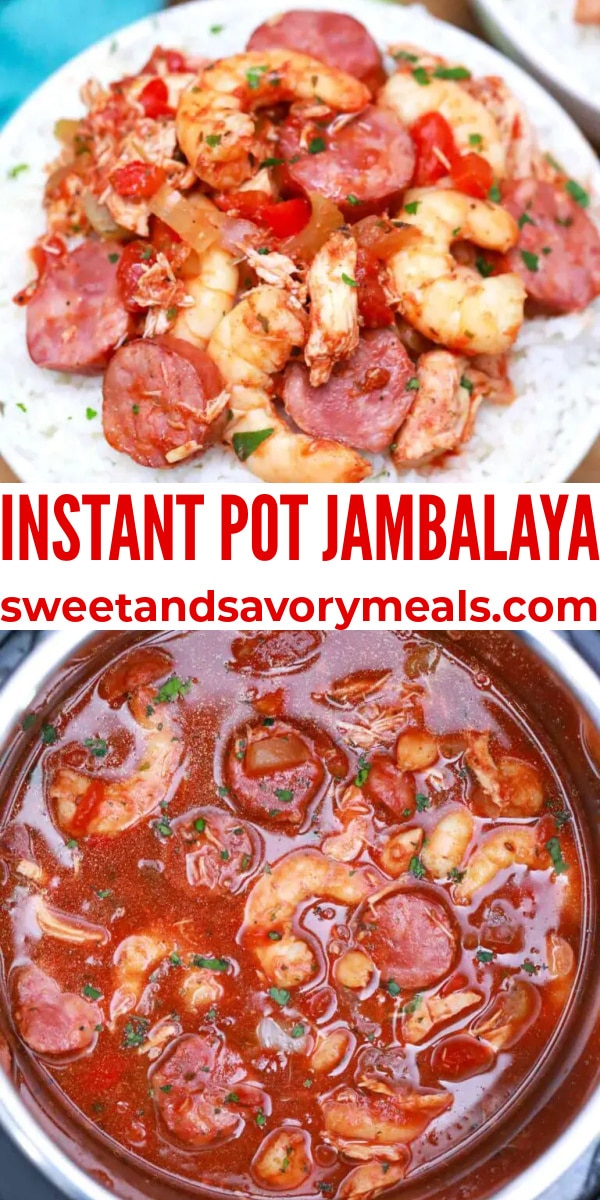 More recipes you might love