Panda Express Beef and Broccoli (Video)
Last updated on June 18th, 2021 at 10:50 pm
Panda Express Beef and Broccoli is a spot-on copycat of the chain's most popular dish! Enjoy succulent steak strips and crisp vegetables all coated in a savory Asian sauce.
If you want more Asian-inspired flavors using other proteins, you'll love this Sweet and Sour Pork, zesty Lemon Pepper Shrimp, and Kung Pao Chicken.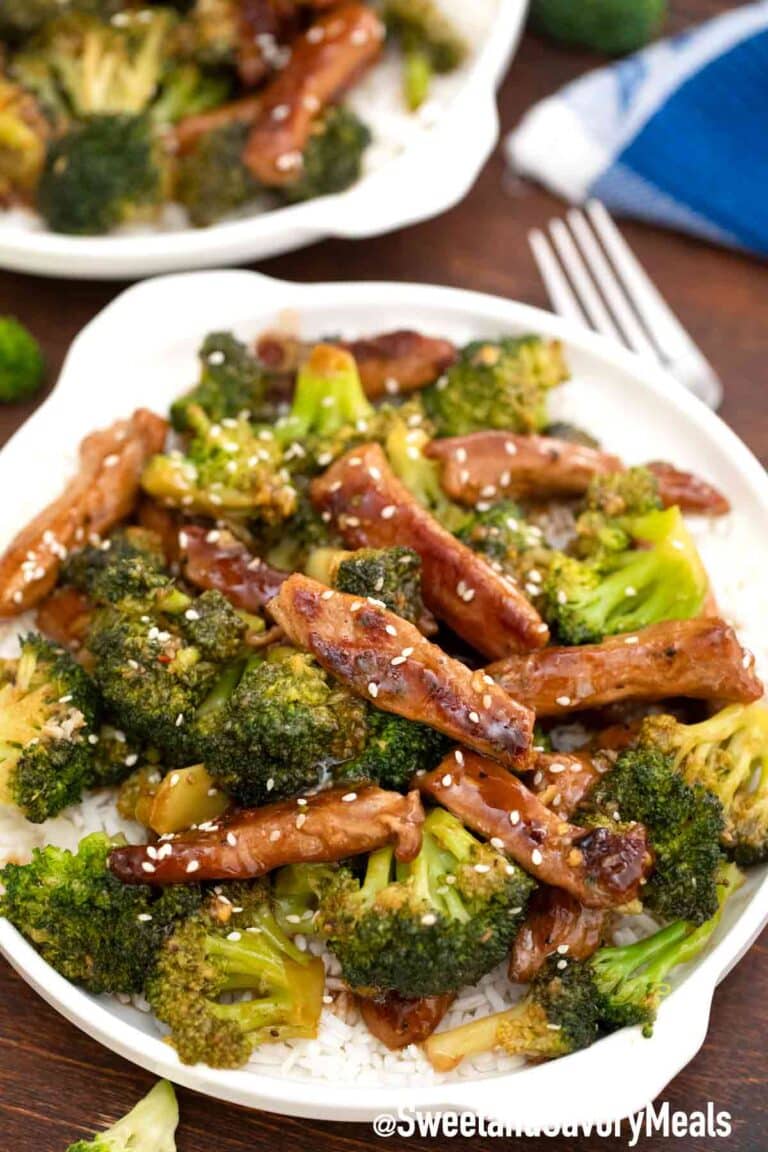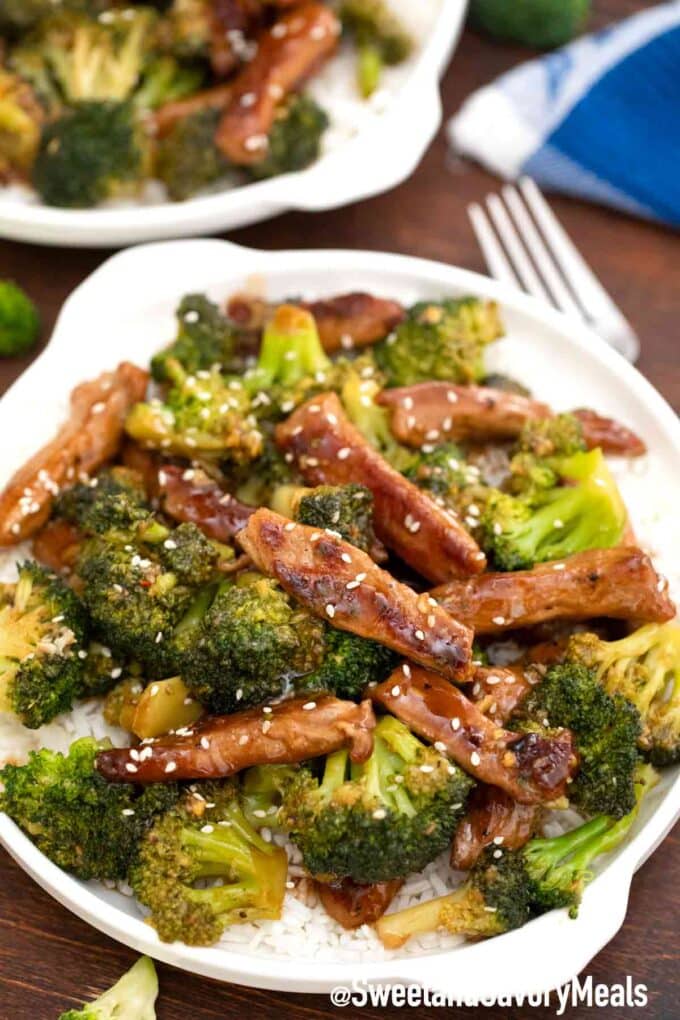 Takeout Style Chinese Beef and Broccoli
Panda Express Beef and Broccoli is the undisputed crowd favorite at the famous restaurant chain. It has all the hallmarks of incredible Chinese food— amazing sauce, fresh vegetables, and meat so tender it melts in your mouth.
But like all fast food, it's not healthy to eat it all the time. My solution? Make it from scratch at home so you can control the ingredients!
This homemade version is everything you love about this take-out classic. However, it's much healthier than the original so feel free to enjoy it more often! Fast, insanely delicious, and has all those bold take-out flavors without the guilt.
Is Panda Express Beef and Broccoli healthy?
Yes! It's rich in protein and nutrients due to the steak and vegetables. This copycat is also much healthier than the original because there are less oil and sodium.
Finally, you can always add more vegetables to your version!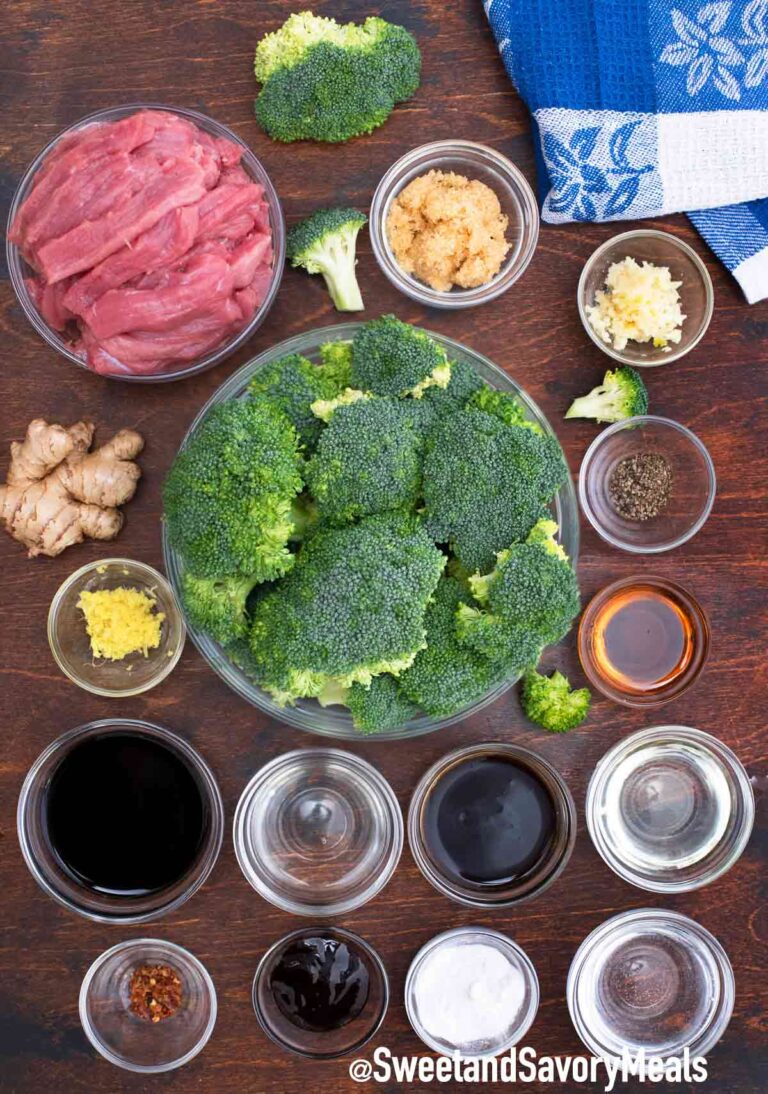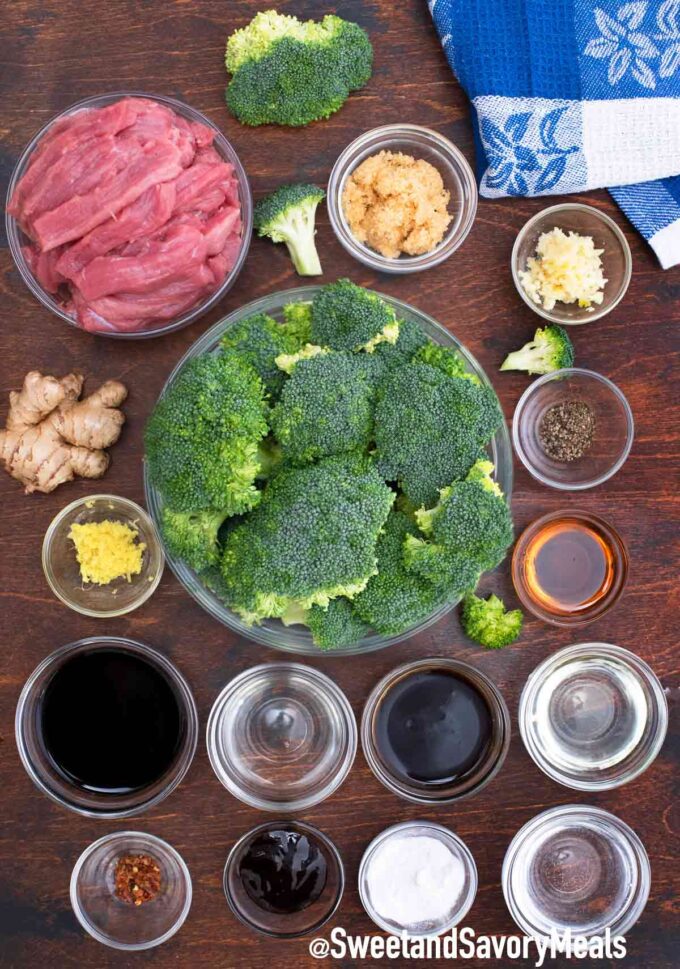 Do you need a wok to make Beef and Broccoli?
Chinese stir-fries are always cooked in a wok because the surfaces disperse heat more evenly than conventional frying pans. That makes them perfect for fast cooking methods that use very high heat.
You also need less oil, and it's easier to toss the ingredients without them landing outside the pan. But while a wok is an ideal equipment to use for a stir-fry, it's alright to use what's in your kitchen.
You can even use a non-stick pan if you want! As long as you follow the recipe, you can look forward to delicious results.
How to make Panda Express Beef and Broccoli?
Prepare the meat. First, tenderize the beef by slicing in strips across the grain. Then, toss in a little cornstarch after patting dry and leave it for at least 15 minutes.
Get your sauce ready. Make a thin slurry with water and cornstarch, then whisk in the rest of the ingredients for the sauce.
Prepare the broccoli by steaming. Boil a quarter cup of water and pour it into a pan followed by the florets. Allow the vegetable steam while covered until it reaches your preferred doneness. Set aside.
Stir fry. Wait until the oil in your pan is shimmering hot, then add the strips of steak in one layer. Let it cook for around 1 minute without touching it. Next, add the veggies and stir-fry until deeply brown. Follow with the aromatics. Give your sauce a quick stir, then add to the stir-fry. Simmer for a minute so the sauce thickens.
Serve. Plate it up with sesame seeds on top and enjoy immediately over some white rice.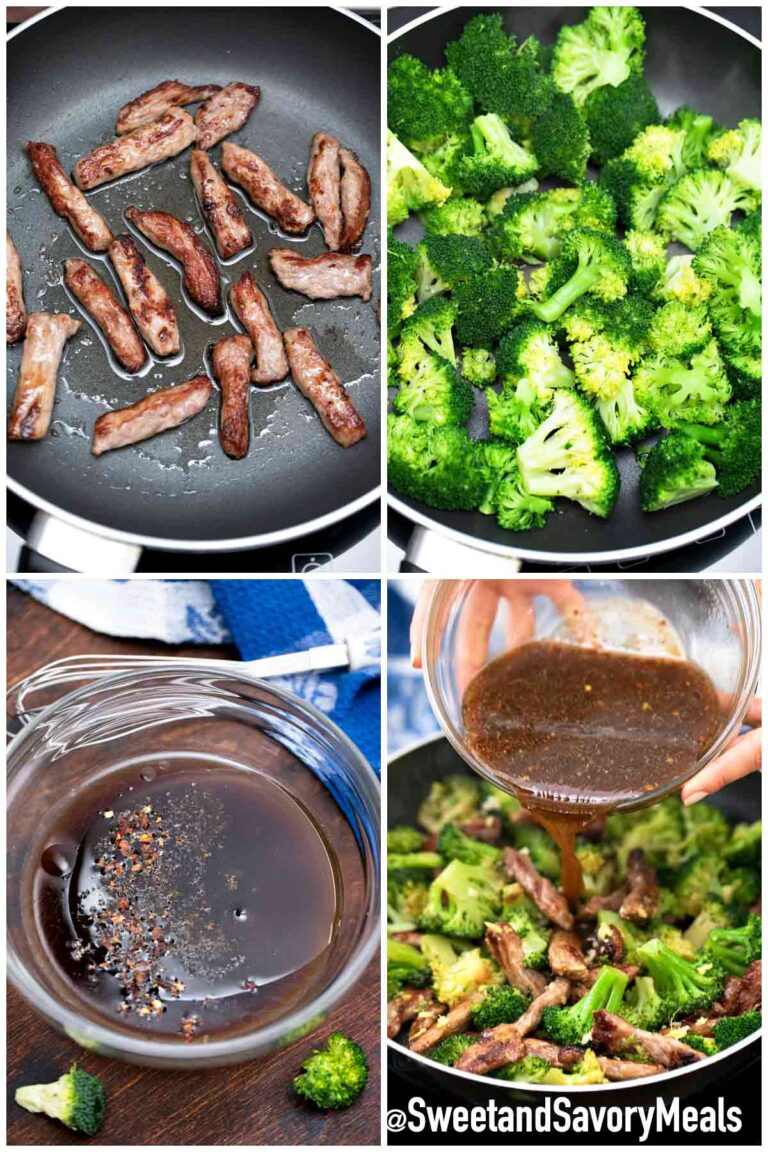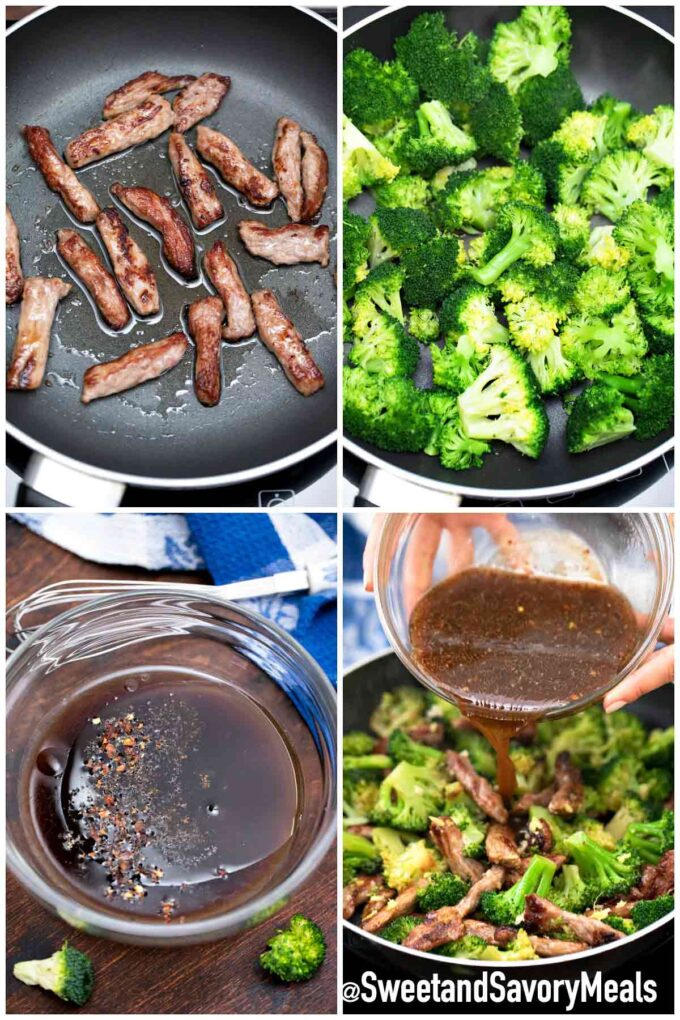 Beef and Broccoli Stir Fry variations and substitutions:
Add other vegetables: Make it healthier and more colorful with carrots, snow peas, brown or white mushrooms, cauliflower florets, and bell peppers.
Use other meat: Chicken or pork sliced into strips are excellent alternatives.
Make it vegetarian: Substitute fried tofu or crispy baked tofu instead of the meat.
Make it spicy: Thinly chop red finger chilies and add them at the end, or use double the amount of pepper flakes.
What cut of beef is best for Chinese Beef and Broccoli?
My favorite stir-fry cuts are skirt or flank. They are perfect for stir-fries because they cook very quickly.
This cut remains tender as long as you slice across the grain and don't overcook (medium at most). It's also very flavorful, lean, and loaded with protein, so if you're looking for a healthier cut of meat, this is it!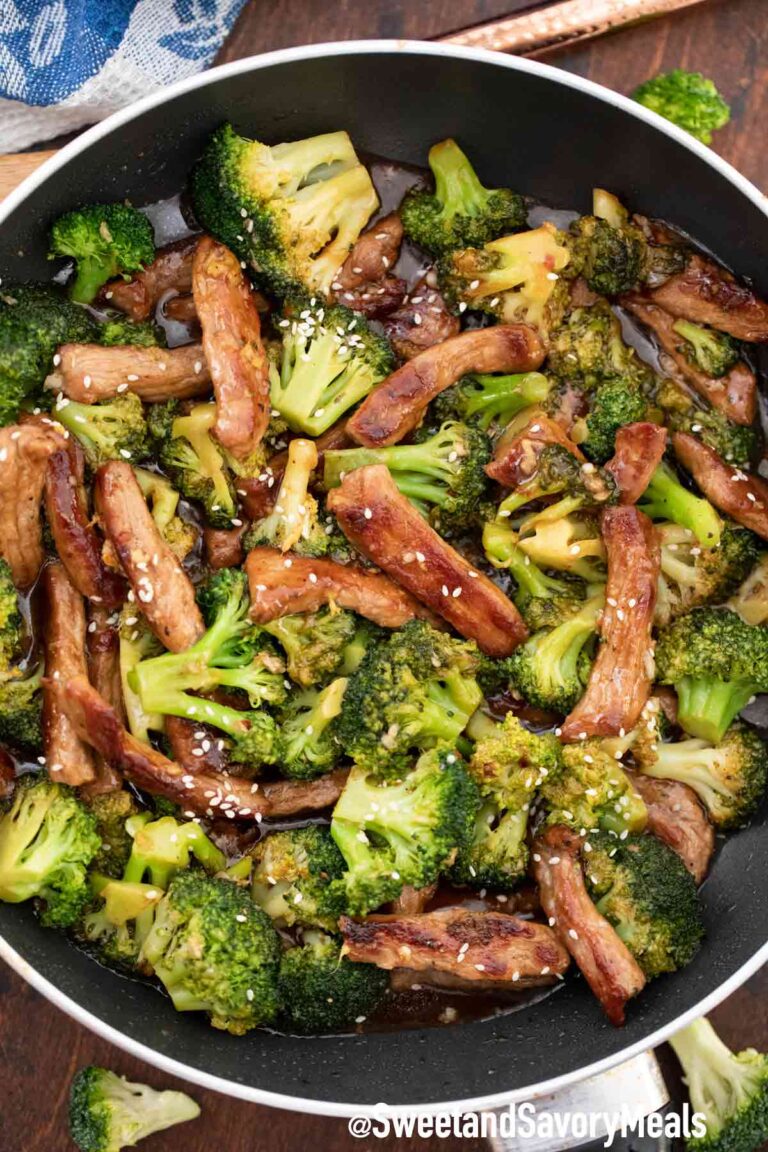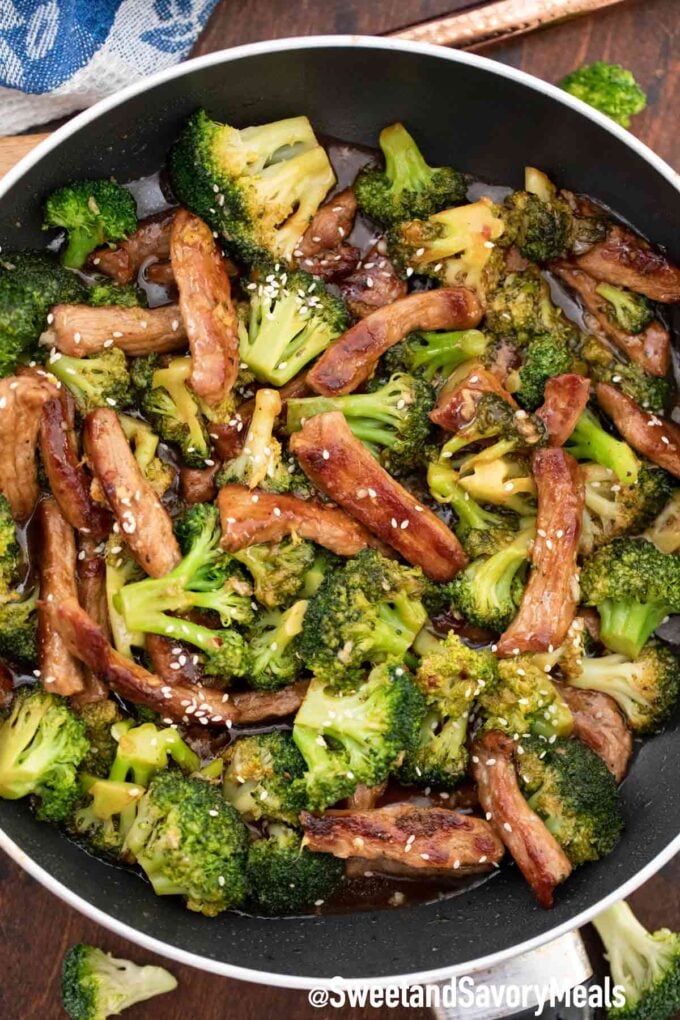 How to tenderize beef strips for stir fry?
It all begins with the way you slice it. We do it against the grain because this cuts through those tough muscle fibers and leaves the meat tender but still with a nice chew.
Then, we coat the surface in cornstarch. Note that in itself, this step doesn't tenderize the meat – it protects those precious juices and helps prevent overcooking.
Both these steps are important to keep your meat soft with a slight crispiness.
What to serve with Panda Express Beef and Broccoli?
Egg fried rice for the full take-out experience, of course!
If you want something lighter, it's also fantastic with white or brown rice with a side of roasted Bok Choy. Great with noodles, too!
More delicious Panda Express recipes: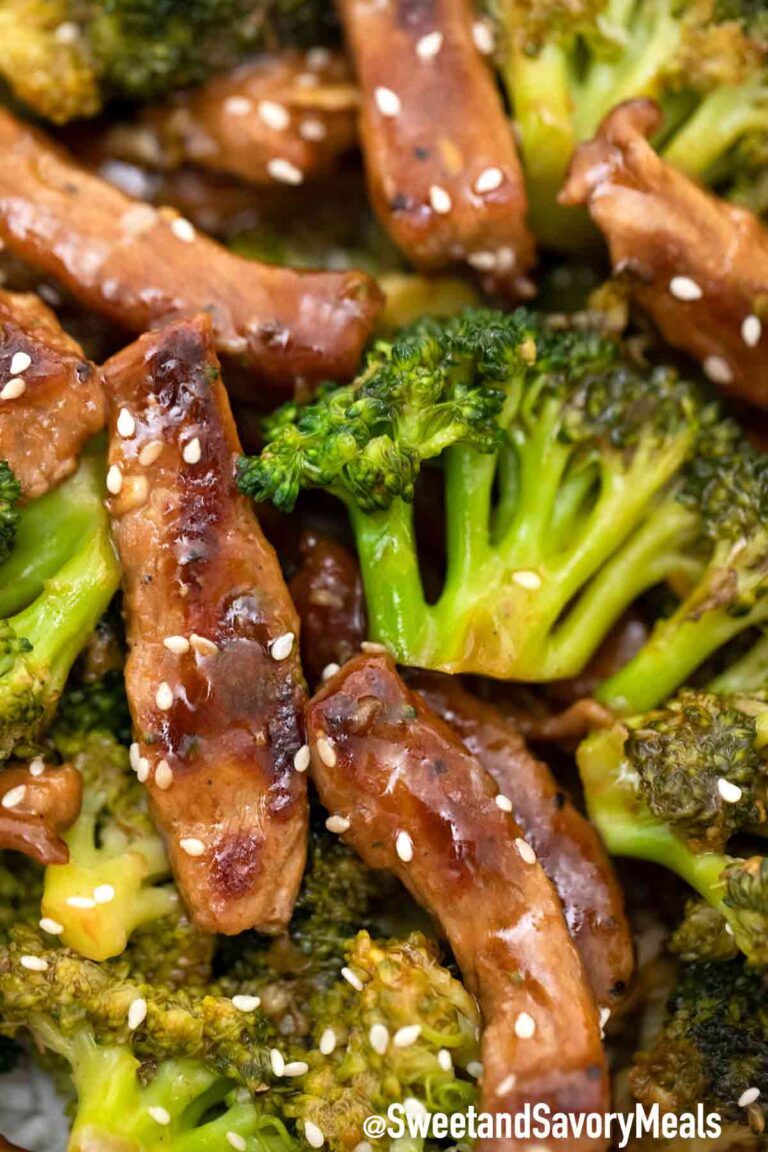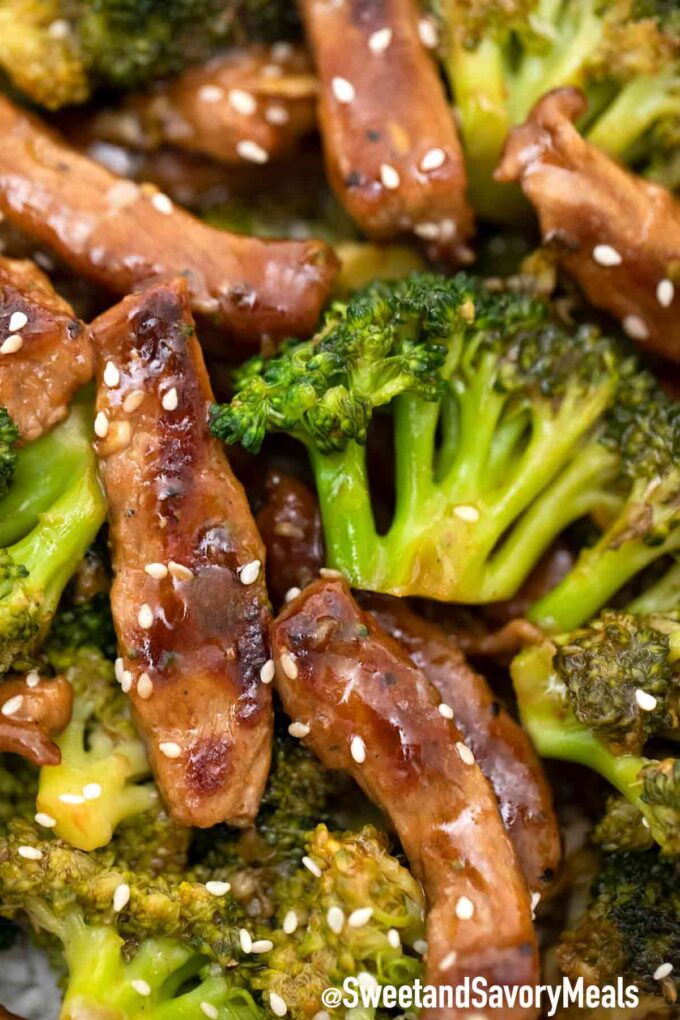 How to store leftovers?
This dish freezes beautifully, so it's great for weekly meal prep or for bringing to lunch the next day. First, let the leftovers get completely cool. Keep in a tightly sealed container, and refrigerate.
Consume within five days. If frozen, it can last up to two months.
Also, to reheat, thaw leftovers first. Then, microwave on high for a couple of minutes until hot.
Recipe tips and tricks:
Stir-fries come together in minutes, so make sure everything is ready before you turn on the stove.
Ensure to slice the steak correctly to avoid tough meat.
Also, the oil should be so hot that it shimmers. Otherwise, the ingredients will get steamed with the sauce instead of getting stir-fried.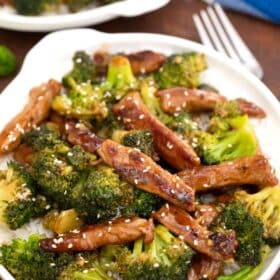 Panda Express Beef and Broccoli
Panda Express Beef and Broccoli is a spot-on copycat of the chain's most popular dish!
Save
Share
Print
Pin
Rate
Ingredients
1

lb

flank steak

(or skirt steak)

1

tablespoon

cornstarch

1

lb

broccoli florets

1/4

cup

water

2

tablespoons

vegetable oil

4

cloves

garlic

(minced)

1

teaspoon

ginger

(grated)
Sauce:
1/2

cup

water

1 1/2

tablespoons

cornstarch

1/4

cup

oyster sauce

1/4

cup

soy sauce

2

tablespoons

brown sugar

2

tablespoon

rice wine

2

teaspoons

sesame oil

1

tablespoon

hoisin sauce

1/2

teaspoon

black pepper

1/4

teaspoon

red pepper flakes
Instructions
Pat dry the beef and slice it across the grain, into 1/4″ thick strips, place it in a large glass bowl and sprinkle with the cornstarch. Gently toss so all the beef is coated.

Set the beef aside for 15 minutes.
Sauce:
Mix the water and cornstarch in a medium bowl, once combined, add the rest of the ingredients. Set aside until needed.
Cook:
Place a large non-stick skillet over medium-high heat, add in the broccoli, and a 1/4 cup of boiling water.

Cover and steam for 2-3 minutes, the water should all have evaporated. Transfer the broccoli to a plate.

Increase the heat to high and add in the oil, once it is shimmering add the beef in a single layer.

Cook, without touching for 1 minute, so it browns nicely, stir it and cook for another 1-2 minutes, then add the broccoli back into to the skillet and stir well.

Reduce heat to medium and stir in the garlic and grated ginger.

Give the sauce a good stir and add it to the pan.

Stir and bring to a simmer and cook for 1 minute to allow the sauce to thicken.

Serve immediately sprinkled with toasted sesame seeds.
Nutrition
Calories:
624
kcal
|
Carbohydrates:
46
g
|
Protein:
59
g
|
Fat:
33
g
|
Saturated Fat:
17
g
|
Cholesterol:
136
mg
|
Sodium:
2750
mg
|
Potassium:
1552
mg
|
Fiber:
6
g
|
Sugar:
18
g
|
Vitamin A:
1487
IU
|
Vitamin C:
202
mg
|
Calcium:
189
mg
|
Iron:
6
mg
More recipes you might love