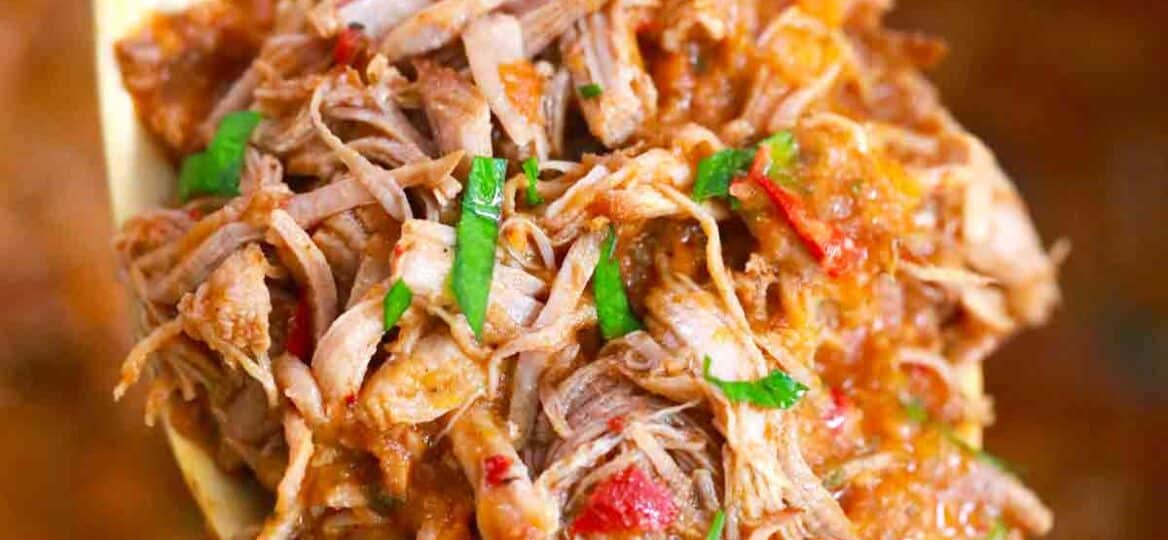 Instant Pot Birria Recipe [Video]
Instant Pot Birria is an authentic Mexican shredded beef recipe made with chiles and chipotle in adobo sauce. In fact, it is really quite easy and can be done in under an hour. Some of the main ingredients are peppers, beef chuck roast, bay leaves, and lots of different seasonings.
You may have already tried our recipe for Instant Pot Barbacoa Beef, which is similar to this recipe and uses most of the same ingredients. Another similar recipe you might enjoy is this amazing Chicken Tinga, which you can use to make these delicious Chicken Tinga Tacos.
Instant Pot Birria Recipe
You can get birria in many Mexican restaurants and even on the streets of Mexico but making your own is so much better and it is nice to know exactly what you are eating. Some restaurants and street vendors add preservatives and other unhealthy stuff you do not want to eat.
Your family and friends will be asking you for the recipe after they taste this delicious Mexican beef stew, and you can go ahead and give it to them, so they don't expect you to make it for them all the time.
Let them make their own with beef chuck roast, chiles, jalapenos, adobo sauce, bay leaves, garlic, beef broth, tomatoes, and other toppings.
Ingredients needed:
For the exact measurements and instructions, check out our handy recipe card below. Here is all you need for this recipe:
Sauce ingredients:
Chiles: We used dried guajillo and ancho chiles.
Jalapenos: Sliced or chopped depending on how much heat you want.
Olive oil: Virgin olive oil is best.

Onion: White onion, peeled and diced.
Garlic cloves: Fresh and minced or store-bought is fine too.
Crushed tomatoes: In a can or smash your own.

Beef broth: Store-bought or homemade.

Apple cider vinegar: Very important ingredient for flavor.
Cumin: Ground finely.
Dried oregano: Ground finely.
Cinnamon: Just a pinch.
Ground cloves: Just a pinch.

Paprika: We used smoked for the best smokey flavor.
Parsley: Fresh and dried.
Lime juice: Store-bought or squeeze your own.
Lime zest: Make your own at home or buy from the store.
Worcestershire sauce: Make your own with vinegar, molasses, and a few other ingredients.
Beef stew ingredients:
Beef chuck roast: Roughly cut into three-inch chunks.
Sea salt: Finely ground.
Black pepper: Also, freshly cracked is better.
Olive oil: Virgin olive oil is best.

Bay leaves: Dried.
Corn tortillas: Warm and fresh for serving.
Toppings: Such as sour cream, jalapenos, lime, avocado, onion, cilantro, corn.
How to make instant pot birria from scratch?
Prepare the chiles: First, slice off the stems, remove seeds, and sauté in the instant pot for one to two minutes, flipping once. Just until they are lightly toasted and fragrant. Next, put them in a blender or food processor and set them aside.

Sauté the vegetables: Then, add the oil and sauté the onions for about four or five minutes, stirring as needed, until they are soft. After that, toss in the garlic and sauté for three more minutes, stirring occasionally.
Blend it: After, put the onions and garlic in the blender and add the crushed tomatoes. Next, blend for one minute.

Add more: Next, put the Worcestershire sauce, lime juice and zest, paprika, parsley, cloves, ginger, oregano, cumin, vinegar, and two cups of beef stock in the blender and mix for one minute.

Sear the meat: (This is optional so skip it if you want to save time.) First, rinse out your instant pot and dry the insert. After that, pour in the oil and add the meat. Afterward, season it with salt and pepper to taste. Turn it occasionally to brown all sides.

Pressure time: Finally, add everything to the pot along with the bay leaves and the leftover beef stock and use high-pressure cooking for 45 minutes on manual release. Cook time may vary according to meat and cooker.
Shred: (Also optional.) Afterward, remove the lid, discarding the bay leaves. Use two forks to shred the meat or you can leave it as chunks depending on how you want to serve it. Mix to make sure all the meat is covered.

Season: Last, add whatever seasonings you like to the recipe including more salt and pepper to taste.

Serve: Finally, serve in bowls or on tortillas with toppings on the side.
Recipe variations:
Use other meat: Also, if you would rather, try using chicken, pork, or lamb instead of beef.

Other stock: For a different taste, try using chicken stock instead of beef.
Add some more heat: Actually, for a spicier taste, add chili powder or red pepper flakes to the sauce.

Sweeten it up: Alternatively, toss in a tablespoon of white or brown sugar to give it a sweet glaze.

Other onions: Similarly, use yellow or red onions instead of white.

Lemon flavor: Additionally, pour in an ounce of lemon juice as well.
How to serve:
Serve the beef birria chunks in a bowl as beef stew or shred it and serve with warm tortillas and toppings on the side. Or try one of these ideas:
Serve it with freshly grated melting cheese such as mozzarella, queso, or Oaxaca cheese.
Another idea is to garnish with lettuce, tomatoes, and avocado on top.

Also, you could fry the tortillas in a frying pan until crispy with the meat inside for a grilled taste.
More Mexican Recipes:
Frequently asked questions
What is the difference between birria and barbacoa?
Barbacoa (barbecue) is just a cooking method where a hole is made in the dirt and meat is cooked inside them. Traditionally, in Mexico, the meat is goat or lamb, and it is wrapped in banana leaves and placed on top of hot rocks in the bottom of the hole, and cooked for about eight hours.
Birria is made from meat that is made barbacoa-style. The difference is that birria is cooked in a large pot of sauce made with chili peppers and other special herbs and seasonings. Actually, the pot is covered with corn dough and cooked for four hours instead of eight.
How do you make birria tacos?
Making birria tacos is simple using fresh tortillas dipped in the beef sauce, filled with the shredded meat, and then fried in a hot skillet. Actually, it is typically done with a cast-iron skillet, but you can use any kind of skillet. Subsequently, you can also use premade and shaped taco shells you buy at the grocery store, but they do not taste the same as the ones you grill yourself.
Where is the birria recipe from?
Birria is a traditional Mexican food from the state of Jalisco that is usually made with goat meat in Mexico but in other countries like the US, you will find it made with beef, pork, chicken, or lamb. Subsequently, it is cooked with a special sauce and served as a stew or used as taco or burrito filling.
History states that the meal came from the Mexican famine in the 16th century, because goats were so plentiful and were seen as nuisances, they became the food of choice for many. Therefore, since the meat tasted so gamey, the locals decided to cook it slowly, in sauce, in the dirt to help the taste.
How to store leftovers?
Store: First, cool the leftovers completely and put them in an airtight container or freezer bag. As a result, you can keep them in the refrigerator for a week or frozen for up to three months.

Freeze: Similarly, let the leftovers cool before adding them to an airtight container that is freezer-safe. Alternatively, add the cooled meat to a freezer-bag. Afte that, freeze for up to 3 months.
Thaw: Finally, when ready to serve make sure to plan in advance and transfer the frozen meat from the freezer to the fridge and let it thaw overnight.
Reheat: To reheat, defrost frozen leftovers overnight in the fridge and heat in the microwave for 45 seconds.
Cooking tips:
Rather than chuck roast, you can also use short ribs, brisket, beef shoulder, or beef cheek.

Also, make the flavor even tastier by marinating overnight in the fridge.

Alternatively, keep the extra meat warm in a crockpot or in grilled tortillas in a warm oven.

In addition, use the leftover meat for other delightful dishes like breakfast burritos or instant pot Mexican beef stew.

Another option is to try the meat mixture in this yummy chipotle beef stew.
Instant Pot Birria Recipe
Ingredients
Sauce:
3

dried ancho chiles

3

dried guajillo chiles

1

chile in adobo sauce

1

tablespoon

adobo sauce

2

jalapenos

sliced

2

tablespoons

olive oil

1

white onion

diced

6

cloves

garlic

minced

15

oz

can crushed tomatoes

4

cups

beef broth

divided

1/4

cup

apple cider vinegar

1

teaspoon

ground cumin

1

teaspoon

dried oregano

1/2

teaspoon

ground ginger

1/4

teaspoon

ground cinnamon

pinch of ground cloves

1

teaspoon

smoked paprika

1

teaspoon

dried parsley

1

tablespoon

lime juice

1

teaspoon

lime zest

1

tablespoon

Worcestershire sauce
Beef Stew:
4

pounds

beef chuck roast

roughly cut into 3-inch chunks

Salt and freshly-cracked black pepper

2

tablespoons

olive oil

2

bay leaves
Toppings:
Chopped fresh cilantro

Sliced red onion

Avocado

Sweet corn

Sour cream

Lime wedges

Sliced jalapeño
Instructions
Prep the chiles:
Core and toast the chiles.

Slice the stems from the dried chiles, then remove and discard the seeds inside.

Press the "Sauté" button on the Instant Pot. Add the chiles and cook stirring for 1 to 2 minutes per side, they should be fragrant and lightly toasted.

Transfer them to a food processor and set them aside.
Sauté the veggies:
Add the oil to the inner pot and once hot add the onion, sauté stirring for for 4-5 minutes.

Add the garlic, jalapenos, and sauté for 3 more minutes, stirring occasionally.

Turn off the Instant Pot, and transfer the mixture to the blender with the peppers.
Make the sauce:
Add the crushed tomatoes, 2 cups of beef broth, apple cider vinegar, cumin, oregano, ginger, cinnamon, cloves, dried parsley, paprika, lime juice, zest, and Worcestershire sauce.

Cover and blend until the mixture is completely smooth. Set aside.
Brown the beef:
Pat dry the beef and season with salt and pepper.

Select Saute and add oil to the inner pot, when the oil is hot add the beef, cook in batches if needed. Brown on all sides and transfer it to a plate.

Repeat with the remaining beef and add more oil if needed. Turn off the Instant Pot.
Pressure cook:
Add the seared beef and the sauce to the inner pot, add the bay leaves and remaining 2 cups of beef broth, stir.

Cover, close the lid, and set the valve to "Sealing."

Pressure cook on "Manual" for 45 minutes, followed by a quick release.
Shred:
Open carefully, discard the bay leaves and transfer the beef to a bowl, and using two forks shreds it. After that, return it to the sauce and stir.

Taste and season with salt and pepper, if needed.

Serve in tacos or in bowls with your favorite toppings and warm tortillas on the side.
Deliciousness to your inbox
Enjoy weekly hand picked recipes and recommendations