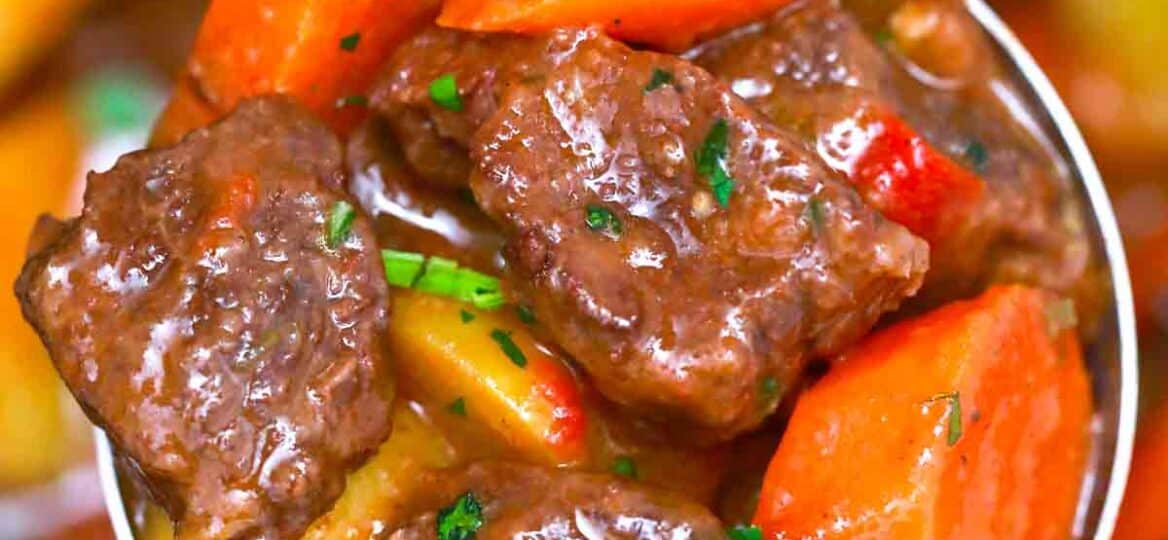 Chipotle Beef Stew is tender and hearty, infused with aromatic Mexican flavors, and made with chipotle chiles in adobo sauce for some heat. A delicious recipe made in the crockpot, it will quickly become a family favorite.
Comfort food at its best with this mouthwatering recipe, we highly recommend making a large batch when you crave some Mexican food. You can try also our Mexican Pot Roast, Slow Cooker Beef Stew and for a fancy occasion check this Beef Bourguignon recipe.
Slow Cooker Chipotle Beef Stew
Slow Cooker Chipotle Beef Stew is loaded with amazing flavors, we like to serve it with some black beans and tortillas chips on the side for a full feast. The beef is so tender that it melts in your mouth. The sauce is full of tomato and chili pepper flavors, which also add some heat to the dish.
A bit of taco seasoning, some lime zest, and lime juice take this recipe over the top!! Making it in the slow cooker also saves time and effort and allows all the aromas to really develop.
What do you need to make Chipotle Beef Stew?
Stew meat
Flour – just a little is used to brown the beef to pure perfection.
Salt, Pepper, and oil
Onion and garlic
Tomato paste
Diced tomatoes with green chiles
Bell peppers
Taco seasoning – for extra Mexican favor!
Lime juice and zest
Beef broth
Carrots
Red potatoes
Mushrooms
Bay leaves and fresh thyme
How do you make Slow Cooker Chipotle Beef Stew?
Brown the Beef: First, toss the meat in flour, salt, and pepper and brown it to pure perfection. Add it to the slow cooker.
Deglaze: Next, deglaze the skillet with beer and add the drippings to the slow cooker as well.
Combine: Add the rest of the ingredients to the crockpot, except thyme and bay leaves. Stir to combine. Top with bay leaves and thyme and cover with the lid.
Cook: Cook on Low for 7-8 hours or on High for 4-5 hours.
Serve: Once done cooking and the beef is fork-tender, discard the bay leaves and thyme, stir to combine. Garnish with cilantro and serve.
More Mexican Recipes:
Recipe Variations:
Add different veggies: this recipe is very versatile, check what you have on hand, you can skip the potatoes and add some black beans for a healthier version. Another option is to use chickpeas or other legumes.
Adjust the heat: Make the stew as spicy as you prefer it, add more or less chipotle peppers.
Play with the Toppings: The recipe is delicious as it is, but when you pile it up with toppings it becomes even better. Serve it with your favorite Mexican toppings!
Use other types of meat: Make this recipe with other types of meat in case you are not a beef fan. Pork, chicken, and even turkey work great!
Make it in the Instant Pot: Brown the beef, after that add all the ingredients to the pressure cooker and cook on high pressure for 45 minutes followed by a 15-minute Natural Pressure Release.
Make it on the stove: Use a Dutch oven, follow the same instructions to brown the beef, saute the onion and garlic, and after that cook in the oven for about 4 hours.
Topping suggestions:
Serving Suggestions:
Top the Chipotle Beef Stew with the above topping suggestions and also we recommend you choose from these sides: Chipotle black beans, Chipotle cilantro lime rice, Mexican street corn, or this Mexican Salad.
Some chilled Horchata would also be a must! Try your hand at making your own Taco Seasoning and use it in this recipe, store the leftovers in a spice container so you can use it anytime you need some.
Finish such a delicious meal with a few desserts, Mexican Wedding Cookies, and Tres Leches Cake would make a great choice!
How to store:
Add the leftovers to an airtight container and store in the fridge for up to 5 days.
Another option is to add the leftovers to a freezer-safe container or Ziploc bag and freeze for up to 3 months. Defrost overnight in the fridge and reheat on the stove. Taste and adjust for salt and pepper.
Recipe Tips:
Always brown the beef, do NOT skip this step as it makes a huge difference.
Do not skip the Taco seasoning and the fresh lime juice and zest, they definitely add great flavor to the dish.
Use any Mexican beer that you like, we usually go with Corona, but any other light beer would work great,
A dark beer will work as well, it will just be a bit more overpowering.
Make sure you serve it with some Mexican toppings!
Deliciousness to your inbox
Enjoy weekly hand picked recipes and recommendations