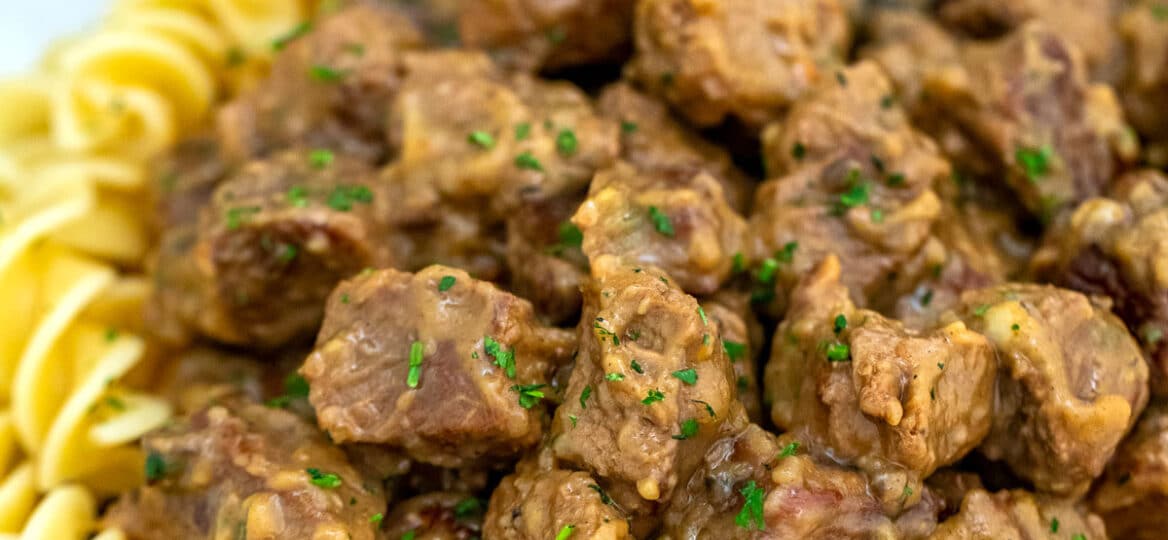 Instant Pot Beef Tips and Gravy
Instant Pot Beef Tips and Gravy is tender, saucy, and flavorful! It makes for a great main dish that you can serve quickly – perfect for busy weeknights!
If your pressure cooker has been gathering dust in your kitchen, then, it is time to take it out and prepare this dish with it! I do have a lot of similar recipes that you can try to cook using the IP like these: Cheeseburger Soup, Refried Beans, and Pumpkin Soup!
Pressure Cooker Beef Tips and Gravy
Instant Pot Beef Tips and Gravy has been part of our regular menu rotation for years because of three primary reasons. It is easy to make, inexpensive, and packed with melt-in-your-mouth meaty goodness!
Cooking the meat in the IP yields to tender meat that will leave you wanting for more! When I last prepared this dish, I made a bigger batch of mashed potatoes than I normally would to go with it.
And guess what, my family devoured everything. With this recipe, you get to have restaurant-quality food right at the comfort of your home using affordable cuts of meat.
Yes, the IP can tenderize even the toughest cuts! Achieve all of these in under 30 minutes. Try it now and see for yourself!
What are beef tips?
They are trimmings from the more premium cuts of beef. They are cut into small cubes that are great for stewing or braising. These flaps are very lean which makes them quite tough to cook.
What do you need to make Instant Pot Beef Tips and Gravy
You only need a few common ingredients such as:
cubed beef
canola oil
aromatics such as garlic and onions
baby Bella mushrooms
low-sodium beef broth
Sauces such as Worcestershire sauce and soy sauce
herbs like dried rosemary and thyme
salt and pepper
gravy ingredients: all-purpose flour, butter
How to make Instant Pot Beef Tips and Gravy
Sauté: First, season the meat with salt and pepper, then, heat some oil. Then, use the sauté function of the IP to brown the meat. Add the onions, too. Then, remove everything and set aside on a plate and cover.
Add the rest: Add some broth in the pot to deglaze it. Then, add in the rest of the liquids and other seasonings along with the mushrooms.
Cook: Set the IP to manual and cook for about 15 minutes. Once done, do a quick release. Adjust the taste if needed.
Thicken: To thicken the sauce, add the roux. Prepare it by melting butter and whisking in flour in it. This roux will thicken the sauce of the dish.
Serve: Once desired consistency is achieved, garnish with your favorite fresh herb and serve.
What beef cut is best to use?
While stew meat is a good candidate, you can never go wrong with tenderloin or sirloin tip.
What to serve with Beef Tips
Beef, in general, pairs well with potatoes. So, mashed potatoes are almost a given when serving this dish. Or, you can serve it with rice, your favorite pasta, garlic bread, or dinner rolls.
Can you make Instant Pot Beef Tips and Gravy in advance?
Yes! It can be stored in an airtight container in the fridge for up to two days. So, you can plan and consider this.
This also makes for a great freezer meal. Store it in individual freezer bags so that thawing and reheating are easy. It can keep well in the freezer for as long as 3 months or even beyond that.
Recipe Tips:
Use cream of mushroom soup in place of everything else aside from the cubes.
You can also cook the mashed potatoes with the dish at the same time. Just make use of the steam rack, then, mash it when already soft. Then, mix with dairy and seasonings.
Aside from baby Bella, you can use cremini mushrooms.