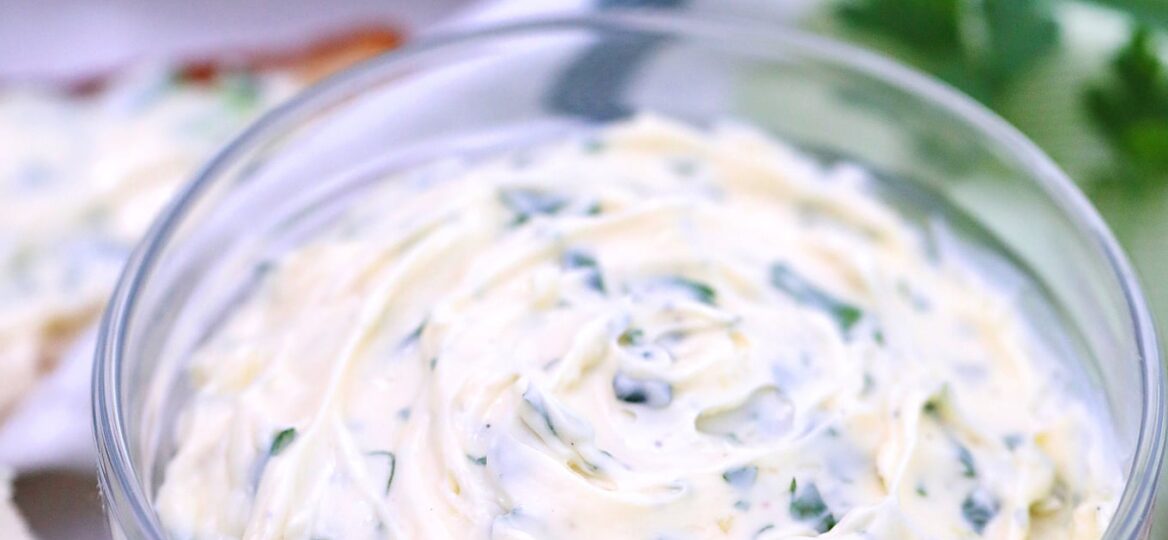 Easy Garlic Butter Recipe
Homemade Garlic Butter is the perfect way to season any vegetables, meats or simply spread it on bread. It is a super easy recipe to make, and a great flavor enhancer to any meal.
We love using it pretty much on everything. Some of our favorite ways of utilizing it is on Mashed Potatoes, Corn on the Cob, or Glazed Salmon.
Homemade Garlic Butter Recipe
If you have been to a French or Italian restaurant, then you have probably been served Garlic Butter to be spread on bread. It is one of those treats, that will hook you right away. And once you try it, you realize how delicious and amazing this simple dish can be.
We are huge garlic lovers, and pretty much every dish is filled with it. The smell is fantastic, and it can turn a simple dish into a tasty and flavorful meal. It is basically a secret ingredient that will do a lot of magic.
Also, you can simply spread it on bread, or toast and enjoy it in the morning with some Salmon Lox. All you need is a few simple ingredients, and less than 5 minutes of your time, to have it ready!
How To Make Garlic Butter?
This is one simple recipe to make. You will need the following ingredients:
Salted butter softened
Minced garlic
Minced fresh parsley
Freshly squeezed lemon juice, optional
Green onions, optional
Once you have the ingredients ready, you are pretty much all done. Just combine all ingredients in a bowl, and mix until properly combined. Serve with your favorite dishes!
How to make Garlic Butter Sauce?
You can also make a sauce out of it and is ideal to use on steak or meats. The only difference here will be that you will have to melt the butter.
Start by melting the butter in a small saucepan over medium heat.
Then, add the minced garlic and saute for about 30 to 60 seconds, while constantly stirring. Ensure not to burn it.
Reduce the heat, and add the minced parsley and squeezed lemon juice to it.
How to make Papa John's Style Garlic Butter Sauce?
Ingredients needed:
1/2 cup (1 stick) cold unsalted butter, cubed
1 1/4 teaspoons garlic powder
3/4 teaspoon kosher salt
Add the butter to a saucepan, and let it melt over low heat. Whisk occasionally, until fully melted.
Then, add the salt and garlic powder, and whisk well to combine.
Serve immediately!
Can I make Easy Garlic Butter ahead of time?
Absolutely! This recipe is great to serve right away, or refrigerated. We like making a bigger batch and then simply store it for later. Simply, let it completely cool prior to storing. Then, transfer it to a lid-jar, and store for up to 2 weeks in the refrigerator.
To reheat:
Transfer it to a microwave-safe jar, and microwave it for about 20-30 seconds. If it is not completely melted as desired, stir, as needed until desired consistency is reached. Use it to spread on bread, or as a dip.
Recipe Tips
This recipe works great with both minced or powdered

garlic.

Also, if you want to store it for a longer period of time, simply pop it in the freezer. It will last in the freezer for up to 3 months.
You can utilize it on pasta, pizza, steak, crab legs, lobsters, popcorn, you name it! It is truly an amazing flavor booster to pretty much any dish. So feel free to use it whenever you feel like it.
In addition, margarine works great here and can be used as well.