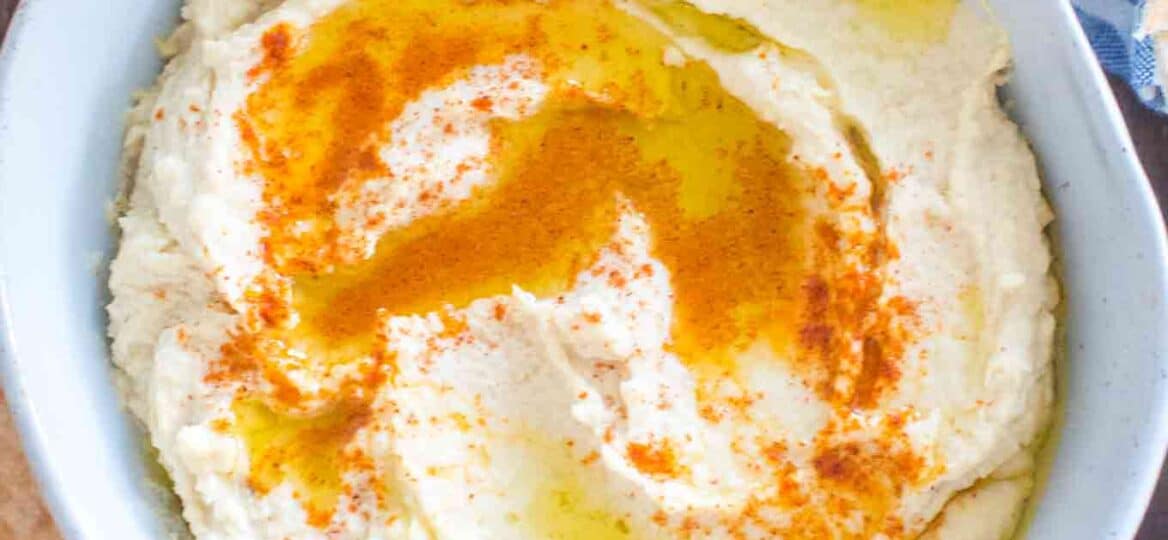 Homemade Hummus Recipe [VIDEO]
Homemade Hummus Recipe is fast and easy to make in less than 5 minutes in the food processor. It is smooth, nutty and tangy, with perfect balance of fresh lemon and garlic.
We are big dip lovers, because they are easy to make, and can be served at about any event. Among our other favorite dips are Deviled Eggs Dip, Creamy Chicken Caesar Dip and Million Dollar Dip.
Best Homemade Hummus Recipe
To make Homemade Hummus, five main ingredients are required: chickpeas, tahini (sesame paste), lemon juice, olive oil and some fresh garlic. As a result, the hummus will be smooth, nutty with the right amount of balance and richness to it. What is great about this recipe is that it takes less than 5 minutes to make, and the taste is far superior to store bought versions.
Store bought hummus is typically made with soybean oil as opposed to olive oil, citric acid, and also contains preservatives to keep it longer. By making it home, you will have a tastier and healthier hummus, while also saving some dollars.
Generally, I'm not a big fan of canned beans, but for this homemade hummus recipe, the canned chickpeas work pretty well. Also, the great thing about the hummus is that you can use it as a dip with chips, pitta, or veggies, and also as a spread inside a wrap or sandwich.
In addition, here you will find many yummy ideas of what to eat with hummus.
Homemade Hummus Recipe Tips:
Use high quality and organic chickpeas. For this recipe, we used an organic canned version.
Similarly, using best tahini is crucial. Store bought versions vary widely in flavor. We recommend using tahini that comes from Ethiopia.
If you have some time on hand, you can cook the canned chickpeas for about 20 minutes. No peeling is required. Cooking the chickpeas till they are tender, will provide a flakier and nuttier taste to the hummus.
For thinner hummus, add a little extra water or even the liquid from the chickpeas. Keep in mind, that after refrigeration it will thicken up a bit, so adjust accordingly.
How to make the best homemade hummus recipe?
Open a can of chickpeas and add them to a colander. Rinse under cold water and drain.
Next, add all the ingredients, except water, to a 4 cup food processor. Process until the mixture is smooth and creamy, for about 1 minute.
Lift the lid of the food processor and taste the hummus. Add salt if needed. If the hummus is too thick, add 2-3 tablespoons of water. Process again until smooth and well combined.
Scoop the hummus into a serving bowl. Drizzle top with olive oil and sprinkle some paprika.
Serve with fresh crunchy veggies, pita bread or pita chips.
Homemade Hummus Variations:
The above hummus recipe is the classic version. However, hummus can easily be made in different variations, such as:
Sun Dried Tomatoes Hummus – add 6-8 sun dried tomatoes in oil and 1/4 teaspoon paprika to the classic homemade hummus recipe.
Roasted Garlic Hummus – replace the fresh garlic in the classic hummus recipe with 1 roasted garlic head.
Roasted Red Pepper Hummus – add 1 roasted red pepper and 1/4 teaspoon paprika to the classic hummus recipe.
Sun Dried Tomatoes Hummus Recipe
Spike up your classic hummus by adding a few sun dried tomatoes to the food processor. The result is a tangy and flavor hummus, great served with a few chopped sun dried tomatoes on top. We love serving it part of avocado sandwiches.
Roasted Garlic Hummus Recipe
For the garlic lovers out there, just add a roasted garlic head, yes, and entire head, to the food processor with all the ingredients and you will be in garlic heaven. We prefer to serve this version topped with olive oil and roasted pine nuts for some crunchiness.
How To Roast a Garlic Head
Preheat oven to 400 degrees F.
Slice off the top of a garlic head so you can see some of the cloves inside.
Place the head on a piece of foil and lightly drizzle with olive oil. Wrap in the foil.
Roast until the cloves are lightly browned and tender, for about 30 minutes.
Roasted Red Pepper Hummus Recipe
Another favorite! All you have to do is add a freshly roasted red pepper, or even canned roasted red pepper to the Classic Hummus Recipe. We enjoy serving this variation topped with feta crumbles, a drizzle of olive oil and some olives.
What do you sprinkle on hummus?
Sprinkle of paprika
Drizzle of olive oil
Chopped fresh parsley
Sesame seeds
Roasted pine nuts
Hot sauce
Spice such as cumin or zatar
How To Make Homemade Tahini
You can use regular or toasted sesame seeds:
Add sesame seeds to the food processor, and grind them for about 2-3 minutes, or until they form a paste-like texture.
Then, add 2-3 tablespoon of olive oil to the food processor.
Process until the desired consistency is formed.
Homemade Hummus Recipe Video: