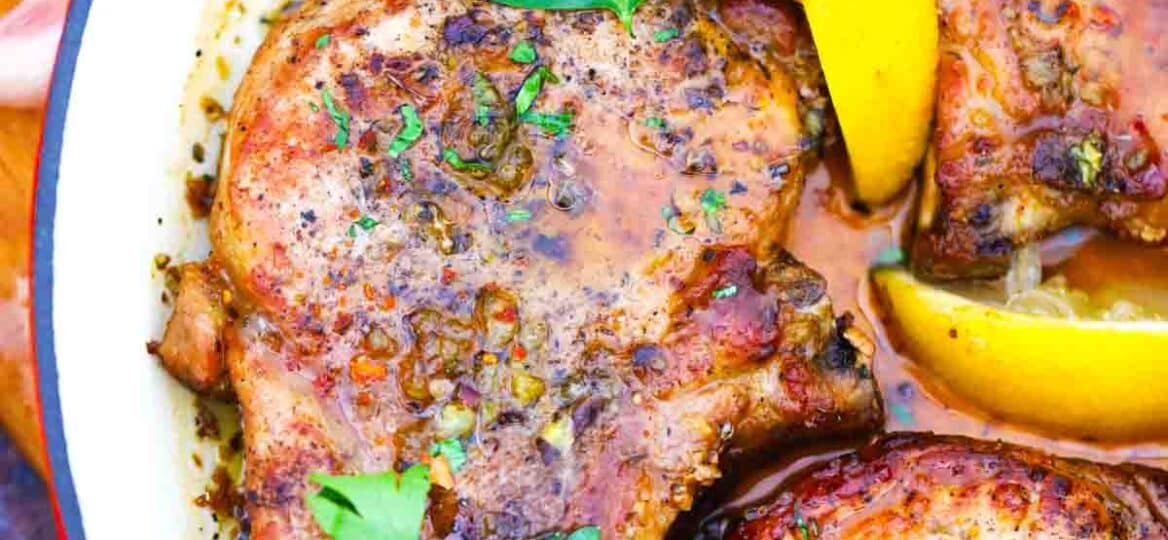 Baked Lemon Garlic Pork Chops Recipe
Baked Garlic Lemon Pork Chops are tender and juicy on the inside and full of delicious herbs and spices, with lots of refreshing citrus flavor. If you are sick of the same boring pork chops, this recipe for oven-baked pork chops is perfectly cooked and full of flavor in every bite. And cooking pork chops has never been so easy with this one-pan recipe. If you love pork chops and need something different to try, get a large skillet and the ingredients below for this tasty dinner.
Believe it or not, the pig has been around for 40 million years according to the fossils archaeologists found. By 4900 BC, the Chinese were already learning how delicious the pork was. Then, in 1500 BC, Europeans discovered the different ways to enjoy pork from bacon to pork chops. Today, it is one of the most popular meats in the world.
To make these lemon garlic pork chops, all you need are a handful of basic ingredients you may already have in your kitchen. Some of these include olive oil, garlic, butter, lemon juice, syrup, brown sugar, and seasonings. Then, the tender and juicy pork chops are seared and baked for a flavorful taste in every bite.
Ingredients needed:
All you will need to make this delicious and easy pork chops recipe are the basic ingredients listed here. Then, find our recipe card at the bottom of the page with the measurements and instructions when you are ready to begin.
Bone in pork chops
Fresh lemon juice
Minced garlic
Butter
Olive oil
Brown sugar
Maple syrup
Dried Italian seasoning
Red pepper flakes
Dried oregano
Freshly chopped parsley
Kosher salt
Black pepper
Lemon wedges and parsley sprigs: For serving.
How to make lemon garlic pork chops from scratch?
Preheat oven: First, preheat your oven to 400 degrees F and heat up the olive oil on medium-high heat in a large oven-safe skillet or frying pan.

Season chops: Then, season your pork chops with salt and pepper.
Cook pork chops: Now, put the pork chops in the hot pan and cook them for four to five minutes on each side. They should be light golden brown. Then, remove the pork chops and immediately place them on a plate covered with aluminum foil.

Make the sauce: Next, melt the butter in the same pan before adding the lemon juice, oregano, Italian seasoning, syrup, brown sugar, and garlic for 30 seconds while stirring constantly.

Bake pork chops: After, add pork chops back into the pan and spoon the sauce on top. Place the pan in the hot oven and bake for 10 to 15 minutes or until the internal temperature is 145 degrees F.

Rest and serve: Lastly, spoon more sauce onto the pork chops, cover, and let the pork chops rest for 15 minutes. Serve with parsley sprigs and lemon wedges.
Recipe variations:
Another oil: Instead of olive oil, you can use avocado, vegetable, or whatever oil you like to cook with.

Boneless pork chops: Feel free to use boneless chops but you will have to shorten the cooking time to about seven to 12 minutes.

Zesty: Add a teaspoon of lemon zest to your sauce for an extra lemony flavor.

Other meat: If you would rather have some other kind of meat, this is one of those great recipes that work with anything. Try it with chicken breasts, turkey, or steak.
Spice it up: Spicy food lovers will appreciate a pinch of cayenne flakes or chili powder in the sauce.
Different seasonings: You could also use different seasonings like thyme, smoked paprika, rosemary, dill, or ginger.

Other juice: Try lime juice instead of lemon juice for a different flavor.
How to serve:
It does not have to be a special occasion to make this delicious dinner cuisine. You can serve them with a salad and several side dishes for a large family gathering or just one or two side dishes for just a few people. Try one of our great serving ideas here or one of your own. Please feel free to share your ideas in the comments section.
Cheese tastes great on anything. Sprinkle some shredded mozzarella or parmesan cheese on top of these pork chops while they are still warm and serve when melted.

Use leftovers for other dinner recipes. You could shred the pork chops and use them for our slow cooker pulled pork recipe.
You can also make pork chop sandwiches out of these. Just remember to remove the bone if you use bone-in pork chops.

These pork chops go great with any side dish. Try our mouthwatering chunky mashed potatoes.

Thinking of a backyard barbecue? You can easily cook pork chops on the grill in or out of the skillet.
For dessert, serve something lemony like this creamy and tangy lemon mousse.
Frequently asked questions
How long should I bake pork chops?
For perfectly juicy pork chops every time, you have to follow the golden rule of seven or eight minutes per half-inch baked at 400 degrees F. This means pork chops that are one inch thick should be cooked for 14 to 16 minutes. However, this does not include any pre-cooking or searing as this recipe calls for.
Is it better to cook pork chops uncovered or covered?
In this recipe, you will cook it uncovered in the skillet on the stove first and then in the oven. However, if you are worried about your pork chops being dry, especially if you use boneless, you can cover them for the first few minutes on the stove and in the oven. But you may need to take them out sooner. Start checking the internal temperature with a thermometer after seven or eight minutes.
Why are my oven-baked pork chops dry?
If you are using boneless pork chops, they have a tendency to dry out faster than bone-in chops. The most important step is to sear them in the skillet or frying pan first to keep the juices inside where they belong. Thin chops are the same way. Choose thicker, bone-in pork chops for juicier meat. Also, do not skip the resting period. This draws all the juices back into the pork chop.
Can I add breading to my pork chops?
Yes, you can use your favorite breading or try one of our recipes on the blog. First, dry your pork chop and season it with salt and pepper before you dip it in whisked eggs. Then, dredge it in your flour or breading. After that, dip it in whisked egg again and let it sit for five minutes to settle before baking.
Why does lemon go so well with pork?
Lemon juice accentuates all kinds of meat dishes as well as vegetables, other fruits, and desserts. Pork has such a mild flavor that the lemony taste is evident in every bite. Also, it is a really good meat tenderizer as well. The acid in them breaks down the muscle fibers when marinated. However, do not marinate it too long or it will get mushy.
What is the nutrition information in this recipe?
The nutrition, calories, and fat content are estimated. Each serving has 300 calories, 100 mg cholesterol, and 3 grams of carbs as well as 19 grams fat with 7 grams of saturated fat. It also has 385 mg sodium and 2 grams sugar. But you also get 30 grams protein, 524 mg potassium, 2 grams fiber, 11 mg vitamin C, 179 units of vitamin A, 20 mg calcium, and 1 mg of iron.
More pork chops recipes:
How to store leftovers:
Store: Refrigerate your leftover pork chops in an airtight container as soon as they cool to room temperature. You can keep them refrigerated for up to four days.

Freeze: These chops also freeze well. Just wrap them in plastic wrap and put them in a freezer bag where they will stay fresh for about three months.

Thaw: Be sure to thaw overnight in the refrigerator for the best texture and flavor.

Reheat: You can reheat these delicious chops in the microwave for 45 to 90 seconds. Add some chicken broth or water so they do not dry out. You can also heat them up in an air fryer for one minute on each side.
Cooking tips:
A cast iron skillet is perfect for this one-pan meal.

Be sure to use a meat thermometer to check the temperature. You want it to read 145 degrees F in the thickest part of the chops. Check each pork chop individually.

Cook times will vary depending on the thickness of your pork chops. Thicker chops will require a different bake time. We used pork chops that were about one inch thick. It typically takes about seven minutes per half inch at 400 degrees F. But since we already cooked these in the pan for a few minutes, it only took about 10 minutes in the oven.

Instead of using the pan, you could also mix the sauce ingredients in a small bowl and heat it in the microwave.

For extra flavorful pork chops, put the sauce ingredients in a large bowl and let it marinate for up to an hour before cooking.

Let your pork chops come to room temperature before cooking so they cook evenly.

Always remember to season your pork chops with salt and pepper.
Baked Garlic Lemon Pork Chops
Ingredients
4

bone-in pork chops

1

tablespoon

olive oil

Salt and pepper to taste

4

tablespoons

butter

6

cloves

garlic

minced

1

teaspoon

brown sugar

1

tablespoon

maple syrup

2

tablespoons

lemon juice

1

teaspoon

dried Italian seasoning

1/2

teaspoon

dried oregano

1/4

teaspoon

red pepper flakes

1

tablespoon

fresh chopped parsley

Lemon wedges and parsley

to serve
Instructions
Preheat oven to 400 degrees F.

Pat dry the meat with paper towels and season the pork chops on both sides with salt and pepper.

Heat the olive oil in a large cast iron pan over medium-high heat.

Add the pork chops to the pan and sear for 4-5 minutes on each side, or until nicely browned. Transfer the pork to a plate and cover with foil to keep warm.

Add the butter to the same pan and melt.

Next, add the garlic, brown sugar, maple syrup, Italian seasoning, oregano, and lemon juice, and cook for 30 seconds, stirring constantly.

Add the pork chops back to the pan and spoon the sauce over them.

After that, transfer the pan to the preheated oven and bake for 10-15 minutes or until the pork is cooked to 145 degrees F.

Spoon the sauce over the pork chops, sprinkle with parsley, and serve with lemon wedges.
Deliciousness to your inbox
Enjoy weekly hand picked recipes and recommendations