Vegan Green Bean Casserole
Vegan Green Bean Casserole has tender green beans, savory mushrooms, and caramelized onions all baked up in creamy mushroom gravy, then topped with the crunchiest French-fried onions. This side dish will steal the show on your holiday table!
You can never have too many side dish recipes, whether it is a holiday or not. These sweet and savory Brown Sugar Roasted Carrots are always a winner, while Cheesy Loaded Cauliflower Bake and Cracked Mashed Potatoes will rival any main dish. They are delicious at any time of the year!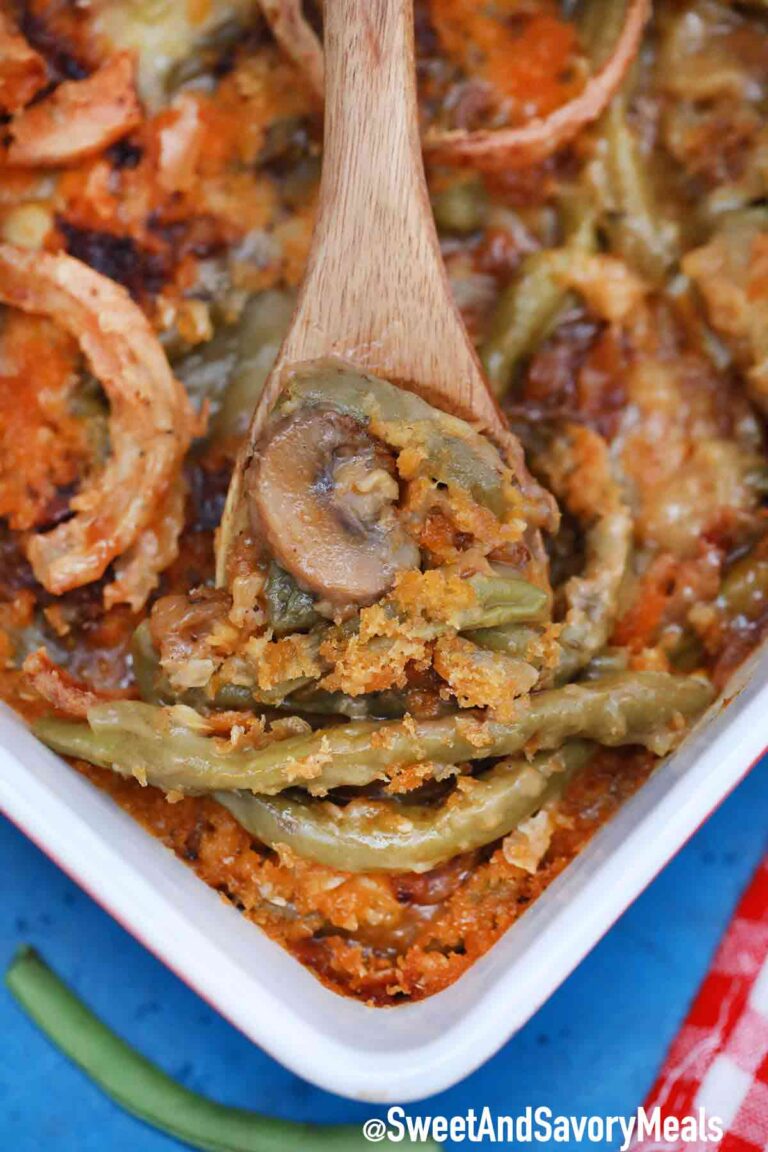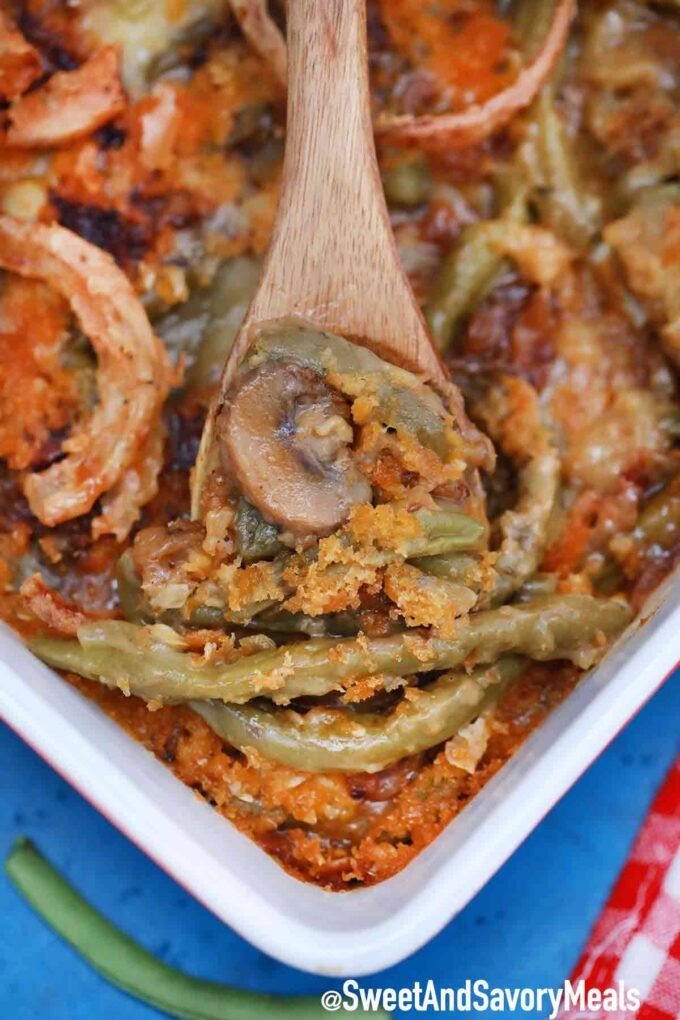 Easy Vegan Green Bean Casserole
Vegan Green Bean Casserole is the healthier version of the traditional side. Not everyone is a fan of this vegetable, but when baked this way – we end up scraping the last bits off the serving dish! Seriously, there are almost never any leftovers.
What makes this recipe so good is that every component is loaded with flavor. From the seasoned caramelized onions to the golden panko and almond layer. This is probably the tastiest and most delicious way to consume greens into your diet.
But I have to admit, my favorite part is the crunchy, salty, and delicious French-fried onion rings. Go ahead and snack on a few while the dish is baking. It'll be our little secret!
How is Vegan Green Bean Casserole different from traditional Green Bean Casserole?
This vegan version is as delicious as the rich and buttery classic green bean casserole. However, we use vegan alternatives for key ingredients. For instance, there's no butter, chicken broth, cream, and milk here. Also, we're using vegan mushroom soup as well.
As for the French-fried onion rings, we'll use almond milk for dipping the onions instead of regular milk. These substations make it lighter, healthier, but still equally scrumptious!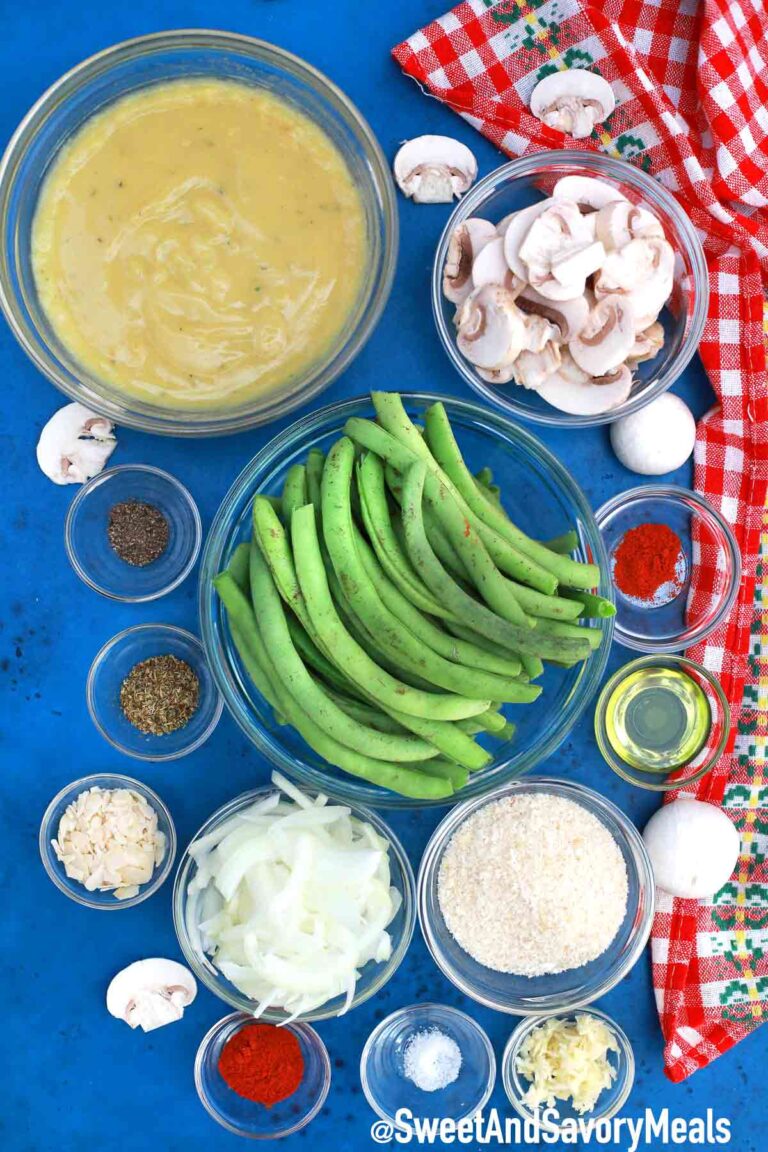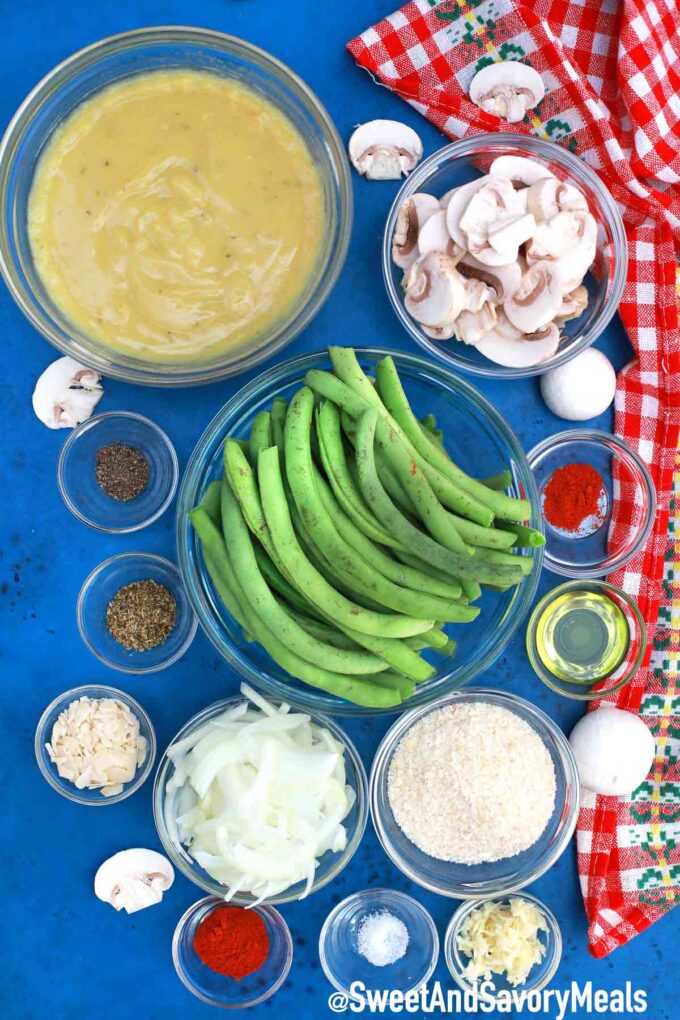 How to make Vegan Green Bean Casserole?
Heat your oven to 375F and start preparing the ingredients:
Caramelize the onions: Sauté the garlic and onions until caramelized. Then, add in mushrooms and cook until tender. Season with paprika, Italian seasoning, and salt and pepper. Set aside.
Prepare the vegetables: Steam the green beans until tender but still crisp. Set aside.
Assemble the dish: Next, spread half of the caramelized onions on the bottom of the baking dish. Layer vegetables on top, then follow with cream of mushroom soup. Top with the rest of the caramelized onions. Toss the bread crumbs, olive oil, and slivered almonds in olive oil, and spread evenly on top.
Bake: Cover the dish with foil and bake for 30 minutes. Afterward, broil for a few minutes until the almonds and panko turn golden brown.
Start by slicing the onion into rings and then soak in milk. Feel free to use your favorite milk type and fat percentage.
Then, combine garlic powder, salt, flour, and pepper.
Cover rings with flour mixture.
Fry until golden brown.
Chop some of the rings and leave some whole. Arrange on top of the baking dish before serving.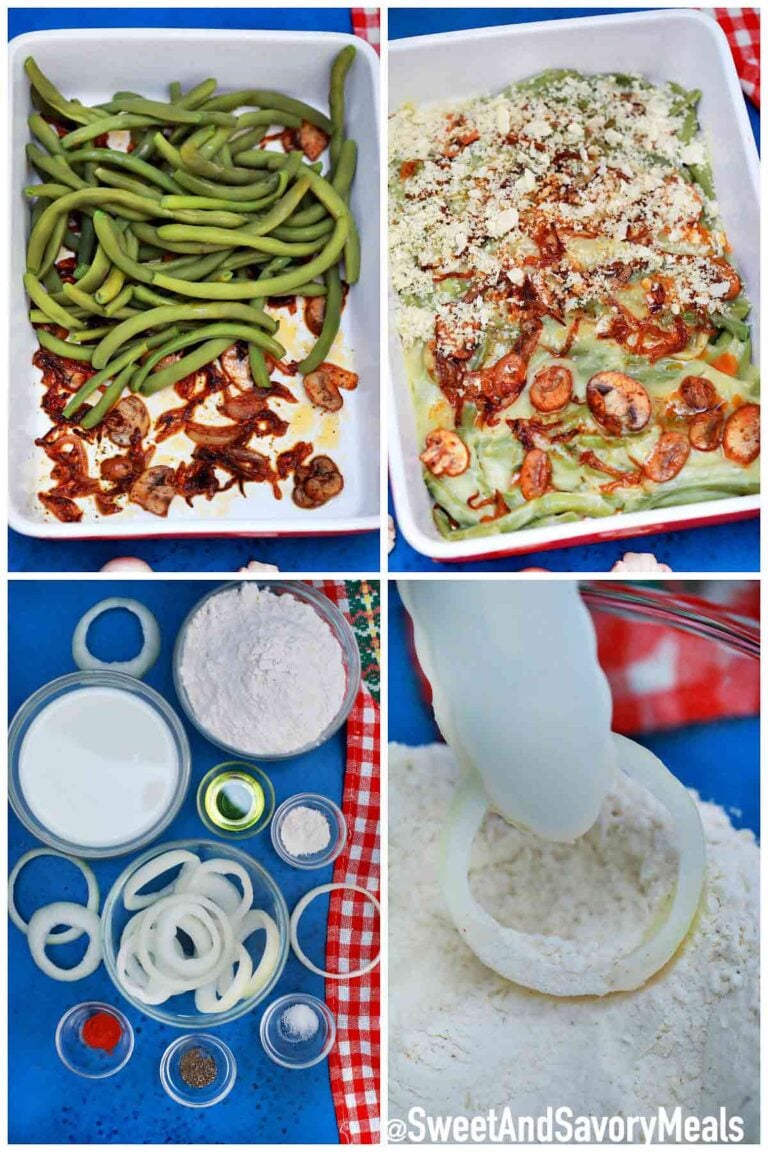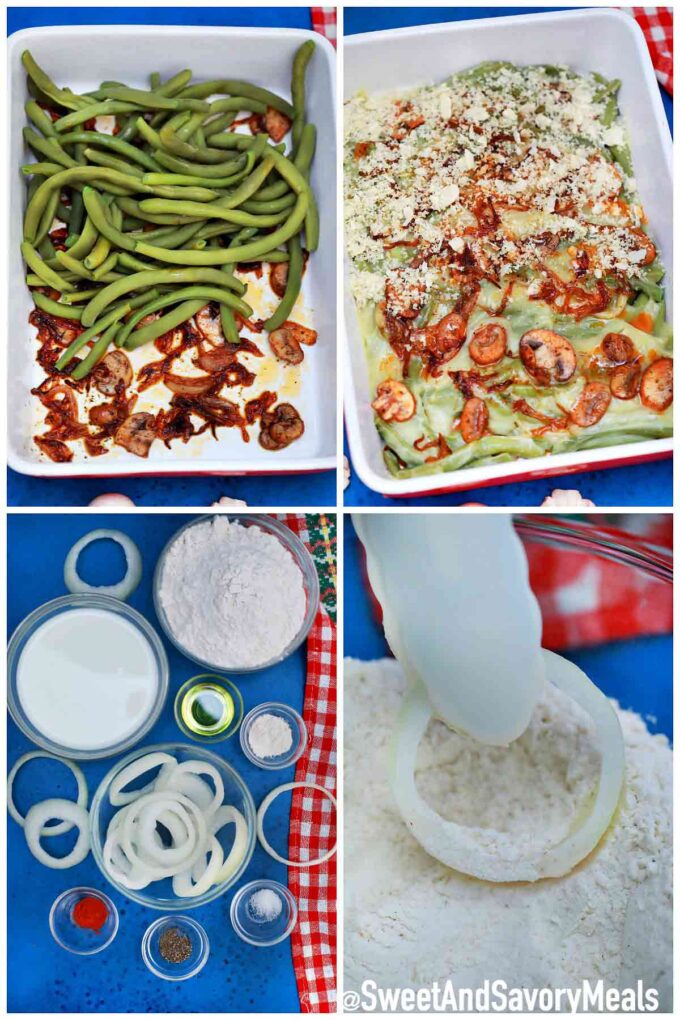 Green Bean Casserole Variations:
Make it cheesy: instead of fried onions, top it with cheddar cheese, or go all out with these Cheesy Baked Green Beans!
Use other veggies: not a fan of green beans? You can use cauliflower, broccoli, asparagus, and other vegetables instead.
Top with tater tots: For a Minnesota-inspired hotdish, top with crunchy tater tots for a kid-friendlier version.
Can I use frozen green beans?
Yes. Just make sure to drain it completely once thawed to prevent excess moisture in the dish.
What to serve with Vegan Green Bean Casserole?
This comfort side dish is very popular to serve during the holiday season, such as Thanksgiving or Christmas. During that time of the year, serve it with:
Beyond the holidays try it with: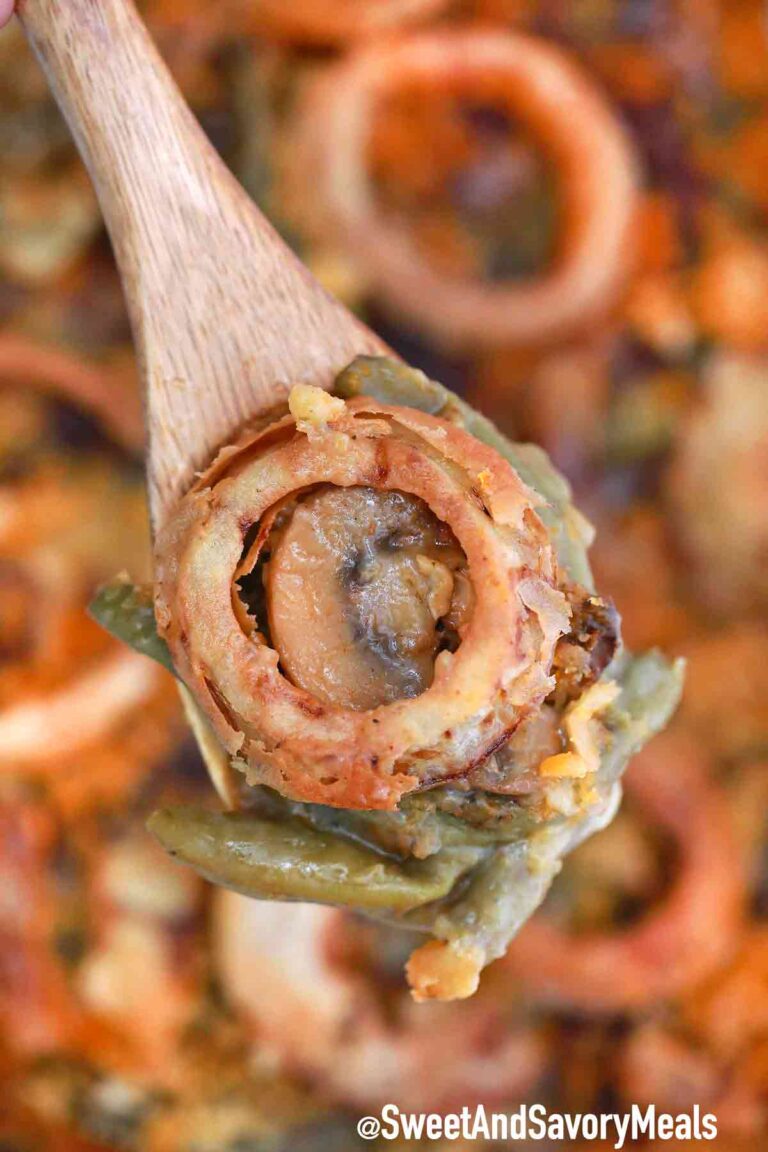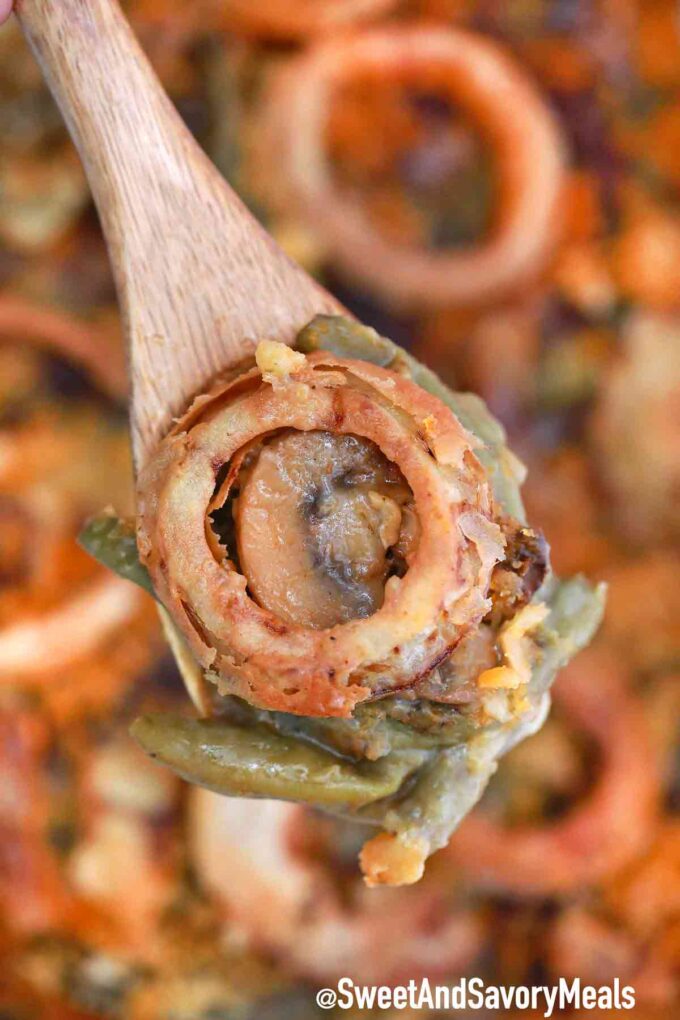 What can I use instead of French-fried onions?
No time to make the French-fried onions from scratch? No worries! You can use crushed potato chips and crushed seasoned croutons instead.
Alternatively, feel free to pan-fry shallots or fresh leeks and use them as toppings.
More delicious Casseroles:
Storing instructions:
This recipe is great for making ahead. First, cool the finished dish completely but don't top with the French-fried onions yet. Then, freeze it up to a month. When ready to serve, thaw and bake until piping hot. Follow the recipe for French-fried onions and top the dish.
As for left-overs, cool before transferring to the container. Consume within one or two days for the best texture.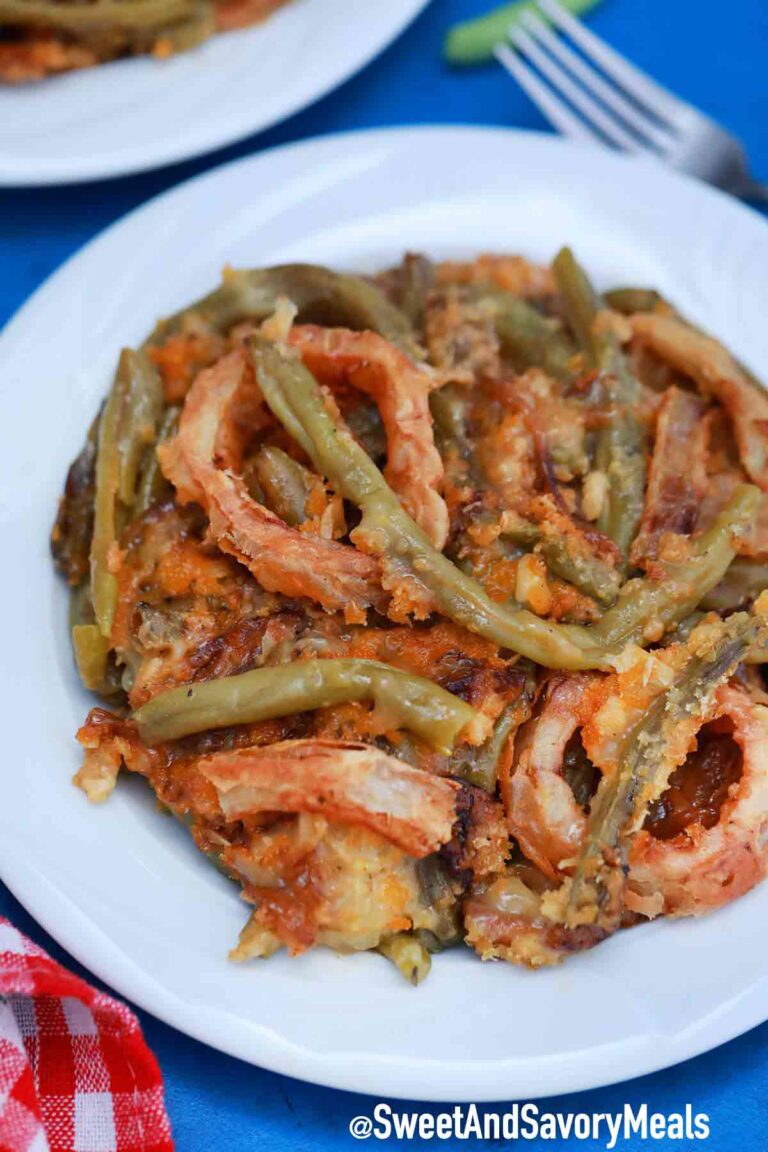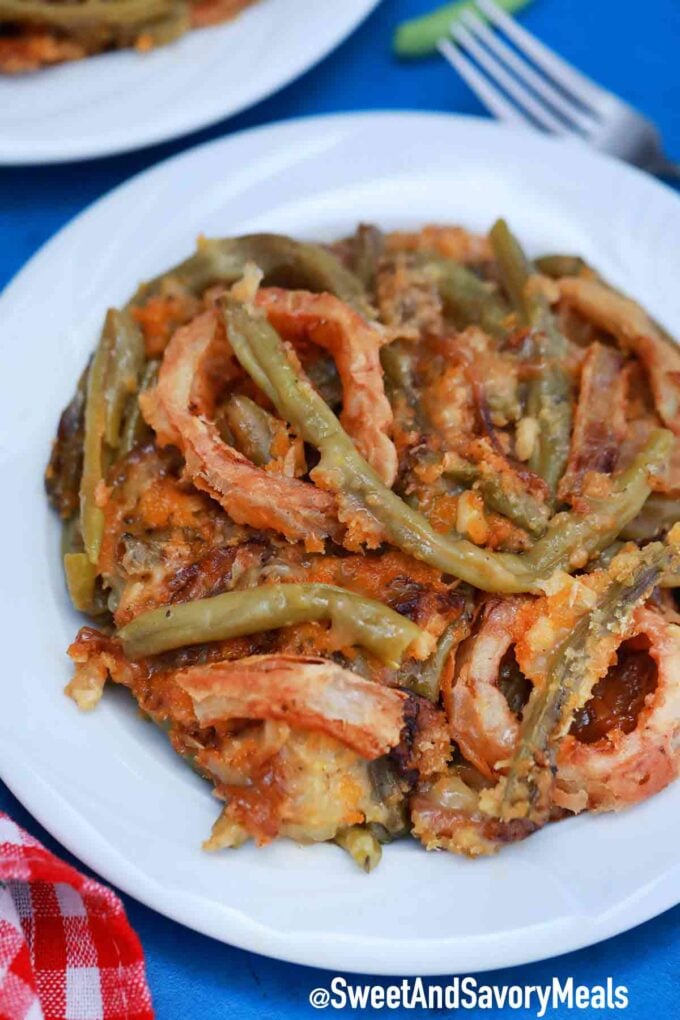 Recipe Tips:
As stated above, this dish can be assembled a day or two in advance. Simply hold off on the panko, fried onion ring, and almond topping until ready to bake.
Add parmesan to the panko mix for a cheesier crunch.
No need to warm up the mushroom soup before baking because it will heat through in the oven.
Also, it is best to steam the beans just before fully cooked. This way, it becomes even more tender during baking.
To make it spicier, add some chopped jalapeno peppers.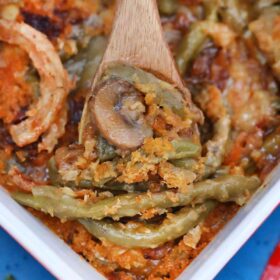 Vegan Green Bean Casserole
Vegan Green Bean Casserole has tender green beans, savory mushrooms, and caramelized onions all baked up in creamy mushroom gravy, then topped with the crunchiest French-fried onions.
Save
Share
Print
Pin
Rate
Ingredients
3

tablespoons

olive oil

1

large onion

(thinly sliced)

4

cloves

garlic

(minced)

8

ounces

mushrooms

(sliced)

1

teaspoon

Italian Seasoning

1

teaspoon

paprika

Salt and pepper

1

lb.

fresh green beans

(trimmed and chopped)

3

cups

Cream of Mushroom Soup

(vegan)

1/2

cup

Panko Bread crumbs

2

tablespoons

slivered almonds
Homemade French Fried Onions:
2

large onions

(sliced)

1 1/2

cups

almond milk

(unsweetened)

2

cups

all-purpose flour

1

teaspoon

garlic powder

1/4

teaspoon

hot red pepper powder

1/4

teaspoon

salt

1/4

teaspoon

ground black pepper

Vegetable or canola oil for frying
Instructions
Preheat oven to 375 degrees F.

Place a large skillet over medium-low heat, add two tablespoons of olive oil and once hot add the sliced onions. Cook stiiring until tender.

Add the garlic, sauté until onion is caramelized, about 20-30 min, stir frequently.

Add the mushrooms and saute until tender.

Season with salt, pepper, Italian seasoning and paprika.

When done, divide the mixture in half and set aside.

Place a 4-quart soup pot filled with 1/2 inch of water over medium-high heat. Add a steamer basket, add the green beans to it, cover and steam until tender, 5 mins. When done, remove, drain, and set aside. They will soften more during baking time.

Spray a 9x13 inches casserole dish with cooking spray.

Place 1/2 of the caramelized onions on the bottom, lay the green beans and distribute evelnly.

Pour the cream of mushroom soup evenly.

Spread the remaining half of caramelized onions over sauce.

In a mixing bowl, toss together panko bread crumbs, slivered almons, and 1 tablespoon of olive oil, then sprinkle over the surface of the casserole.
Bake the casserole:
Loosely cover with foil and bake for 30 minutes until sauce is bubbling.

Uncover and broil for a few minutes, until Panko and almonds are lightly browned.
Homemade French Fried Onions:
After slicing the onion rings, separate them into individual rings and add them to a large bowl.

Add the almond milk to the onion rings and let soak for 20 minutes.

In a medium bowl combine: flour, salt, garlic powder and ground black pepper. Whisk to combine.

When ready to cook, add oil to a large, deep skillet over high heat (or deep fryer). If using a skillet, it should be 1/2 full with oil.

Once the oil is hot, working in batches, add a handful of onion rings to the flour mixture, cover well and shake any excess. Add the onion rings to the hot oil and fry until golden brown, stirring often.

Remove the French fried onions and place on a baking sheet that has been covered with paper towels to drain excess oil.

Repeat with the remaining onion rings.

Once done, chop some and leave some whole, arrange them on top of the casserole before serving.
Nutrition
Calories:
248
kcal
|
Carbohydrates:
39
g
|
Protein:
11
g
|
Fat:
7
g
|
Saturated Fat:
2
g
|
Cholesterol:
5
mg
|
Sodium:
839
mg
|
Potassium:
499
mg
|
Fiber:
5
g
|
Sugar:
5
g
|
Vitamin A:
575
IU
|
Vitamin C:
11
mg
|
Calcium:
147
mg
|
Iron:
4
mg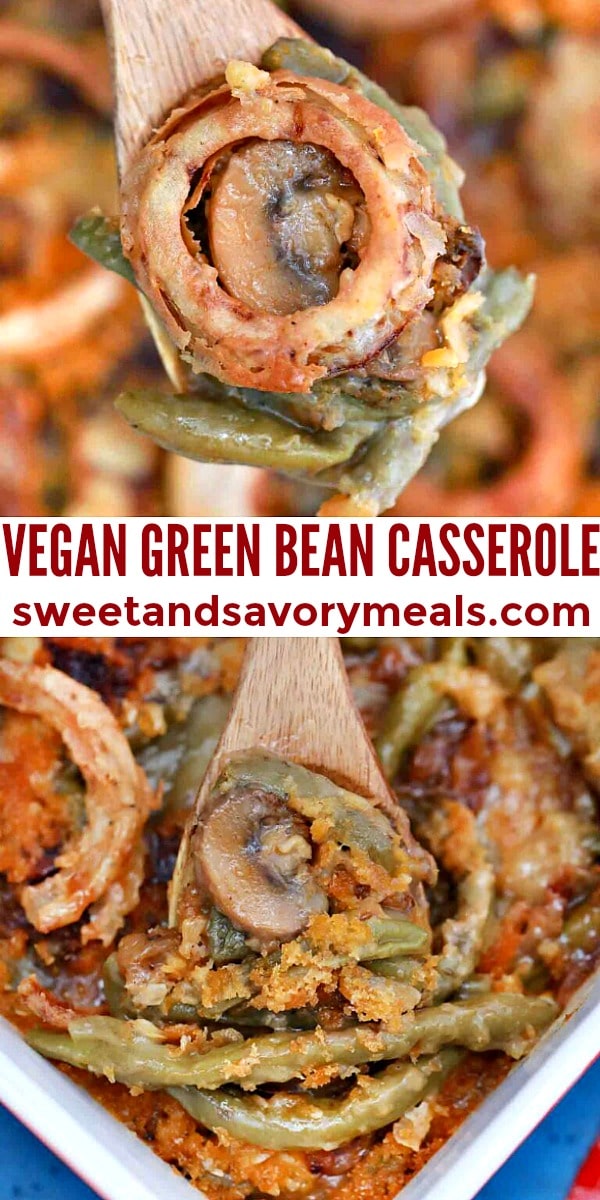 More recipes you might love