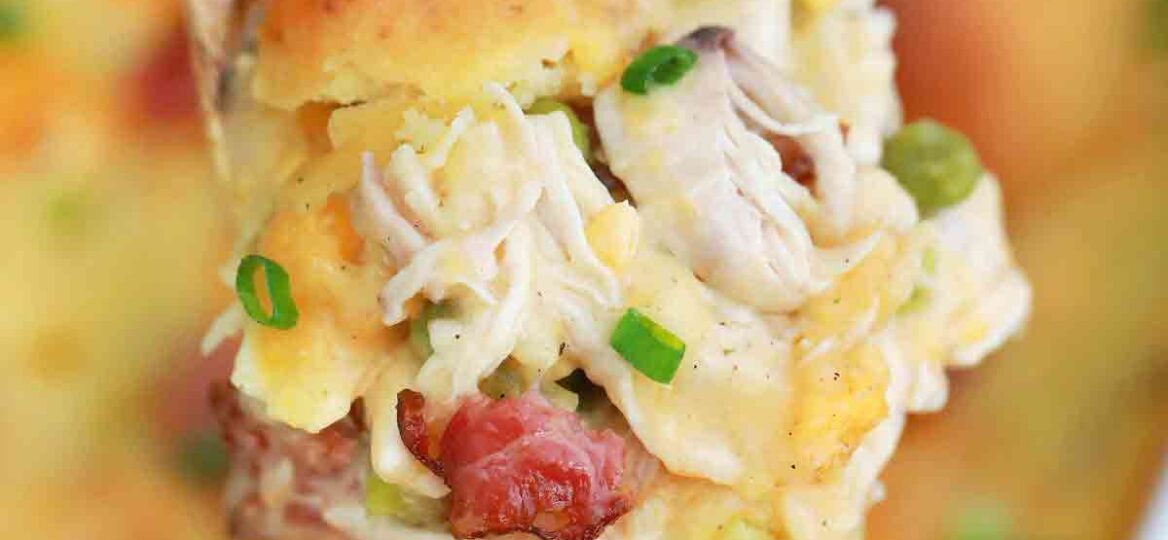 Chicken and Dumplings Casserole [Video]
Chicken and Dumplings Casserole is a comforting dish loaded with tender chicken, and creamy sauce, then topped with fluffy dumplings. A one-skillet meal the whole family is sure to love!
Comforting homemade casserole recipes are our specialty. We enjoy making them because they are pure comfort food, are easy to prepare, and are loved by both kids and adults alike. For more hearty recipes, try our Green Bean Casserole, Loaded Sweet Potato Casserole, and Cheesy Chicken Casserole.
This Easy Oven Baked Chicken and Dumplings Casserole recipe may seem intimidating, but it's very easy. It's one of my secret weapons during busy weeknights because it takes less than an hour to make. If you enjoy Old Fashion Chicken and Dumpling, you will love this meal!
It only requires basic ingredients like chicken, flour, bacon, and cheese. Best of all, it's so delicious, creamy, and super flavorful. Also, if you love a cheesy dish, this is one the best out there. Apart from being flavorful, it is rich, cheesy, and creamy with tender meat and homemade dumplings in every bite. There's also a whole cup of bacon in there!
This delicious chicken casserole still tastes awesome the next day when reheated,. Therefore, it's a great recipe if you do meal prepping. You can also do a bigger batch if making for a crowd or halve it if it's just for a few people.
Also, this recipe is the perfect way to use up any leftover turkey you might have from your Thanksgiving feast today. I love serving it with a salad and some vegetables on the side. I have no doubt this will become a classic in your home as it is in mine!
Follow us on Pinterest for more delicious recipes!
Ingredients Needed:
Dumplings – For this recipe, I like making my own, homemade dumplings. See the detailed steps in the recipe card below. They just taste delicious, and I know exactly what goes into them. However, if you are short on time, you can find them in your local grocery store or Asian grocery stores.
Chicken – To save time, feel free to use rotisserie chicken or leftover chicken.
Veggies – Celery, onion, green peas,
Seasoning – ranch seasoning, salt, and pepper,
Butter
Fresh garlic cloves
All-purpose flour
Chicken broth – Learn how to make homemade chicken stock. Also, you can cook the raw chicken first, and then use the broth to make this recipe. A win-win situation.
Bacon
Cheddar cheese
Green onions
How to make the best Chicken and Dumplings Casserole?
This recipe has two components: the creamy chicken for the bottom layer and the dumplings as the topping.
For the Chicken Layer:
Prepare for baking: Preheat oven to 350F. Then, coat a casserole dish with non-stick spray.
Sauté aromatics: Next, in a large skillet over medium heat, melt butter for 30 seconds. Then, add minced garlic and saute onions along with chopped celery. cook until soft.
Cook the chicken: Stir in the Ranch seasoning, flour, salt, and black pepper. Blend everything. Then, slowly pour in the broth. Simmer until it starts to get thick. Add the peas, and let the whole mixture cook for a few minutes. After, stir in the shredded meat.
Add the bacon and cheese: Turn off the heat. Combine the bacon and cheddar with the rest of the mixture. Pour into your baking dish then top with more cheddar.
For the Dumplings:
Combine the dry ingredients: In a medium bowl whisk the dry ingredients together.
Add the wet ingredients: Then, stir butter into the mix until crumbly. Add the buttermilk and mix well.
Bake the Casserole:
Top with dumplings: Drop the dumplings by the tablespoonful over the chicken mixture.
Bake: Next, bake for 30 minutes uncovered until the top is golden brown. The dish is done when a toothpick inserted into the dumplings comes out clean.
Garnish. Lastly, sprinkle some finely chopped green onions and cooked bacon, and sprinkle over the top.
Recipe Variations and Substitutions:
Use rotisserie chicken: it adds so much flavor to the dish, and you can use the carcass to make broth from scratch. Alternatively, feel free to use shredded chicken.
Meat: Apart from skinless chicken breasts, feel free to use leftover turkey or sausage.
Add canned cream soup: try adding some cream of chicken or cream of mushroom soup for a creamier texture.
Make it spicy: if want a bit of heat, add some red pepper flakes, or chopped jalapeno peppers.
Add more vegetables: Add carrots, spinach, cooked mushrooms, broccoli, celery, and other vegetables to make it healthier.
Seasoning: Use your favorite seasonings. Some great additions would be garlic powder, cajun seasoning, or Italian seasoning.
Crockpot Chicken and dumplings version:
Another easy alternative is to make this dish in the Slow Cooker. Give it a try, your entire family will love it! Here are the steps:
Add all the ingredients except for the biscuit dough to a 6-quart crockpot. Then, stir the ingredients well to combine.
Next, close the lid, and cook on HIGH for 4-6 hours.
When done cooking, use two forks to shred the chicken.
Add the biscuits, and cook for an additional 1 hour on HIGH until tender.
You can check the full version of my Crockpot Chicken and dumplings recipe here.
Instant Pot version:
If you are short on time and want a quick meal on your dinner table, then the Instant Pot chicken and dumplings recipe is the best choice. The whole dish will be ready in less than 30 minutes from start to finish!
Do you have to pre-cook chicken in a casserole?
For this one, yes. It's the most effective way to make sure the meat is cooked evenly and properly. However, you can use raw meat as well, but you will have to increase the cooking time by about 10 more minutes.
Can you use store-bought cooked chicken?
Certainly! To save time, feel free to use a rotisserie chicken. Simply dice it up or cut it into smaller cubed pieces.
Can I cook dumplings separately?
Sure! You can use these homemade dumplings as a side dish. Just use the broth to cook the dumplings.
However, I highly suggest you cook them along with casserole. The dumplings absorb all those flavors. They also add a nice texture and balance out the creaminess.
Can I use canned biscuits for the dumplings?
es, you can use canned biscuits as a shortcut for making this recipe. Simply cut the biscuits into smaller pieces and place them on top of the chicken mixture before baking.
Can I add vegetables to the casserole?
Yes, adding vegetables like carrots, peas, corn, or green beans can enhance the flavor and nutritional value of the casserole. Just make sure to cook or partially cook the vegetables before adding them to the casserole.
What to serve with this delicious recipe?
You can serve it with so many things! I like baking some cornbread or 30-minute dinner rolls to go along with the casserole because they soak up that gravy beautifully.
To add more greens to the meal, try serving it with a salad or some steamed broccoli.
Can you make chicken and dumplings casserole in advance?
Yes. This recipe freezes well and still tastes amazing when reheated. Make sure the casserole is completely cool before storing it in the fridge where it can stay for up to two days.
To freeze leftovers, use a freezer bag or airtight container, and freeze it for up to 3 months.
More homemade casserole recipes:
Recipe tips:
To save time, use a biscuit mix instead of homemade dumplings. Also, make sure to check for proper doneness after baking.
Slice the meat into chunks instead of shredding if you prefer.
For the best results, I recommend using real salted butter, not margarine.
Also, to save time, use store-bought rotisserie chicken to make this dish quick and easy.
If chicken is not an option, use the leftover turkey you might have from your Thanksgiving feast.
Chicken and Dumplings Casserole
Ingredients
1

small onion

chopped

1/2

cup

chopped celery

1/4

cup

unsalted butter

cubed

4

garlic cloves

minced

1/2

cup

all-purpose flour

1

tablespoon

Ranch seasoning mix

Salt and Pepper

to taste

4

cups

chicken broth

10

ounces

frozen green peas

4

cups

cooked chicken

shredded

1

cup

cooked bacon

chopped

2

cups

cheddar cheese

shredded
HOMEMADE DUMPLINGS:
3

cups

all-purpose flour

3

tablespoons

sugar

1/2

teaspoon

salt

4

teaspoon

baking powder

1/2

teaspoon

cream of tartar

3/4

cup

cold unsalted butter

1

egg

1

cup

whole milk
GARNISH:
Bacon

chopped

Green onions
Instructions
Preheat oven to 350 degrees F.

In a large saucepan or skillet, melt butter and saute onion and celery until tender.

Add garlic, stir and cook 1 minute longer.

Stir in flour, Ranch, salt, and pepper. Gradually add the broth and bring it to a boil. Cook and stir 1-2 minutes, or until thickened, then reduce heat.

Add peas and cook 5 minutes, stirring constantly. Stir in shredded chicken.

Remove from heat and stir in 1 cup of chopped bacon and 1 cup of shredded cheddar cheese.

Pour into a greased 13x9-inch baking dish.

Top with remaining cheese.
HOMEMADE DUMPLINGS:
Combine the dry ingredients in a large bowl.

Use a pastry cutter to cut the cold butter into a flour mixture until you see small, pea-sized pieces of butter throughout the dough.

Add in the milk and egg and mix just until combined. You should still be able to see some of the butter pieces in the dough do not overwork it.

Turn the dough out onto a generously floured surface and sprinkle some flour on top, knead 10-15 times. If the dough is too sticky just sprinkle on some flour.

Pat the dough into a 1-inch thickness circle and cut with a biscuit cutter or glass the biscuits.

Arrange them on top of the casserole.

Bake, uncovered, 30 minutes. Cover and bake 10 minutes longer or until a toothpick inserted in a dumpling comes out clean.

Garnish with chopped bacon and green onions.