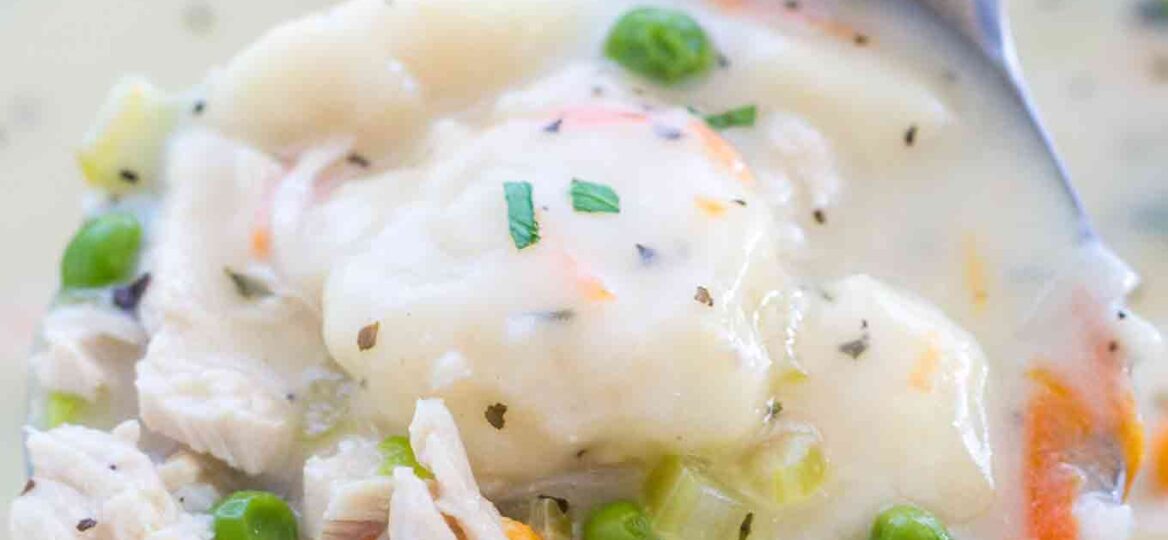 Old Fashioned Chicken and Dumplings [Video]
Old Fashioned Chicken and Dumplings is a great dinner recipe filled with tender chicken, veggies, and tender dumplings. This flavor-filled dish is perfect to enjoy when you crave to feel the comfort of a classic homemade recipe. This meal will warm up your would on any cold winter day!
Homemade soups and stews are our family favorite recipes when it comes to the winter months. For more comfort food recipes, check out these Cheeseburger Soup and Homemade Chicken Noodle Soup.
This Old-Fashioned Chicken and Dumplings Soup recipe is one of the best comfort food you can easily make at home. It is so good that you will want to make it again and again.
Also, we love this easy recipe because it isn't your typical soup. It's different from your everyday chicken noodle soup or tomato soup because it has a richer texture and contains fluffy dumplings.
During the colder season, this rich and creamy soup is always on our menu. Also, you can make it with a whole chicken, leftover chicken, or shredded chicken. If you're wondering what to do with the leftovers, be prepared to refrigerate them for later use, or freeze them in the freezer bags.
It will taste even better the next day as the flavors get together. This is a family favorite dish, and kids also enjoy it.
If anyone is a picky eater in the family it will help to know what goes into it because you can adjust the recipe to your leisure. Serve this flavorful chicken soup with crunchy bread on the side or salad. Also, watch the recipe video attached and learn how to quickly and easily make this dish in your own kitchen!
How to make Old Fashioned Chicken and Dumplings?
Brown the chicken: First, add some olive oil to a large Dutch oven or large pot over medium-high heat. Then, add the chicken pieces to the bottom. Brown on both sides.
Sautee the veggies: In the same pot, add some butter. Then, add in chopped onions, minced garlic, celery, carrots, and all-purpose flour. Whisk gently to combine.
Add the cream: Next, pour in the cream and add the seasonings.
Add the chicken broth: Then, pour the chicken stock, and add back the browned meat.
Simmer: Cover the lid and simmer.
Shred the meat and add the dumplings: Lastly, shred the chicken and drop dumplings into the rich broth. Cover and cook for another 15 minutes until the dumplings are cooked.
Serve warm.
How do you fix runny chicken and dumplings?
The beauty of this recipe is its simplicity and the fact that you can easily prepare it from scratch. It starts by including the tender dumplings and juicy chicken in an easy homemade broth. Once ready, you should have a rich and balanced dish.
Not too runny and not overly thick. If for some reason it is runny, below are some easy steps to fix it:
Add some roux to the veggies, so that the broth can thicken.
If the soup is still on the runny side after you add the dumplings, add a cornstarch and water slurry to thicken it.
Why are my dumplings chewy?
Dumplings are supposed to be chewy! The soup that sinks into them is what gives them the flavor and the added texture.
However, if they're too chewy it may mean that you didn't cook them enough. They should be flavorful and creamy.
Can you make Gluten Free Old Fashioned Chicken and Dumplings?
You can easily make this delicious dish gluten-free. Simply, replace regular flour with a gluten-free version.
Take 1 cup of any gluten-free all-purpose baking mix and replace it with the flour that is written to cook with.
Makes sure you use gluten-free flour that can be replaced 1:1. Next, combine it with the salt and baking powder. Stir in the salt.
Then, take two tablespoons of melted butter, mix it in until crumbly and add buttermilk.
Finally, make sure you stir in until very well combined.
How to make dumplings from flour and water from scratch?
Dumplings to use in this recipe are super easy to make, they are buttery, flavorful, creamy, and delicious.
First, add baking powder, flour, and salt to a mid-size bowl. Add melted butter and using a fork stir mixture until it has a crumble-like texture. Stir some buttermilk in to make it have a soft dough.
Drop the dough in small spoonfuls into the boiling soup. Cover the pot and let it simmer for about 15 minutes without taking the lid off.
Can I use other meats?
Yes! Feel free to use whatever cut of poultry you enjoy the most. Also, you could use other meats such as turkey or sausage.
To save time, use a store-bought rotisserie chicken.
What to serve with this dish?
This great recipe is delicious as is because it is rich, creamy, and has a ton of great flavor. Enjoy it with crusty bread or roasted veggies. Here are some great side dishes:
How to store leftovers?
First, let leftover soup completely cool at room temperature.
Then, transfer it to an airtight container and refrigerate for up to 4 days.
How to Freeze Chickens and Dumplings?
First, put the soup in an airtight container.
Next, transfer the dumplings to a separate bag.
Take out all the extra air that has been trapped inside of it.
Place both in the freezer and let them freeze.
To reheat:
Take the dumplings and soup out of a refrigerator/ freezer.
Put them into a pot.
Let them simmer.
Then, add the broth into the pot.
Heat until the juice gets absorbed into the dumplings a little more.
Once the water begins to boil, then it is ready to serve again.
Cooking tips:
You can either shred the meat or cut it into small pieces.
Also, feel free to use chicken thighs or turkey meat.
Use your favorite seasonings. Some great addition would be Italian seasoning, ranch seasoning, bay leaves, red pepper flakes, etc.
If you don't have heavy cream, just use whole milk instead.
Deliciousness to your inbox
Enjoy weekly hand picked recipes and recommendations