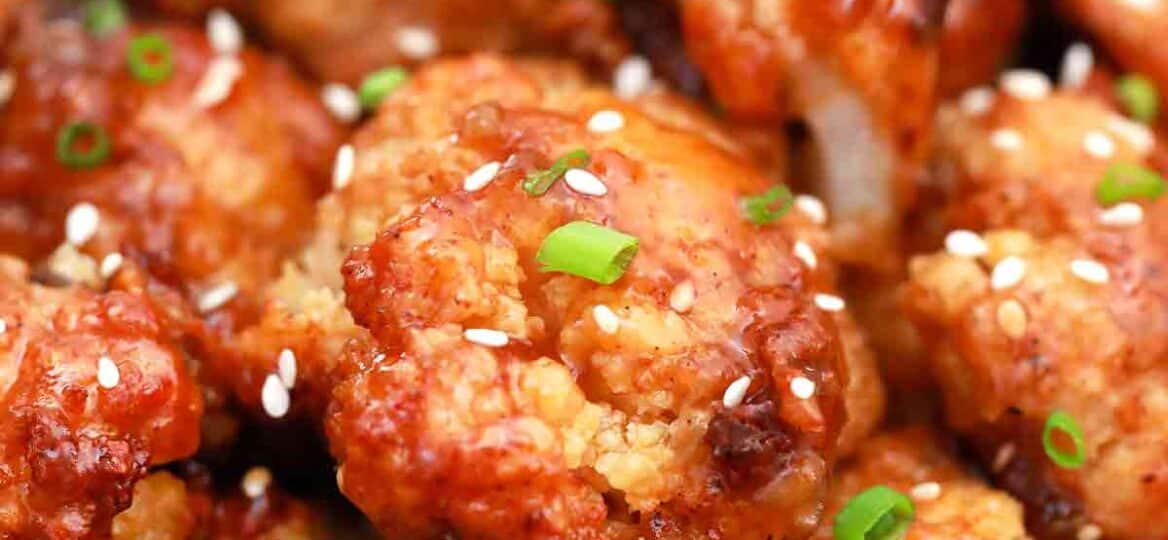 Sticky Sesame Baked Cauliflower
Sticky Sesame Baked Cauliflower is roasted until crispy before getting coated with a sweet and spicy sesame glaze. This is the better-for-you version of Chinese take-out!
Can't get enough Asian food? Try our easy and popular Korean Beef Bulgogi, Filipino Chicken Adobo, and Chicken Katsu with Tonkatsu Sauce!
Baked Cauliflower Recipe
Sticky Sesame Baked Cauliflower is our healthy version of the Chinese take-out classic. Let's face it— that sticky sesame glaze is what makes Sesame Chicken so addicting, not really the chicken itself. You can basically pour that sauce on anything, and my family will lick it clean!
To make this meatless recipe taste like real Chinese fast-food, the trick was to bake it really crisp before coating completely with the sticky sesame glaze. Ladies and gentlemen, it worked! The result is a fantastic vegetarian dish that everyone – even meat lovers – will enjoy!
Is Baked cauliflower healthy?
Yes. There's very little fat since we're not deep-frying the florets to crisp them up. We're also using egg whites to make the breading stick, so that reduces the calorie count even more. There's not a lot of carbs as well since this is a very lightly-breaded dish.
As for the nutrients, cauliflower is considered a superfood! It's low-carb, fiber-rich, and packed with vitamins, minerals, and antioxidants. It's really good for you, especially when baked!
Do you have to wash cauliflower before roasting?
We prefer to wash them before roasting to remove any dirt or insects hiding in the leaves and between the stems. But make sure to dry them out as much as you can, because excess moisture will get in the way of a crispy and crunchy crust.
Sticky sesame baked cauliflower ingredients:
Cauliflower: Sliced into bite-sized florets.
Egg Whites: Helps the seasoned panko stick to the vegetables.
Breading: Panko, salt, a dash of onion and garlic powder, cayenne, smoked paprika, fresh-ground pepper.
Sticky sesame sauce: Sesame oil (Try to find the toasted kind in your local Asian market. Makes a huge difference in flavor!), minced fresh garlic, rice cider vinegar, honey, and (optional) brown sugar, plus soy sauce and sriracha.
Cornstarch slurry: We're using water and cornstarch as a thickener for the glaze.
How to cut the cauliflower?
Remove all the leaves outside first. Then, slice the head in half. Cut off as many florets as you can, trimming any excess stem off each one.
How to make homemade sticky sesame baked cauliflower?
Shake with breading. Combine the veggies in a bowl or Ziplock bag together with the egg whites. Combine the panko and breading seasonings in another bag. Transfer the vegetables to the bag with the breading, and shake really well to coat the florets evenly.
Bake. Place in a 400F oven from 15 to 18 mins until tender, crunchy on the outside, and golden.
Cook the sticky sesame sauce. Simmer all the sauce ingredients for about 10 mins. Thicken with cornstarch slurry, and simmer a little more until it turns into a glaze.
Combine. You can pour the glaze over the florets, or toss them in it. Try to coat them as evenly as possible.
Serve. Plate up with sesame seeds plus chopped green onions on top. Enjoy over rice, as a low-carb meal, or as a starter!
Recipe Variations and substitutions:
Low-carb: Use a light dusting of almond flour instead of panko. You can also roast the seasoned florets directly for a lighter version. As for keto substitutions, swap the soy sauce for coco amino. Use low-carb sweeteners like sucralose, erythritol, and monk fruit sweetener instead of honey and brown sugar.
Vegan: Skip the egg whites, and use a flax egg (1 tbsp flax seeds + water) or a little cornstarch slurry. Use vegan sweeteners like coconut sugar or brown rice syrup.
Use broccoli: Yes, this recipe will work with broccoli, too!
What to eat with sicky sesame baked cauliflower?
Enjoy it with your favorite Chinese fast-food sides! We love it over hot rice or fried rice, and it's delicious over noodles, too. Make it a complete Asian-inspired feast with Panda Express Mixed Veggies, chow mein, and egg rolls!
Leftovers Storage tips:
We recommend reserving some uncoated vegetables and sauce and storing them separately for up to a week. This helps them retain crispiness. Re-bake the vegetables at 400F for about 5 minutes, reheat the sauce and pour or mix when ready to eat.
You can also store the baked and glazed veggies for up to two days, but try to finish them as early as possible so they become too soggy. Reheat in the microwave or oven toaster.
For longer storage, we also recommend keeping the glaze and veggies separate, but feel free to freeze them already glazed after they've cooled down. Store in a freezer baggie and keep up to 6 months. Thaw, and reheat an oven toaster or microwave.
More cauliflower recipes to try:
Recipe tips:
Try to cut the vegetables into similar sizes so they cook at the same time.

If you can, use TOASTED sesame oil, not the regular kind. Toasted oil brings a whole level of nuttiness to the dish!
Want it extra saucy? Use double the ingredients for the sauce.
If you have some leftover raw florets, use them for small-batch low-carb rice.
Deliciousness to your inbox
Enjoy weekly hand picked recipes and recommendations