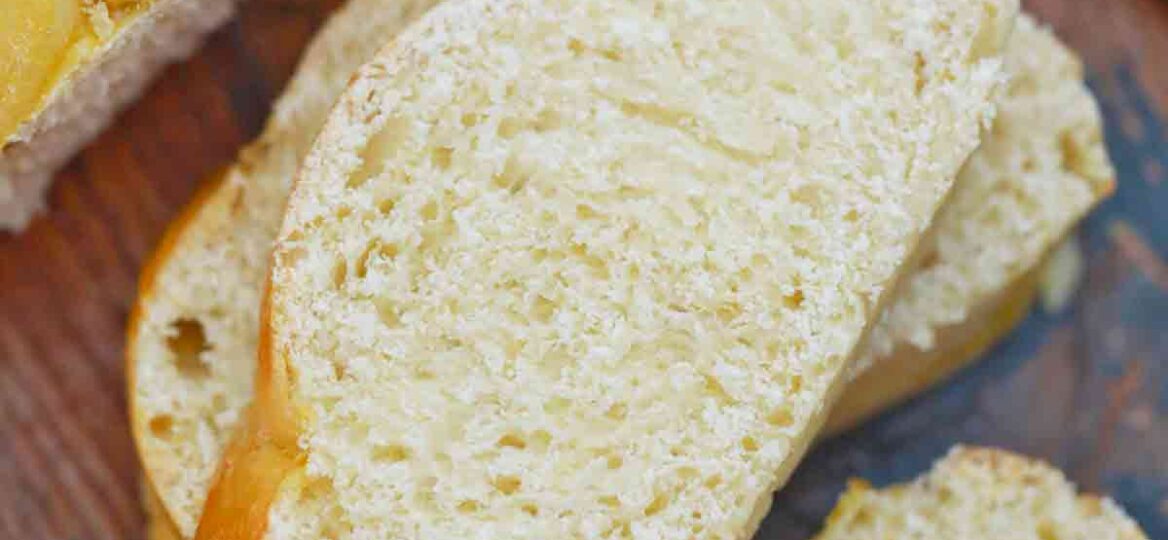 Challah Bread is easy and delicious when made a home, hearty, a bit sweet, and fluffy, it's perfect to use in many recipes. This is a traditional recipe that has been made for centuries for certain holidays and celebrations. However, with this delicious recipe, you will want to have it all the time.
For another decadent bread recipe, try our Blueberry French Toast Casserole with brown sugar and maple syrup or this Brioche French Toast made with cinnamon, cream, and brioche bread. Skip the baking and enjoy this No Oven Chocolate Cake with just five ingredients for a simple dessert.
If you have ever made challah before, you will be glad to learn this trick to braid the loaf easier.
Teach this to your children and grandchildren to pass on a lovely tradition they can pass on to their kids and grandkids.
Use it for toast, a sandwich, or make it into bread pudding. No matter how you eat it, this bread is amazing.
Ingredients needed:
These are the simple ingredients you need for this easy challah recipe. Scroll down to our recipe card for more detailed instructions.
All-purpose flour: Spooned into a cup and leveled off.
Instant or rapid rise yeast: Active dry yeast will do.
Salt
Lukewarm water
Vegetable oil: Or olive oil.
Honey
Eggs: At room temperature.
Egg yolks: Also at room temperature.
How to make challah bread recipe?
Mix: First, using a large mixing bowl in your stand mixer with a dough hook, make the yeast mixture by combining the salt, yeast, and flour on low speed for 30 seconds.

Wet ingredients: Meanwhile, in a small bowl, mix the lukewarm water, egg yolks, two of the eggs, honey, oil, and water.

Dry ingredients: Then, add this egg mixture to the dry ingredients and knead on medium speed until it is sticky and clings to the bottom of the bowl. This should take about five to seven minutes.

Knead the dough: Next, dust your hands with flour and then scrape the dough out and turn it onto a lightly floured surface. Dust the top of the dough lightly with flour and knead briefly into a soft, smooth ball.

First rise: Immediately, grease a large bowl with nonstick cooking spray before putting the dough in and flipping it over so both sides are oiled. Cover with plastic wrap and let it rise in a warm place until it doubles in size. This typically takes two to three hours.
Separate: After its first rise, turn out the dough on a floured surface and let it deflate before cutting it into four 9-inch equal pieces.

Stretch and roll: Next, stretch and roll each one until it is about a 20-inch-long rope. Lay them next to each other and pinch them together at the top. Fan out the ropes and work them back to their 20 inches if they shrink.

Braid the bread: Start with the rope farthest to the right and weave it to the other side going over, under, and over the other strands. Do this again, using the new one that is farthest to the right. Continue to do this until the whole loaf is braided and tuck the ends under.

Second rise: Then, place your dough onto a large baking sheet pan lined with parchment paper. Cover with plastic wrap loosely and let it rise for a second time in a warm spot for one to two hours. It should be about 1 ½ its size when it is done.
Preheat: Meanwhile, preheat the oven to 350 degrees F and place the rack in the middle position.

Beaten egg: After, make egg wash with the last egg and brush it over the top of the bread. You could also sprinkle sesame seeds on top if you like.

Bake: Before baking, put the baking sheet on top of another baking sheet to prevent the crust from over-browning. Bake for 25 to 35 minutes until the crust is a rich brown color. Check the internal temperature to make sure it is between 190- and 200-degrees F.

Cool: Lastly, take the bread out and put it on a cooling rack for it to cool.
Serve: Finally, serve challah bread warm and fresh with butter.
Recipe variations:
Bread flour: You could also use bread flour or whatever type you like.

Poppy seeds: Feel free to add poppy seeds to the top before baking.

Herbs and seasonings: You can also add your own favorite seasonings like garlic, sage, onion powder, or whatever else you like.

Flavors: Add some vanilla or almond extract for a delicious extra flavor.
Regular loaf: Make this into the shape of a regular loaf and it will make the best French toast you have ever had.
How to serve:
This is often served on major Jewish holidays like Rosh Hashanah, but you can have it any time you want. It is a rich and delicious egg bread that goes great with anything. Try one of these interesting serving ideas:
Serve with your family's favorite jams or preserves like our homemade strawberry jam or this tangy blueberry sauce.

Add a dollop of homemade whipped cream to a slice for a nice dessert.

Chocolate lovers would enjoy a drizzle of chocolate syrup on top.

This bread is also great with a drizzle of cream cheese frosting.
Feel free to add whatever nuts or dried fruit you like.
Frequently asked questions
How is challah bread different from brioche?
Challah bread is similar to brioche bread, the brioche uses a lot of butter and challah uses oil. They are both considered to be egg bread, but challah bread is part of a religious tradition.
According to the Bible, God commands the Israelites to show gratitude with challah bread after entering the Holy Land.
Is challah healthy?
Depending on how you make it, this bread can either be fattening and high in cholesterol or very nutritious.
If you use a lot of sugar, oil, and white flour, your bread will have more fat than a bread made with whole wheat flour, honey, and a lighter oil or margarine.
Why is this bread braided?
There are several answers to this question. The most common is that the Kabbalah teaches prayers to mend what needs fixing and those are the strands of bread that get braided.
The braiding of the challah symbolizes the weaving of mentality to bring ourselves to the Shabbat state of mind.
How to store leftovers:
Store: Put leftovers into an airtight container and save them in the refrigerator for up to five days.

Freeze: Challah can be wrapped in plastic wrap and put into a freezer bag to freeze it for up to three months.

Thaw: It should thaw for three hours at room temperature before serving.

Reheat: For warm bread, reheat in the oven or the microwave.
More bread recipes:
Cooking tips:
You can also use active dry yeast, but it will take longer to rise the first time.

Let the dough rise on its own time. Each house is different so the length of time it takes depends on the heat and humidity in your home.

To make this ahead of time, follow the recipe up to braiding it and then cover it with greased plastic wrap before putting it in the fridge overnight. The next day, you can let it come to room temperature and rise again for about an hour before baking.

Make sure you put the dough in a warm dark place with no drafts for best results.
Challah Bread
Ingredients
4 1/4

cups

all-purpose flour

plus more for dusting

1

tablespoon

instant yeast

1 1/2

teaspoons

salt

3/4

cup

lukewarm water

6

tablespoons

vegetable oil

6

tablespoons

honey

or maple syrup

3

eggs

at room temperature

1

egg yolk

at room temperature
Instructions
In a stand mixer fitted with the dough hook, combine the flour, yeast, and salt. After that, mix on low speed for 30 seconds.

In a separate bowl, combine the lukewarm water, oil, honey, or maple syrup, 2 eggs, and the egg yolk. Whisk gently to combine.

Add the egg mixture to the dry ingredients and knead at medium-low speed until a sticky dough that clings to the bottom of the bowl forms, which will take 5 to 7 minutes. The dough will seem wet.

Dust your hands generously with flour and also dust a working surface with flour. After that, transfer the dough to the working surface and dust the top with flour. Knead it into a soft, smooth ball.

Lightly grease a large bowl with oil and place the dough into the bowl, flip it over to make sure it's evenly oiled so it won't dry out, and then cover the bowl with plastic wrap. Place it in a warm place, and allow it to rise until doubled in size, 2 to 3 hours.

After that, place the dough onto a lightly floured work surface and dust with flour. It will deflate.

Cut it into four even 9-oz pieces, and then stretch each piece into a rope about 20-inches long.

Lay the ropes parallel to one another and pinch them tightly together at the top, and then fan them out.

You start by taking the strand farthest to the right and weaving it toward the left through the other strands. Take the strand furthest to the right and repeat the weaving pattern again: over, under, over. Repeat this pattern until the whole loaf is braided. Tuck the ends under to give the loaf a finished look.

Transfer the braided loaf to a parchment-lined 13 x 18-inch baking sheet. Cover the loaf loosely with plastic wrap or a clean kitchen towel and let it rise in a warm, draft-free place until about 1.5 times the size, 1 to 2 hours.

Preheat the oven to 350 degrees F and set an oven rack in the middle position.

In a small bowl, beat the remaining egg and brush dough with it.

Place the baking sheet atop another baking sheet; this will prevent the bottom crust from browning too much. Bake for 25 to 35 minutes, or until the crust is a rich brown color and the internal temperature is between 190 degrees F to 200 degrees F on an instant-read thermometer.

Remove the bread from the oven and place it on a cooling rack. Slice and serve.
Deliciousness to your inbox
Enjoy weekly hand picked recipes and recommendations