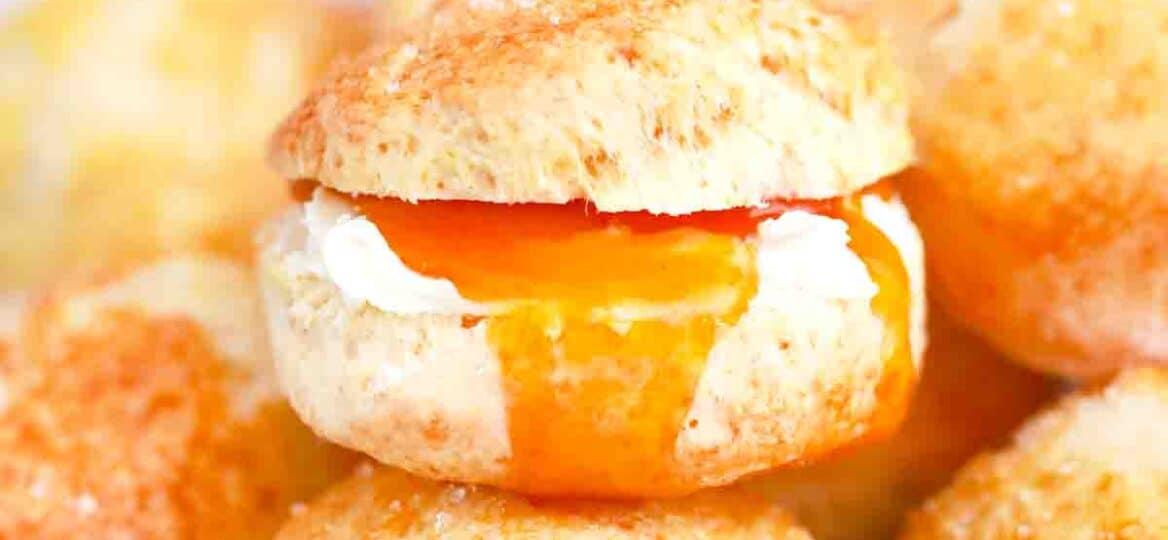 Buttery British Scones Recipe [Video]
British scones are buttery and crumbly, perfect to slice in half and coat with butter or clotted cream and some kind of fruit spread. They make the perfect snack to enjoy with some afternoon tea or to serve on the side of a main dish.
These great British scones would be perfect with a pot of Slow Cooker Lamb Stew made from lamb shoulder, red potatoes, and red wine. If you want a sweeter scone, try these delicious Vanilla Hazelnut Scones topped with homemade icing made from caramel coffee creamer, vanilla beans, and powdered sugar.
Scones originated in Scotland in the 16th century as they were first referenced by a poet in 1513. At first, they would bake scones with oats on a griddle over an open fire. These were actually called bannocks back then, which is the Gaelic word for cake. Today, they are made with flour, sugar, butter, milk, and eggs with a touch of lemon juice.
You will find that these yummy scones are different than what you are used to because they are made with less butter and milk instead of cream. In fact, they are not filled with sweet chocolate or topped with glaze like American scones. These scones are more like an American biscuit than a scone.
What we call biscuits is a British scone. To make these baked scones, all you need is a handful of ingredients you probably already have in your kitchen and a few minutes of prep time.
If you are happy baking any kind of baked goods, we have plenty of recipes to choose from. Try our black and white cake with caramel buttercream or this pumpkin poke cake with pecans and caramel.
Follow us on Pinterest for more delicious recipes!
Ingredients needed:
Here are the basic ingredients needed for this British scone recipe. When ready, scroll down to our recipe card for complete instructions and measurements.
Eggs: At room temperature.
Fresh lemon juice
Milk: We used whole milk.
Unsalted butter: Cubed, slightly soft, and cool.
Baking powder: Not baking soda.
Extra fine granulated white sugar
Unbleached, all-purpose flour
Finishing:
Extra fine granulated white sugar
Egg
Water
How to make British scones from scratch?
Preheat and prep: Preheat the oven to 400 degrees F and line two cookie sheets with parchment paper.
Combine flour mixture: Then, in a large bowl, flour, baking powder, salt, and sugar together with a whisk. Add butter and using your hands, rub it together to break up the butter until the mixture resembles fine breadcrumbs. The final result should look like sand with no clumps of butter.

Make the scone batter: Now, whisk the milk, eggs, and lemon juice together. Pour the milk mixture into the dry ingredients a little at a time and stir just until the liquid is absorbed before using your hands to knead it into a smooth dough with no lumps remaining.

Cut the scones: Next, place the dough onto a lightly floured surface and roll it out until it is about one inch thick. Using a 2 1/4-inch round cookie cutter, cut the scones into rounds, dipping the cutter into the flour between cuts. Do not twist the cutter or the scones will not rise properly. Place scones onto a prepared baking sheet an equal width apart.

Make egg wash: Then, whisk the egg and water with a fork and brush tops using a pastry brush. Sprinkle sugar on top and let them rest for 12 to 15 minutes before baking for the highest rise.

Bake the scones: Lastly, bake the scones in the hot oven for 14 minutes until they have risen and are lightly golden brown on top. Remove them from the sheet and put them on a cooling rack.

Make more scones: In the meantime, reshape the leftover dough and roll it out again to cut out more scones. Place them on the other baking sheet and bake for another 14 minutes.

Eat with afternoon tea: Finally, eat scones with your favorite tea, butter or clotted cream, and fruit preserves or jam.
How to make British scones in the air fryer?
Follow all the steps on how to make the dough, cut the scones and finally let them rise.
Let them rise: Now, put the scones into your air fryer basket and brush the tops with the egg wash using a pastry brush. Add a sprinkle of sugar and let them sit for 12 to 15 minutes to rise before cooking.

Cook your scones: Set the air fryer to 400 degrees F and cook for seven to nine minutes or until they are golden brown. Remove and let them cool on a wire cooling rack.
Use all the dough: While waiting for the first batch to cook, use the remaining dough to cut out more scones and cook the same way.

Serve with a cup of tea: Afterward, serve English scones with butter, jam, and cream tea.
Recipe variations:
Fresh fruit: Add your favorite fresh fruit to the mix so you can have strawberry, raspberry, or blueberry scones.
Pumpkin British scones: Similarly, use 1/2 cup of pumpkin puree instead of the milk and add two teaspoons of pumpkin spice.

Dried fruit: Another way to enjoy these tender scones is by mixing in some golden raisins, cranberries, or dried apricots.

Extra tangy: For an extra bit of tanginess, add two tablespoons of orange or lemon zest.
Sweeter: Make cinnamon scones by replacing the white sugar with brown and adding a teaspoon of cinnamon.

Self-rising flour: If you want your British scone a little taller, use self-raising flour or extra baking powder.
How to serve:
Making scones is easy with this great recipe. Enjoy your scones with afternoon tea or serve them as a side dish with soup or stew. You could also try one of these awesome serving ideas or share some of your own in the comments below.
These great scones are yummy with your favorite fruit spread like strawberry jam. Try our tangy recipe for strawberry jam, sweet orange marmalade, or a mouthwatering homemade blueberry sauce.

Not a tea lover? That's okay. These go perfectly with a cup of coffee as well.

If you like your scones more like American biscuits, top them with our thick and gooey caramel sauce.

For even more sweetness, drizzle some chocolate syrup on top.

Like any baked good, our English scones go great with any kind of fresh fruit from apples to berries.
These make a wonderful treat for after-school snacks when you want your kids to eat more fruit.

Since our British scones use less butter, you can add an extra spoonful to them when serving.
Frequently asked questions
What is clotted cream?
Clotted cream is a very thick cream with a high-fat content of about 60%. It has a different taste than butter but is sometimes described as unsalted butter with a nutty flavor. The texture is more like soft cream cheese though. If you cannot find clotted cream, try Whole Foods or make your own with heavy cream. You could also try mascarpone cheese.
What is the difference between an American and a British scone?
British scones tend to contain less fat but more sugar. For instance, this recipe has less butter than an American scone because you are supposed to put jam and clotted cream on the inside after baking. Also, American scones are typically flavored with something sweet such as chocolate, fruit, or cinnamon. They are also cut into a triangle instead of a round like this recipe calls for.
Why did my scones turn out hard?
If your scones turned out hard, you may have added too much flour to the mix. You have to use the spoon-and-scrape method of measuring flour instead of just scooping it up. When you scoop flour, it gets packed in and you end up with a lot more flour than the recipe calls for. Use a spoon to fill the cup and then scrape the top with a knife to level.
What are the nutrition facts in this recipe?
Each serving contains 155 calories, 23 grams carbs, and 6 grams fat with 3 grams saturated fat. It also has 27 mg cholesterol, 111 mg sodium, and 5 grams sugar. But you also get 1 mg iron, 89 mg calcium, 197 units vitamin A, 202 mg potassium, and 4 grams protein.
How to store leftovers:
Store scones: You can store your leftover British scones in an airtight container or gallon-size zip baggie for five days at room temperature or up to a week in the fridge.

Freeze scones: You can also freeze baked scones for up to 60 days. Just put them in a freezer-safe container or freezer bag. To freeze unbaked scones, flash-freeze them on parchment paper on a baking sheet for one hour before placing them in a container with a piece of parchment or wax paper between each one.
Thaw scones: Baked frozen scones can be thawed overnight in the fridge or on the counter for two to three hours. Unbaked frozen scones can be baked without thawing.

Reheat scones: To reheat, them in an oven preheated to 400 degrees F for five to eight minutes.
More baking recipes to try:
Baking tips:
Be sure to use cold butter and not room-temperature butter.

You can use a pastry cutter instead of your hands if you like.
Another way to make mixing in the butter easier is by grating it with a cheese grater.

Use a food processor to mix the dough to make it even easier.

Your dough should be sticky, so continue adding milk, one tablespoon at a time, until your dough reaches the right consistency.
Feel free to use heavy cream instead of whole milk for creamier scones.

On the other hand, you could also use low-fat or skim milk.

If you cannot find clotted cream in your grocery store, find the nearest Whole Foods Store. They have several kinds there.

For those who are worried about nutrition, calories, fat, and vitamins, our nutrition information is average and will vary depending on the size of the serving, the ingredients, and what you put on them.
British Scones
Ingredients
British Scones:
3 1/2

cups

all-purpose flour

1/3

cup

granulated sugar

2

tablespoons

baking powder

8

tablespoons

unsalted butter

cooled and just slightly soft-cubed

3/4

cup

milk

1

teaspoon

lemon juice

2

large eggs

room temperature

1/2

teaspoon

vanilla extract
Finishing:
1

egg

for the egg wash

2

teaspoons

water

2

tablespoons

granulated sugar
Instructions
Line 2 baking sheets with parchment paper and set them aside.

In a large bowl, whisk together flour, sugar, and baking powder.

Next, add in the cubed butter, and either using a fork or your fingers, mix it into the flour until fully combined. The dough should look more like sand.

After that, in another bowl, combine the lemon juice, eggs, and milk, and whisk until combined.

Pour the wet ingredients into the dry ingredients. Using a spatula, stir until combined and a dough forms. After that, use your hands to knead the mixture into a smooth ball.

Transfer the dough onto a lightly floured surface. Roll it into a circle that is 1 inch thick.

Using a donut or round cookie cutter that is about 2 1/4-inch in diameter (even a wider glass will work), cut the dough into scones, dipping the cutter into flour between cuts.

If you have remaining dough scraps, you can re-roll the dough and cut a scone or two.

Transfer the scones onto the prepared baking sheet, not too close to each other.

Make the egg wash by whisking the egg and water together with a fork. Lightly brush the tops of the scones and sprinkle them with sugar.

Let scones rest for 12-15 minutes before baking.

Bake in the preheated oven for 14-15 minutes, or until scones are risen and are lightly golden on top.

Remove from the oven, and transfer the scones onto a cooling rack.

Serve with tea or coffee, clotted cream or butter, and the jam of your choice.