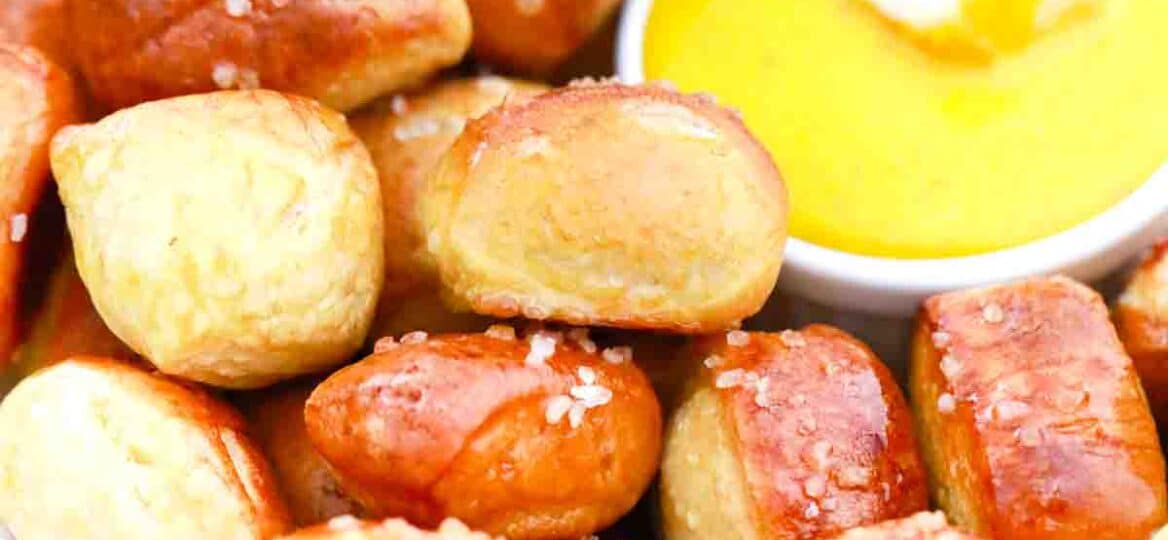 Pretzel Bites are the perfect appetizer for game day, and parties, they are soft and fluffy, sprinkled with sea salt, and go well with any dip! This is your go-to recipe for snacks if you want something delicious and fast. Serve these yummy homemade pretzel bites with cheese sauce tonight.
If you like this recipe, you will love our Baked Soft Pretzels made from instant yeast, brown sugar, and sea salt. For something unique, try our Pumpkin Pretzel Bites seasoned with pumpkin spice, brown sugar, and sugar.
Pretzels are probably older than you think. In fact, they go back to 610 AD when a young monk in Aosta, Italy was preparing bread for Lent. He decided to twist the dough to make it look like Christians praying with their arms across their chests. Since that day, they have become so popular that you can find them everywhere.
This homemade soft pretzel bites recipe is such an easy recipe to make, you can do it anytime. They are different from a regular soft pretzel recipe because they are so simple and fast. Regular soft pretzels can take a little longer to make.
My family and friends give this a five-star recipe rating every time I make them. These soft pretzel bites can be eaten alone or dipped into your favorite sauces like ranch dressing, cheese sauce, or honey mustard dip.
Are you looking for other yeast recipes? This easy yeast bread only needs five ingredients and takes less than an hour. For something sweeter, try these hot cross buns with raisins and cinnamon sugar.
Ingredients needed:
To make these soft buttery pretzel bites, all you need are these basic ingredients you probably already have in your kitchen. Once you gather all these, scroll down and find our recipe card with the instructions and measurements.
Coarse sea salt: Or any kind of coarse salt.

Large egg: Whisked.
Baking soda: Not baking powder.
All-purpose flour
Kosher salt
Granulated sugar
Active yeast
Warm water
Melted unsalted butter
How to make pretzel bites from scratch?
Proof the yeast: First, stir the sugar, yeast, and warm water in a small bowl and let the mixture sit for three or four minutes before adding the salt. Stir well.

Preheat the oven: Then, preheat the oven to 425 degrees F and put the oven racks in the middle. Line a baking sheet with parchment paper or a silicone mat.

Make the pretzel dough: In the meantime, add the flour and yeast mixture to a large bowl or the bowl of your stand mixer fitted with a dough hook attachment and knead the dough for five minutes.

Cut the dough: Next, separate the pretzel dough into six sections and roll them into ropes about 15 inches long and one inch thick. Cut into 1 1/2 to 2-inch pieces with scissors.

Dip in baking soda bath: Then, bring eight cups of water and 1/3 cup of baking soda to a boil in a large pot over medium heat. When it boils, put eight pieces of pretzel dough into the boiling water for 30 seconds. Remove them with a slotted spoon and put them on a parchment-lined baking sheet.

Brush with egg wash and salt: After, brush each of the little pretzel bites with beaten egg and sprinkle with coarse salt.

Bake and cool: Last, bake pretzel bites until they are golden brown, about 8 to 10 minutes. Remove and place them on a cooling rack.

Serve warm: Finally, brush the tops of the baked pretzels bites with melted butter and serve warm with dipping sauce.
Recipe variations:
No baking soda: You can use baking powder instead of baking soda, but you will have to double or triple it.

Sweeter pretzel bites: Instead of salt, use brown sugar to coat your baked pretzel bites.

Cinnamon sugar pretzels: For a cinnamon sugar version, bake the homemade pretzels without salt. Then, roll them in melted butter and cinnamon sugar after they come out of the oven. You just need 1/2 cup of granulated sugar combined with 2 tablespoons of ground cinnamon for these yummy cinnamon rolls.
Bread flour: This recipe calls for all-purpose flour but you can use bread flour if you like.

Other flour: You could also use oat, almond, or wheat flour.

Vegetable oil: Some people use a tablespoon of vegetable oil in their baking soda bath for extra chewiness.

Sourdough: Use a sourdough starter for sourdough pretzel bites.
How to serve:
This is a great recipe for a party snack, celebration, or game day. Or you can just serve them as a snack while watching television with the family. It is a huge hit at my house anytime. You can use one of these serving suggestions or share one of your own ideas in the comments section at the bottom of the page.
Sprinkle some parmesan cheese on your pretzel bites for cheesy snacks.
For a spicier snack, try our buffalo sauce for dipping.

You could also use bagel seasoning instead of just salt.

Another great dipping sauce to try is our tzatziki sauce.

Instead of dipping in sauce, pour cheese sauce all over these for true cheese lovers.

Sweet sauces are good for dipping too, like tart blueberry sauce, or a sweet and tangy strawberry sauce recipe would be perfect.

Leftover pretzel bites make wonderful additions to salads or casseroles.
Frequently asked questions
Why do you put baking soda in the water when you make pretzels?
Putting your pretzel bites into a water and baking soda bath before cooking will give them that chewy texture that pretzels have. The baking soda water makes them soft and chewy. In fact, if you try making soft pretzels without the baking soda solution, you will be very disappointed in the texture.
Why are my pretzel bites so hard?
Soft pretzels can usually be baked in less than minutes so if you cook your pretzel bites longer than that, they are going to be overcooked and hard. But hard pretzels are good too. Just like regular hard pretzels you can get from the store. The longer they are cooked the less moisture there is and it is what gives pretzels their crunchiness.
What is the difference between active dry yeast and instant yeast?
They can both be used in this and many other yeast recipes. Active dry yeast needs to be rehydrated before using it, but instant yeast can be used right out of the package. Also, using instant yeast will have your bread rising faster than if you used active dry yeast.
What are the nutrition facts in this recipe?
If you consider five bites per serving, this will give you 165 calories, 17 mg of cholesterol, and 1 gram of fat. It also has 32 grams of carbohydrates, 1,210 mg of sodium, and 1 gram of sugar. You also get 10 mg of calcium, 24 units of vitamin A, 55 mg of potassium, 1 gram of fiber, and 5 grams of protein. This does not include any dipping sauces or other additions to the recipe.
How to store leftovers:
Store: You can store your leftover pretzel bites in the fridge for five days in an air-tight container or ziplock baggie.

Freeze: If you want to save them longer, freeze pretzel bites wrapped in plastic wrap in a freezer bag for up to four months.

Thaw: The night before you serve your frozen leftovers, thaw them in the refrigerator overnight.

Reheat: To reheat, put them in the microwave for 30 to 60 seconds.
More game day food:
Cooking tips:
If you do not have a stand mixer, you can use a large bowl with an electric or hand mixer.
You could also knead by hand after you let the dough rise.
Cut an X or T into the top of each pretzel bite for a more professional look.
This recipe makes about 60 to 70 pretzel bites.
You will probably need several prepared baking sheets.

You can also make the dough ahead of time and freeze it. Just thaw the frozen dough before using it.

If you want the tops to brown, turn the oven to broil for the last minute.
Instead of parchment paper or a silicone mat, you can spray your baking sheet with nonstick cooking spray.

Be sure to let the excess liquid drip off when removing the pretzel bites from the baking soda solution.

Instead of scissors, you can use a pizza cutter to cut the dough.

For even easier pretzel bites, put all the ingredients into a bread machine and let it do the work for you.
Pretzel Bites
Ingredients
1 1/2

cups

lukewarm water

1

packet

active yeast

2 1/4 teaspoons

1

tablespoon

granulated sugar

1

teaspoon

Kosher salt

4

cups

all-purpose flour

1/3

cup

baking soda

for boiling the water

1

large egg

whisked

Sea salt

for sprinkling on top

3

tablespoons

butter

melted - for brushing
Instructions
In a small bowl, stir together the warm water, yeast, and sugar. Let for 5 minutes, the mixture should activate and become foamy. If it's not foamy, discard it and repeat this step.

Next, add salt to the yeast. mixture and stir.

Preheat the oven to 425°F. Line a baking sheet with parchment paper and set it aside.

In the bowl of a stand mixer fitted with the dough hook attachment, add the flour and yeast mixture. Knead on low-medium speed for 5 minutes.

Transfer the dough onto a lightly floured surface and separate it into 6 sections.

Roll each section into 15-inch long and 1-inch thick ropes.

After that, either using a sharp knife or scissors, cut the ropes into 1 1/2 or 2-inch pieces. This should make about 60 to 70 pretzels. In addition, you can cut an "x" on the top of the pretzels.

In a medium pot, add about 8 cups water and the baking soda, and bring to a boil over medium heat.

Once the water is boiling, add about 8-10 pieces of dough into the water and boil for 30 seconds.

Remove them with a slotted spoon and arrange the boiled pretzel bites onto the prepared baking sheet. Brush with the beaten egg and sprinkle salt on top.

Bake in the preheated oven for 8 to 10 minutes, or until golden brown. Broil during the last minute to brown the tops. Remove the pretzel bites to a cooling rack and lightly brush the tops with melted butter.

Serve warm with your favorite dipping sauce.
Deliciousness to your inbox
Enjoy weekly hand picked recipes and recommendations