Slow Cooker Buffalo Chicken Meatballs [Video]
Last updated on March 29th, 2023 at 07:03 am
Buffalo Chicken Meatballs are made with ground chicken, buffalo sauce, and ground flaxseeds for an extra healthy but extremely delicious addition to your next game day or holiday appetizer. Using the recipe as it is written, it is completely free of gluten.
If you want more appetizer recipes, we have them for you! Our Mongolian Meatballs are made with ground beef, oyster, soy, and hoisin sauces for an amazingly rich flavor. Or you can try this Air Fryer Buffalo Chicken made with skinless chicken breasts, buffalo sauce, and panko bread crumbs.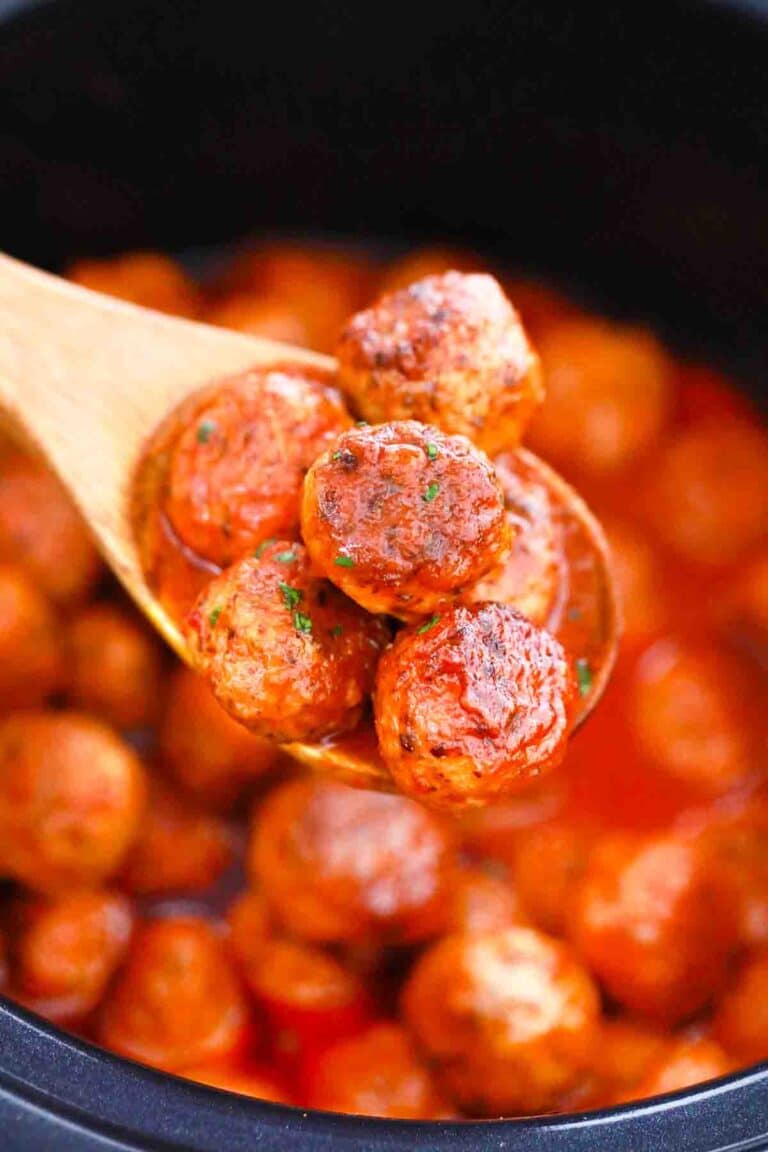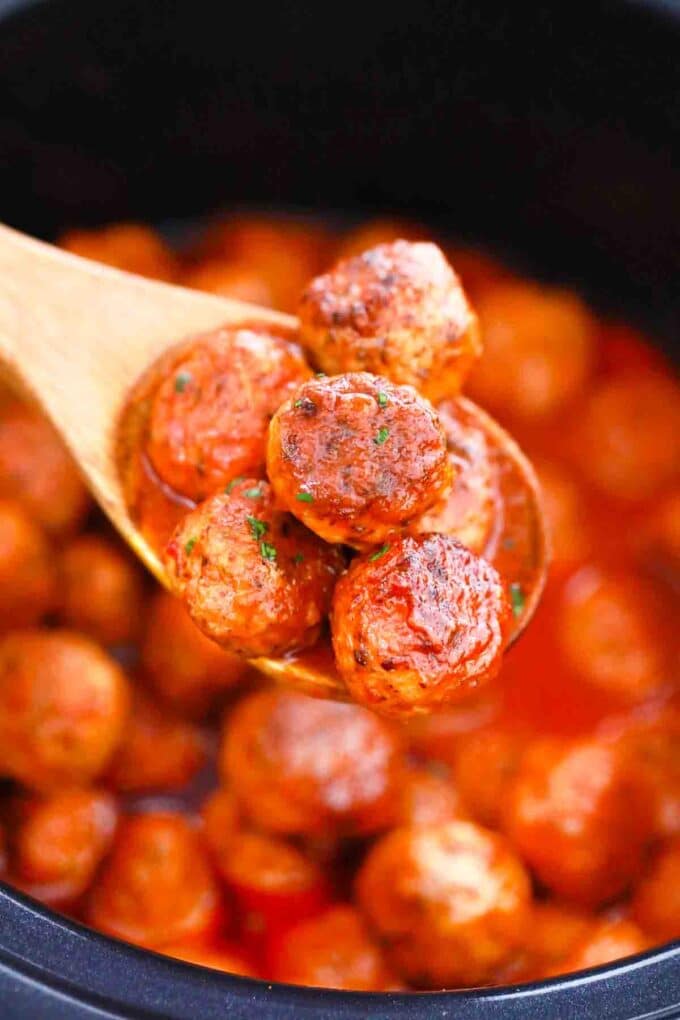 Buffalo meatballs have been served as appetizers for years but most of the time they are made with beef. Using ground chicken not only makes this dish healthier but it gives it a flavor more like chicken wings, which is always a favorite. Making these in the crockpot means they get to simmer for hours to soak up all the flavor in the chicken mixture.
While this can be an easy and great appetizer for a party, it also makes a delicious and hassle-free dinner. You can serve it over spaghetti, or with a side of mashed potatoes.
You may also like one of our other meatball recipes like our air fryer turkey meatballs done in less than 30 minutes. Are you looking for more chicken recipes? How about this fast and spicy instant pot firecracker chicken coated in a homemade hot sauce made with red pepper flakes, chili paste, and ginger?
When many people think of meatballs, they think of spaghetti. But the first meatballs are thought to have been made as a complete dish in China during the Qin Dynasty, which lasted from 221 BC until 206 BC.
It was also known to have been a popular dish with the Romans during the first century. But the first recorded meatball recipe came from ancient Persia in 1200 when they were made with leftover lamb and other meat.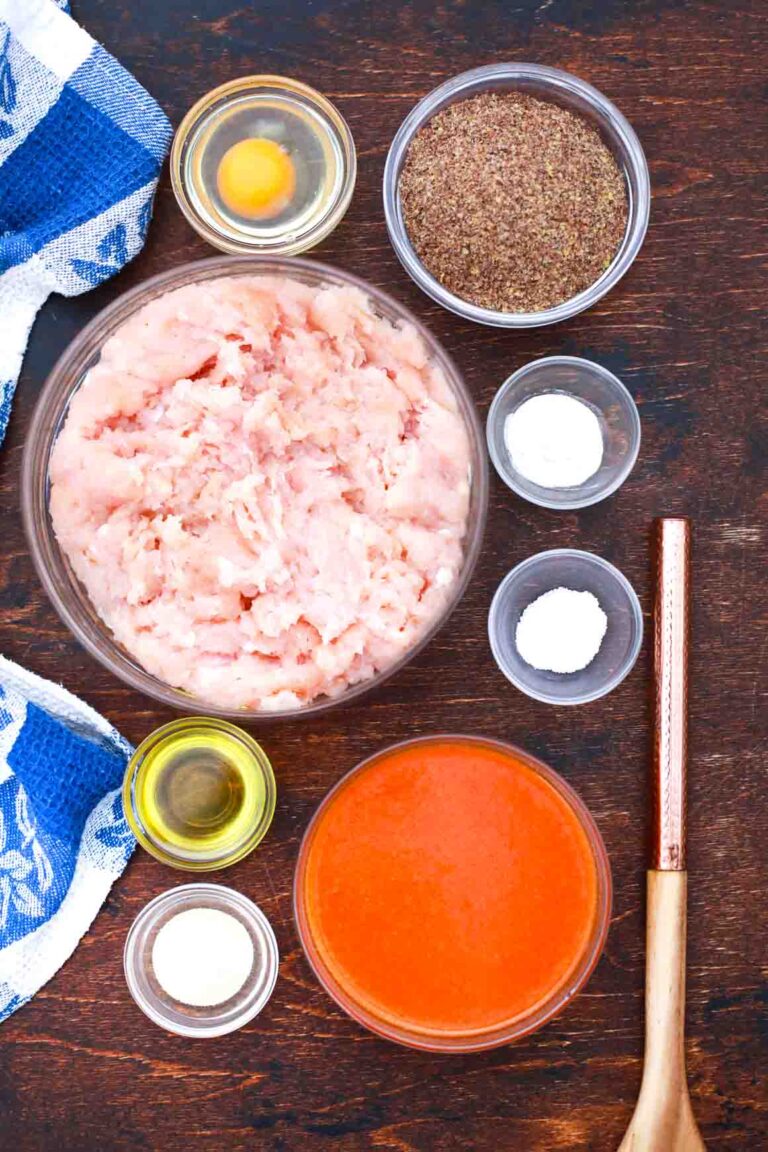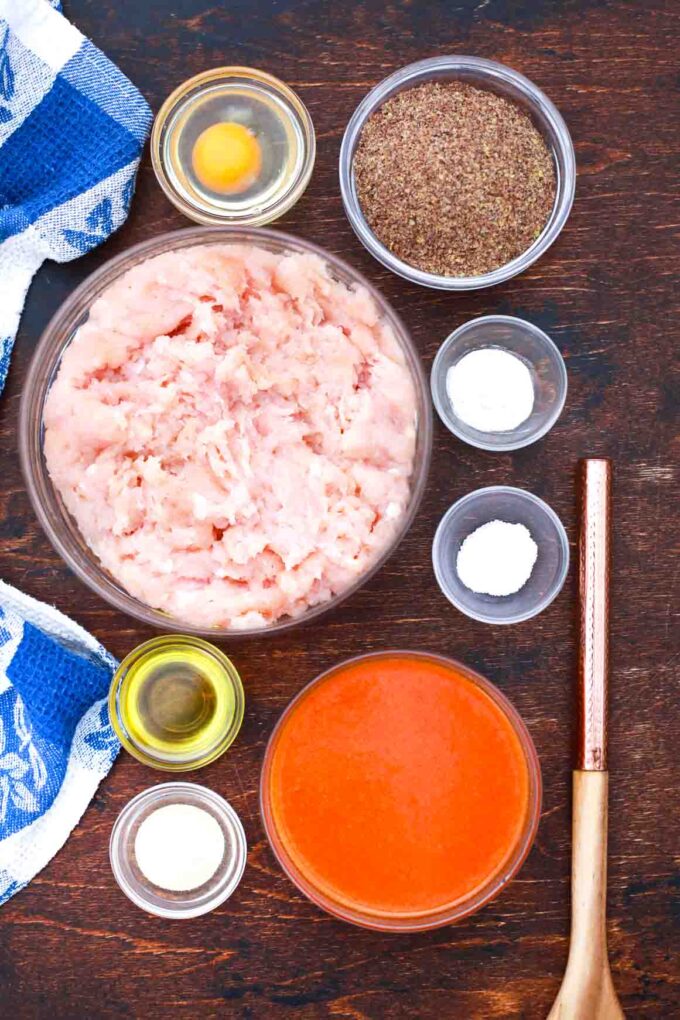 Ingredients needed:
Making buffalo chicken meatballs is easy with just these simple ingredients. Please scroll down to our recipe card for complete instructions and exact measurements.
Ground chicken: Any fat content will work.
Ground flaxseed: or seasoned breadcrumbs
Large egg: At room temperature.
Buffalo sauce
Onion powder
Garlic powder
Kosher salt and pepper
Olive oil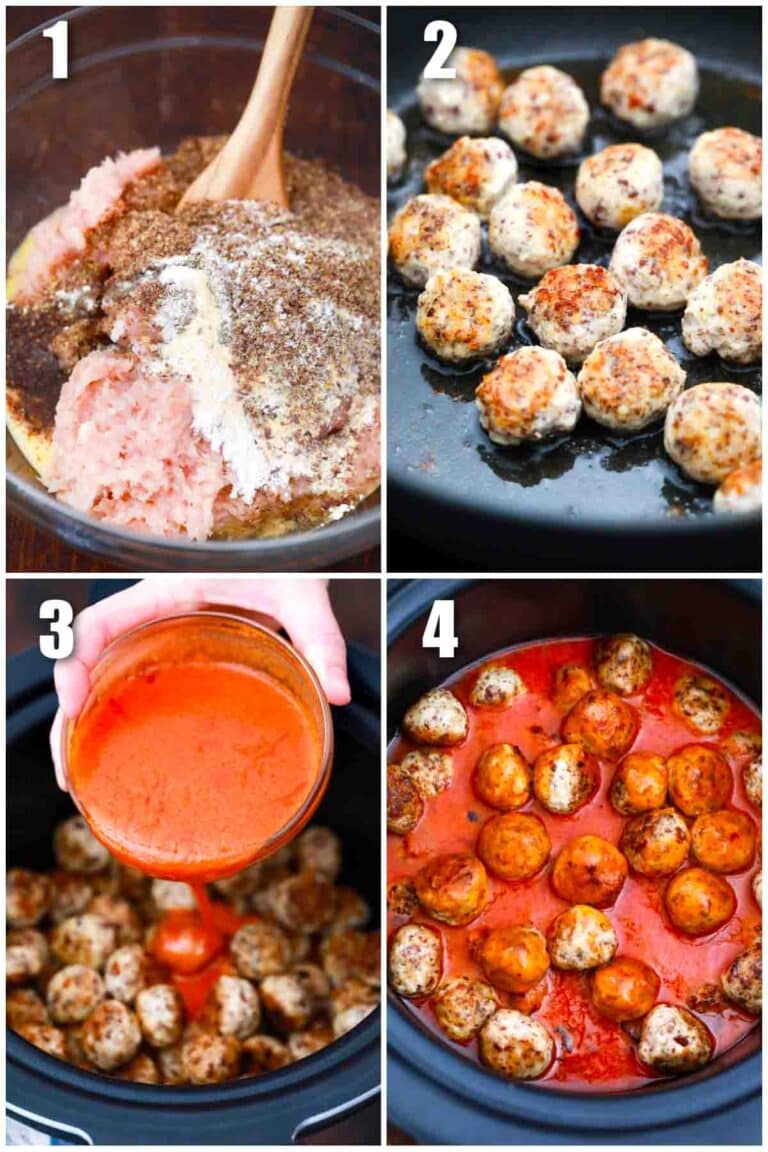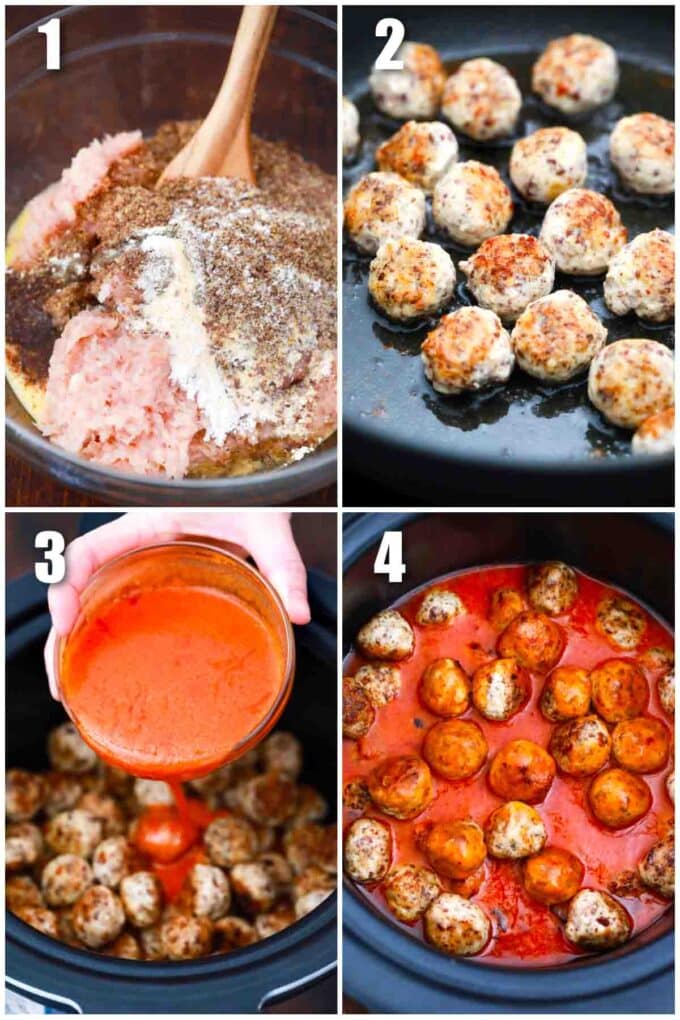 How to make slow cooker buffalo chicken meatballs from scratch?
Make the chicken mixture: To start, beat the egg in a large mixing bowl before adding the salt, onion powder, garlic powder, olive oil, flaxseed, and ground chicken. Stir with a large spatula or wooden spoon until thoroughly combined.
Roll the balls: Then, roll the meatball mixture into balls and place the meatballs on a baking sheet lined with parchment paper until you are ready to make them.
Add sauce: Next, pour one cup of buffalo sauce into the bottom of your slow cooker, crockpot, or large pot. Set it aside.
Brown the meatballs: After, heat olive oil over medium heat in a large skillet until they are lightly brown. This usually takes about one or two minutes per side. Do not crowd them all into the pan. Just do them in batches. As you finish, put each batch into the crockpot until you are done.
Cook in the crockpot or on the stove: Last, use the remaining sauce to cover the browned meatballs and cook on low for six to seven hours or on high for four to five hours. If you are using the stovetop, boil over medium-high heat and simmer until the meatballs are fully cooked for about 30 to 35 minutes.
Serve: Finally, serve immediately with a ranch drizzle in a large bowl or just leave them in the pot for guests to get their own.
How to make baked buffalo chicken meatballs from scratch?
Preheat oven: First, preheat the oven to 400 degrees F and prepare a baking sheet with parchment paper.
Mix the meatball ingredients: While you wait, mix together the ground chicken, seasonings, flaxseed, egg, and oil in a large bowl.
Make meatballs: After it is thoroughly mixed, roll it into medium-sized balls and put them in a bowl with half the buffalo sauce. Gently toss them so they are evenly covered placing them on the prepared baking sheet as you go.
Bake and serve: Finally, drizzle the extra sauce on top and bake for 15 to 20 minutes, depending on the size of your meatballs. Serve with your favorite dipping sauce.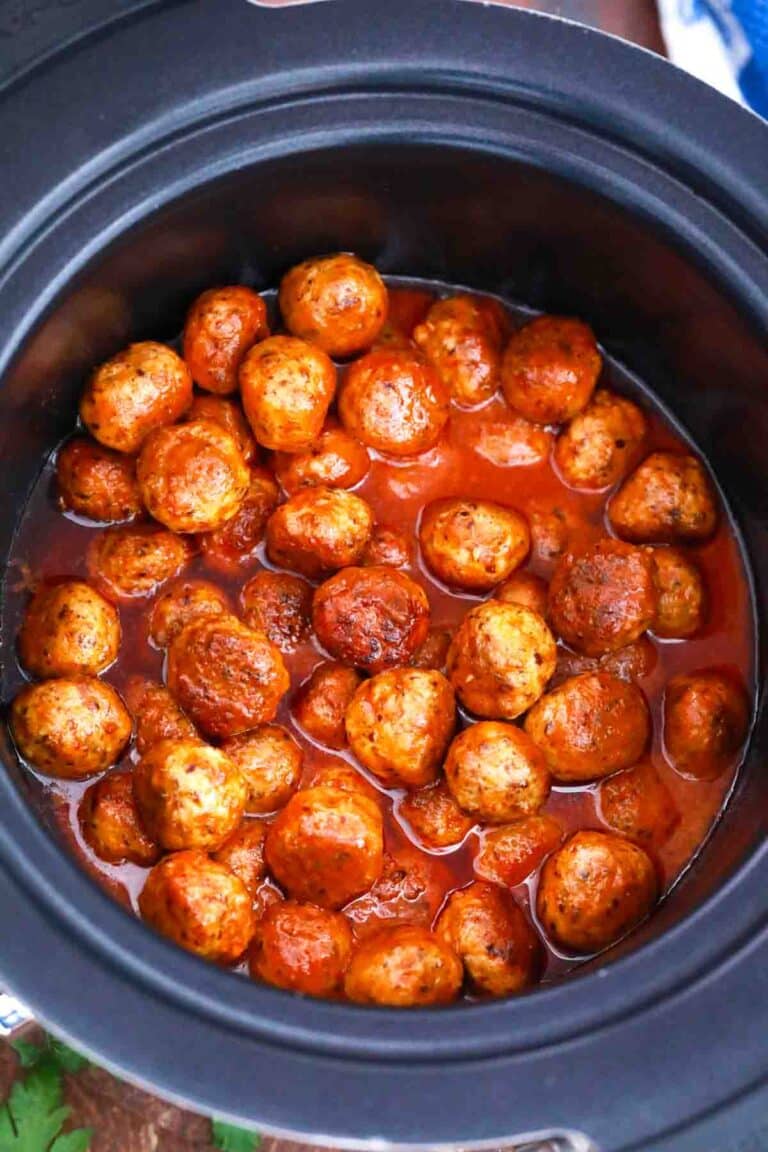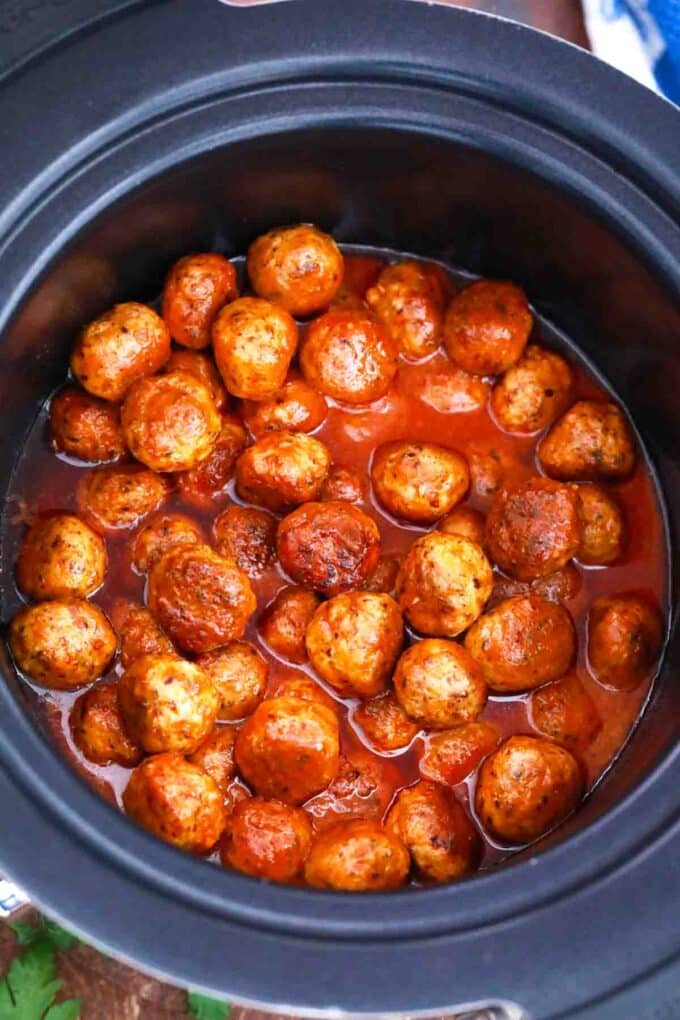 Recipe variations:
Another oil: Feel free to use a different oil such as avocado, canola, or whichever you like cooking with.
Different meat: You could also substitute the ground chicken with ground turkey, pork, or ground beef.
No flaxseed: Go ahead and combine bread crumbs like panko or whatever kind you like if you do not have and cannot find flaxseed. Or if you just do not want to use it.
Green onion: Add sliced green onions, scallions, or chopped red or white onions for extra flavor. Just use a food processor or grater for extra fine pieces.
Blue cheese: You could also use blue cheese crumbles in the mix for an extra tangy twist to buffalo chicken meatballs.
Extra spicy: If you are a huge fan of spicy food, toss in some chopped jalapenos or red pepper flakes.
Sweeten the pot: Make these buffalo chicken meatballs sweeter by adding 1/2 cup of brown sugar to the buffalo sauce.
Egg white: For less fat, just use egg white instead of the whole thing. You can use the yolk for something else.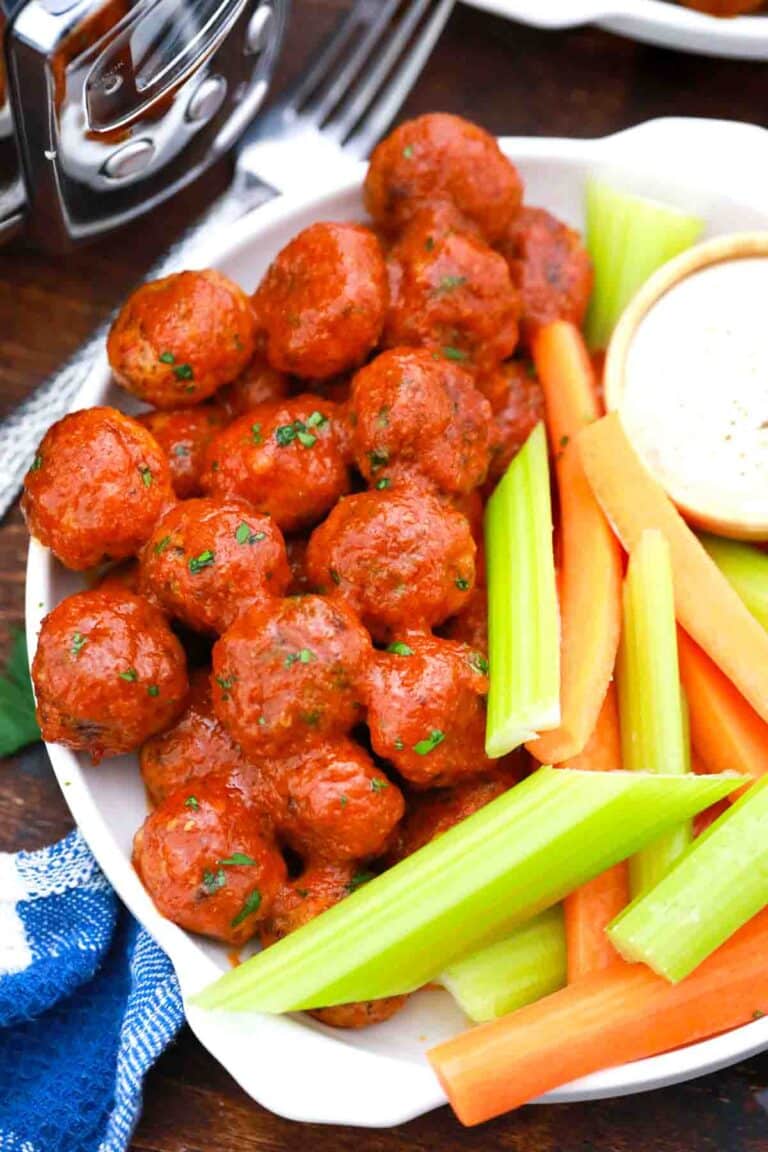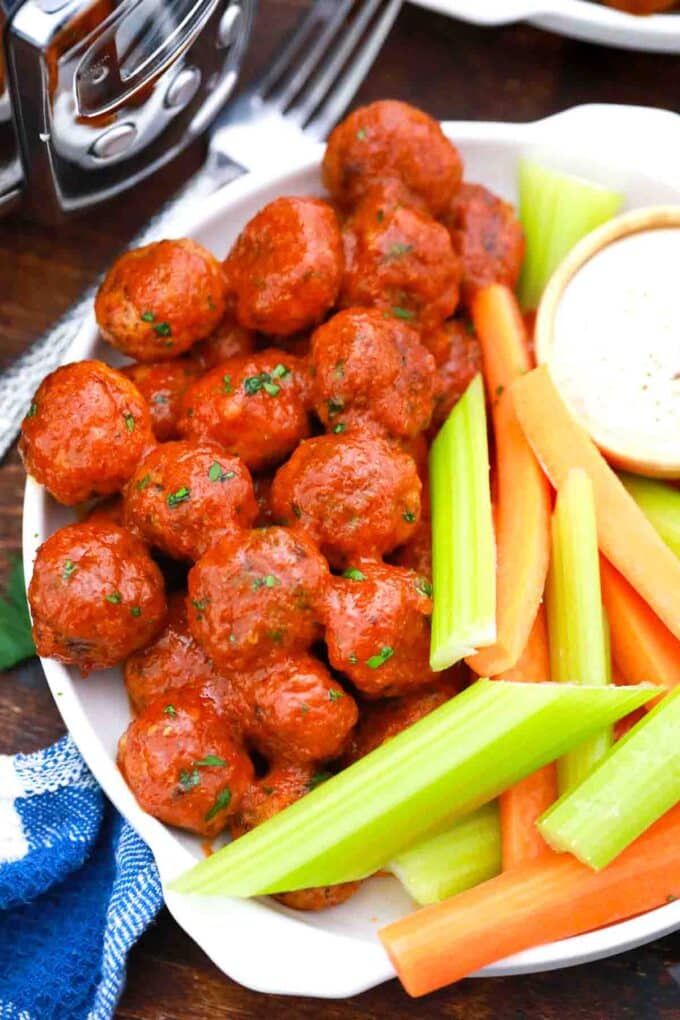 How to serve:
Whether you make them in a crockpot or in the stove, these juicy buffalo chicken meatballs are yummy. Try one of these serving ideas or feel free to share one of your own in the comments below.
These delicious buffalo chicken meatballs go great with blue cheese dressing
If you do not like blue cheese, try a different kind like ranch dressing.
Serve on a plate with carrot sticks and celery sticks with extra buffalo sauce for a decorative appetizer tray.
To make your own buffalo sauce, add storebought hot sauce to 1/4 cup of butter and simmer on low in a small saucepan until the butter is melted. Or you can follow this easy step-by-step buffalo sauce recipe.
Plate these and stick toothpicks in them for easy handling.
Other kinds of sauce you can serve with your buffalo chicken meatballs are sweet and sour sauce, and tangy orange sauce.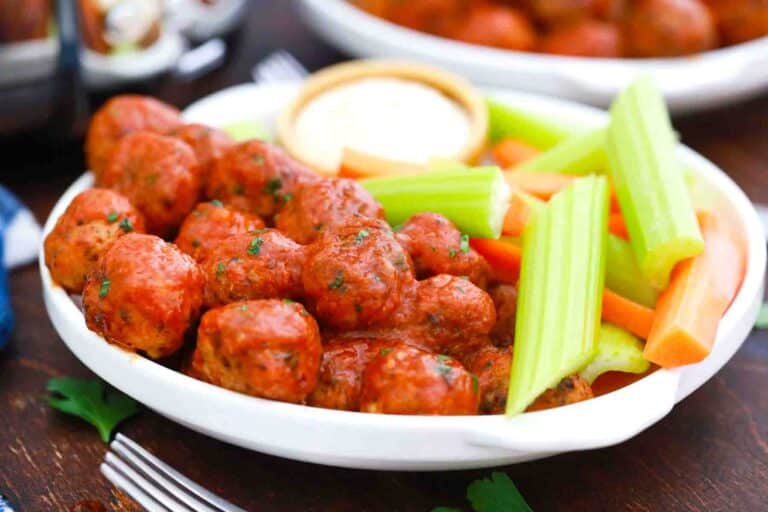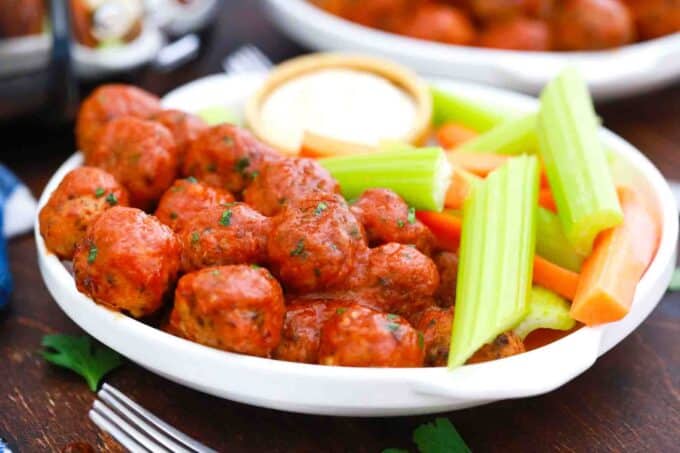 Frequently asked questions
Can I make these in an air fryer instead?
You could do it that way, but you will not be able to let them soak up the sauce. Because the fryer relies on heated air to cook, you cannot put your meatballs into a pan in the fryer or they will not cook evenly. You can, however, make them in the fryer first and then soak them in the sauce.
Why is chicken healthier than beef?
One serving of ground chicken has less cholesterol and saturated fat as well as fewer calories. Beef has a much higher fat content. Chicken is also full of lean protein, building muscle instead of fat. In addition, chicken has a better impact on your wallet since it is typically less than half the price of beef.
Why are my meatballs falling apart?
It is usually because you did not use enough binder in the recipe. You need a large egg (not medium or small) and enough breadcrumbs or flaxseeds to keep the meatballs together. If you use too much binder, it can also cause runny meatballs which will not stick together either.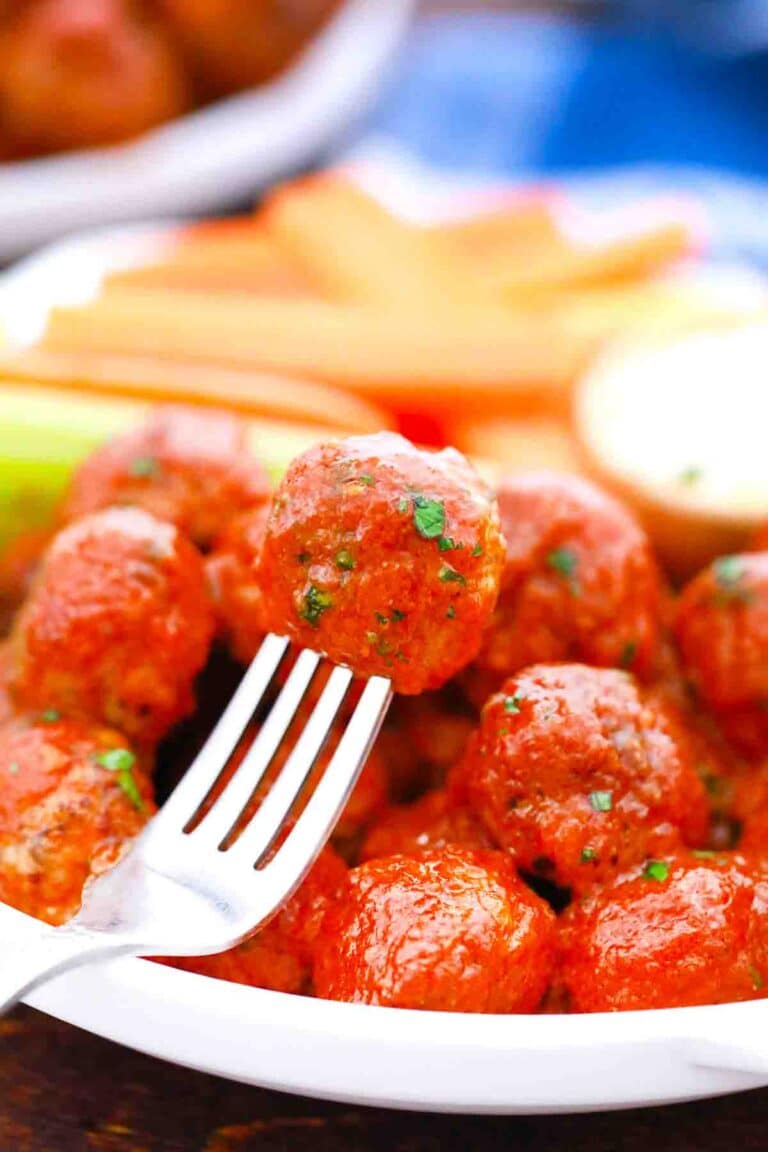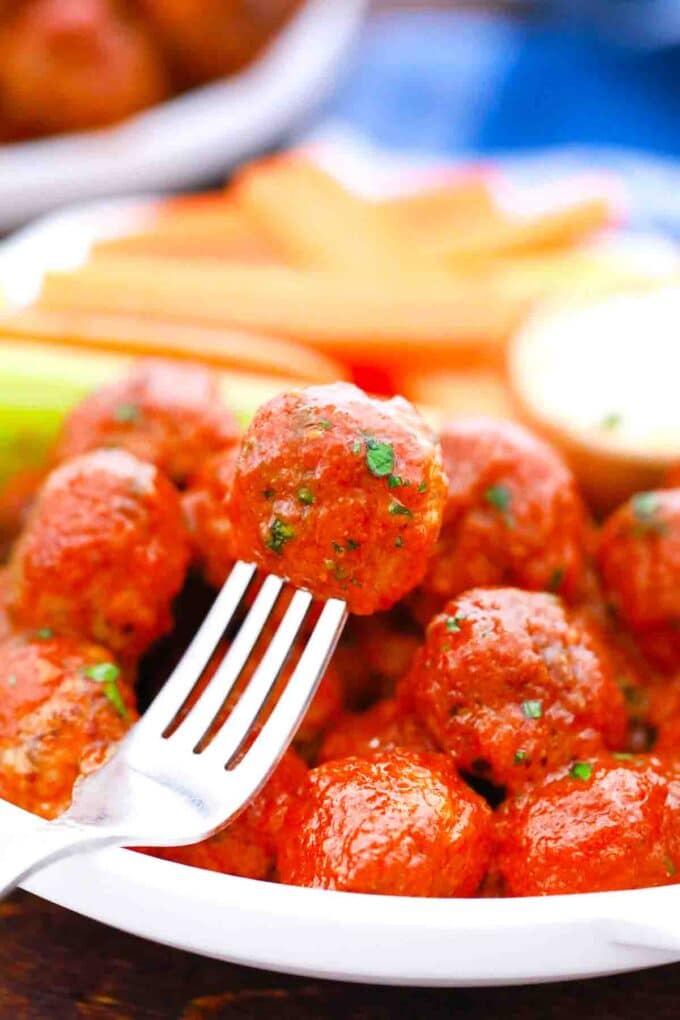 What are the nutrition facts in this recipe?
Each chicken meatball has 65 calories, 2 grams of carbs, and 4 grams of fat including 1 gram of saturated fat. It also has 390 mg of sodium, 22 mg of cholesterol, and less than 1 gram of sugar. You also get 160 mg of potassium, 1 gram of fiber, 6 grams of protein, 77 units of vitamin A, and 10 mg of calcium.
How to store leftovers:
Store: You can store your leftover buffalo chicken meatballs in an airtight container or gallon-size zip baggie in the fridge for three to five days.
Freeze: To freeze buffalo chicken meatballs, wrap them in plastic wrap and place them in a freezer bag or freezer-safe container for up to three months.
Thaw: Be sure to thaw frozen leftovers in the fridge overnight before serving for the best results.
Reheat: To reheat, put the chicken meatballs in some buffalo sauce on the stove and cook on medium for several minutes. You could also microwave for 60 to 90 seconds.
More game-day recipes:
Cooking tips:
Use a cookie scoop to make easy medium-sized meatballs or an ice cream scoop to make large meatballs.
Making ahead of time is easy too. Just prep the meatballs up to the browning step and then refrigerate for up to two days or freeze for up to two months. Refer to the instructions above for refrigeration and freezing steps. When ready, thaw your meatballs and finish the recipe to cook perfect meatballs.
We used Frank's Red Hot Sauce, but you can use your favorite buffalo sauce or wing sauce.
Check the internal temperature of a few meatballs with a meat thermometer to ensure food safety. They should read 165 degrees F when they are done.
You can usually find the ground chicken in the freezer section at your grocery store.
Use minced garlic instead of garlic powder for more flavor.
Instead of hot buffalo sauce, you can use a mild sauce like barbecue. Try our easy and delicious homemade barbecue sauce.

You can also use almond flour, regular breadcrumbs, or panko breadcrumbs instead of flaxseed.
Instead of lining the sheet pan with parchment paper, you can use cooking spray.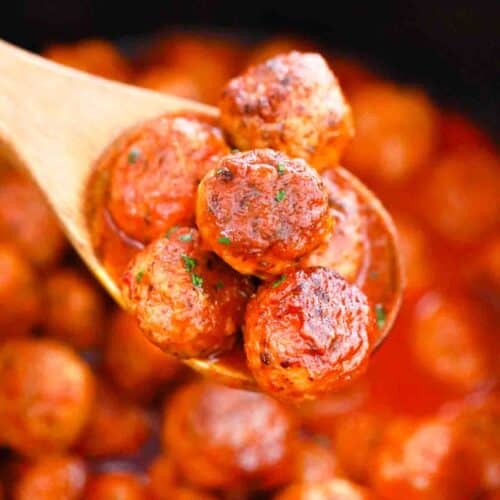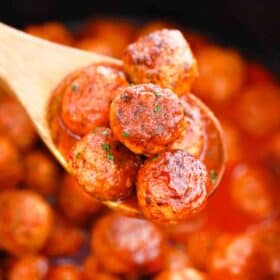 Buffalo Chicken Meatballs
Buffalo Chicken Meatballs are made with ground chicken, and ground flaxseeds, covered in buffalo sauce, and cooked in the slow cooker.
Save
Share
Print
Pin
Rate
Servings:
6
servings go about 6 meatballs per serving
Ingredients
1

large egg

(beaten)

2

pounds

ground chicken

(or ground turkey)

2/3

cup

ground flaxseeds

(or seasoned breadcrumbs)

2

tablespoons

canola oil

(or olive oil - plus more for the frying pan)

1 1/2

teaspoon

garlic powder

1

teaspoon

onion powder

1

teaspoon

smoked paprika

(optional)

1

teaspoon

salt

1 2/3

cups

buffalo sauce
Instructions
In a large bowl, combine the beaten egg with the ground chicken, ground flaxseeds, oil, garlic powder, onion powder, paprika, and salt. Stir with a rubber spatula until fully combined.

Roll the meat mixture into balls or use a cookie scoop to spoon 1 1/2 - 2 tablespoons of meatball mixture on a large plate covered with parchment paper. Set aside.

Place half of the buffalo sauce on the bottom of a large dutch oven or slow cooker.

Heat a large non-stick skillet with a few. tablespoons of canola or olive oil over medium heat. Lightly brown the meatballs, about 1-2 minutes on each side, work in batches, and do not overcrowd the pan.

Transfer each batch of browned meatballs into the prepared Dutch oven or slow cooker. Pour the remaining buffalo sauce over the meatballs.

Cover and cook on low in the slow cooker for 6-7 hours or high for 4-5 hours. Or simmer over medium-low heat on the stove until the sauce thickens about 35-40 minutes.

Garnish with fresh chopped parsley and serve.
Nutrition
Calories:
367
kcal
|
Carbohydrates:
6
g
|
Protein:
31
g
|
Fat:
25
g
|
Saturated Fat:
5
g
|
Polyunsaturated Fat:
9
g
|
Monounsaturated Fat:
10
g
|
Trans Fat:
0.1
g
|
Cholesterol:
157
mg
|
Sodium:
2539
mg
|
Potassium:
964
mg
|
Fiber:
5
g
|
Sugar:
0.4
g
|
Vitamin A:
204
IU
|
Vitamin C:
0.2
mg
|
Calcium:
61
mg
|
Iron:
3
mg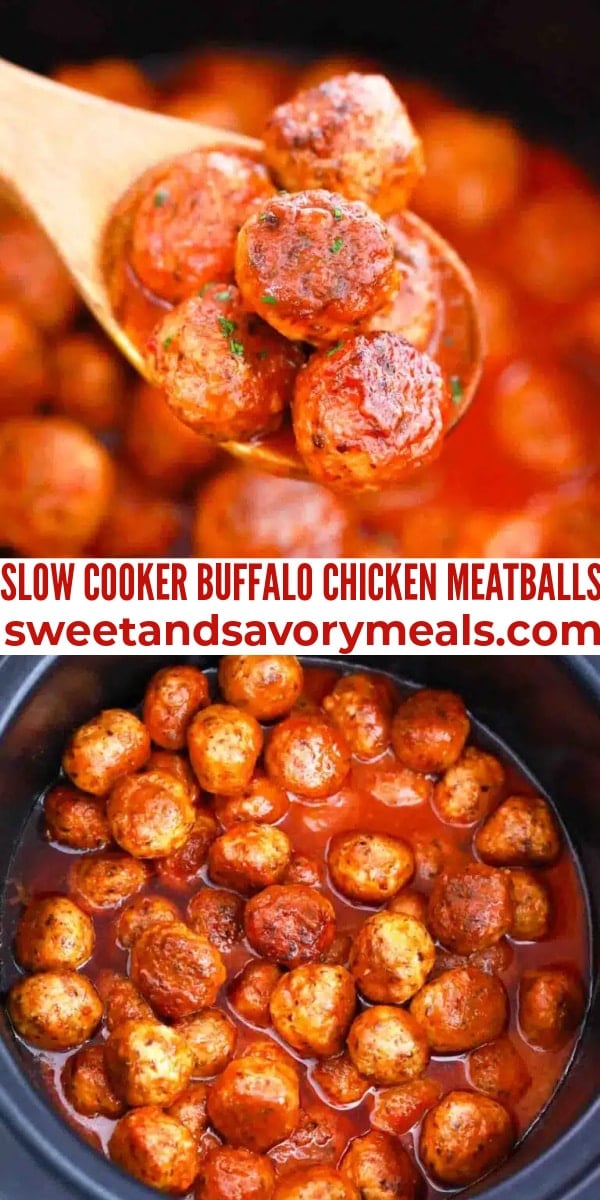 More recipes you might love