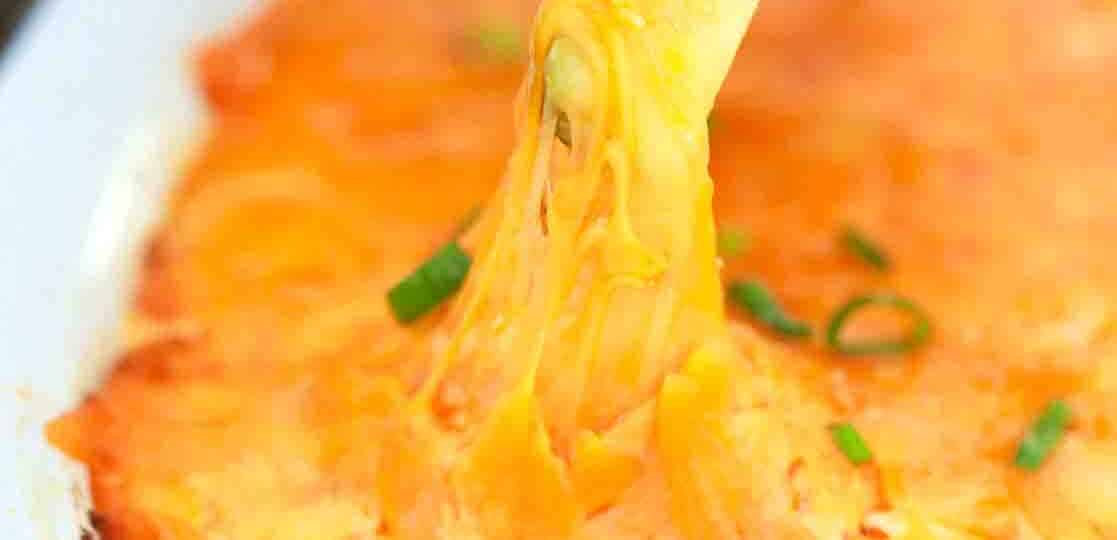 Instant Pot Buffalo Chicken Dip Recipe [Video]
Instant Pot Buffalo Chicken Dip is both creamy and spicy with tender chopped chicken breast and three kinds of cheese. The buffalo flavor blends perfectly with the cream cheese and ranch dressing and the shredded cheese on top is delicious. The whole family will love this dip no matter what you serve it with.
If you want more recipes like this, you can start with this Instant Pot Crack Chicken seasoned with ranch dressing, garlic, and onion powder. You can use this to make our Buffalo Crack Chicken Dip made with chopped bacon and mozzarella cheese.
The inventor of the instant pot has a Ph.D. but not in cooking. In fact, he is a Director of Research Science and he and his research team were looking for a faster and easier way to cook food. They started on it in 2009 and came out with the first Instant Pot Pressure Cooker in 2010. Today, there are a dozen different models including the Duo, Ultra, and Pro Crisp. This amazing device has come a long way and can do just about anything.
Instant pot buffalo chicken dip is an amazing appetizer or side dish cuisine on game day or anytime you want something cheesy and spicy to dip your chips in. It is a great recipe for anything from corn chips to sliced vegetables like celery sticks or carrot sticks. This is one of those easy recipes you can make in minutes as an appetizer cuisine or side dish.
Looking for more buffalo chicken recipes? Our instant pot buffalo chicken pasta is the perfect comfort food for a cool fall evening. Another tasty way to enjoy the flavor is this buffalo chicken mac and cheese casserole with a cheese sauce made with cheddar cheese, bacon, and buffalo hot sauce. Or just stick with the classic buffalo wings recipe baked in buffalo sauce with garlic, onion, and smoked paprika.
Ingredients needed:
To make this delicious chicken dip, you will need the following ingredients. When you are ready to start preparing, scroll down to our helpful recipe card where you can find the instructions and exact measurements.
Cream Cheese
Shredded pepper jack cheese
Shredded cheddar cheese
Cooked and shredded chicken breasts
Creamy ranch dressing
Buffalo sauce
Chicken broth
Butter
Minced garlic cloves
Smoked paprika
How to make Instant pot buffalo chicken dip from scratch?
Make the sauce: First, add broth, garlic, paprika, sauce, butter, and cooked chicken breast to the instant pot and give it a good stir. Close the lid and cook on manual high pressure for three minutes before doing a quick release.
Melt the cheeses: Then, add cream cheese, half of a cup of each of the shredded cheeses, and the ranch dressing, and stir. Close the lid of the instant pot for five minutes and then stir again.
Preheat oven: After, preheat your oven to 400 degrees F and pour the instant pot buffalo chicken dip into a baking dish or another oven-safe dish.
Add more cheese: Meanwhile, sprinkle the rest of the cheese on top of the dip.
Bake the dip: After the oven is hot, put the casserole dish in the oven and bake for several minutes until the cheese is melted.
Serve: Finally, serve your delicious dip with tortilla chips or your favorite vegetables.
How to make slow cooker version buffalo chicken dip?
Mix the ingredients: To begin, mix all the ingredients except for half of each of the shredded cheese. Stir until it is thoroughly combined.
Cook the dip: Next, pour the dip into the slow cooker or crock pot and cook for two hours on high or four hours on low.
Melt the remaining cheese: After it is done, add the rest of the two shredded cheeses and cook for another 15 minutes or until the cheese is melted.
Serve warm: Last, serve with your favorite dipping chips or veggies.
Recipe variations:
Hot sauce: Feel free to use your favorite hot sauce instead of or in addition to buffalo sauce. Our favorite is Frank's Red Hot Sauce when we do not use a homemade version.
Blue cheese: Instead of ranch dressing, you can also use blue cheese dressing.
Other flavors: For even more flavor, add some other veggies and herbs like green onions, garlic, parsley, chives, honey, mustard, basil, and thyme.
Different cuts of chicken: You can also use chicken thighs or legs instead of breasts.
Different meat: In fact, instead of chicken, try pork or turkey meat.
Other cheese: Feel free to use other cheese like mozzarella, Colby jack, or whatever you like.
Make it spicier: Add chopped jalapenos or green chiles for a spicier dip.
Bacon: Everything tastes better with bacon. Try adding some chopped crispy bacon or bacon bits.
How to serve:
Game day parties are even more fun with this buffalo chicken dip recipe. Serve warm dip with whatever dipping ingredients you like or try one of these great serving ideas.
Sprinkle some parmesan or romano on top for a cheesier dip.
Another way to serve this is to use it as a topping or sauce for meats, sandwiches, or salads. Try it on these air fryer jerk chicken wings for a double chicken dish with some extra spice.
Some of my favorite veggies to dip are carrot sticks, celery sticks, and broccoli but you can also try cauliflower, snow peas, asparagus, zucchini, or cucumber.
Make your own buffalo hot sauce with our easy buffalo sauce recipe.
Another great way to enjoy this buffalo chicken dip is with chunks of crusty bread.
Use leftover chicken dip to make a casserole or another kind of dip like this buffalo shrimp dip.
For more color and flavor, add bell pepper and green onion chunks on top before serving.
Frequently asked questions
What is the best way to make shredded chicken?
If you are making your own chicken from fresh, the best way is to pressure cook chicken breasts with one cup of broth and seasoning. The cooking time is 15 minutes for thawed chicken and 25 minutes for frozen chicken.
Add one cup of chicken broth and your favorite seasonings. Then, when they are done, remove chicken and use two forks to shred the meat. You could also use a food processor or hand mixer to shred chicken.
What is the difference between natural release and quick release?
When you let the remaining pressure release naturally, that is called natural release. This simply means that you do nothing after the time is up for a certain amount of time or until the pin drops to let the steam come out a little at a time. On the other hand, a quick release is when you open the valve to let the pressure out faster.
Is it better to cook in an instant pot or crockpot?
Each of these kitchen gadgets is important in its own way. An instant pot can cook food quickly while a crockpot cooks things slow and low. Both of these are great for making tender and juicy meat.
The low temperature and slow cooking of the crockpot give you meat that falls off the bone by doing nothing but dumping ingredients in and letting it cook for hours. An instant pot can also give you tender meat, but you have to do a bit more like releasing pressure and adding liquid to the bottom of the pot.
What are the nutrition facts in this recipe?
Each serving of this dip on its own has 350 calories and 30 grams of fat including 17 grams of saturated fat, 1 gram of trans fat, 6 grams of monounsaturated fat, and 6 grams of polyunsaturated fat. It also has 90 milligrams of cholesterol, 4 grams of sugar, 5 carbs, and 900 milligrams of sodium.
On the other hand, you will also get 20 grams of protein, 189 milligrams of potassium, and 1 milligram of iron as well as 170 milligrams of calcium, 455 units of vitamin A, and 3 milligrams of vitamin C. This does not count whatever you are using as a dipper.
How to store leftovers:
Store: Keep your leftover buffalo chicken dip in an airtight container in the fridge for up to five days.
Freeze: You can also freeze your leftover dip for up to three months.
Thaw: For the best flavor, be sure to put your frozen leftovers in the fridge to thaw overnight before serving.
Reheat: To reheat buffalo chicken dip, put it in a microwave-safe dish and cook for one minute.
More dip recipes:
Recipe tips:
If you do have any fresh chicken breast, you can use frozen chicken breast or even canned chicken.
Another option is to use rotisserie chicken. This adds a delicious smoky flavor to your buffalo chicken dip.
We prefer to use full-fat cream cheese because it is creamier, but you can use low-fat cheese for less saturated fat.
Chicken is fully cooked when a meat thermometer reads 160 degrees F.
If you do not like spicy food, use a mild hot sauce or switch it for barbecue or teriyaki sauce.
For fewer calories and less fat, use Greek yogurt instead of cream cheese.
If you are looking for more recipes, check out our website where you can find hundreds of free recipes.
Instant Pot Buffalo Chicken Dip
Ingredients
5

cups

shredded chicken

cooked

1

cup

buffalo sauce

4

tablespoons

butter

2

cloves

garlic

minced

1

teaspoon

smoked paprika

1/3

cup

chicken broth

1

cup

creamy ranch dressing

8

oz

cream cheese

cut into cubes

1

cup

cheddar cheese

shredded

1

cup

pepper jack cheese

shredded
Instructions
In the inner pot combine chicken, butter, buffalo sauce, paprika, garlic, and broth.

Close and lock the lid and point the valve to seal. Cook on high pressure for 3 minutes. After that, do a quick release.

Carefully open the lid and stir in the ranch dressing, cream cheese, and 1/2 cup of each shredded cheese.

Place lid on and let it stand for 5 minutes then stir again.

In the meantime, preheat the oven to 400 degrees F.

Lightly grease a casserole dish and transfer the mixture into it.

Sprinkle the remaining shredded cheeses on top and bake until the cheese is melted.

Serve with corn chips, crackers, and crunchy veggies.