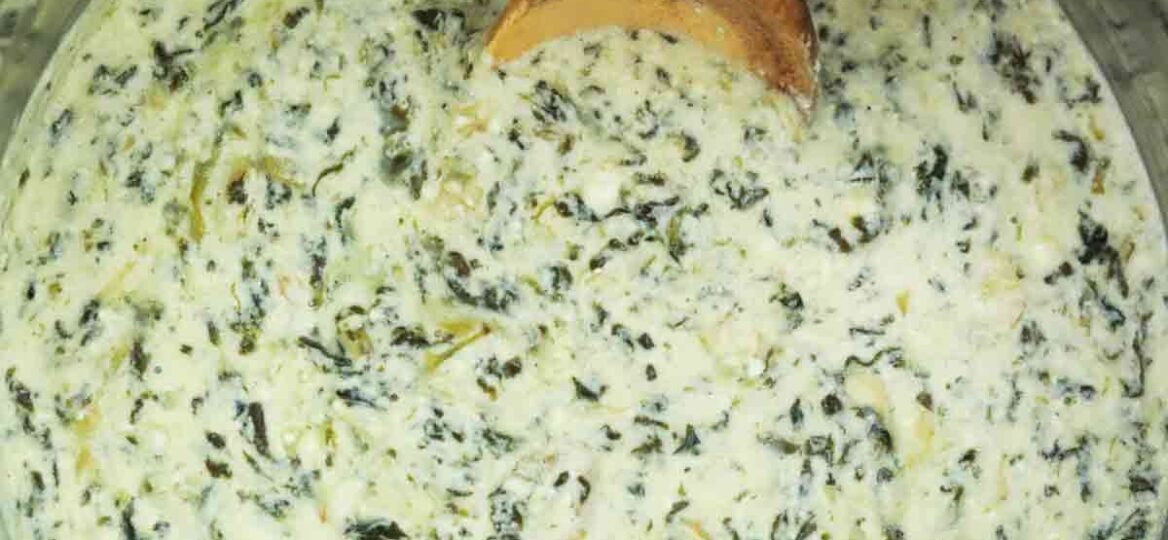 Instant Pot Spinach Artichoke Dip
Instant Pot Spinach Artichoke Dip is just as creamy and cheesy as my Baked Artichoke Dip, but much easier to prepare. This classic appetizer is ready in just a few minutes in the pressure cooker, and it is great to enjoy it during the summertime at the pool or bbq.
This is a great appetizer to enjoy with friends and family during the hot summer days. You can pair it with some freshly sliced veggies, Beer Bread, Potato Chips, or Banana Chips.
Creamy Instant Pot Spinach and Artichoke Dip
This classic and gooey appetizer is seriously the EASIEST way to make in the IP. It only takes about 5 minutes to cook in the pressure cooker using frozen spinach, without thawing it. By making this Instant Pot Spinach Artichoke Dip you will save a lot of time, and end up one of the best crowd-pleasing appetizers!
When I am looking for an appetizer that will feed a large crowd, yet be delicious and creamy at the same time then this recipe is always on top of my list. During the hot season, I avoid using the oven and cook as much as possible in the pressure cooker.
You can literally make it for any occasion and during any time of the year. Whether you are hosting a game night, having a pool party, or simply a family movie night, this is the dish to make.
It is made with a few simple ingredients, and ready in minutes. Also, you can adjust the flavors and use other cheeses. Enjoy it with chips, nachos, or fresh veggies.
What goes into Spinach Artichoke Dip?
For exact measures please see the recipe card below. But you will need the following ingredients:
Frozen chopped spinach – Use any brand you like. However, I would recommend going with the organic one, as it does not contain pesticides.
Artichoke hearts – Rinse them well and then drain.
Cream cheese – For a creamy texture and ton of flavor.
Cheeses – Here you can use a mix of a few kinds of cheese. I tend to go with sharp cheddar and mozzarella. However, go with what you like and/or have on hand. Parmesan, Monterey Jack are great combos as well.
Sour cream – It goes hand in hand with the cream cheese.
Seasoning – Such as salt, black pepper, and red pepper flakes.
Minced garlic, fresh parsley, and green onion.
How to make the BEST Instant Pot Spinach and Artichoke Dip?
Combine the ingredients: Insert all the ingredients in the multi-functional pressure cooker EXCEPT THE CHEESE. Then, close the lid.
Cook: Select the manual pressure, and cook on HIGH for 4 minutes, followed by quick-release.
Stir in the cheese: Next, open the lid and stir in the cheeses until it is melting.
Serve: Garnish with some freshly chopped parsley and green onion, and serve warm with your favorite side.
Variations on Spinach Artichoke Dip:
Cheese: Swap the cheeses with what you like. Feta, Parmesan, Pecorino, Asiago, etc can be substituted.
Bacon: For extra flavor, stir in some candies bacon crumbs at the end of the cooking.
Spicy: For a spicier taste, add in some freshly chopped jalapeno pepper. Similarly use pepper jack or Monterey jack cheeses.
Cauliflower: Adding some roasted cauliflower would add a nice touch to it.
Make it crunchy: Garnish with some tortilla or Dorito chips for a crunchier taste.
Slow Cooker Spinach Artichoke Dip:
Making it in the slow cooker is equally easy.
First, place all the ingredients into the slow cooker.
Then, stir the ingredients together to combine.
Close the lid, and cook on LOW for 2 hours.
During the last 10 minutes of cooking, uncover and stir in the ingredients again to combine.
Can I Use Fresh Spinach Instead of Frozen?
Yes! If planning to use fresh spinach, then the best way would be to wilt it prior to adding it to the IP.
In a skillet, add some olive oil, and then add the spinach. Cook for 2-3 minutes. Next, allow it to cool down, and then drain the excess liquid out of it.
What to eat with Instant Pot Spinach Artichoke Dip?
Corn or tortilla chips
Freshly sliced veggies, such as cucumber, cellary, bell pepper, etc.
French bread
Crackers
How to store and reheat leftovers?
Use an airtight container to store leftovers in the fridge for up to 4 days.
To reheat leftovers, preheat the oven to 350 degrees F, and warm them up for about 10 minutes until the cheese starts to bubble.
More appetizers to try:
Recipe Tips:
For a lighter version, use reduced-fat cream cheese and light sour cream.
Also, if you like ranch flavor, this homemade ranch seasoning works really well here. Just stir in half a teaspoon of ranch seasoning with the ingredients, and reduce the salt.
Sour cream can be substituted with Greek yogurt.
In addition, you can use fresh spinach in this recipe as well. Simply, cook the fresh spinach, then cool completely and squeeze out the excess liquid. Then, follow the directions in the recipe.