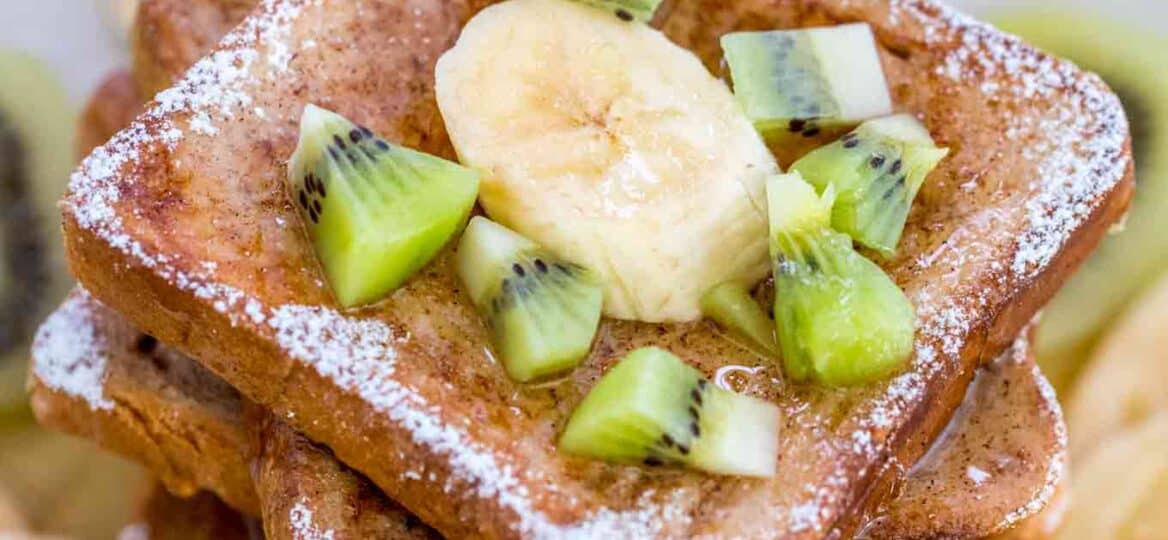 Best Vegan French Toast
Vegan French Toast is super easy to make and is made with absolutely no eggs or dairy. Top it with agave or some maple syrup and dig in!
This is a perfect breakfast to start your mornings or weekend brunches. It is easy crispy, sweet and golden-brown. For more delicious and healthy breakfast recipes, check out these deviled eggs, healthy pancakes, or chocolate chip banana bread.
Vegan French Toast
Vegan French Toast is a nice way to start your day. It takes only around 30 minutes or less to make from start to finish. You can serve it plain or with some maple syrup, or if you want to get a bit fancy, spread some persimmon jam over it. The flavor is slightly sweet with some hint of cinnamon. But if you are not a cinnamon fan, you can skip it.
We use all-purpose flour and it works well in this recipe. To make it gluten-free, use gluten-free flour, or even coconut flour. Another important part here is the batter, and you can make it out of just about anything. Since this is a vegan version, we went with non-dairy milk, such as coconut or almond milk. Coconut milk is pretty rich and is a good substitute for traditional milk or heavy cream. So feel free to use it.
How to make Vegan French Toast?
This recipe is super simple, and you will love it.
Start by whisking up the wet ingredients in a bowl.
Then, slice up some bread into thick sturdy slices, and dip it in the wet mix on both sides.
After, place the soaked slices into a frying pan with a little coconut oil. The frying pan should be very hot and the combination of the mix that you dip the bread in, plus the coconut oil creates the perfectly browned result you see here.
An important ingredient here is cornstarch. This keeps the batter super light, yet it allows the bread to thicken up and partially solidify when you cook it. Because there are no eggs involved here, this is the perfect alternative. As a result, you will end up with crispy toasts on the outside, soft on the inside, and with a deliciously light flavor.
WHAT ARE BEST TOPPINGS TO USE FOR Vegan French Toast?
We love to keep it simple and go with some powdered sugar and maple syrup. However, you can add other toppings to it, such as:
Fresh berries
Maple Syrup
Coconut whipped cream
Sprinkles
Sliced banana
Peanut or almond butter
Agave
Just like the classic french toast, feel free to add whatever flavors you like, and enjoy this delicious dish warm with a cup of tea or coffee.
WHAT TO SERVE WITH Vegan French Toast?
You can serve this dish as is, or you can mix it up with some roasted potatoes, or a fruit salad.
Recipe Tips:
This recipe is a great way to use up stale bread. Do NOT use fresh, soft white bread for this recipe. You can make it work for traditional french toast that has egg in it BUT it does not work well for this vegan version. Therefore, go with a slightly tougher bread that will hold up once dipped in the batter.
Also, try using a good thick-cut bread.
Similarly, DO NOT let the bread soak a lot of liquid for this version. Lightly dip each side of the bread into the mixture so that it is fully covered but not completely soaked through.
One of the challenges to making this recipe is its tendency to stick to the pan. To avoid this problem, use a good nonstick surface, like cast iron. Similarly, you can use the spatula and loosen the bread from the cooking surface after the first minute or so of cooking.