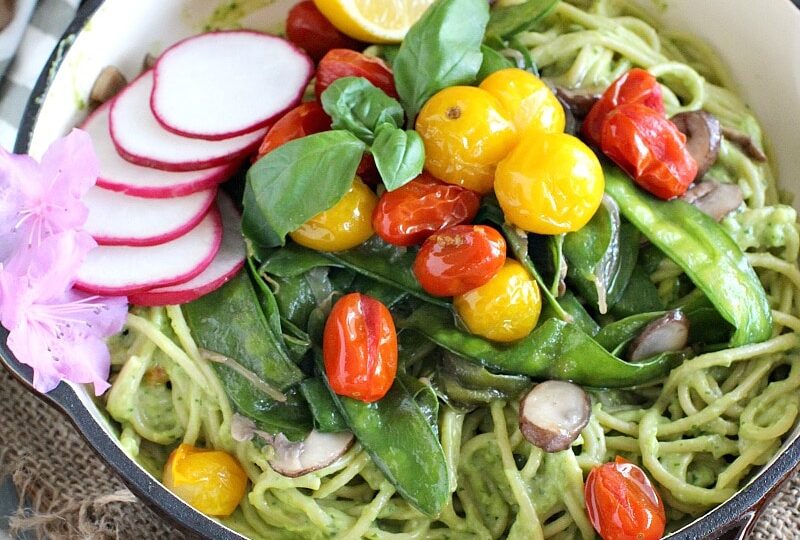 Vegan creamy pasta in spicy avocado sauce, topped with caramelized mushrooms, onions, snow peas, crunchy radish and juicy tomatoes.
After making the delicious Garlic Shrimp Pasta, I decided to make a healthier vegan alternative to make this pasta dish.
Vegan Creamy Pasta
This Vegan Creamy Pasta will satisfy your hunger, while its still light on your waist due to all those amazing veggies. I absolutely love the taste of the delicious Veggie Pasta in combination with all these beautiful veggies. The creamy avocado sauce is definitely a staple in our house, made with roasted jalapenos and garlic. Because the sauce is flavorful and fragrant.
In addition, I am a huge fan of caramelized mushrooms. They add the perfect amount of chewiness and earthiness to this Vegan Creamy Pasta. Also, they compliment nicely the caramelized onions. The snow peas and radishes add such a fun crunch and a beautiful rainbow of colors to the dish. The juicy tomatoes are the perfect sweet finish. You can totally go ahead and sprinkle some grated fresh Parmesan on top for some cheese action. I kept this version vegan, as it was perfect this way.
Why You'll Love This Vegan Creamy Pasta
Firstly, it's bursting with flavor and coated in the most delicious avocado sauce.
A perfect weekend meal and incredibly easy to make in no more than 20 minutes.
Hearty and tasty this meal is a crowd pleaser.
Also, its vegan and perfectly healthy.
In addition, it's a perfect alternative to eat regular pasta.
Leftovers are delicious.
What kind of wine pairs well with Vegan Creamy Pasta
White wine usually pairs well with this dish. For example, Sauvignon Blanc or Chardonnay would be ideal wines to use for vegan pasta. This is your go-to category. If possible, choose a wine that has a moderate alcohol content, preferably between 10 and 13 percent.
Deliciousness to your inbox
Enjoy weekly hand picked recipes and recommendations