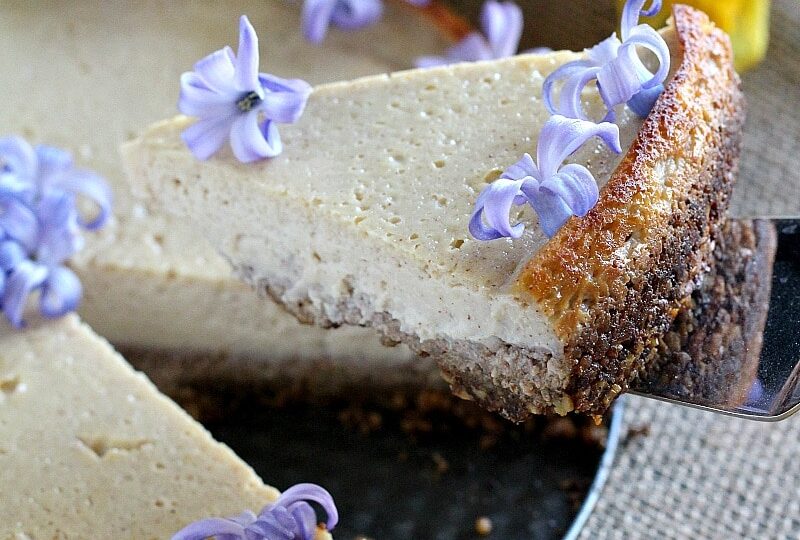 Vegan Lemon Tofu Cheesecake
Vegan Lemon Tofu Cheesecake is gluten free, with a delicious honey walnut and maple syrup crust, is creamy, luxurious and flavorful.
We have a lot of cheesecake recipes to chose from on our site. Among our favorites are Best Instant Pot Cheesecake, Samoa Cheesecake No Bake and No Bake Tiramisu Cheesecake.
Vegan Lemon Tofu Cheesecake
Vegan Lemon Tofu Cheesecake has been on my to do list for a long time. This cake is healthy, easy to make, and perfect during lent time. You guys know that I am a huge fan of creamy desserts, so I was really missing them during lent, until I finally tried my hand on this Tofu Cheesecake that changed everything. I must say that everyone in my family loved it. It is light and creamy, with a beautiful lemon flavor. The crust is made from ground walnuts and honey, which after baking, has a slight brown sugar flavor.
Also, this Tofu Cheesecake is very easy to make, after you mix and chill the walnut crust you add the rest of the ingredients to a blender, then pour and bake. I just wish all the cheesecakes were as easy to handle. I recommend you treat yourself with this amazing Vegan Lemon Tofu Cheesecake, that is on the healthier side and is bursting with flavor! This recipe would also work as a pie, or you can make it in a rectangular pan and cut it into individual Lemon Tofu Cheesecake bars.
What do you need to make this Vegan Lemon Tofu Cheesecake recipe:
Walnuts
Honey or maple syrup
Vanilla extract
Silken tofu
Sugar
Almond butter
Salt
Grated lemon zest
Cornstarch
Pin This Vegan Lemon Tofu Cheesecake Recipe to your Favorite Board
How do I know when a cheesecake is done baking?
Gently shake the cheesecake, If the cheesecake looks nearly set and only a small area in the center jiggles slightly, it is done. The center will firm up during the cooling time, as it will cook from the residual heat.
How to make lemon zest?
Follow the easy steps below:
Rinse the lemon.
Set your tool over a cutting board. A microplane produces a very fine zest, perfect for baking and cooking. If you don't have a microplane, use the smallest holes on an ordinary grater.
Grate the yellow skin of the lemon only. Grate just enough to get through the yellow skin, this way you can avoid the bitter white pith underneath.
Rotate the lemon and repeat. Once the white pith is exposed, rotate the lemon and zest the next strip of peel. Repeat until most of the peel is removed, or until you have enough zest for your recipe.
How to slice a cheesecake?
Run a long, sharp thin-bladed slicing knife under hot tap water or dip it into a glass of hot water prior to slicing the cheesecake. Wipe the knife clean and run it it under hot water before making another cut.
An easy, mess free way to cut even slices is to use cheese wire or unflavored dental floss. Clean the bits that stuck to the wire/floss before every cut.