Hearty Summer Fresh Detox Salad
This post may contain affiliate links. Please read my disclosure policy.
Summer fresh detox salad that is loaded with flavor and texture thanks to fresh in season crunchy veggies and a simple yet delicious dressing.
Hello, hello, we all survived Monday and since I am trying to stay healthy and actually shed the extra pounds that have build over the past few months of intensive traveling I am stuffing your screens with salad. While many salads rotate on the internet on Monday's by Tuesday morning my cake cravings are back in full force, so I am playing it smart and posting the Detox Salad on a Tuesday to remind me and everyone else who is on a healthy kick that we can do it and by no means salads should be boring just look at this summer fresh detox salad!

Those creamy, crunchy and juicy veggies are winking to me!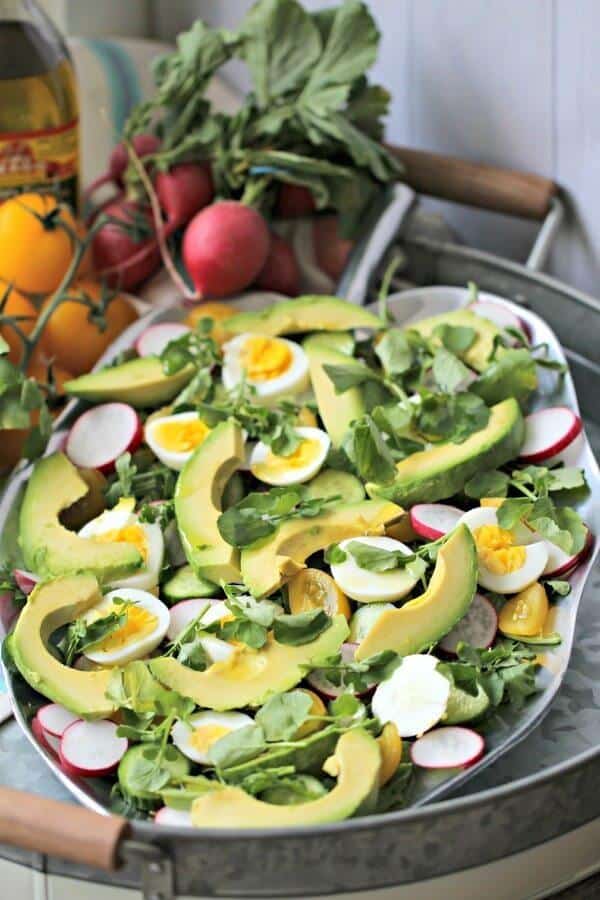 This summer fresh detox salad is a powerhouse of nutrients also bursting with flavor and texture. I am in love with arugula and watercress for my greens, peppery and sweet they balance each other nicely. This salad has fresh organic crunchy radishes, soft and creamy avocado, sweet and ripe golden tomatoes, fresh and crunchy cucumber, all topped with perfectly hard boiled eggs.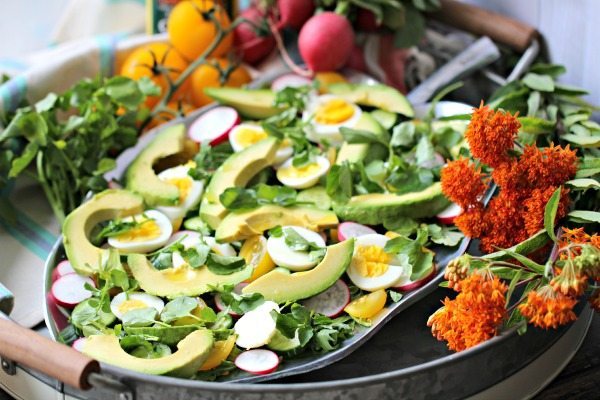 Me and my husband are both trying to eat healthier, but we will not compromise on flavor, and this salad was a hit, for the dressing I just used a little cold pressed organic olive oil and some fresh squeezed lemon juice, himalayan pink sea salt and freshly ground black pepper.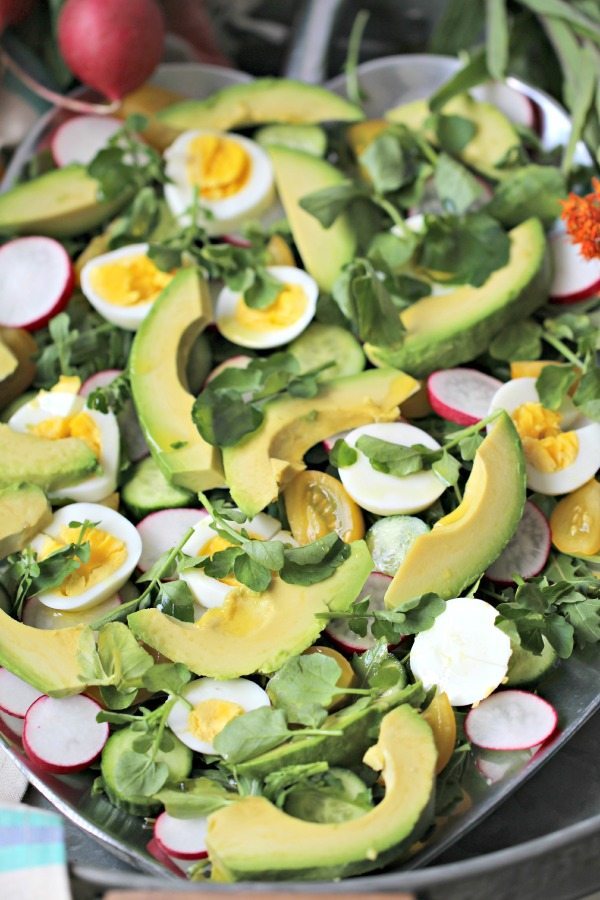 You can totally skip the eggs and keep the salad vegan, but we loved the combination of the eggs with all these delicious, healthy and fresh veggies. Now this is the type of summer fresh detox salad that I would happily munch on all season long!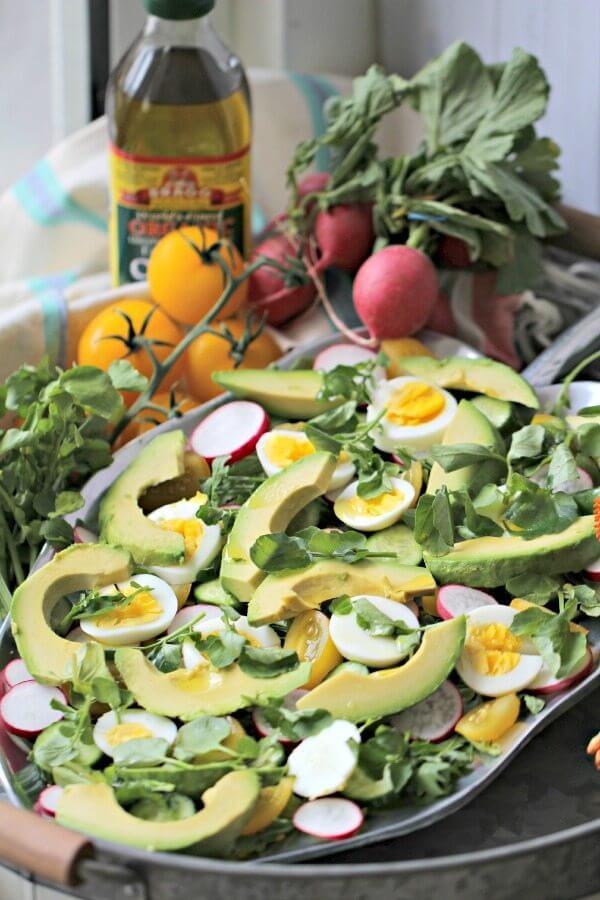 See what I am talking about, give me a fork and knife, I am ready for seconds!
What is your favorite summer detox salad combo?

Summer Fresh Detox Salad
Summer fresh detox salad that is loaded with flavor and texture thanks to fresh in season crunchy veggies and a simple yet delicious dressing.
Author:
Katalina Kastravet
Ingredients
2 cups arugula - washed
1 cup watercress - washes
2 hard boiled organic eggs
1 avocado
5 organic radishes
1 small organic cucumber
3 organic golden tomatoes
extra virgin organic cold pressed olive oil
salt and pepper
half of lemon
Instructions
Using a good sharp knife slice the cucumber, radishes and eggs into rondelles and set aside.
Slice the avocado open vertically and remove the pit. Using just the tip of the knife, slice into the avocado flesh, when cutting slices vertically make sure you don't pierce the skin. Follow the natural curve of the avocado using the tip of the knife. Repeat until you have cut through the entire avocado. Using a spoon, gently scoop the slices out of the shell. Set aside.
Lay arugula on the bottom of a flat plate and top with cucumbers, eggs, radishes, tomatoes and avocado. Distribute the ingredients evenly and top with watercress.
Grind salt and pepper on top, drizzle with olive oil and lemon juice.
Peas and Peonies, LLC. owns the copyright on all images and text and does not allow for its original recipes and pictures to be reproduced anywhere other than at this site unless authorization is given. If you enjoyed the recipe and would like to publish it on your own site, please re-write it in your own words, and link back to my site and recipe page. Copying and/or pasting full recipes to social media or personal blogs is strictly prohibited. Sharing this recipe is very much appreciated and encouraged. Read my disclosure and privacy policy. This post may contain affiliate links.