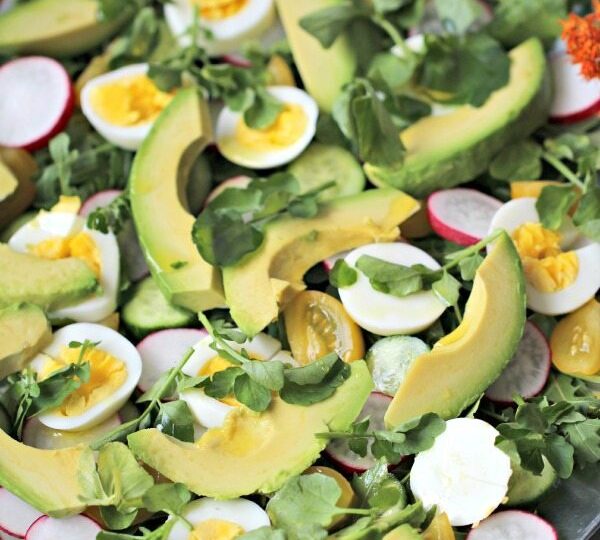 Detox Salad is loaded with flavor and texture thanks to fresh in season crunchy veggies, and a simple yet delicious dressing.
I love making quick, easy and delicious salads. This one is specially cool, since it is meant to detox your body, thanks to it's mix of veggies. Other of my favorite salads are BLT Potato Salad and Garlic Kale Salad.
Detox Salad
This Detox Salad is creamy, crunchy and refreshing. Also, the salad is a powerhouse of nutrients bursting with flavor and texture. I am in love with arugula and watercress for my greens. Because they are peppery and sweet, and balance each other nicely. This salad has fresh organic crunchy radishes, soft and creamy avocado, sweet and ripe golden tomatoes, fresh and crunchy cucumber. Then, all topped with perfectly hard boiled eggs.
Me and my husband are both trying to eat healthier, but we will not compromise on flavor. Due to this reason, the salad was a hit. For the dressing, I just used a little cold pressed organic olive oil and some fresh squeezed lemon juice. Lastly, I added some Himalayan pink sea salt and freshly ground black pepper.
You can totally skip the eggs and keep the salad vegan. However, we loved the combination of the eggs with all these delicious, healthy and fresh veggies. Now this is the type of summer fresh detox salad that I would happily munch on all season long!
Why you will enjoy this Detox Salad
Firstly, it is easy to make with minimal ingredients.
Also, it is healthy and full or good fats from avocado.
In addition, contains lots of vitamins from arugula and watercress.
Can be topped with various flavors, such as tuna, chicken, bacon.
Suggestions for the perfect Detox Salad:
Firstly, try to use organic products. I know they are more expensive, but taste wise they make a difference.
Also, if you want to add more proteins to the salad, add some beans.
Avocado should not bee too ripe, as it will make the salad mushy.