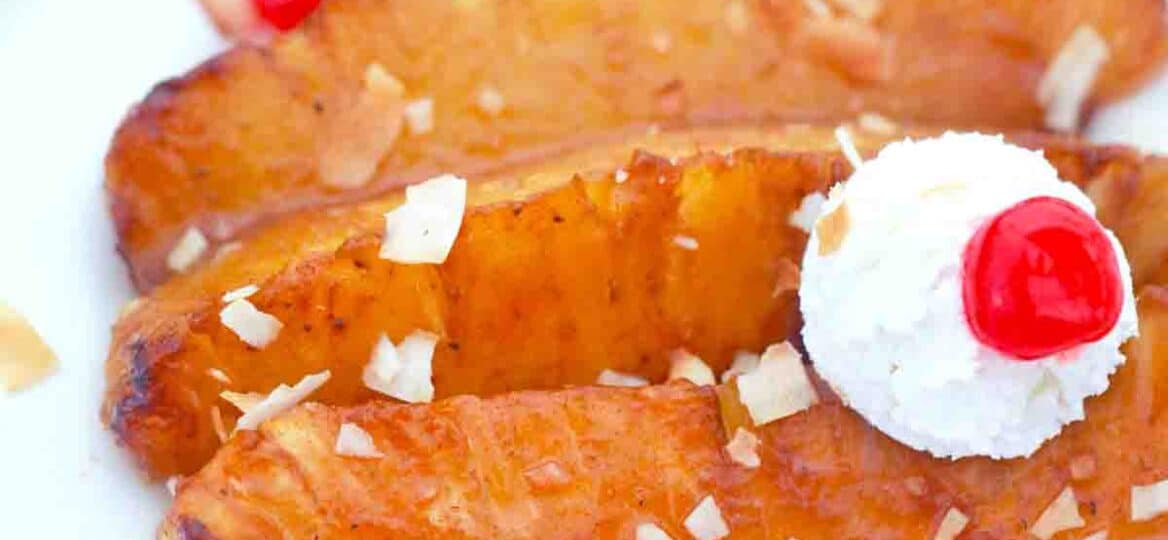 Cinnamon Fried Pineapple Recipe [Video]
Cinnamon Fried Pineapple is a sweet and delicious dish, made with brown sugar and warm spices, ready in less than 10 minutes. All you need is brown sugar, butter, cinnamon, and fresh juicy pineapple. There are virtually less than two minutes of prep time, and you can have this delicious dish on the table fast and easily.
If you like this recipe, you will love these other recipes made with pineapple. For example, Air Fryer Pineapple Rings are tossed with cinnamon and nutmeg and cooked in the air fryer until crispy. Pineapple Crumb Bars are filled with a creamy sweetness and deliciously topped in delicate crumb sprinkles.
Our scrumptious cinnamon fried pineapple can be made with just four common ingredients, little prep time, and you can cook it in other ways. We share our recipes for pan-fried, air-fried, and grilled pineapple.
You can turn this into a whole meal by adding some strips of pork loin or chicken. It is fun to make and is the perfect meal for a summer weekend or pool party.
Looking for other air fryer recipes? We hope you like these air fryer apple blooms made with granny smith apples, vanilla ice cream, and caramel sauce or these air-fried Oreos that are deliciously decadent and almost sinfully good.
For something a little bit different, try our Air Fryer Bacon Wrapped Pineapple. And these air fryer pears are sweetened with maple syrup, whipped cream, and cinnamon.
Follow us on Pinterest for more delicious recipes!
Ingredients needed:
These are the common ingredients for this scrumptious cinnamon-fried pineapple recipe. Scroll down to our recipe card for measurements and instructions.
Pineapple: Cut into twelve wedges or cubes.
Brown sugar: Light or dark are both fine.
Butter: Softened to room temperature.
Cinnamon: Freshly ground cinnamon for best results.
Ground nutmeg: Freshly ground nutmeg for the best flavor.
Water: Cold water is best.
Toppings: Toasted coconut, ice cream, maraschino cherry (optional).
How to make cinnamon fried pineapple recipe?
Bag the pineapple chunks: First, place pineapple wedges, cinnamon, and brown sugar in a gallon-sized Ziploc bag and shake well until all the pineapple chunks are coated.
Prepare the pan: Then, melt the butter in a large skillet over medium heat before adding the pineapple mixture and water.
Fry pineapple: Lastly, cook for eight to 10 minutes, flipping occasionally, until the fruit is tender.
Cool and serve: Finally, after the cinnamon fried pineapple cools slightly, serve warm with vanilla ice cream or your favorite ice cream, toasted coconut, and a cherry.
Making air-fried pineapple:
Preheat: To get started, preheat the air fryer to 375 degrees F.
Coat the pineapple: Meanwhile, put the pineapple pieces in a large bowl with brown sugar and cinnamon. Stir gently until the pineapple is completely covered.
Air fry the pineapple: After, place the pineapples in the air fryer basket in a single layer. Air fry for three minutes, flip, and cook for two more minutes. The pineapples should be soft and tender.
Serve: Last, remove scrumptious cinnamon fried pineapple from the basket and place on a serving dish. Top with your favorite ice cream, coconut, and cherries.
Making grilled pineapple:
Start your grill: To begin, preheat your grill to 375 degrees F. *See notes at the bottom of the page.
Shake and coat: In the meantime, shake all ingredients in a baggie until the pieces are coated.
Grill the pineapple: Immediately, place pineapple chunks on the grill and cook over medium heat for three minutes. Flip and grill pineapples for two more minutes or until it is soft.
Serve tasty grilled pineapple: Then, serve with your favorite toppings or use our suggestions of vanilla ice cream, toasted coconut, and maraschino cherries.
How to make baked pineapple:
Heat oven: First, heat your oven to 450 degrees F.

Toss: While you wait for the oven to heat up, toss the pineapple, canola, sugar, and cinnamon together on a rimmed baking sheet until all the pieces are thoroughly covered.
Roast: After the oven is heated to 450 degrees F, put the pan on the middle rack and roast until the pineapple is lightly golden and soft, about 15 to 20 minutes.

Eat: Finally, serve at room temperature or slightly warm over vanilla ice cream and topped with toasted coconut and cherries.
Recipe variations:
Add honey: Drizzle some honey on the pineapple instead of brown sugar.
Other sugar: Alternatively, use white granulated sugar for even sweeter cinnamon fried pineapple.
Sugar-free: This cinnamon-fried pineapple recipe is just as sweet if you use a sugar substitute like Splenda.
Other fruit: In addition, you can try this tasty recipe with other fruit like peaches, pears, or apples.
Spice it up: Also, feel free to add your own spices like cloves or ginger.
Add some heat: Or make your pineapples spicy with a tiny bit of red pepper flakes or cayenne pepper.
How to serve:
This sweet pineapple recipe is ready in minutes and can be served as dessert, a snack, or made into a whole meal. Check out some of these fun ideas:
Another topping you may like is our homemade creamy whipped topping.
Go ahead and pour on some honey before serving for a naturally sweeter taste.
In fact, if you want it even sweeter, add some maple syrup. It goes great with the pineapple flavor.
Have this as a side dish or dessert with our savory slow cooker pineapple ham.
These are great snacks for dipping in your favorite sauces like melted chocolate or our keto caramel sauce.
Frequently asked questions
How do I choose the best ripe pineapple?
One easy way to determine if a pineapple is fresh is to squeeze it. Fresh pineapple has a firm outer skin but will give just a little when you squeeze it. Those you cannot squeeze are likely not ripe.
Another sign of a ripe pineapple is if it smells sweet at the bottom of the fruit. No scent means it may not be ripe and a bad odor means it is probably overripe.
Is it healthier to air fry, stir fry, or grill this pineapple dish?
Since you use the same ingredients for grilling and air frying and nothing is added, they are both healthy ways to enjoy this delicious fruit. Frying your pineapple in butter in a large skillet will add more fat and calories though.
Use coconut oil instead for a healthier choice. For fewer carbs, you can substitute the brown sugar with honey or sugar substitute.
Can this be prepared ahead of time?
Yes, it would be even more sweet and delicious if you marinate the pineapple in the brown sugar and cinnamon overnight in the refrigerator. Then, when you are ready to make it, all you have to do is fry it in the large skillet with butter until it is soft.
What are the nutrition facts for this cinnamon fried pineapple recipe?
One serving has 214 calories, six grams of fat, 55 milligrams of sodium, and 43 carbs. You also get 42 milligrams of calcium, three grams of fiber, one milligram of iron, 315 units of vitamin A, and one gram of protein.
How to store leftovers:
Store: You can store leftovers in the fridge in an airtight container for up to three days.
Freeze: Or go ahead and freeze your cinnamon fried pineapple for up to three months.
Thaw: Remember to thaw your frozen leftovers in the fridge overnight before serving.
Reheat: To reheat, put it in a microwave-safe dish and heat in the microwave for 20 to 30 seconds. You could also reheat it in the air fryer for 90 seconds.
More pineapple recipes:
Cinnamon fried pineapple cooking tips:
Be sure to refrigerate leftovers right away.

Coat your grill with non-stick cooking spray to keep the fruits from sticking.
Cannot find a pineapple at any of your grocery stores no matter how hard you search? That's okay, you can use canned pineapple chunks instead. This is even easier and faster.
To get your pineapple to ripen faster, place it in a paper bag with an apple or banana. These fruits produce ethylene, a hormone that helps ripen fruits.
Check out our website links above to find more recipes for delicious desserts like this one or for something completely different.
The original recipe was in a post from one of the sites by Tania Sheff. However, we added our own secret ingredient.
Cinnamon Fried Pineapple
Ingredients
1

fresh and ripe pineapple

cut into twelve wedges

1/2

cup

brown sugar

1

teaspoon

cinnamon

1/4

teaspoon

nutmeg

2

tablespoons

unsalted butter

3

tablespoons

water
Serving:
toasted coconut

ice cream

whipped cream

maraschino cherries
Instructions
Add pineapple wedges, brown sugar, cinnamon, and nutmeg into a large Ziploc bag and gently toss until well coated.

Place a large pan over medium-high heat and melt the butte.

Immediately add the pineapple mixture and water.

Cook over for about 8 to 10 minutes or until pineapple is tender, flipping it occasionally.

Cool slightly and serve warm as a side dish or dessert topped with toasted coconut, whipped cream, and cherries.