Slow Cooker Ham and Potato Soup [video]
Slow Cooker Ham and Potato Soup is hearty, creamy, and very comforting! Warm-up during the cold days and cook it hassle-free with this easy crockpot recipe!
During the holidays, I get so busy but that is not a reason for my family to less flavorful food. My solution is to use the crockpot! Check out my recipes using it like the Crack Chicken, Baked Apples, and Beef Stew!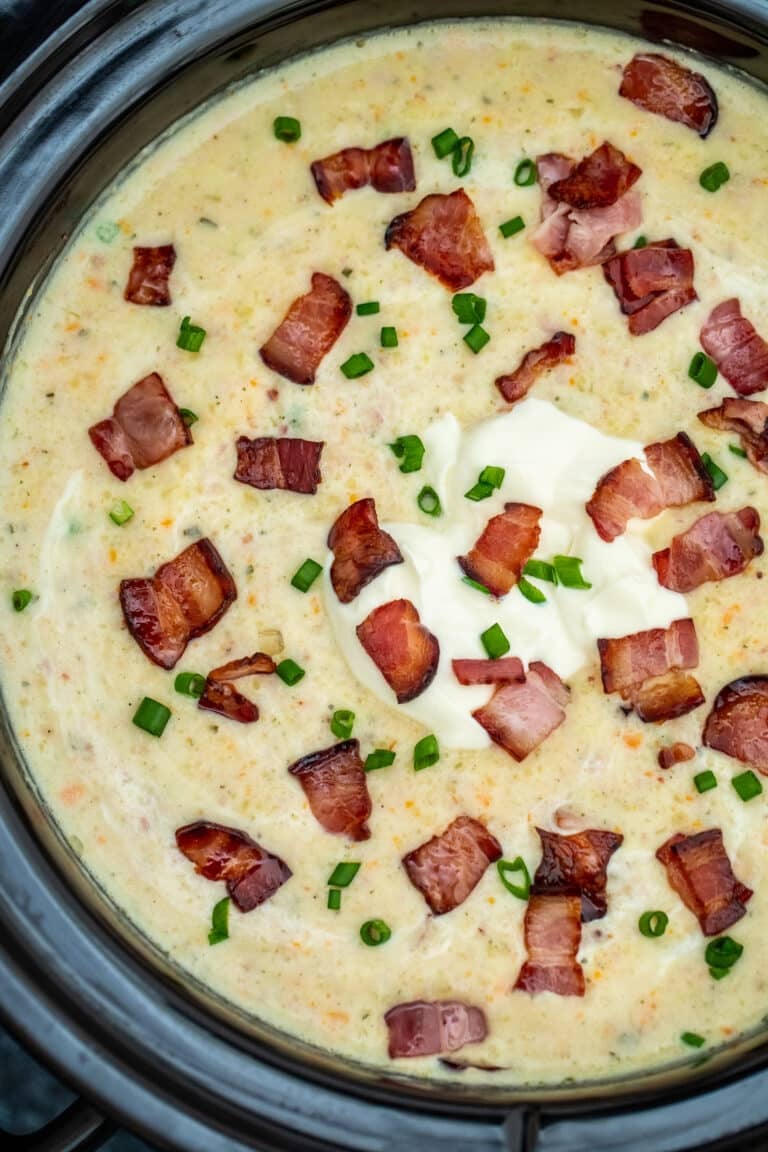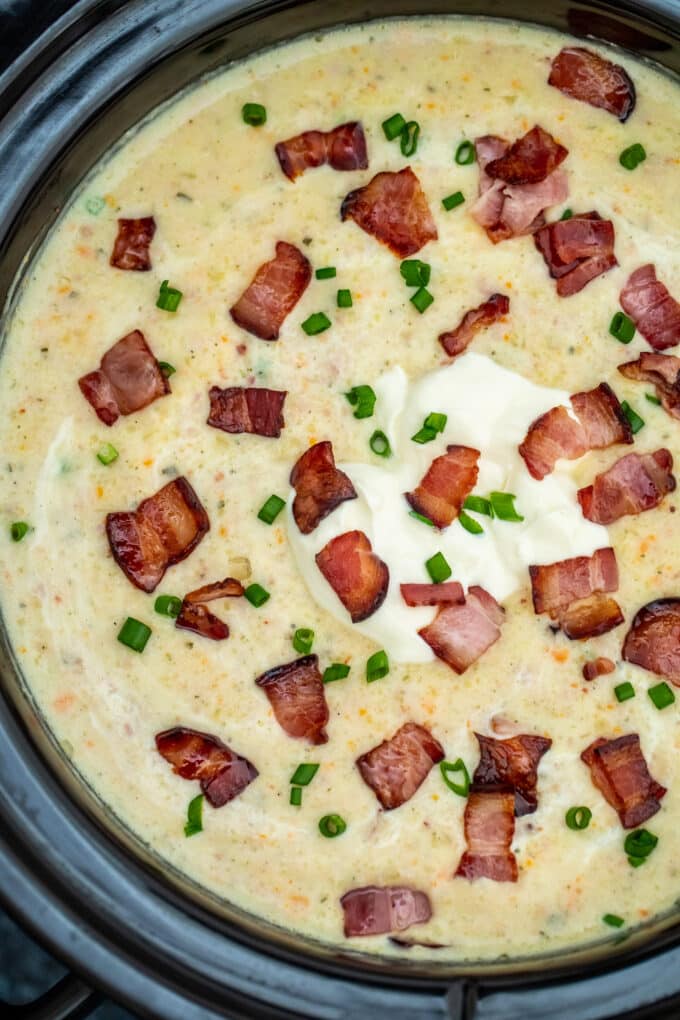 Crockpot Ham and Potato Soup Recipe
This recipe for Crockpot Ham and Potato Soup is so easy that you can prepare your other entrees while this dish cooks. And, I love how the kitchen smells when cooking it!
I would suggest for you to serve it with some fluffy dinner rolls and use them for dipping into the creamy goodness.
This soup is packed with delicious flavors from the veggies and also a nice smoky layer from them ham and bacon.
Make the cold days of autumn and winter a lot warmer and more bearable with this simple dish!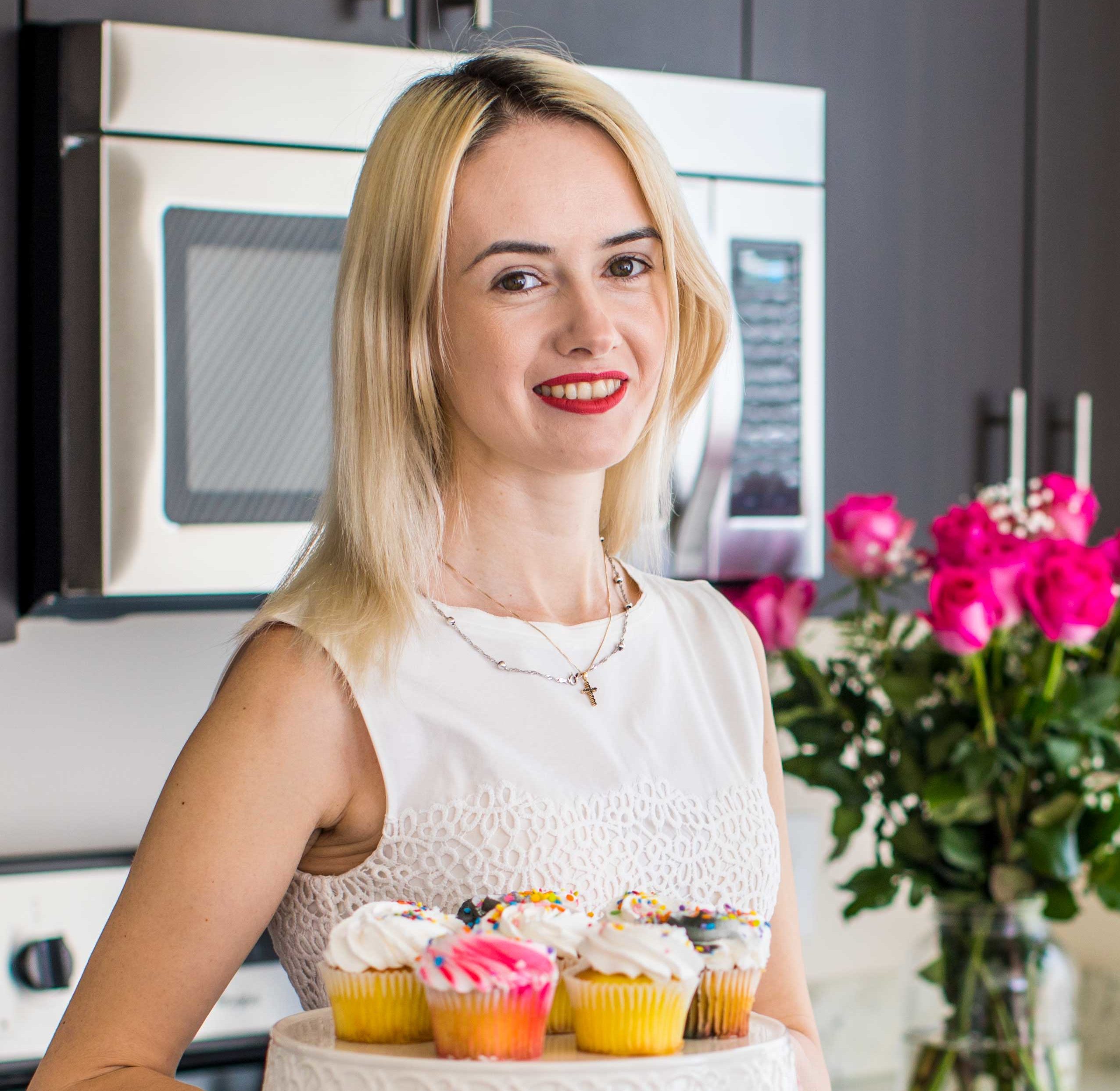 Follow us on Pinterest for more delicious recipes!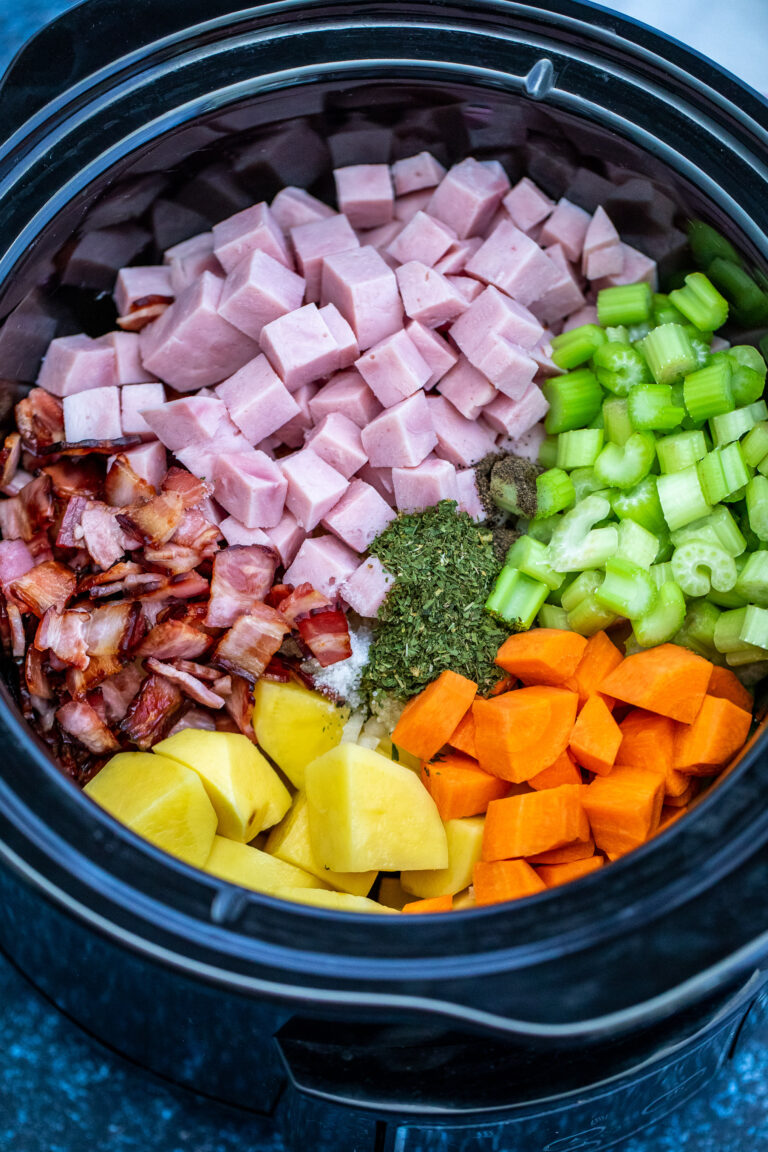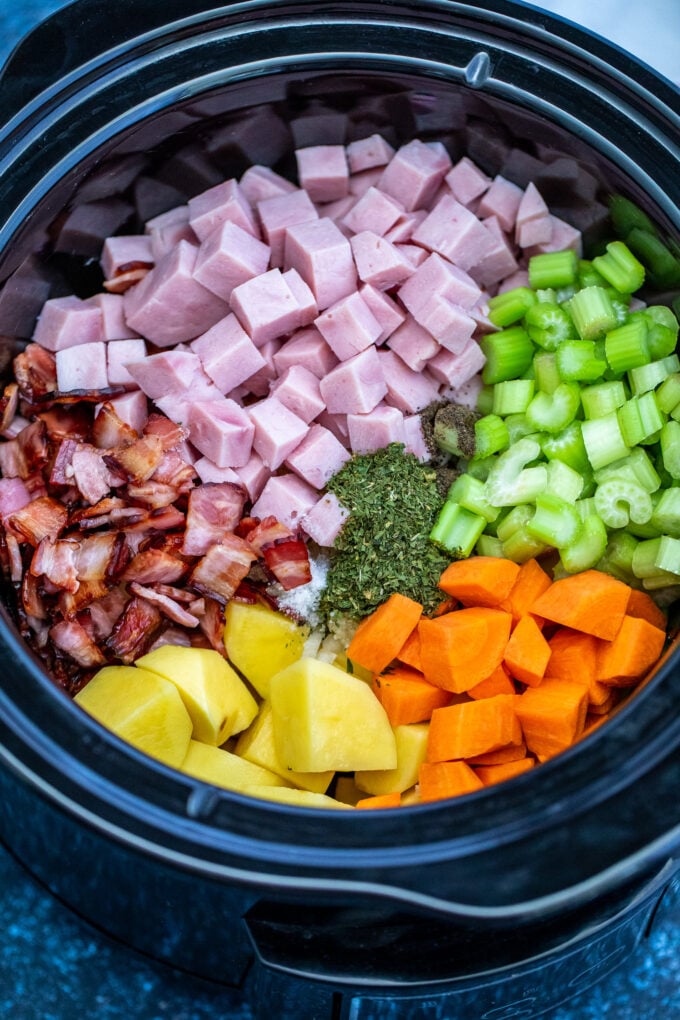 How to make Slow Cooker Ham and Potato Soup:
Please refer to the recipe card below, and watch the video attached. But this easy recipe follows a few simple steps:
Prep the ingredients: Dice the ingredients and season with salt, pepper, and other herbs and spices you wish to add.
Cook: Put everything in the pot and add the broth. Cook it on LOW for about 8 hours, or on High, for about 4 hours.
Mash: Thicken the dish by adding in mashed spuds. You need to get a portion of the veggies, mash that portion, and then, put it back into the pot. Or, you can add a mixture of water and cornstarch.
Add dairy: To make it creamy, add in dairy, either cream or regular milk. You can add this in the last few minutes of cooking to avoid curdling.
Serve: Let it simmer further, add toppings, then, serve warm.
How to Thicken it:
There are several ways on how to go about it. Here are some:
Add a slurry of cornstarch and water.
Add potato flakes.
Mash some of the veggies and then, put them back into the dish.
Cook uncovered to evaporate more liquid.
Make a flour roux.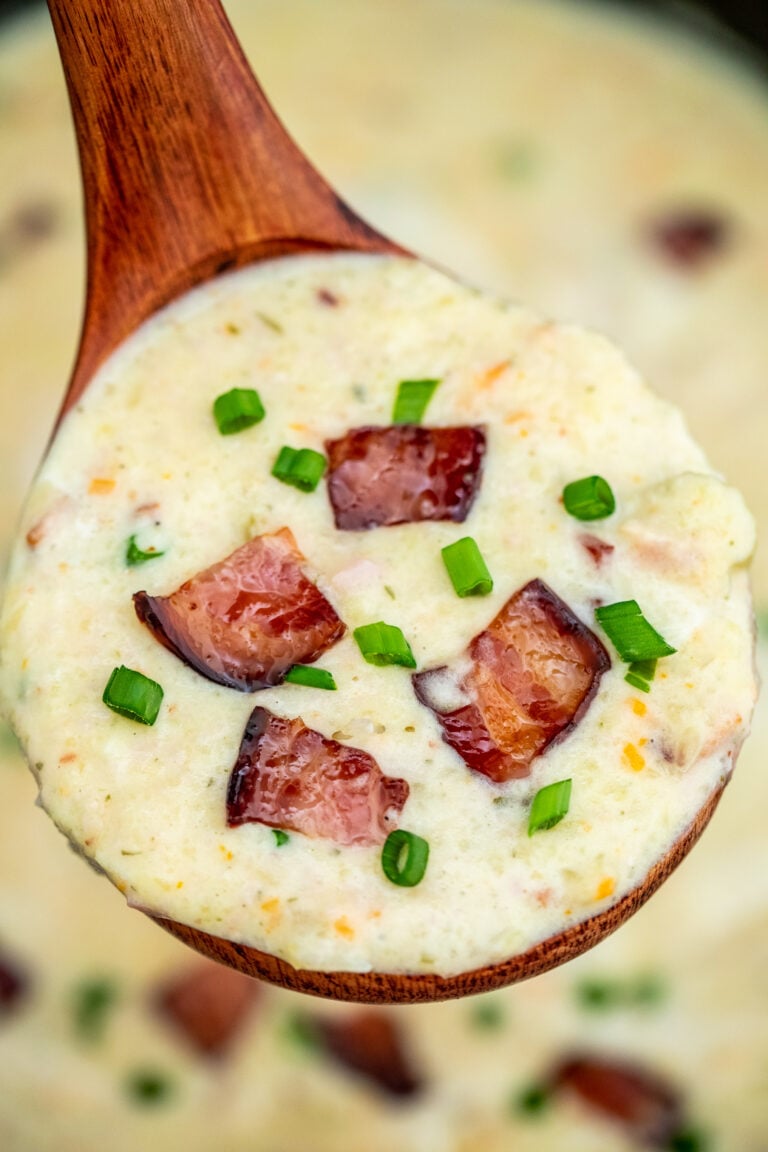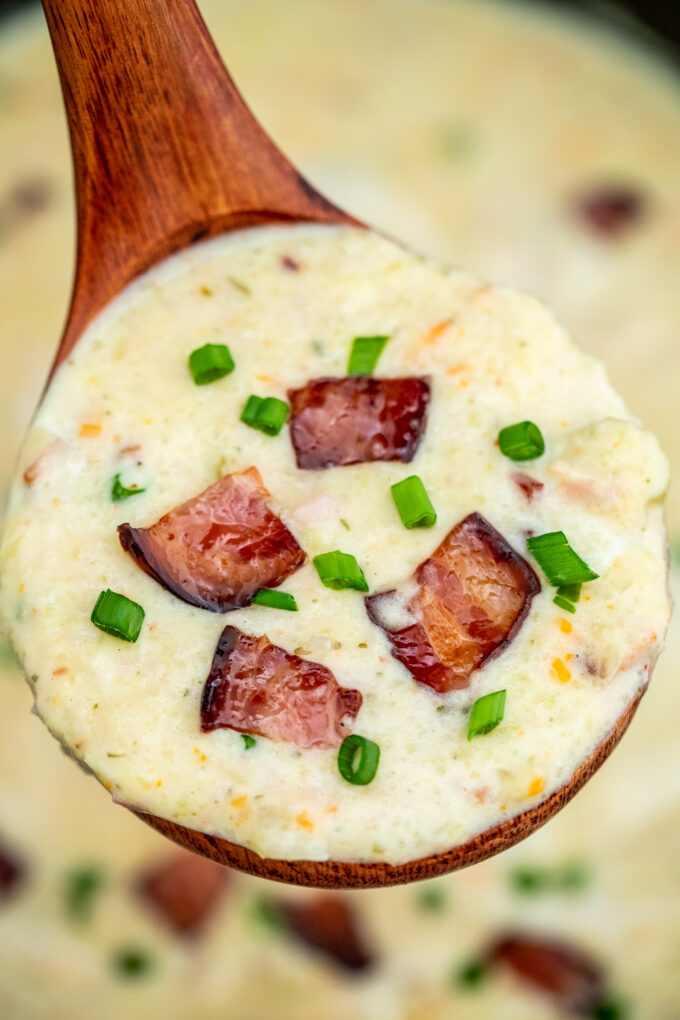 What are the best toppings for this Soup?
Since the dish is already creamy and chunky, you can add texture and more flavors by adding the following on top:
bacon bits
parsley
green onions
cheese
a dollop of sour cream
What to Serve with Ham and Potato Soup?
Serve it warm, garnished with your favorite toppings, alongside the following:
Can you freeze Potato Soup with Ham?
Yes, you can! It makes for a great freezer meal. Simply let it cool completely, then, transfer it into freezer bags.
You can lay each bag flat on top of each other. To reheat, simply thaw and reheat on the stovetop. Adjust the ingredients and add the dairy.
If you are wondering why I suggested adding the dairy during reheating, this is because if you freeze it with dairy, it tends to separate and become watery.
Hence, there is a lot of considerations when you want to freeze it. So, if you intend to freeze it, plan accordingly.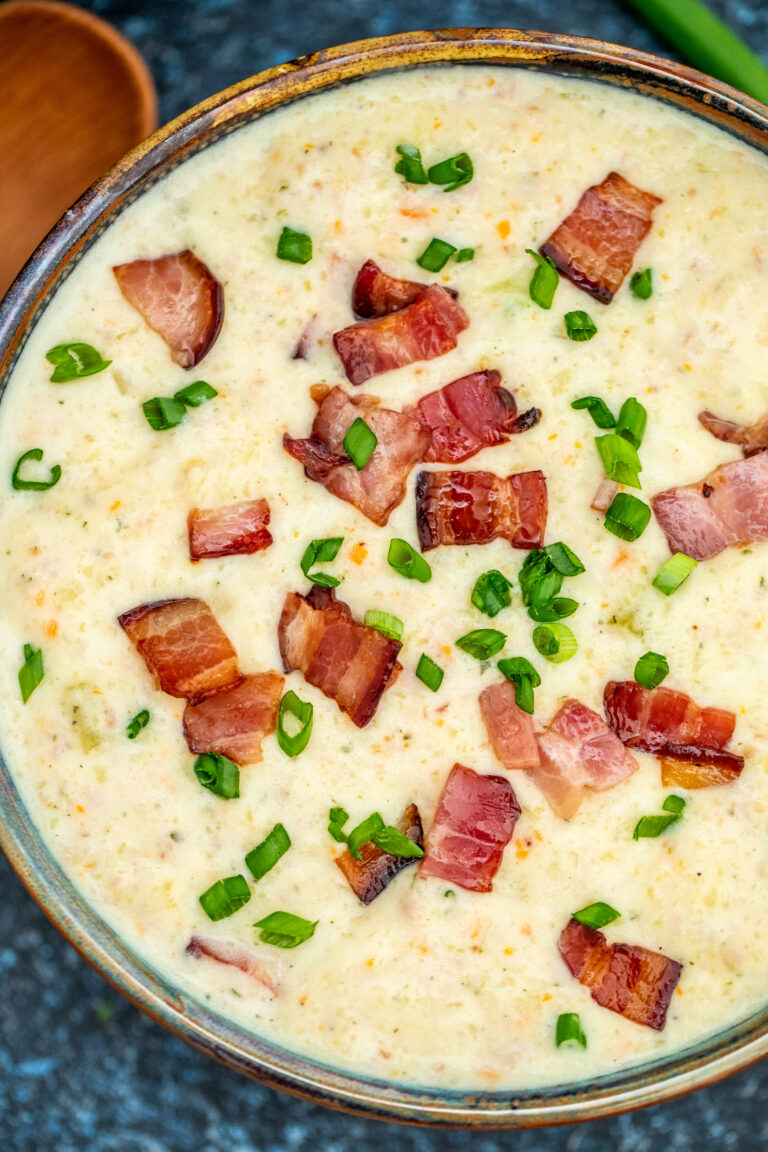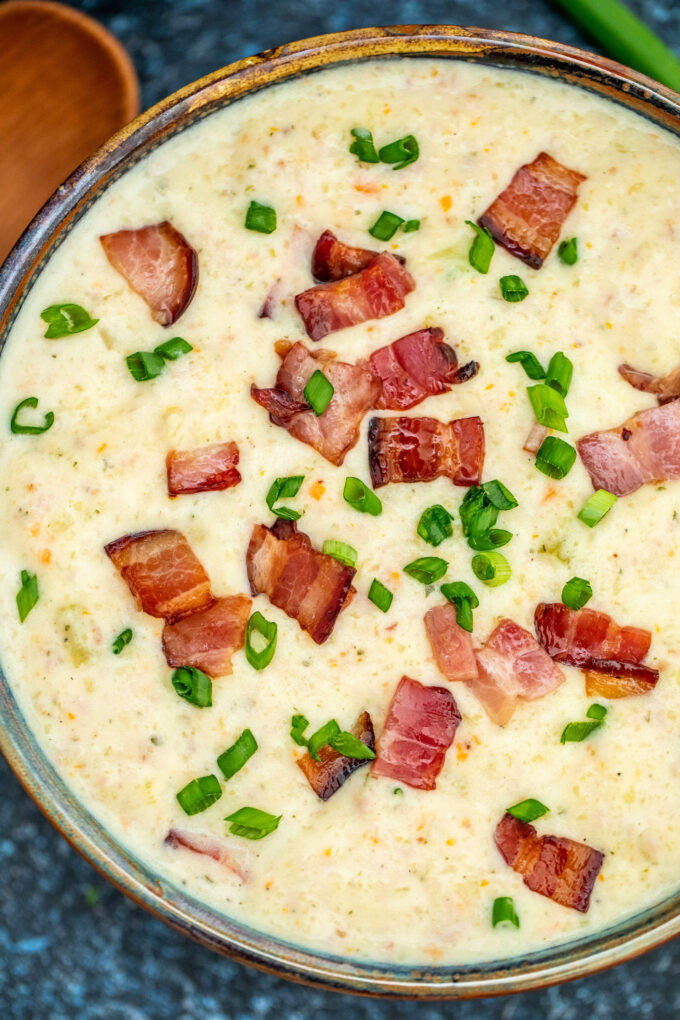 How to Refrigerate it?
To refrigerate this dish, you can simply use an airtight container to store it in. Then, simply store in the fridge for up to 3 to 4 days.
Recipe Tips:
This is a good recipe to make if you have leftover ham.
You can use an immersion blender or masher in the pot itself to mash the spuds — no need to get and put back a portion.
To make it creamy, use waxy spuds and at the same time, use heavy cream. But if you are worried about the calories, you can try mixing it with half and half, light, or regular milk.
Also, feel free to top it with croutons or your favorite cheese.
Save Recipe
Slow Cooker Ham and Potato Soup
Slow Cooker Ham and Potato Soup is hearty, creamy, and very comforting! Warm-up during the cold days and cook it hassle-free with this easy crockpot recipe.
Author: Catalina Castravet
Serves: 6 servings
Prep time:

30

minutes
Cook time:

8

hours
Total time:

8

hrs

30

mins
Ingredients
Roux Mixture:
Toppings:
Instructions
Slow Cook:
Roux Mixture:
After the Thickening Mixture was added:
Serve:
Nutrition information
Calories: 474 Carbohydrates: 35 Protein: 20 Fat: 29 Saturated Fat: 12 Cholesterol: 77 Sodium: 1700 Potassium: 1138 Fiber: 5 Sugar: 7 Vitamin A: 2193 Vitamin C: 35 Calcium: 189 Iron: 6
Save Recipe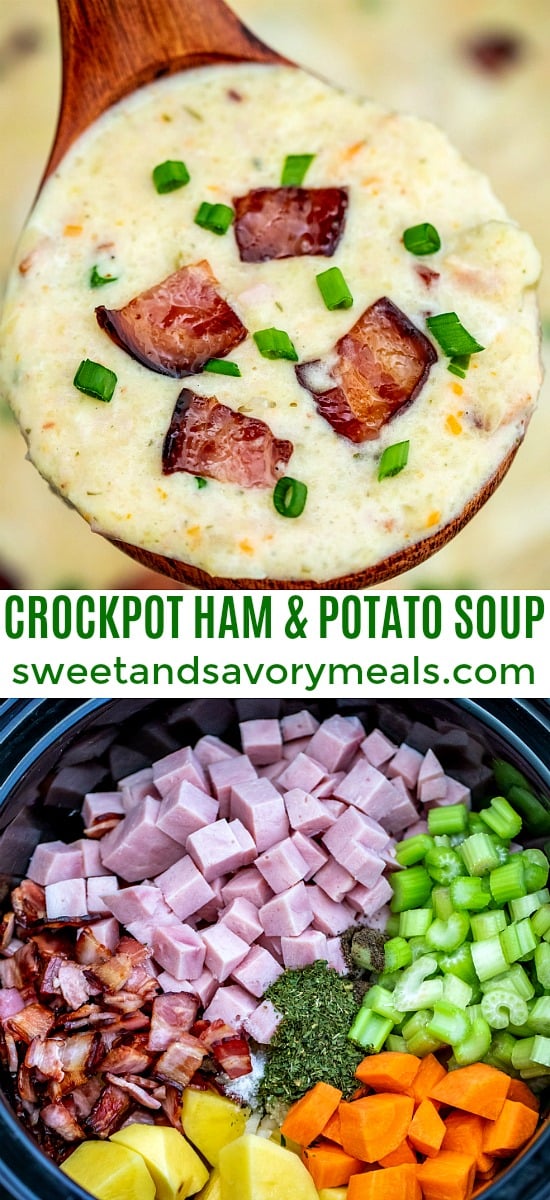 More recipes you might love
Categories: