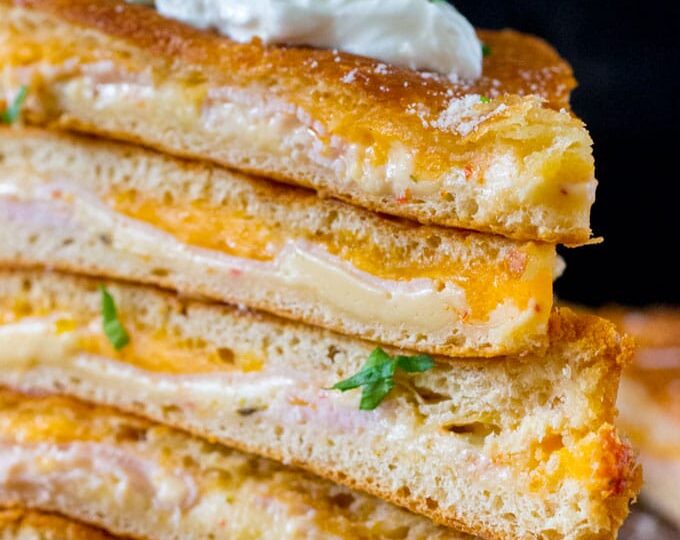 Turkey Grilled Cheese with Crescent Dough
Turkey Grilled Cheese made easy to cook in a large batch using crescent dough sheets. Delicious and fit to feed a crowd with minimum effort!
If you are a grilled cheese fanatic, you should try my crazy good Monte Cristo Grilled Cheese, that is loaded with bacon, ham, two kinds of cheese and topped with a perfectly runny egg!
Best Turkey Grilled Cheese
Turkey Grilled Cheese sandwiches are the perfect, crowd-pleasing snack or appetizer! Forget about having to cook grilled cheese sandwiches in batches. Also, how annoying is that the first ones are already cold by the time you finish cooking that last sandwich?
Grilled cheese sandwiches are meant to bring happiness, not frustration! Well, at least for me cheese equals happiness. I am sure I am not the only one. These Turkey Grilled Cheese sandwiches are a breeze to make. They are baked using crescent dough sheets, ready in about 30 minutes and you just slice and serve them! Yum!
How to make the perfect Turkey Grilled Cheese Sandwiches:
I used two crescent dough sheets, don't confuse them with puff pastry, please! Most grocery stores carry them, they are in the refrigerator, next to biscuit and cookie dough.
Also, make sure you use a pan that is NOT larger than 9×13 as you want the crescent dough sheet to fit perfectly.
I used sliced deli turkey, but you can use any meat. Even leftover roasted chicken or turkey meat, just make sure you shredded it.
You can skip the meat and make the sandwiches vegetarian.
Using a nice amount of cheese is obviously key. I used a mix of cheddar and spicy Hot Pepper Cheese, the flavors are absolutely amazing!
Cook until golden brown, and preferably, serve right away with sour cream for dipping.
Recipe Variation:
This recipe is easily modifiable. Feel free to use other ingredients as you please. Some great additions are:
Make it with other meats: It works great with chicken, or ham as well. Also, you can even make it with tofu.
Add various fruits or veggies: For a healthier version, add some sliced apples, spinach, or other veggies.
Use different cheeses: We love using cheddar cheese, as it has a rich and distinctive taste. However, you can swap it with mozzarella, provolone, or any other type.
Can you reheat the Turkey Grilled Cheese Sandwich?
To reheat the cheese sandwich in a pan, make sure the pan is hot before placing the sandwich. Put some butter in the pan, and place the Turkey Grilled Cheese Sandwiches on the bottom, and cover with a lid.
The lid will help build up the steam. After 2 minutes, flip the sandwich on the other side for another 2 minutes or before the cheese is melted.
Can you use the microwave to reheat the Turkey Grilled Cheese Sandwich?
Yes. wrap the sandwich in a paper towel, which will absorb excess moisture so your grilled cheese doesn't turn out soggy. Then, put the sandwich on a plate in the microwave for 20-25 seconds, or until the cheese is melted.