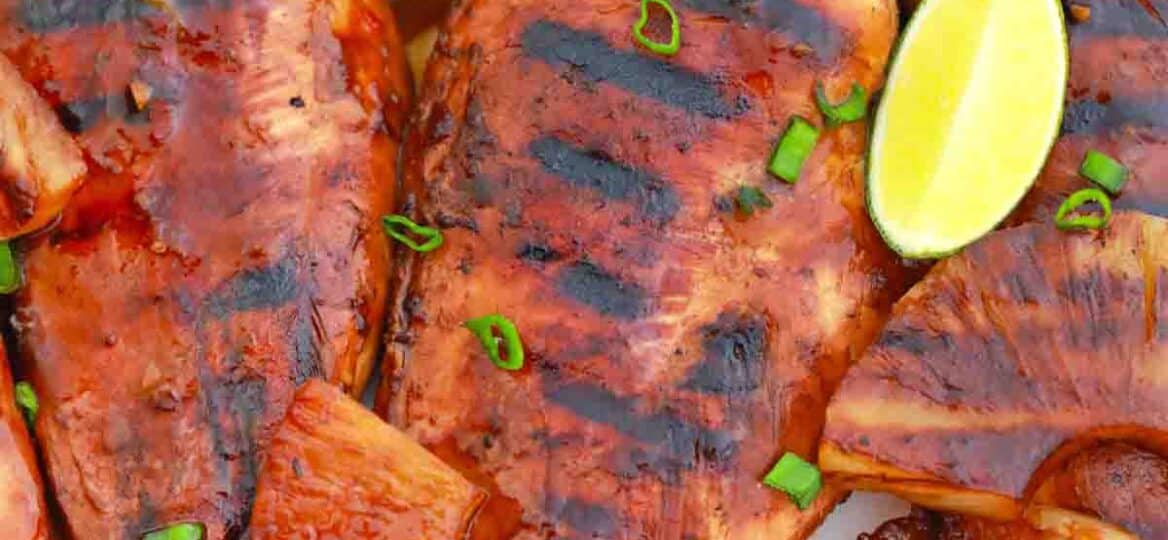 Sweet Chili Lime Chicken [Video]
Sweet Chili Lime Chicken is tender and flavorful, and one of the easiest chicken recipes you can make with just a few ingredients. Seasoned with tangy lime juice, sweet chili sauce, soy sauce, and green onions, this delicious dish will be a hit with your family and friends.
If you are looking for other chicken recipes, try our White Chicken Chili recipe made with green chilis, sour cream, and white beans, or this Instant Pot Mexican Chicken recipe cooked in liquid smoke, fire-roasted tomatoes, and adobo sauce.
With only 10 minutes of prep time and 16 minutes of cooking, this sweet chili lime chicken recipe is simple.
The hardest part is waiting the two hours it takes for the chicken to marinate. For best results, prep them the night before so all you have to do is take them out and cook them.
If the weather is not cooperating, you can use our other recipe below rather than grill your chicken. For other recipes to make in the oven, try our jerk chicken recipe made with jalapeno peppers, brown sugar, and soy sauce.
For a quick and delicious side dish our Mexican street corn is amazing with cotija cheese and sour cream.
Ingredients needed:
Here are the basic items you need for this sweet chili lime chicken recipe. For more details and measurements, scroll down to our handy recipe card.
Boneless skinless chicken breasts: We used boneless skinless chicken breasts, but you can use chicken thighs or some other cut of meat.
Sweet chili sauce: Store-bought sweet chili sauce is fine, or you can make your own.
Juice of two limes: We used medium-sized limes.
Soy sauce: We used low-sodium soy sauce.

Vegetable oil: Or olive oil, for the grill.

Kosher salt: To taste.
Black pepper: To taste.
Green onions: Sliced thinly, for garnish.
Lime wedges: For serving.
How to make sweet chili lime chicken recipe?
Make the marinade: Whisk all the ingredients except lime wedges and green onions in a large bowl and set aside 1/4 of this marinade for cooking.

Marinate the chicken: Put chicken and marinade in a resealable plastic bag. Let it chill in the refrigerator for two hours or more. Overnight would be perfect.

Grill: After, oil the grill and turn it to medium-high heat. Cook for eight minutes per side while basting with the marinade, until it is charred and cooked thoroughly. A meat thermometer should read 165 degrees F when inserted in the thickest part of the meat before you remove chicken.

Serve: Finally, use the reserved sweet chili sauce to coat the grilled chicken breasts and add green onions on top. Serve with freshly cut lime wedges.
How to make sweet chili lime chicken in the oven:
Prepare: Before doing anything, mix all the ingredients except the green onions and lime wedges in a large bowl and pour this sweet chili sauce and the chicken pieces into a large freezer bag. Let it sit overnight or at least two hours in the fridge.

Preheat: After, preheat your oven to 425 degrees F and prepare a baking dish or pan with aluminum foil.

Cook: Then, place the chicken breasts and sweet marinade in the dish and bake for 15 minutes. Remove it and baste the chicken before returning it to the oven for another 25 to 30 minutes.

Remove: Last, check the temperature of the chicken breasts to make sure they are at least 165 degrees F before removing them.

Serve: Finally, let your sweet chili lime chicken breasts rest for five to 10 minutes before putting green onions on top and serving with lime wedges as a garnish.
Recipe variations:
Add sugar: If you are a fan of sweeter things, add about three tablespoons of brown sugar. This will also help caramelize the chicken, giving it a sweet and crispy coat.

Honey please: Instead of sugar, use honey for an even more flavorful meal.

Other sugar: Alternatively, you can use two tablespoons of white granulated sugar if you do not have brown.

Zesty: For an even tangier meal, add a teaspoon of zest to your marinade.
Other oils: If you don't have (or don't use) vegetable or olive oil, you can use avocado oil or whatever you prefer.
Spicy: For spicy food lovers, try some chili peppers or hot sauce in the marinade.
How to serve:
This sweet chili lime chicken breasts recipe is the perfect dish for any night because you can alter it to make it more formal or serve it on paper plates at a backyard barbecue. Here are some good serving ideas:
Add chicken to a plate of potatoes and another side dish for a full plated meal.

Put your cooked chicken pieces on top of a bed of rice or pasta for an easy dish for lunch or dinner.
This sweet chili lime chicken goes great with a side of steamed broccoli or some other vegetables.

Another way to enjoy your chili lime chicken is with a salad and glass of iced tea. Try our cherry kiwi iced tea recipe.

For an even more delicious and flavorful dish, pour a bit of honey or soy sauce on top before serving.
Slather this chili lime chicken with our homemade honey mustard sauce for a sweeter and tangier flavor.
Make sure your guests (and you) squeeze lime wedges on top of the sweet chili chicken before eating for the most flavor.
Frequently asked questions
How much juice is in one lime?
The measurements for how much lime juice is in one lime depend on how large the fruit is, how juicy it is, and what you use to get the lime juice out. Generally, an average lime will give you two tablespoons of juice.
This recipe calls for the juice of two limes. Since we used medium limes, which are average size, you should get about 1/4 cup of juice. However, if limes are not in season where you are, the limes may not be as juicy, so it helps to measure what you get.
Does lime juice cook the chicken?
You may notice that marinating your chicken overnight will make it look white, almost like it is cooked. That is because the lime juice actually does cook the outside by breaking the chicken down in a sort of chemical reaction like in our ceviche recipe.
Should I wash my chicken?
The answer to this may surprise you but you should not wash your chicken before cooking it. Although some chefs and other professionals recommend you give it a good scrub before you cook, it is not a necessary step unless you plan to eat your chicken raw.
The main reason some experts claim it is best to clean your chicken breasts is to get rid of salmonella and other bacteria. However, as long as the temperature of the meat is at least 165 degrees F, whatever was on there will be gone.
Is sweet chili lime chicken healthy?
Chicken is one of the healthiest meats you can eat. With this recipe, your chili lime chicken is certainly on the healthy side of things. The nutritional value for each serving is low in fat and high in protein and vitamins with a low number of calories.
In fact, the nutrition facts state that you get 50 grams of protein per serving, which is almost the recommended value that you need every day. Other nutritional information includes 420 calories, 21 grams of carbohydrates, 300IU vitamin A, and 6 milligrams of vitamin C with less than 400 calories.
How to store leftovers:
Store: It is safe to store your chili lime chicken leftovers in the refrigerator for several days in an airtight container.
Freeze: You can also freeze your leftovers for up to 90 days.
Thaw: For best results, put frozen chicken in the fridge to thaw overnight before reheating.
Reheat: To keep your grilled chicken from getting rubbery and dry, microwave it at medium heat for 45 seconds at a time until it is warmed through.
More easy chicken recipes:
Cooking tips:
We used medium-sized limes for this sweet chili lime chicken recipe. If you use small limes, three should do fine. Also, if you use large ones, use the lime juice from one and a half limes.

While marinating your chicken breasts gives them a lot of flavors, you do not want to let them marinate longer than 12 hours. The more you marinate them, the more flavor they will get. But keep in mind, that they can become stringy if you leave them too long.

It is not recommended to use lemons instead of lime juice because the lime is what gives your sweet chili lime chicken its unique flavor.
In addition, if you are making baked chili lime chicken, preheat the baking dish or pan for several minutes before placing the chicken breasts inside. Cooking in a hot pan or dish helps keep the sauce from burning and decreases cooking time by a few minutes.

Also, red pepper flakes add a bit of a kick to your sweet lime chicken meal.

Cook time may vary depending on the size and cut of your meat.
Sweet Chili Lime Chicken
Ingredients
4

chicken breasts

boneless and skinless

1

cup

sweet chili sauce

2

large limes

juiced

1/3

cup

low-sodium soy sauce

Vegetable oil

for grilling

Thinly sliced green onions

for garnish
Instructions
Add chicken breasts to a large Ziploc bag.

In a large bowl, stir together chili sauce, lime juice, and soy sauce. Set aside 1⁄4 cup and pour the rest of the marinade over the chicken.

Let marinate in the fridge for at least 2 hours or overnight.

When ready to grill, heat the grill to high or place a cast iron grill pan over high heat.

Oil the grates or the pan and grill chicken, basting with marinade, until charred and cooked through. It will take about 8 minutes per side.

Baste with the reserved marinade and garnish with green onions before serving.

Serve with lime wedges on the side.
Deliciousness to your inbox
Enjoy weekly hand picked recipes and recommendations