Best White Chicken Chili Recipe
This White Chicken Chili Recipe is super easy to make and is full of spicy chili flavor, chicken and white beans. It's the perfect meal for game days or weeknight dinners.
We love delicious and flavorful meals, and some of our favorites are cheesy potato soup, cheeseburger soup, and white turkey chili.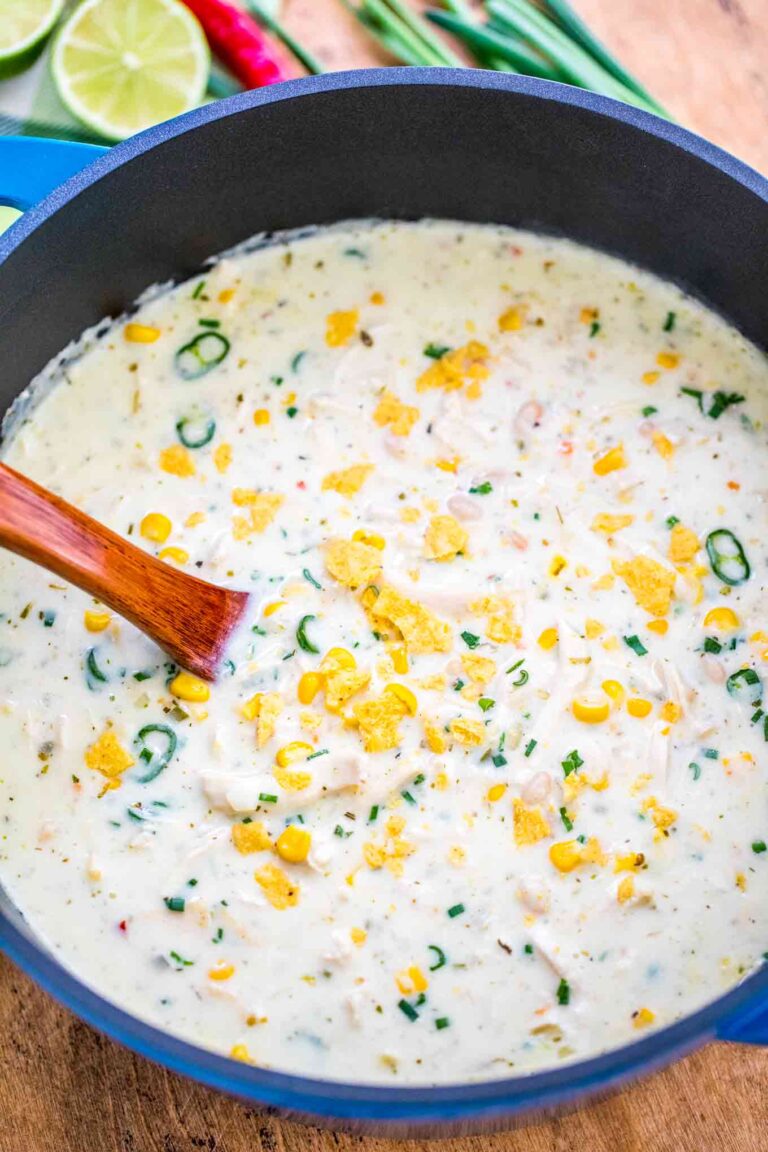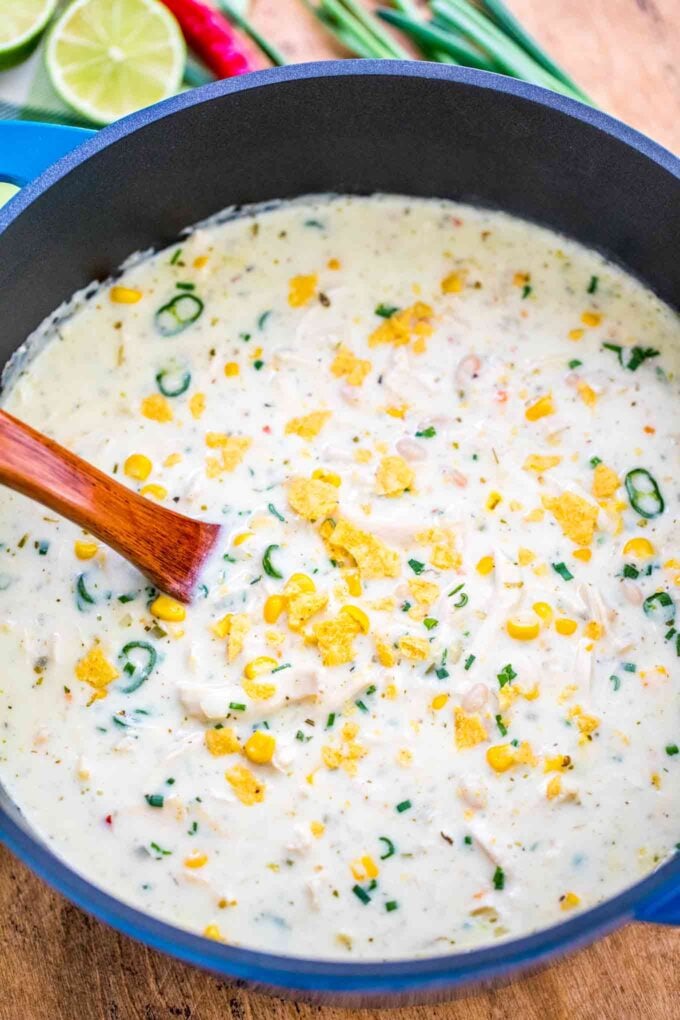 White Chicken Chili
White Chicken Chili is flavorful, rich and requires only a few ingredients to make. You can make it with rotisserie chicken for an extra easy dinner, and top it with all your favorites for a super delicious meal that everyone loves. This is the perfect meal to warm up your soul during cold days. It is so satisfying and rich, that it will quickly become your most favorite recipe.
In addition, this is the perfect meal to feed a larger crowd as you can make it in larger batches. Also, if short on time, simply make it ahead, and store in the refrigerator for 1-2 days, it will tastes just as delicious. What is great about this dish is that you can mix and match with endless possibilities.
If chicken is not your thing, replace it with turkey based on your preference. We love serving it with a variety of toppings, like shredded cheese, tortilla chips, cilantro, and sour cream. However, feel free to add what you like, as it goes pretty much with everything!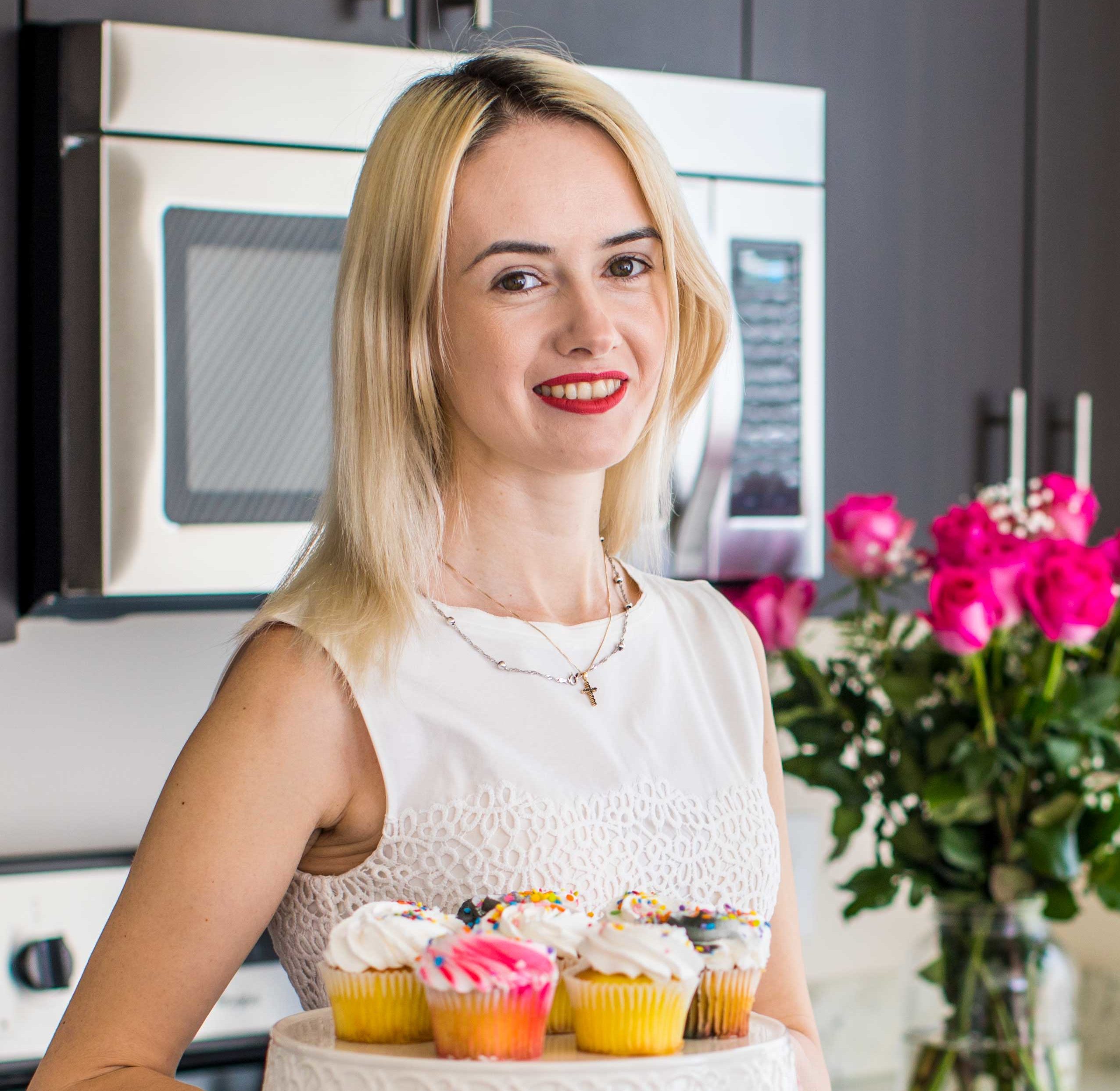 Follow us on Pinterest for more delicious recipes!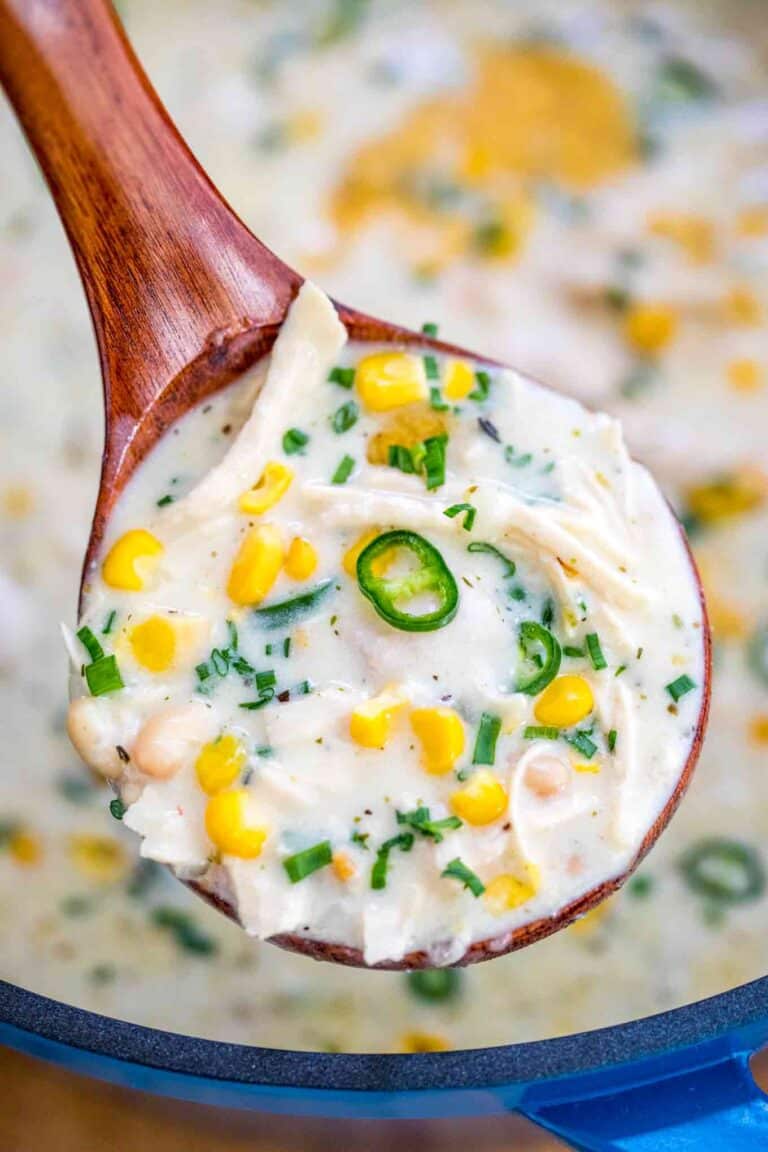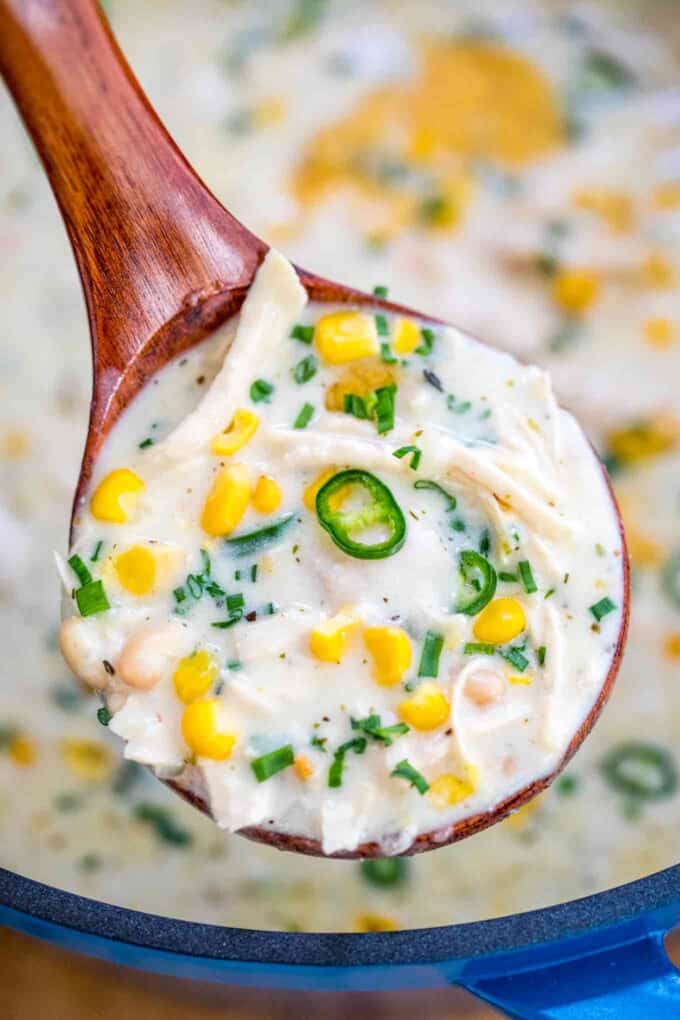 How to Make White Chicken Chili?
We love how easy and versatile this recipe is to make. Below, we include the steps on how to prepare this delicious homemade meal on the stove, slow cooker as well as in the Instant Pot.
Stovetop Version:
Start by adding the veggies to a Dutch oven or stockpot over medium heat.
Then, add in the seasoning, chicken, and broth, cook until tender for about 15 minutes.
Shred the meat with two forks and then add back to the liquid. You could also use rotisserie chicken and skip this step.
Next, add all the remaining ingredients to the pot and stir until well-combined.
Simmer over low heat for about 5 minutes.
Instant Pot Version:
Making it in the Instant Pot is super easy, and also it is cooked at a fraction of the time.
Start by adding all the ingredients to the Instant Pot.
Then, secure the lid with the vent closed.
Set your Instant Pot to High pressure for 20 minutes. Once 20 minutes passed, allow the pressure to release naturally for an additional 10 minutes.
Remove the lid from the Instant Pot and shred the chicken using two forks. Stir to combine all of the ingredients and serve.
Top with sour cream, cilantro, or tortilla chips.
Slow Cooker Version:
Add the chicken, stock, garlic, onion, chilis, oregano, cumin, chili powder, salt and pepper to a 7-quart slow cooker.
Then put the lid on and cook for 7-8 hours on LOW or 3-4 hours on HIGH.
Once cooked, shred the meat with two forks and stir in white beans and fresh oregano and cook for another 10 minutes.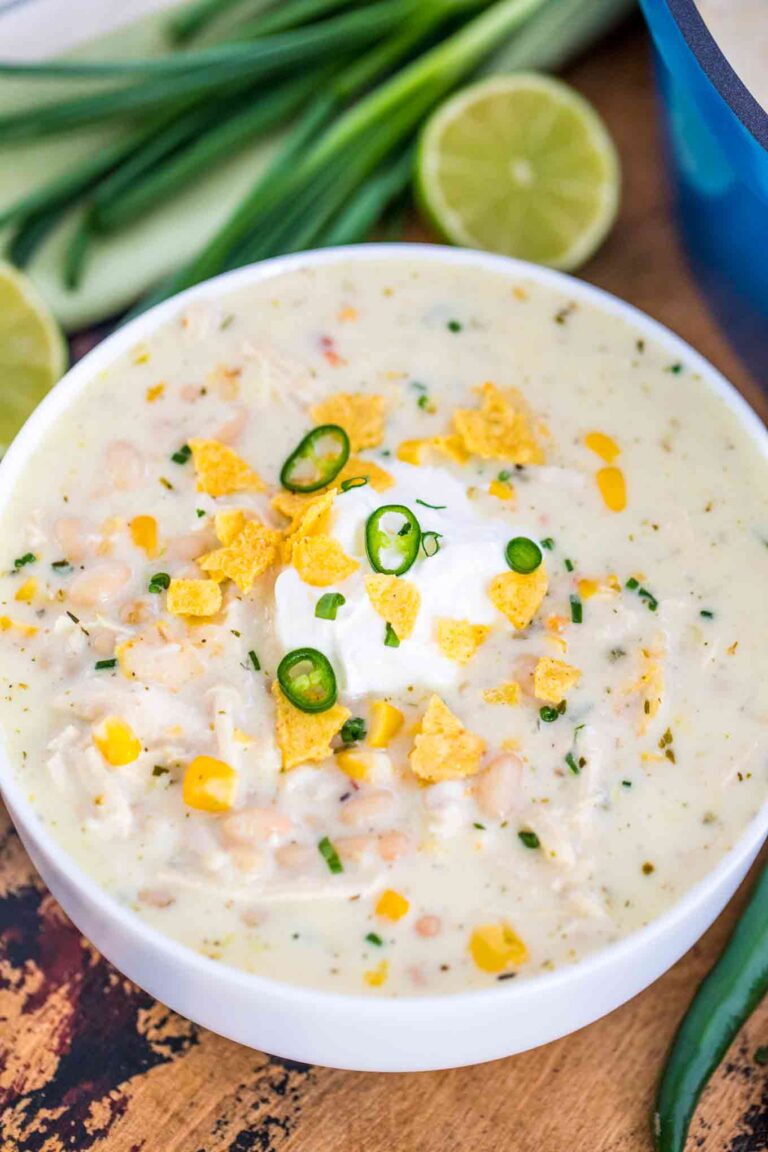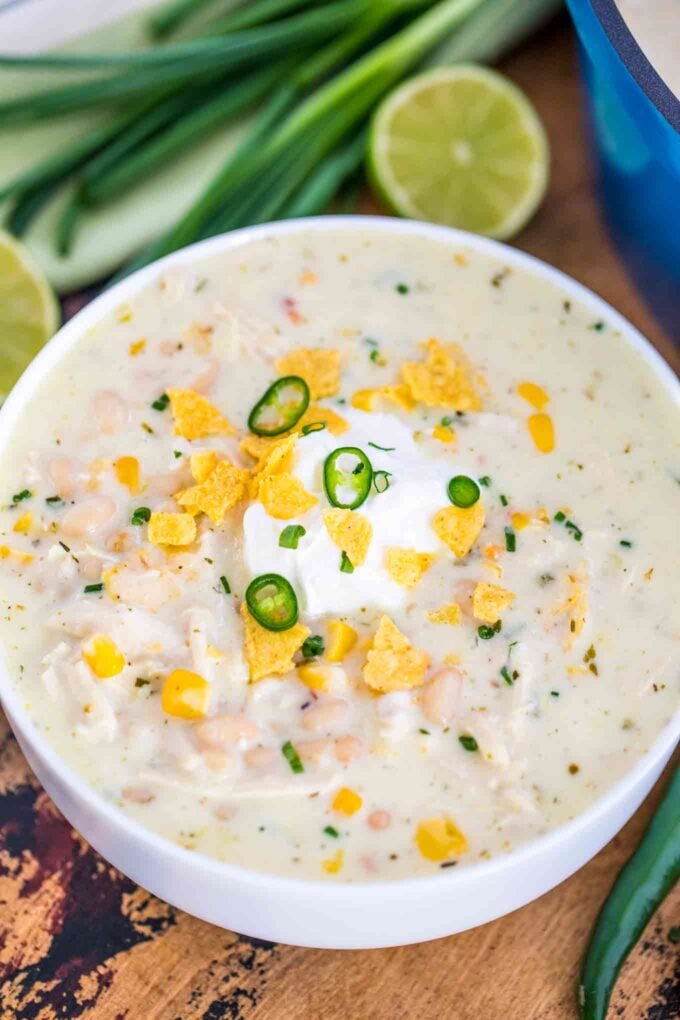 How to Make White Chicken Chili Spicier
If the Chili is not spicy enough for you, we recommend adding a few jalapeno slices to it or some red chili pepper flake.
How to freeze it?
Before freezing it, make sure the dish is completely cooled down. Then, transfer it to an airtight container or a large Mason jar and freeze it up to 3 months. When ready to serve, remove from freezer and place in the refrigerator to defrost the night before. Also, you could reheat the dish in the microwave for about 2-3 minutes or until warm, or on the stovetop.
Save Recipe
Best White Chicken Chili Recipe
Author: Catalina Castravet
Serves: 6 servings
Prep time:

10

minutes
Cook time:

30

minutes
Total time:

40

mins
Ingredients
4 cups cooked shredded chicken meat
3 tablespoon butter (unsalted)
1 small yellow onion (diced)
4 cloves garlic (minced)
1 cup celery (diced)
1 green chile (seeds removed and minced)
2 15oz. cans white beans (drained and rinsed)
1 15oz. can sweet corn (drained and rinsed)
1 4.5oz. can green chiles (optional for extra spiciness)
1/2 teaspoon dried oregano
1/2 teaspoon dried thyme
1/2 teaspoon ground cumin
1/4 teaspoon red pepper flakes
1/4 teaspoon kosher salt
1/8 teaspoon ground black pepper
4 cups chicken broth low-sodium
1 lime zested and juiced
To be added later:
2 cups cream
1/4 cup cornstarch
1/2 cup sour cream
1 cup shredded pepper jack cheese (optional)
Instructions
Place a large saucepan or Dutch oven over medium heat. Once hot, add butter and melt it.
Add diced onion, stir and cook for 1 minute. Add garlic and cook for 30 seconds.
Add celery, green chile, canned green chile (if using), corn and beans. Stir and add oregano, thyme, cumin, pepper flakes, salt, and pepper.
Add chicken broth, lime juice, lime zest and stir to combine. Add shredded chicken and stir to combine.
Bring to a light simmer, reduce heat to low, cover and cook for 20-25 minutes.
In a large cup mix cornstarch and cream until smooth. Add the mixture to the soup and stir to combine, until soup will thicken.
Stir in sour cream until fully combined. Taste and adjust for salt and pepper.
If you prefer the soup to be even thicker, mix another 2 tablespoons of cornstarch with 1/4 cup water and add the mixture to the soup, simmer.
If using cheese, remove soup from heat and stir in the cheese. Keep in mind that the cheese will make the soup texture heartier and thicker.
Serve immediately with your favorite toppings like sour cream, diced jalapenos, chips, and cheese.
Calories: 570 Carbohydrates: 11 Protein: 19 Fat: 50 Saturated Fat: 24 Cholesterol: 171 Sodium: 347 Potassium: 421 Fiber: 0 Sugar: 0 Vitamin A: 1685 Vitamin C: 3.3 Calcium: 105 Iron: 1.3
Save Recipe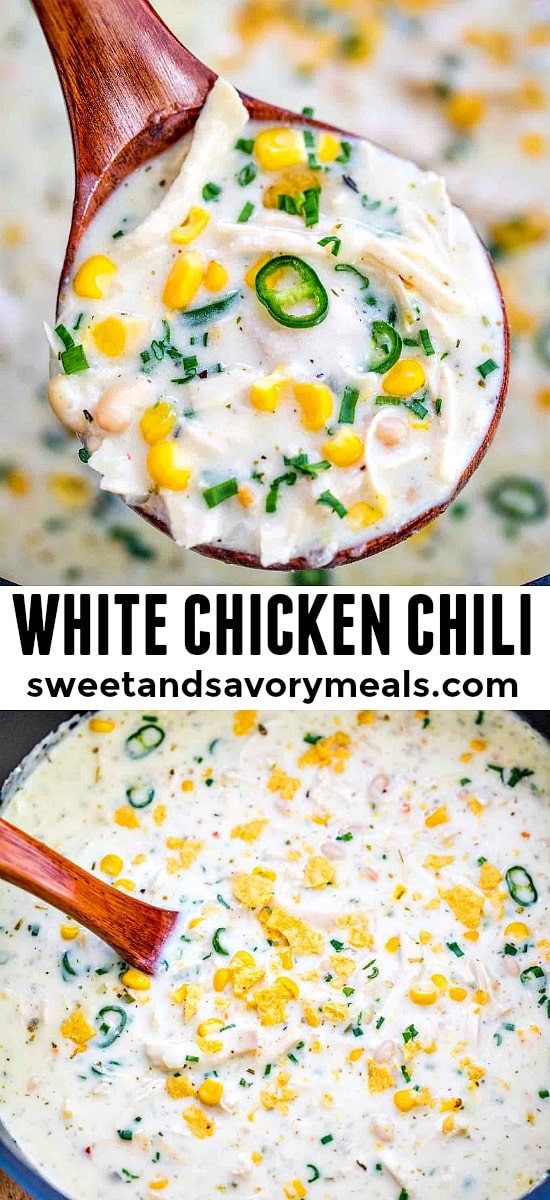 More recipes you might love