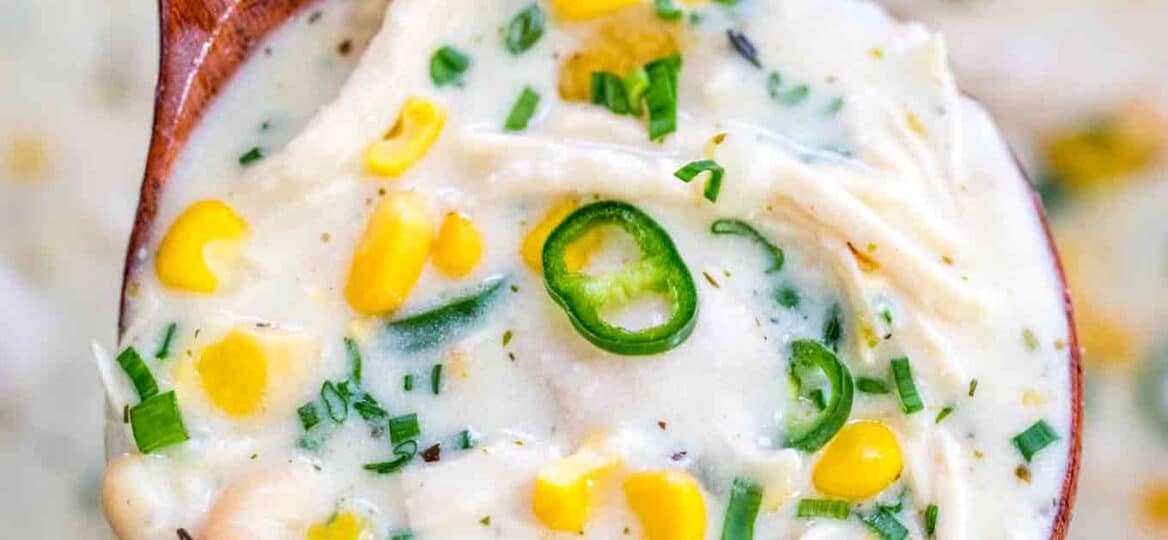 Best White Chicken Chili Recipe
This Creamy White Chicken Chili Recipe is super easy to make and is loaded with heart white beans, tender chicken, and chili. It has a thick texture with a rich and creamy broth. The perfect alternative to the traditional beef chili recipe!
We love delicious and flavorful soups and stews, especially during busy weeknights. For more easy meals, try our cheesy potato soup, cheeseburger soup, and white turkey chili.
This Easy White Chicken Chili Recipe is flavorful, rich, and requires only a few ingredients to make. You can make it with shredded chicken or leftover chicken for an extra easy dinner, and simply top it with all your favorite toppings.
This is the perfect meal to warm up your soul during cold winter days. Also, you will love the way the flavors blend together. All the spices combined with beans, tender meat, and creamy broth make for an excellent dinner for the whole family to enjoy!
The soup is so satisfying and rich, that it will quickly become your most favorite recipe. In addition, this is the perfect meal to feed a larger crowd as you can make it in larger batches.
Also, if short on time, simply make it ahead, and store it in the refrigerator for 1-2 days, it will tastes just as delicious. What is great about this dish is that you can mix and match with endless possibilities.
If poultry is not your thing, replace it with turkey-based on your preference. We love serving it with a variety of toppings, like shredded cheese, tortilla chips, cilantro, and sour cream. However, feel free to add what you like, as it goes pretty much with everything!
Ingredients list:
The recipe calls for the following ingredients:
Chicken: Feel free to use whatever is available. I love using shredded rotisserie chicken because it is a great and quick option. However, feel free to use raw chicken breasts or even chicken thighs.
Onion and garlic: Both ingredients add lots of flavors! Use freshly minced garlic.
Butter and cream: For a rich and creamy texture.
Chicken broth: I highly recommend using homemade chicken stock. However, if you are going to use store-bought stock, then go with the low sodium version.
Veggies: Such as celery, green chile, sweet corn, green chiles.
Beans: Cannellini beans, navy beans, great northern beans, or white kidney beans work the best here. Therefore, go with what you love and have on hand.
Seasonings: Dried thyme, ground cumin, dried oregano, red pepper flakes, salt, and black pepper.
Lime zest and lime juice
Cornstarch: This is optional, but it helps thicken the soup.
Sour cream and shredded pepper jack cheese: For the topping.
How to Make White Chicken Chili?
We love how easy and versatile this recipe is to make. Below, you can find the various methods on how to make white bean chicken chili:
Stovetop Version:
First, add some olive oil to a Dutch oven or large pot over medium heat. Once hot, cook onions and garlic, then add the veggies.
Next, add in the seasoning, chicken, and broth, cook until tender for about 15 minutes.
Shred the meat with two forks and then add back to the liquid. You could also use rotisserie chicken and skip this step.
Next, add all the remaining ingredients to the pot and stir until well-combined.
Simmer over low heat for about 5 minutes.
Instant Pot Version:
Making it in the pressure cooker is super easy, and also it is cooked at a fraction of the time.
Start by adding all the ingredients to the Instant Pot.
Then, secure the lid with the vent closed.
Set your Instant Pot to High pressure for 20 minutes. Once 20 minutes passed, allow the pressure to release naturally for an additional 10 minutes.
Remove the lid from the Instant Pot and shred the chicken using two forks. Stir to combine all of the ingredients and serve.
Top with sour cream, cilantro, or tortilla chips.
Here is the full Instant Pot White Chicken Chili recipe.
Slow Cooker Version:
Add the meat, stock, garlic, onion, chilis, oregano, cumin, chili powder, salt, and pepper to a 7-quart slow cooker.
Then put the lid on and cook on HIGH for 3-4 hours, or on LOW for 7-8 hours.
Once cooked, shred the meat with two forks and stir in white beans and fresh oregano and cook for another 10 minutes.
Check out here the detailed crock pot white chili recipe with the recipe video attached.
Recipe Variations and substitutions:
Meat: Try making this white chili recipe with leftover turkey, shredded turkey, or chicken sausage.
Seasoning: Add your favorite seasonings, Some great additions would be cayenne pepper, ranch seasoning, cumin, etc.
Make it spicier: Just use spicier green chilies, or add extra jalapeno peppers.
Other beans: Swap the white variety with black beans.
Dairy-free: To make it dairy-free, skip the heavy cream. Also, you could use coconut cream instead.
Favorite toppings:
Chopped fresh cilantro
Diced jalapeno peppers
Salsa verde
Fresh corn
Tortilla strips
Lime wedges
A dollop of sour cream
Crunchy tortilla chips
Avocado
Croutons
Chopped green onions
More homemade soups to try:
How to store leftovers?
First, let the soup completely cool at room temperature.
Then, transfer leftover to an airtight container, and refrigerate it for up to 4 days.
Reheat using the microwave or on the stovetop until warm.
How to freeze it?
Before freezing it, make sure the dish is completely cooled down.
Then, transfer it to an airtight container or a large Mason jar and freeze it for up to 3 months.
When ready to serve, remove from freezer and place in the refrigerator to defrost the night before.
Cooking tips:
To make the white bean chicken chili extra creamy, you could blend about 1/4 of it in a food processor or using an immersion blender.
Also, feel free to double it. Simply double the ingredient and follow the same cooking steps.
This is the perfect meal to serve during a chili night with some corn bread, or freshly baked dinner rolls.