Creamy Corn Soup is a hearty medley of sweet kernels, tender potatoes, bacon, and herbs. This rich and tasty dish will warm the coldest of days!
Fresh, homemade bread is the ultimate partner to comfort food like this one! Bake some crusty Beer Bread to soak up all that thick broth. If you prefer something fluffier, serve it with these wonderful 30-Minute Dinner Rolls. Feeling fancy? Amaze everyone at the table by serving this chowder in Bread Bowls made from scratch!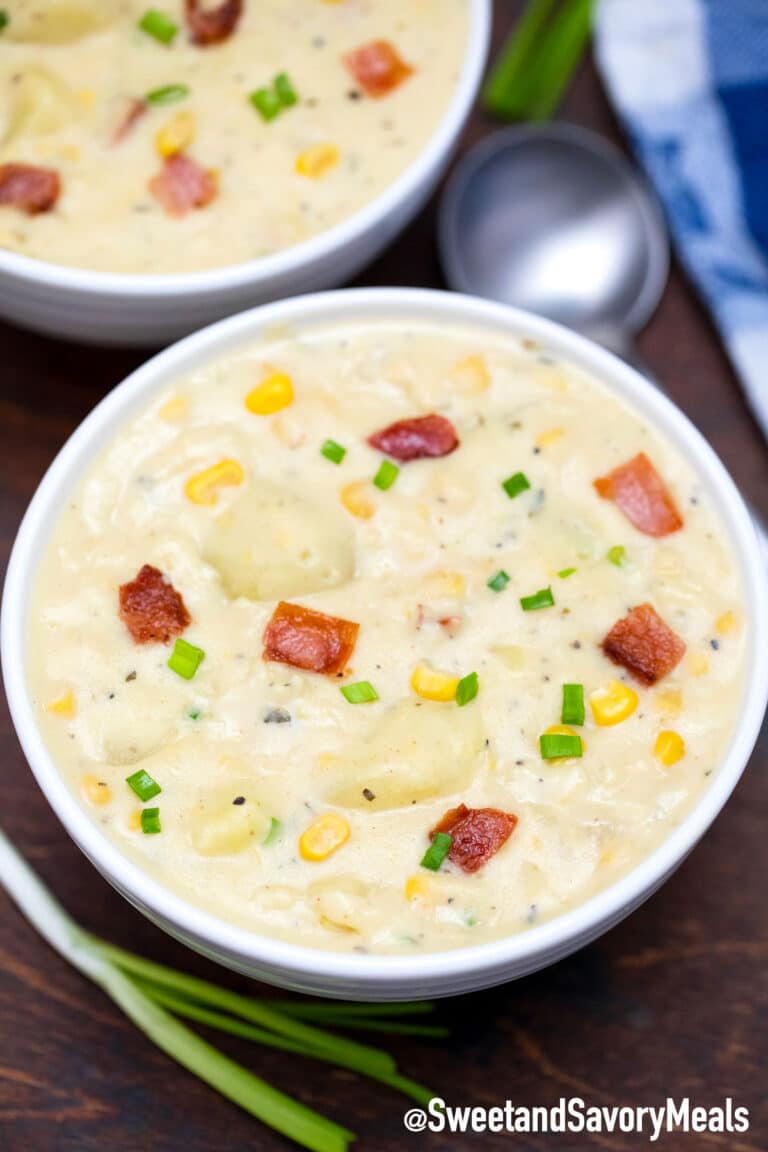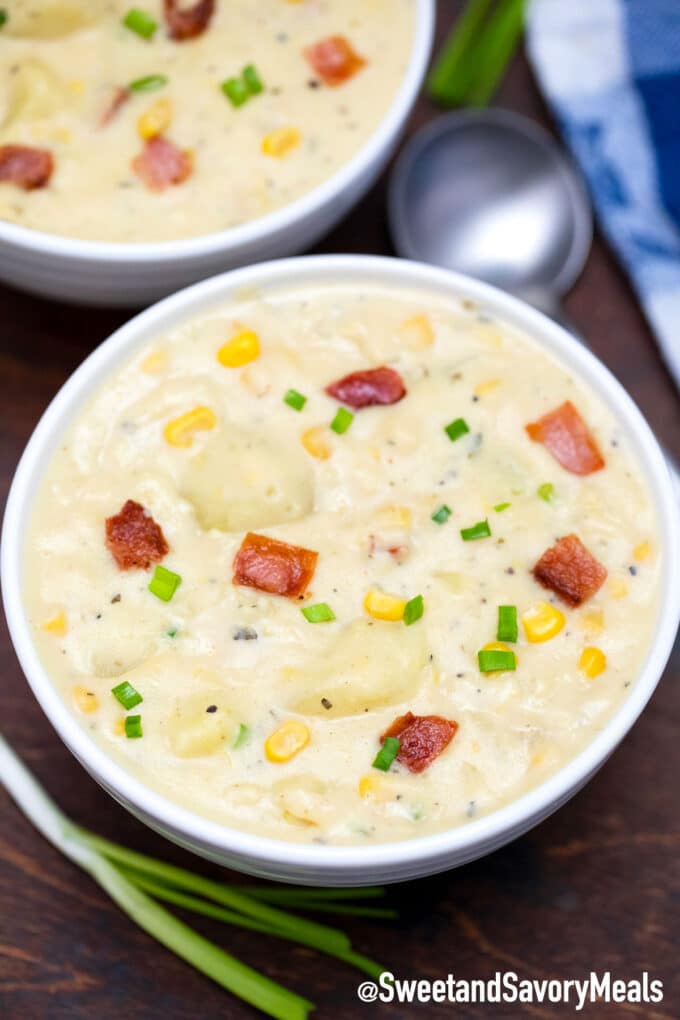 Corn Chowder Recipe
Creamy Corn Soup is velvety and bursting with intense corn flavor! Every spoonful is so filling and hearty and with wonderful bites of sweet and juicy kernels. My family is crazy about this dish, especially when the cold days start rolling around. But this dish is equally delicious in the summer as it is during the chilly season!
Pairing a bowl with fresh-baked bread is a match made in comfort food heaven. It also tastes special enough to impress the company while being very simple to prepare. This is one recipe you're guaranteed to make over and over!
Is corn healthy?
Yes! It's packed with essential minerals like B vitamins, iron, zinc, and copper. It's also fantastic for digestion thanks to its high fiber content. Aside from having a lot of health benefits, it's absolutely delicious, too – roast it, grill it, boil it, or turn it into the most delicious chowder you've ever had!
What is Cream of Corn soup?
"Cream of" soups involve a specific process that involves blending most of the ingredients with cream before finishing the dish. It's like a chowder, but the main flavor is sweet corn.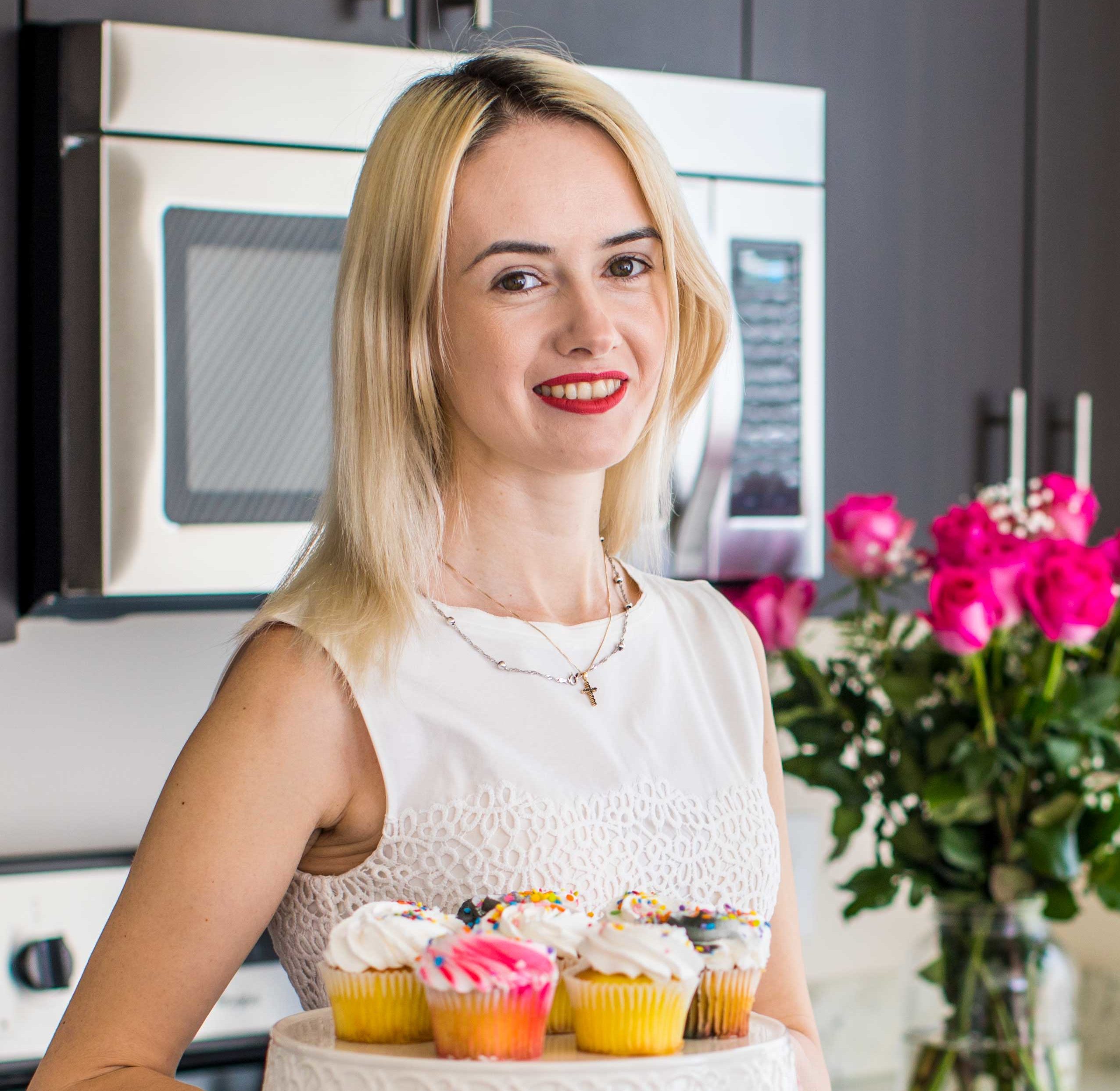 Follow us on Pinterest for more delicious recipes!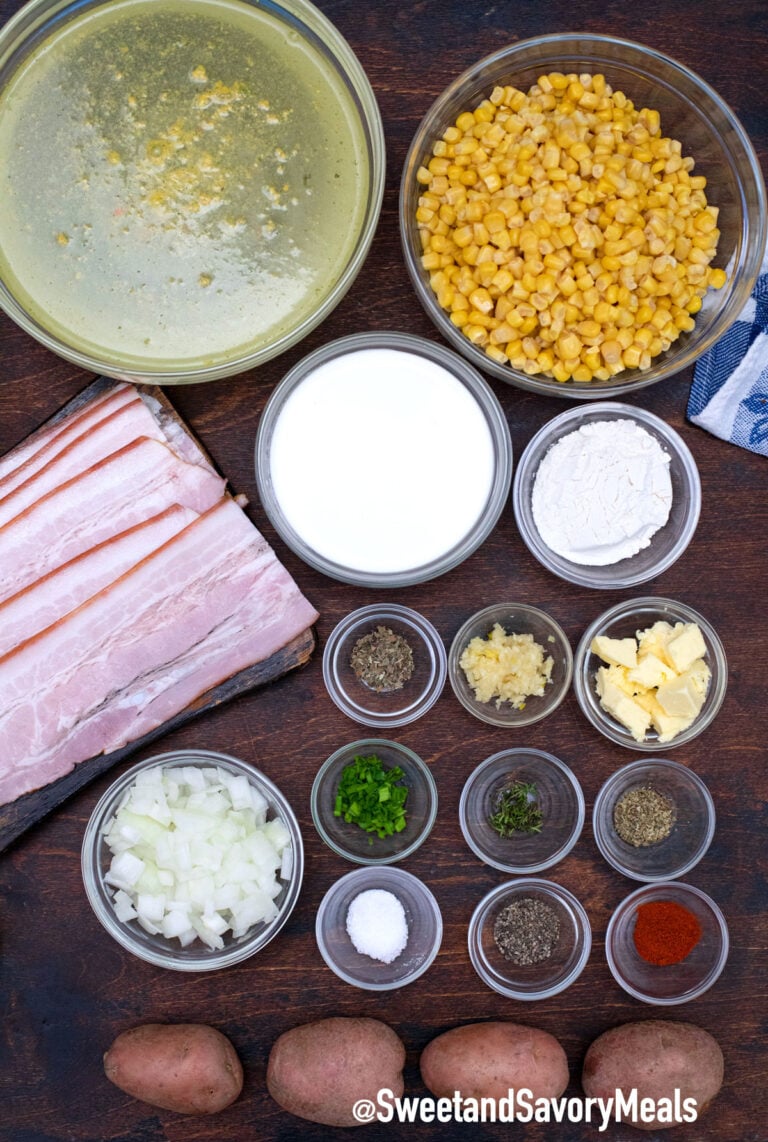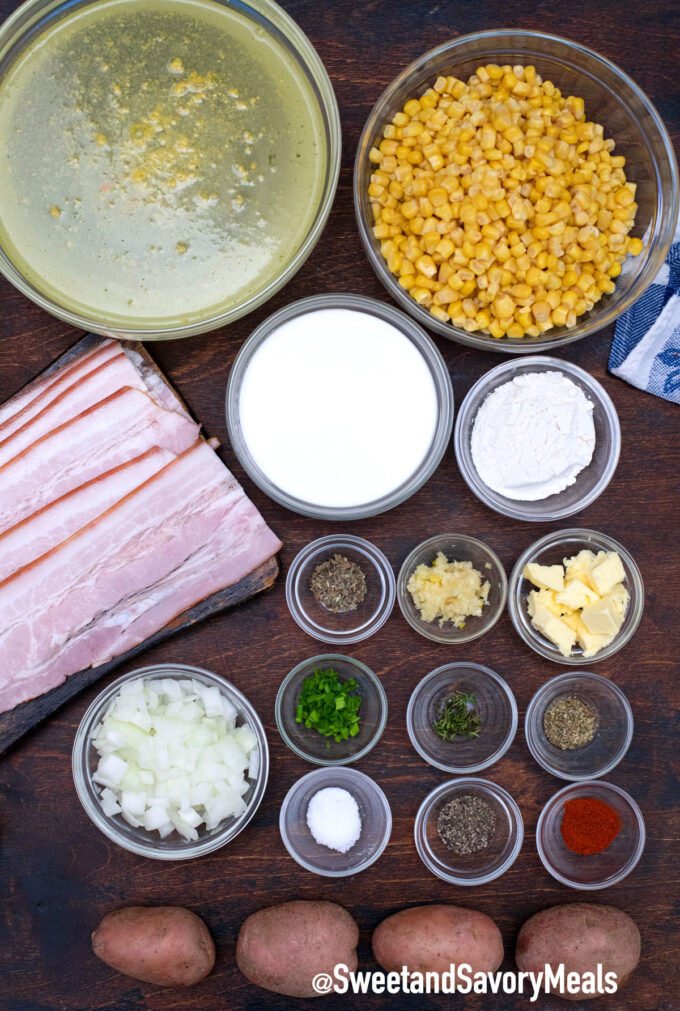 How to make homemade Creamy Corn Soup?
Cook. Crisp up the bacon, and drain aside. In the same pot, sauté the aromatics in additional butter, then add flour and stir continuously. Follow with water, then the kernels, potatoes, herbs, spices, and seasonings. Boil, then simmer until you have fork-tender potatoes.
Blend. Puree until smooth (up to 3 cups), then pour back into the pot.

Finish. Stir in the cream, chopped chives, and canned juice until everything is hot.

Enjoy. Serve hot and sprinkled with crumbled crispy bacon plus more chives.
Recipe Variations:
Add chicken: Shredded rotisserie chicken or boiled breast is an excellent way to make this dish more filling.
Add veggies: Blend in any veggie you like, such as squash, broccoli, carrots, cauliflower, and mushrooms.
Top with cheese: Sprinkle with shredded cheddar or finely grated parmesan.
Make it vegetarian: Skip the bacon, sub almond milk or other substitutes for cream, and use veggie broth.
Add seafood: The sweetness of shredded crab meat complements the sweet kernels so well!
Make it lighter: You can use 2% milk or milk substitutes for a lighter version, but note that it won't be as thick.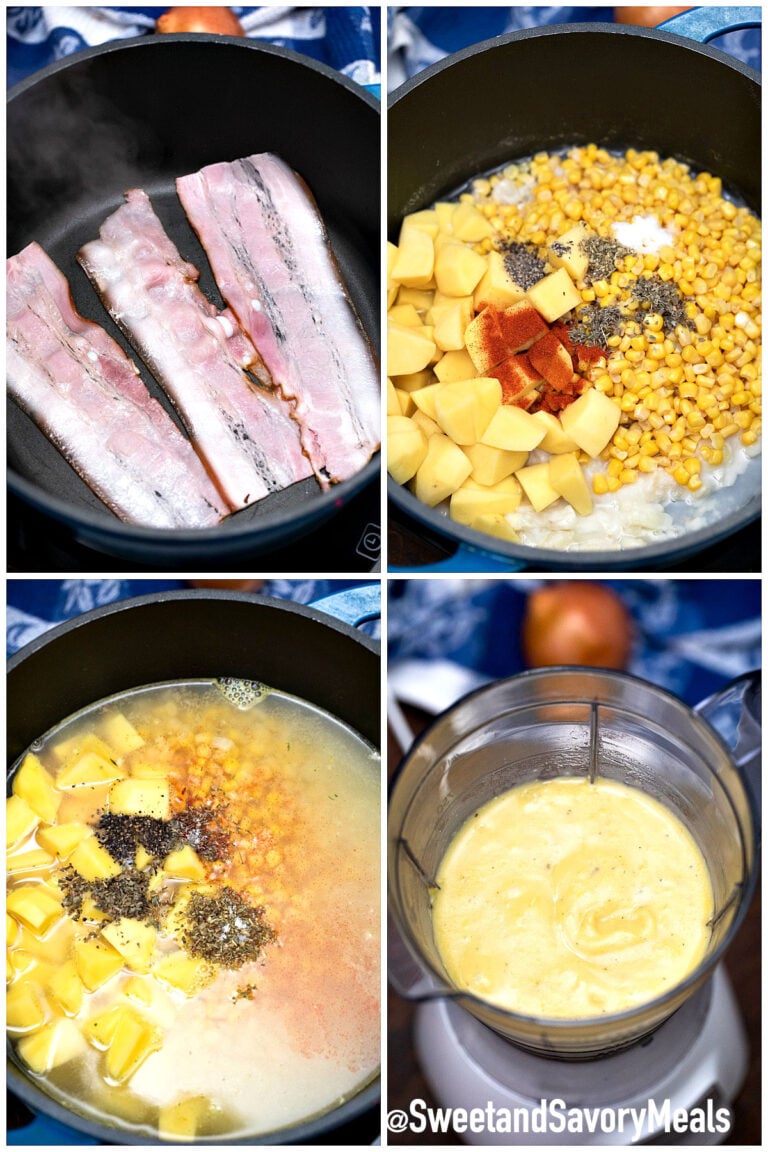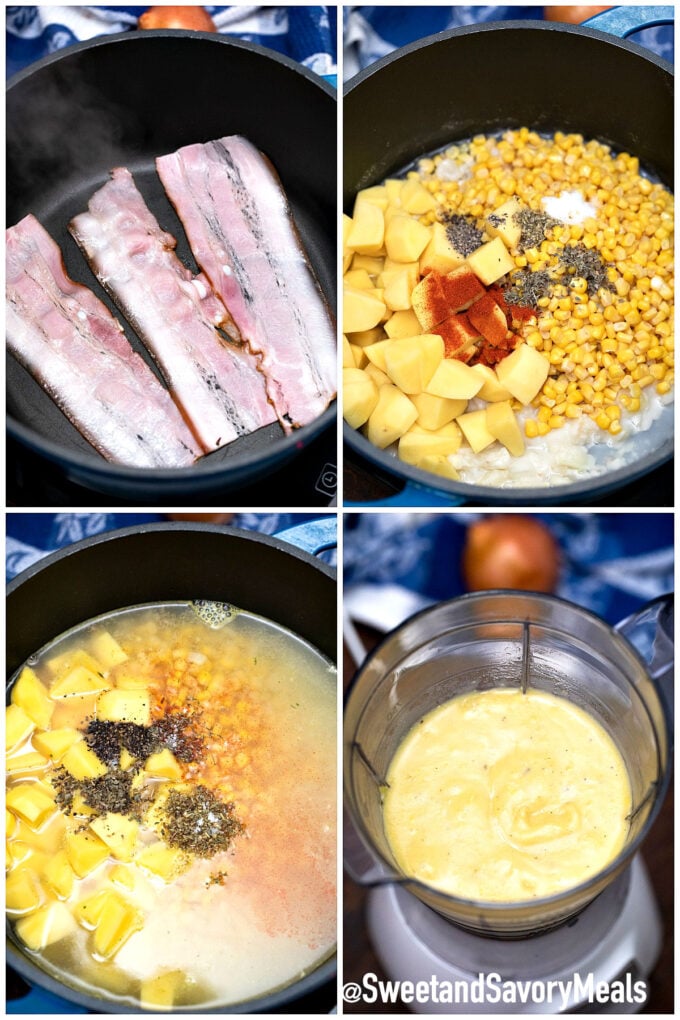 How do you thicken corn chowder?
Like we do in this recipe, add cream or blend in some tender potatoes to make it thicker. You can also mix a bit of cornstarch into the cream before adding it to the blend. Finally, try thickening with some Beurre Manie.
It's made of flour and butter, mixed until you form a paste. You stir it into the dish until the butter is melted, making everything nice and thick.
Can you make Cream of Corn Soup in the slow cooker?
Yes. Place the kernels, potatoes, stock, aromatics, bacon, plus herbs and seasonings in your crockpot. Set on high and cook for 3.5 hrs., or on low for 6 to 7 hrs. Blend part of it until smooth, or you can also blend everything for uniform consistency. Stir the cream and chives into it. Serve hot with more bacon and chives.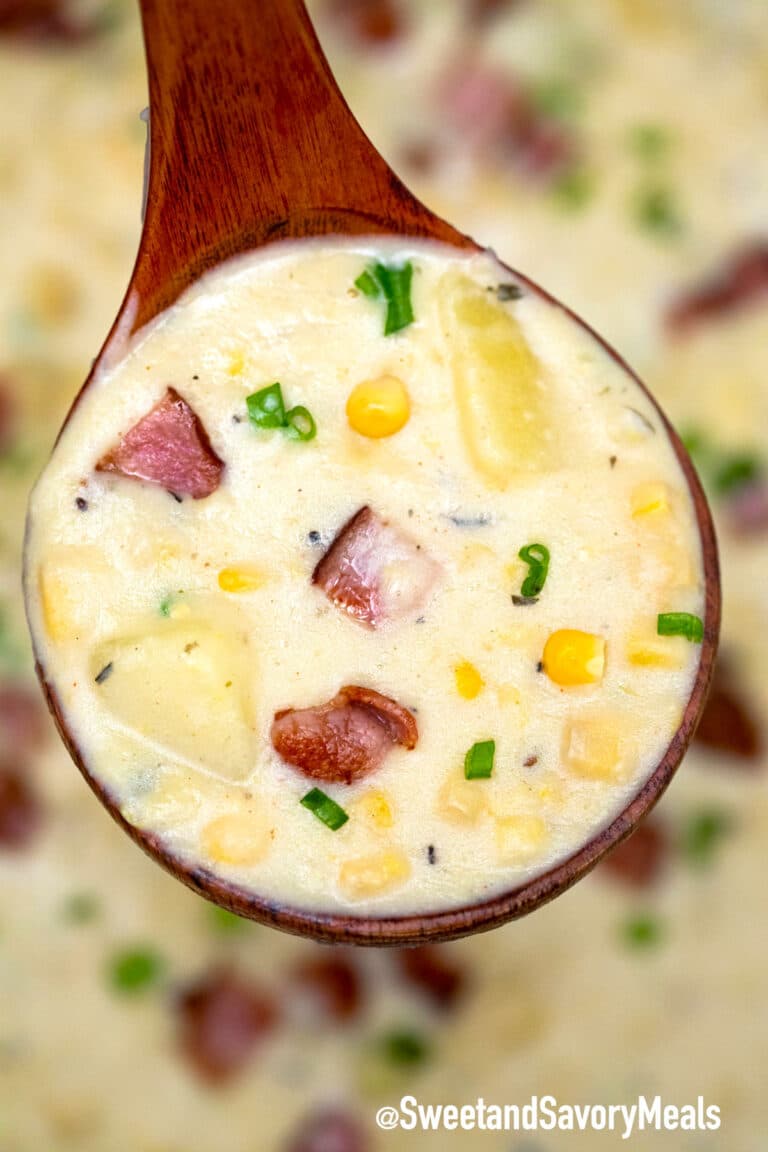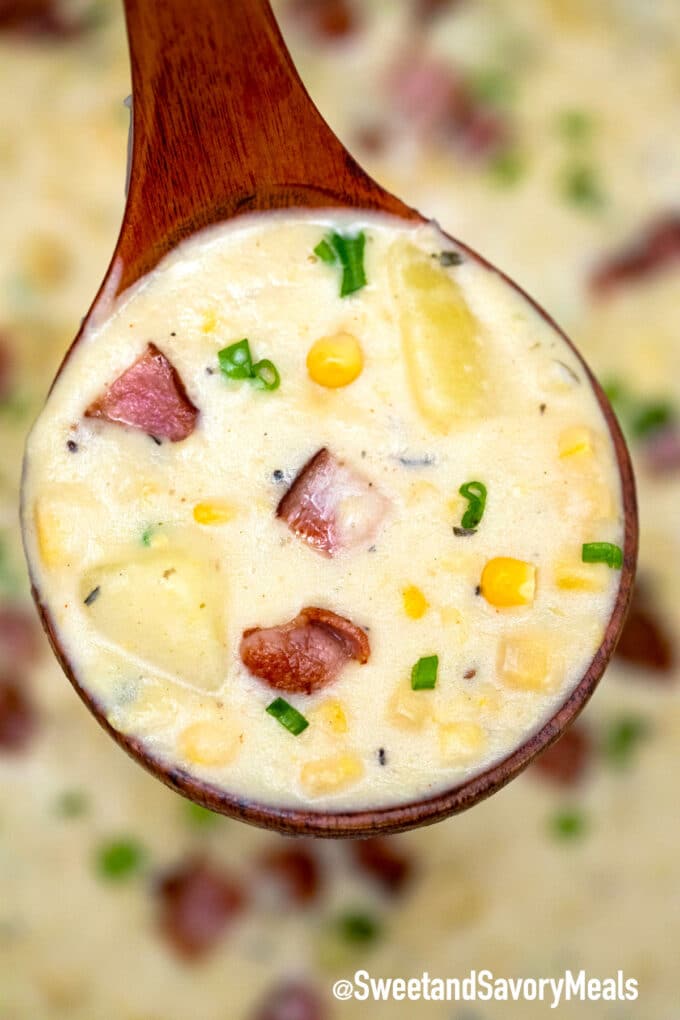 Can you make Creamy Corn Soup in the Instant Pot?
Yes, as well. Crisp up the bacon on Sauté mode. Add the stock, potatoes, aromatics, seasonings, and herbs in the IP. Cook for 30 mins. on Soup mode, then vent the pressure naturally. Blend part or all of the mix, then stir in the half and half plus chives. Serve hot, topped with more chives and crumbled bacon.
Can you make this using fresh corn?
Go ahead! Boil, then slice the kernels off the cob. Try roasting or grilling them first to infuse the chowder with some amazingly smoky flavor!
Why does soup thicken when cooled, and how do you fix it?
Most of the liquid may have already evaporated, leaving behind the thicker cream, butter, and pureed potatoes. Restoring the perfect consistency is just a matter of heating it with a splash of water or stock to thin it out.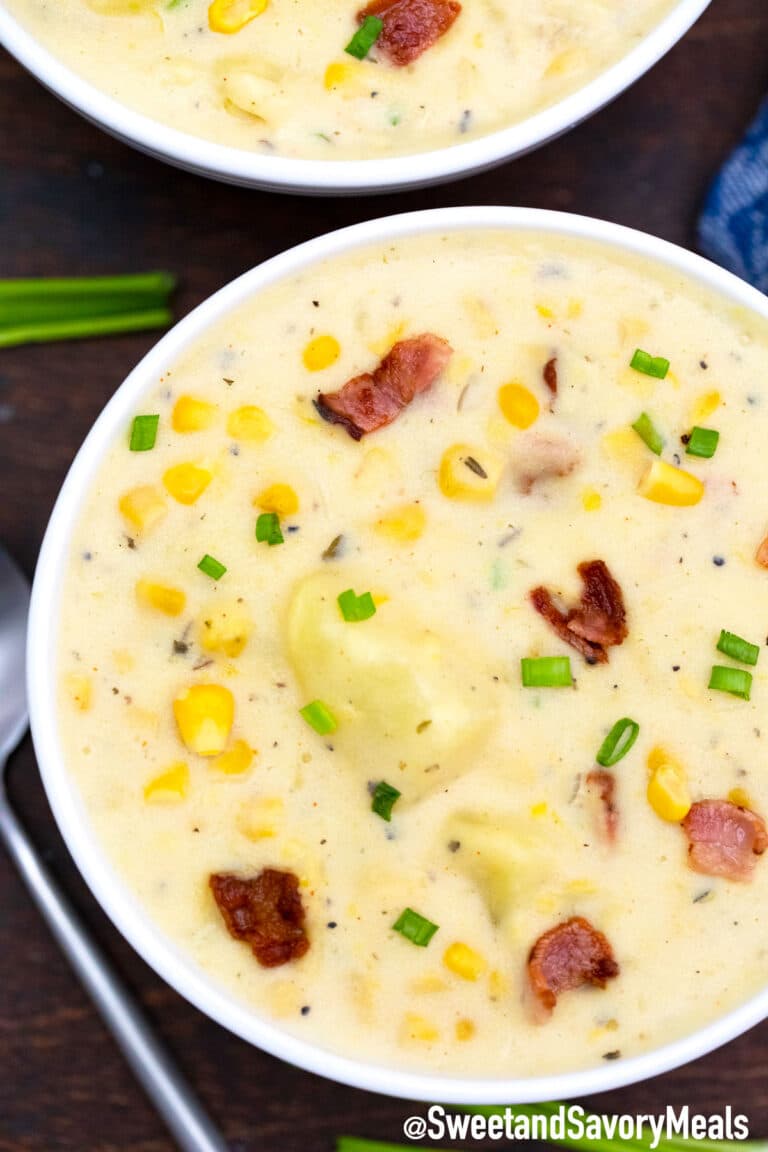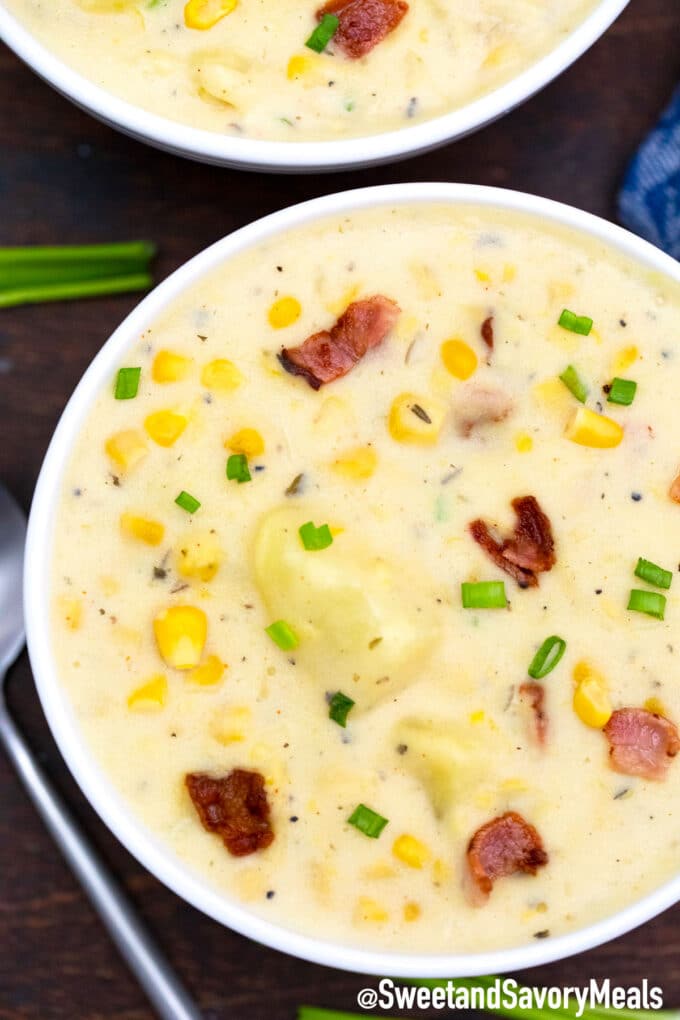 How to store and reheat:
Store in a tightly-sealed container after cooling the dish down. Store in the refrigerator for up to three days. Heat it by microwaving, or warming up on the stove thinned out with some broth or water if it's too thick.
How to freeze:
I don't encourage you to freeze this one, because cream-based chowders tend to break and separate when frozen. But if you really want to do so, skip the cream before freezing.
Once the dish is cool, freeze for up to 2 months in freezer-safe storage. Thaw before heating over the stove. Once it's hot, stir in the half and half before serving.
More Soup Recipes: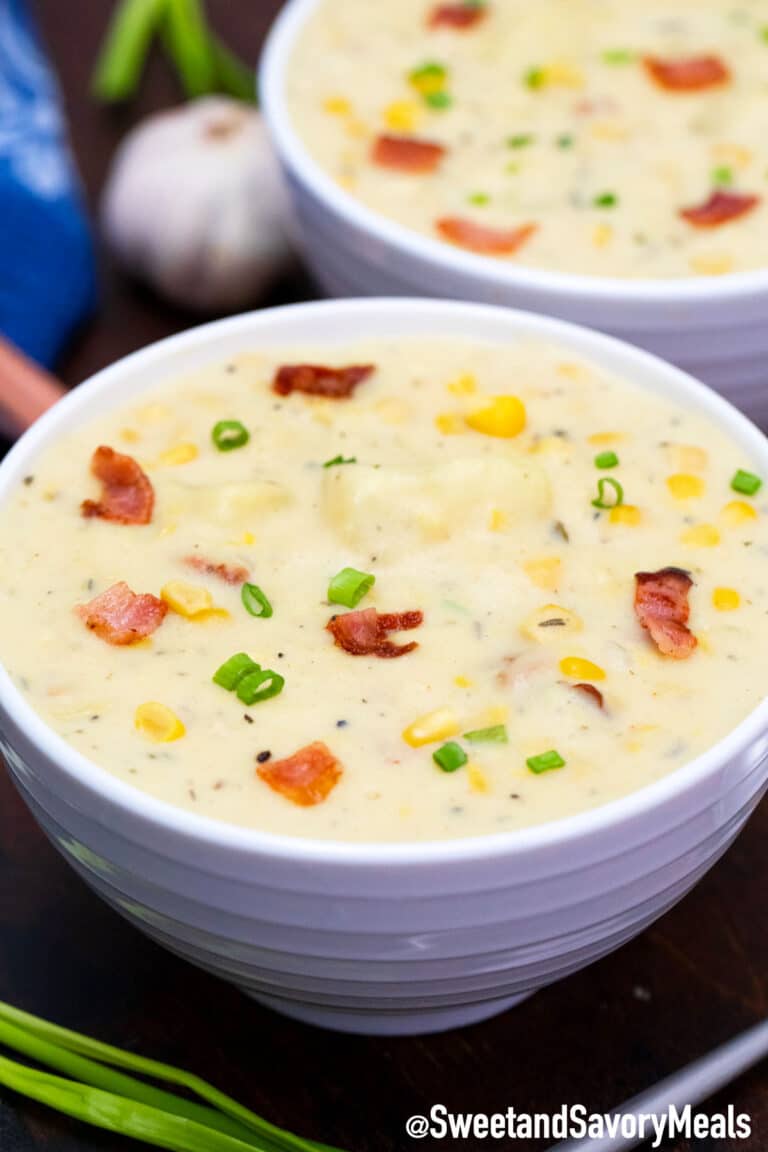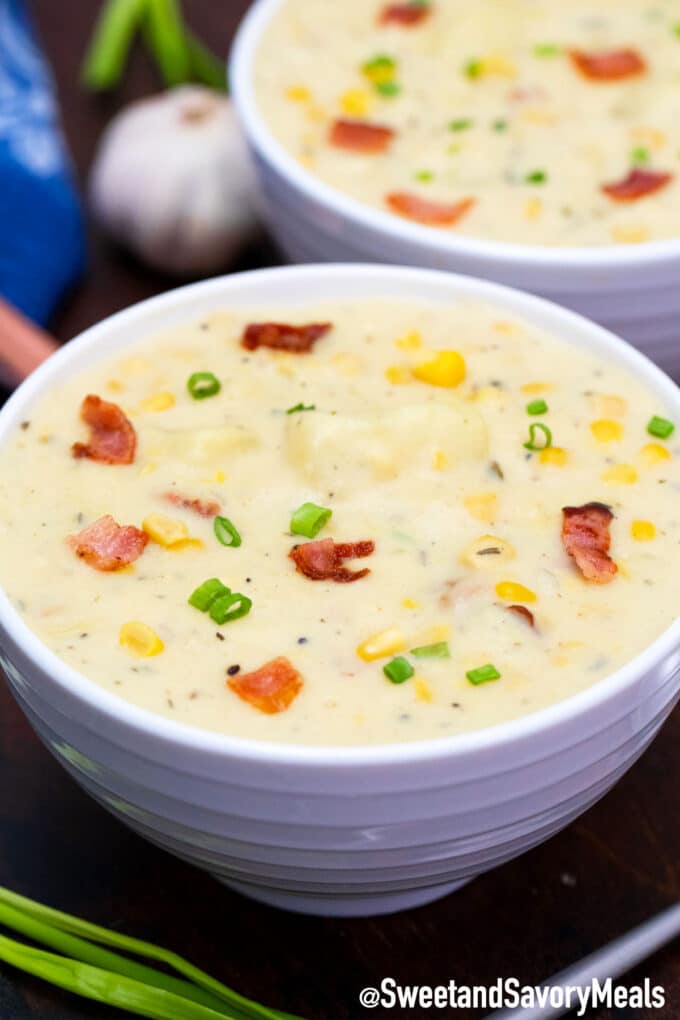 Recipe Tips:
For a velvety consistency, blend the entire chowder. If you prefer it chunkier, only blend half or less.

Frozen, fresh, or canned kernels all work for this dish.
For a really smooth finish, try using Yukon potatoes.
Save Recipe
Creamy Corn Soup
Creamy Corn Soup is a hearty medley of sweet kernels, tender potatoes, bacon, and herbs. Simmered in a velvety creamy broth!
Author: Catalina Castravet
Serves: 6 servings
Prep time:

15

minutes
Cook time:

45

minutes
Total time:

1

hr
Nutrition information
Calories: 449 Carbohydrates: 39 Protein: 13 Fat: 29 Saturated Fat: 12 Cholesterol: 54 Sodium: 1073 Potassium: 875 Fiber: 4 Sugar: 6 Vitamin A: 563 Vitamin C: 27 Calcium: 77 Iron: 2
Save Recipe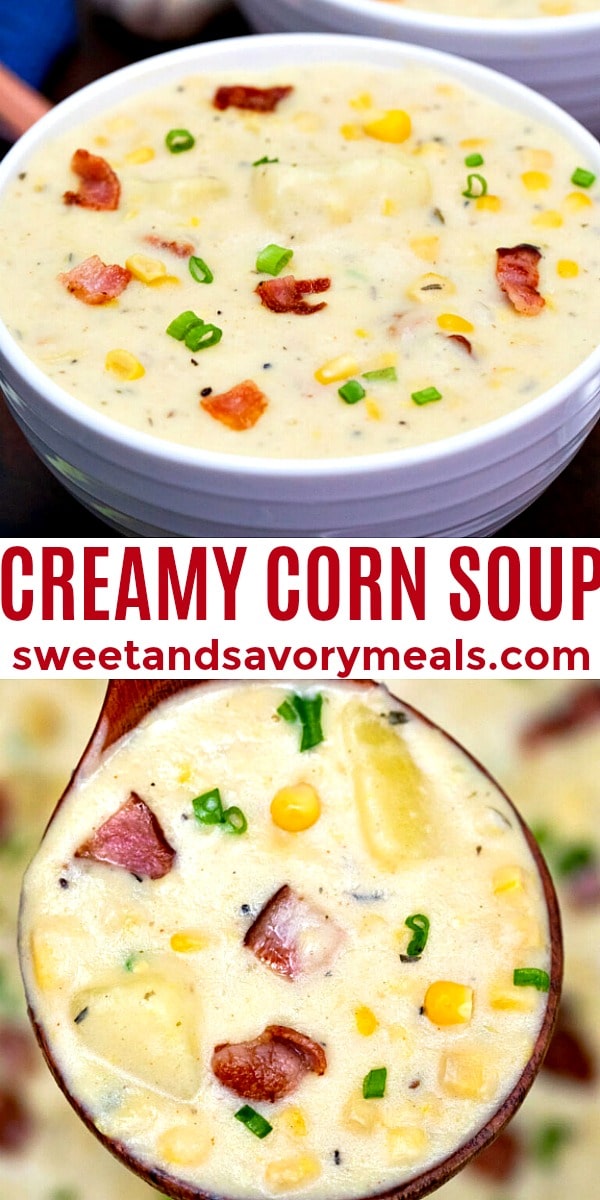 More recipes you might love
Categories: