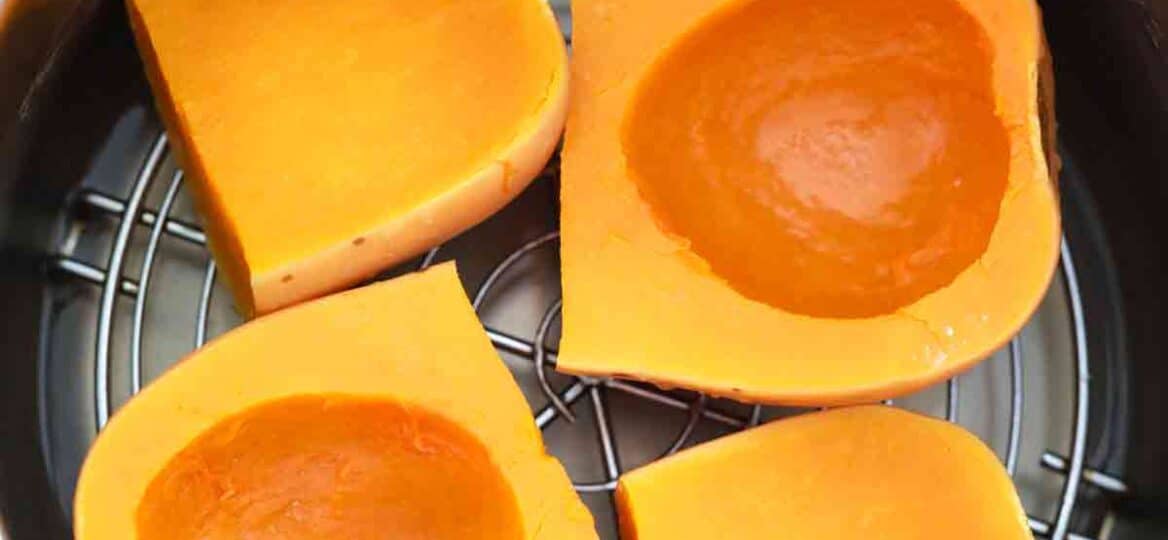 Instant Pot Butternut Squash Recipe [Video]
Instant Pot Butternut Squash is easily done in less than 10 minutes with this fantastic pressure-cooking recipe. You will only need your instant pot and a few ingredients including butternut squash, olive oil, and some water. That's it! You cannot get much easier than that.
Just as easy, fast, and delicious, this Instant Pot Roasted Butternut Squash Soup is a different way to enjoy this tasty veggie. Or try this Instant Pot Pumpkin Soup to go with your butternut squash or with a Thanksgiving meal. In fact, that butternut squash would pair well with these tender Instant Pot Apple Cider Pork Chops.
Instant pot butternut squash
cubed or halved
What's even better is that we are going to offer you three different ways to make this super easy recipe. With option one, all you need is the squash and water. This option only takes three minutes too!
Option two is just as quick but you need the oil to brown the squash first. And option three is even easier because all you have to do is halve the squash instead of cutting it into cubes. But it does take a few more minutes.
Whether you make this delicious dish using options one, two, or three, it only takes a few minutes and a couple of ingredients. As long as you have butternut squash and oil along with your instant pot, you can have this healthy and decadent dish as a side or an entrée in less than 10 minutes. This will end up being one of your favorite side dishes.
Ingredients needed:
This is going to be the shortest and simplest ingredient list ever! But for the exact measurements and instructions, check out our handy recipe card below. Here is all you need for this pressure cooker butternut squash recipe:
Butternut squash: Peeled, gutted, and cut into one-inch cubes. Or halved if you are using option three.
Water: Yes, just water.

Olive oil: Only if you are using option two.
How to make instant pot butternut squash from scratch?
Option one – Cubed and Steamed:
Trivet: To start, place the trivet into the bottom of your instant pot.

Just add water: Next, pour the water into the bottom of the pot.

Add: Then, put a microwave- and an oven-safe glass bowl on the trivet and add the squash to the bowl.

Cover: After, close the pot and turn the pressure valve to seal it.

Cook: Finally, set the pot to high pressure and cook butternut squash for three minutes.

Release: Last, release the pressure and remove the squash.
Option two – Cubed, Browned, and Steamed:
Saute: First, turn your instant pot to saute and pour in the olive oil.

Add: After you can smell the olive oil cooking, add the cubed butternut squash to the instant pot and cook for three or four minutes.
Season: Then, add salt and pepper to taste or any other seasonings you want and remove the squash.

Add water again: Next, put the trivet into the pot and pour in the water.

Cook: Then, place a microwave- and oven-safe glass bowl on the trivet and add the squash. Cover and seal, cooking on high for one minute.

Release: Last, quick release the pressure and remove the bowl from the pot.
Option three – Halved/Quartered and Steamed
Get the pot ready: To start, put the trivet in the bottom of the pot and add the water.

Add: Then, put both halves on the trivet and seal the valve.

Cook: Next, set the instant pot to high pressure and cook it for eight minutes.

Release: Finally, release the pressure and remove it from the pot.
Recipe variations:
Add some heat: Actually, for a spicy taste, add chili powder or red pepper flakes.

Butter it up: Alternatively, mix butter, brown sugar, and cinnamon and pour it over the squash before cooking.

For Thanksgiving: Also, add sage, rosemary, and thyme for a Thanksgiving flavor.

Roast it: Another option is for a crispier roasted flavor, to roast the cubes in the oven before cooking.
How to serve:
This dish can be served with butter, salt, and pepper right out of the bowl, or you can mash it and mix it with whatever seasonings you like. Or try one of these ideas:
As an option, mash it up with syrup and brown sugar for a sweet treat.

Similarly, top with marshmallow cream or this whipped cream.
Alternatively, puree it with Greek yogurt and serve it as a dip with tortilla chips.

Also, try to add chives for a nice tangy taste.
In addition, any kind of cheese is good on cooked squash.
How to store leftover butternut squash:
Store: Either if you cubed it or you mashed it, let the leftovers cool and after that add them to an airtight container. Next, store the leftovers in the fridge for 4-5 days.
Freeze: Actually, you can easily freeze this recipe. First, let the cubed or pureed squash fully cool. After that, add the contents to an airtight freezer-safe container or freezer-safe Ziploc bag. Next, freeze for up to 3 months.
Thaw: Finally, when ready to use, plan in advance and let the frozen squash thaw in the fridge overnight.
Reheat: Either microwave or saute for a few minutes.
More Similar Recipes:
Frequently asked questions
How do I peel and cut a whole squash?
Peeling and cutting your squash is typically the hardest part of any recipe. But there is an easier way to do it. Just a few minutes in the microwave can save you time and anxiety.
First, poke the skin all over with a fork. Then, slice off the ends. After, put the whole thing into the microwave for three and a half minutes on high. Finally, let it cool and peel away the skin easily. Then you can cut it with a chopper or slice it with a sharp knife.
How do I pick the best squash?
If you are not getting it from your garden, you will end up at the farmer's market or grocery store looking for that perfect one.
Actually, the best ones are a solid tan or beige color with no bruises or cuts. However, a few scratches are fine. And make sure it feels heavy. Remember, do not get one with brown spots or punctures.
Can I freeze a whole butternut squash?
You should not freeze a whole butternut squash. Actually, it is best to cut the ends, and then slice it into circles about a quarter of an inch thick.
However, you should also blanch it first by boiling it for one minute. Then drain and put into freezer bags. Hence, blanching before freezing will kill the enzyme that preserves the veggie.
Recipe tips:
Remember, when using cooking option three, be sure to cut the ends so the halves are not too wobbly.
Alternatively, use leftovers as a mash for these vegan mashed potatoes.
In addition, you can also puree the chunks and add them to this delicious sweet potato bread recipe or this yummy zucchini tomato soup.

Also, let the squash sit until room temperature if you have had it in the fridge or got it from the grocery store cold.