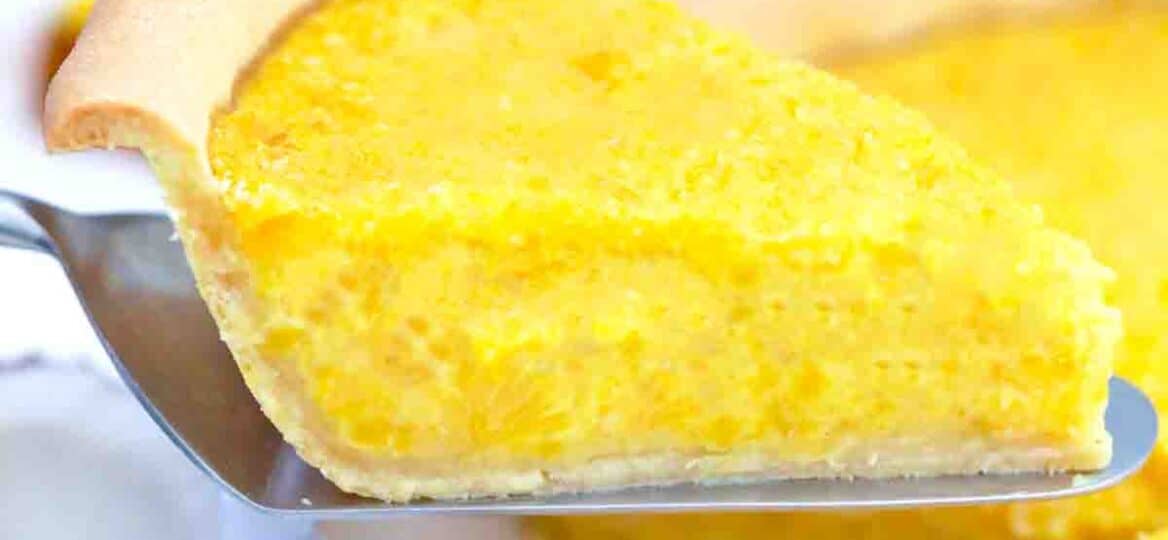 Pineapple Pie is a sweet and creamy dessert that is bursting with tropical flavors like coconut, pineapple, and fresh lime. You can use canned crushed pineapples, fresh pineapple, or frozen pineapple for this recipe, and it will still be absolutely delicious. This is one of the best recipes you have ever had and it will be perfect for a potluck or summer bbq party.
One way to serve this dish is as a dessert with this Pineapple Casserole made with pineapple chunks, ritz crackers, and pineapple juice. For other ways to enjoy pineapple, try this Pineapple Bread with gooey glaze or this Cinnamon Fried Pineapple recipe with maraschino cherries.
Do you like baking pies? You may be interested in knowing that the first pie was made by the Ancient Egyptians in 2,000 BC. It was filled with honey and covered in a crusty cake made with wheat, oats, or barley. A savory recipe for chicken pie was found on a tablet from 2000 BC as well.
If you like making pies, this pineapple pie recipe is super easy and delicious. There are only a few ingredients and little prep time so you can make it in minutes. The pineapple pie filling can be made with canned, frozen, or fresh pineapple, or make it with another fruit your family would enjoy.
Looking for other healthy recipes? Pineapple cucumber salad is amazing made with avocado, maple syrup, and chili sauce. Our chicken and broccoli stir fry is also a tasty and healthy meal to make with our pineapple pie. For another great fruit recipe that is low in fat and sugar, try these air fryer apple chips.
Ingredients needed:
These are the basic ingredients for baking this pineapple pie recipe. We have the exact measurements and instructions below on our recipe card.
Pie crust
Canned crushed pineapple: Any kind of canned pineapple will do.
Cream cheese
Shredded coconut
Zest of 1 lime
Juice of 1 lime
Coconut extract
White sugar
Brown sugar: We used light brown sugar.
Cornstarch
Salt
How to make pineapple pie from scratch?
Preheat: First, preheat your oven to 350 degrees F.
Mix the pineapple filling: Meanwhile, stir all the ingredients for the pie filling in a large bowl and then smooth it into the prepared crust.
Cover the pie: Next, if you are using a pie shell with a top crust, lay the top over the pineapple pie filling and crimp the edges before cutting a few slices in the top for steam vents.
Bake the pie: Finally, make sure your oven rack is in the center when placing the pie in the preheated oven and bake for 35 minutes or until the top crust is golden brown.
Cool and serve: Last, let creamy pineapple pie cool for 15 to 20 minutes before slicing and serving.
How to make stovetop pineapple pie:
Make the filling: First, combine all of the ingredients except the cream cheese into a medium saucepan. Bring to a boil over medium heat and then simmer on low for about 10 minutes until the mixture is thick and the liquid is mostly gone.
Cream cheese: Beat the cream cheese until creamy, and once the pineapple mixture has cooled, beat together to combine.
Chill the pie: Next, pour the pie filling into a no-bake crust and let it chill in the fridge covered with plastic wrap for at least two hours or overnight.
Cut and serve: Once it is completely chilled and set, it's time to eat!
Recipe variations:
Lemon: Use lemon juice and lemon zest instead of lime for a slightly different flavor.
Graham cracker crust: Use graham cracker pie crust instead of regular for a crunchier pie. You can use store-bought or your own graham cracker crust.
Cinnamon stick: For a unique taste, add a cinnamon stick to the mixture.
Fresh pineapple: You could also use fresh pineapple if you have the time and energy to cut it up.
Frozen pineapple: Alternatively, you can use frozen pineapple chunks instead.
Other fruit pies: You can make any kind of fruit pie you want with this recipe. Just replace the pineapple with what you like such as apples, pears, or peaches.
Pineapple extract: For extra pineapple flavor, use pineapple extract instead of (or in addition to) coconut extract.
Creamy pineapple pie: Add a package of vanilla pudding mix instead of cream cheese for an extra creamy dessert.
How to serve:
When you want something sweet and delicious but also a little bit healthy, this pineapple pie is perfect. You can make it any time and have this delicious dessert on the table in less than 45 minutes. Try one of our awesome serving ideas or one of your own.
Top with whipped cream, Cool Whip, or whipped topping for a creamy pineapple pie. Try my recipe for homemade whipped cream.
Use leftovers to make pineapple crisp. Check out our delicious recipe for this luscious dessert.
Sprinkle chocolate syrup and chocolate chips on top for chocolate lovers.
This scrumptious pineapple pie is the perfect dessert for slow cooker pineapple pork loin.
You could also toss a handful of chopped pecans or walnuts on top.
Our instant pot pineapple chicken is a delicious entree for this pie.
Skip the crust and just make the filling part. We call it pineapple coconut cake!
Frequently asked questions
How can I center my pie dough in the pan?
It can be difficult to get your dough centered in the pan. All you need is a rolling pin! First, wrap your dough around a rolling pin and then place it over the center of your pan. Carefully unwrap the dough and set it into the pan. Push the dough into the pan and on the sides before filling.
What is the recipe for Johnny Cash's pineapple pie?
Johnny Cash's mother used to make him the most delicious pineapple pie. Her recipe includes 1/5 cups sugar, 1/2 cup butter, one cup pineapple, three tablespoons of flour, one teaspoon of vanilla, and two eggs.
Preheat the oven to 350 degrees F, beat all the ingredients in a large bowl, and bake in a pie shell for 45 to 50 minutes.
How do you make lemonade pie?
For another type of easy fruit pie, this lemonade pie only has four ingredients. Just mix six ounces of lemonade concentrate, one can sweetened condensed milk, and eight ounces of whipped cream together and spoon it into a graham cracker pie crust. Chill for two to four hours before serving.
What are the nutrition facts for this pie?
One serving of pineapple pie has about 170 calories, 5 grams of fat, 30 grams of carbohydrates, 18 grams of sugar, and 175 grams of sodium. You also get 12 milligrams of calcium, 2 grams of protein, 2 grams of fiber, and 2 grams of iron.
How to store leftovers:
Store: Once the pie is cooled to room temperature, store leftovers in a covered pie pan or another airtight container. Eat it within three days.
Freeze: To freeze, wrap in plastic wrap and place in a freezer bag. Eat within three months.
Thaw: To thaw, put your pie in the fridge the night before.
Recipe tips:
Instead of just covering the pie with dough, why not use a nice lattice-crust design? Just roll your pie dough out on a floured surface and slice it into strips. Lay the strips across the top of the pie to make a lattice design.
Alternatively, use the excess dough to make designs on the pie. Just roll it out flat and use cookie cutters to make hearts, stars, or whatever you like. Then place them on top before cooking.
If the edges of the pie start getting too brown, cover with aluminum foil.
Keep your pie crust chilled until you are ready to use it for the best results.
The sugar can be adjusted to taste. If your pineapples are sweetened, use just half the amount of sugar.
For more pie recipes, check out our pies and tarts page.
Deliciousness to your inbox
Enjoy weekly hand picked recipes and recommendations