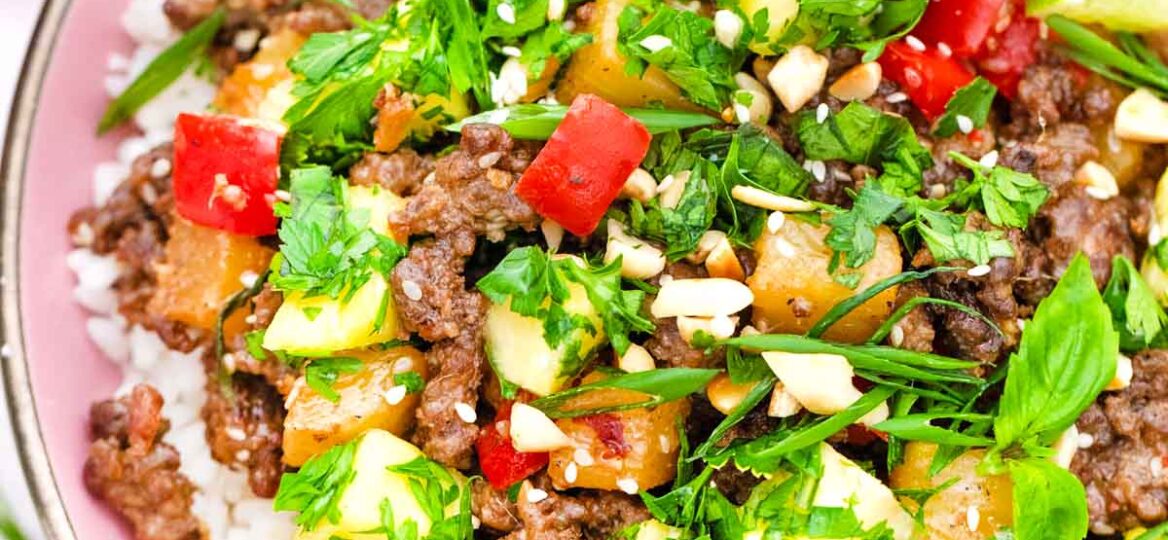 Pineapple Ground Beef Recipe – 30 Minutes One Pan
Pineapple Ground Beef is a delicious dish with sweet pineapple chunks, bell pepper, and crispy flavorful beef, in a sweet and spicy chili sauce. The chopped green onions, seeds, and tamari give it an Asian flavor and the peanuts make it extra crunchy for a mixed texture. This is one of those perfect recipes for busy nights because it only takes a few minutes to make. And you do not need any fancy cooking skills to prepare it.
Also known as ground Hawaiian beef or sweet and sour beef, this is a blend of Hawaiian and Asian flavors mixed to become a sensational meal. It is also considered to be a type of stir-frying. China started using the stir-fry technique about 1,500 years ago during the Zhou Dynasty. It was a way to heat food quickly over a hot fire.
If you love pineapple and beef, you need to try this delicious meal. To make our sweet and sour ground beef recipe, all you need are a few ingredients including ground beef, pineapples, and Thai chili sauce with green onions, red bell peppers, sesame seeds, and chopped roasted nuts. Then, add the herbs and spices for a burst of intense flavors in each bite.
Ingredients needed:
Here are the ingredients you will need for this great recipe. When you are ready to start cooking, scroll down to our printable recipe card for the complete instructions and exact measurements.
Lean ground beef
Thai chili sauce
Fresh pineapple chunks
Sesame seeds
Chopped green onions
Red bell pepper
Butter
Chopped garlic cloves
Chopped roasted peanuts
Tamari

Chopped cilantro
Lime juice
Chopped Thai basil
Chili flakes
Freshly grated ginger
Black pepper
How to make ground Hawaiian beef from scratch?
Brown the beef: First, mix the ground beef, chili flakes, and black pepper in a large skillet over medium-high heat, breaking up the beef until browned. This should take about five minutes.

Reduce heat: Then, turn to medium heat and add the ginger, garlic, and butter. Stir and cook for two minutes until the beef is crispy and the butter is brown. Drain excess grease.
Add remaining ingredients: Now, add the red bell peppers and one cup of pineapples. Pour the sweet chili sauce and tamari on top and mix well until it comes to a boil. Simmer uncovered for two to three minutes or until the beef is coated in the sauce. Then, mix in the seeds and green onions.
Make the pineapple mix: While that is cooking, toss the rest of the pineapple with the peanuts, lime juice, basil, and cilantro.

Serve hot: Finally, serve the beef with the pineapple mixture on top. Add green onions and serve hot.
How to make slow cooker Hawaiian beef from scratch?
Sear the meat: To begin, stir the beef, chili flakes, and black pepper in a large pan on medium-high for about five minutes or until browned.

Cook in the flavorings: After, stir in the butter, garlic, and ginger and cook for two minutes over medium. Be sure to drain the grease.
Add to slow cooker: Next, add your meat mix and the rest of the ingredients in the slow cooker and cover. Cook on high for four hours or on low for eight hours.
Garnish and serve: Last, serve over your favorite steamed rice or pasta with chopped green onions and pineapples.
Recipe variations:
Other vegetables: Feel free to add other veggies like green pepper (or any bell peppers), onion, broccoli, cucumber, carrots, or whatever else you like.

Other meat: If you want, you can also use ground chicken, turkey, or pork.

Soy sauce: Instead of tamari, you can use soy or even teriyaki sauce.

Pineapple juice: For even more pineapple flavor, add fresh pineapple juice to the pineapple mixture.

Brown sugar: Add a 1/4 cup of brown sugar to your sauce for extra sweetness.

Apple cider vinegar: Pour in a 1/4 cup of apple cider vinegar for even more flavor.

Lemon juice: If you do not like lime, switch it out with lemon juice instead.
How to serve:
This easy main dish is ready in less than 30 minutes and can be served as a side dish or a whole meal. We have some excellent serving ideas here but feel free to share your own ideas in the comments section at the bottom of the page.
If you want even more crunch, add some won-ton strips or crushed tortilla chips.

Try our tangy orange sauce on top of this delicious Hawaiian beef. This sweet and savory sauce is the perfect balance of both.
Sprinkle some red pepper flakes on top for an extra spicy kick.

This goes great on a bed of hot cooked rice. You can use white or brown rice. Try our easy recipe for coconut rice for a light and fluffy base.

Another way to top this delicious dish is with a dollop of tomato sauce. You could also use condensed tomato soup.

This Hawaiian beef also tastes fantastic on top of your favorite noodles. For a more Asian taste, try our soba noodles recipe.

For a fun kid-friendly meal, put a large spoonful of this beef mixture on slider buns for Hawaiian beef sliders.
Frequently asked questions
How do I make the sweet Thai chili sauce?
Making this delicious sauce is easy. Just mix together 1 clove grated garlic, 1 tablespoon freshly grated ginger, 2 teaspoons of tamari, 1 tablespoon of rice vinegar, 2 tablespoons of lime juice, 2 tablespoons of lime zest, 1 tablespoon of chili sauce, 2 tablespoons of ketchup, and 1/4 cup of honey. Stir well or put it in a jar with a lid and shake until thoroughly combined.
What is the best ground beef for this recipe?
We used 80/20 lean ground beef for our Hawaiian beef dinner to keep it from being too greasy. However, some people say it has more flavor if you use 70/30 instead. If you do, make sure you drain the grease thoroughly or your dinner will be swimming in oil.
Why do people add vinegar to beef?
Not only does the vinegar help tenderize the beef, but it can also give it a zesty tang to make recipes like this even more flavorful. The acid in the vinegar breaks down the proteins to make it more tender. The proteins will then bond together to trap in the liquid, giving it a juicier texture.
What is the difference between Thai and regular basil?
The main difference is the taste. Regular basil, also known as sweet basil, is known for its sweet taste with light peppery hints. Thai basil is spicier with a taste like licorice or anise. It is used to enhance Asian and southern recipes or anytime you want the taste of basil without all the sweetness. This recipe calls for the Thai variety, but you can use regular basil if you want it sweeter.
What are the nutrition facts in this recipe?
Each serving of this dish has 385 calories, 21 grams of fat, 9 grams of saturated fat, 1 gram of trans fat, 22 grams of carbs, 79 mg of cholesterol, 815 mg of sodium, and 16 grams of sugar. But it also has 22 grams of protein, 3 mg of iron, 45 mg of calcium, 69 mg of vitamin C, 650 units of vitamin A, 1 gram of fiber, 550 mg of potassium, and 8 grams of unsaturated fat.
More recipes with pineapple:
How to store leftovers:
Store: If you have any leftover Hawaiian rice and beef, put it in an airtight container and refrigerate for up to five days.
Freeze: To save it longer, put it in a freezer bag and it will stay fresh in the freezer for about three or four months.
Thaw: Put your frozen leftovers in the fridge overnight to thaw for the best results.

Reheat: To reheat, just put it in a frying pan on low to medium for several minutes or in the microwave for 60 to 90 seconds.
Cooking tips:
Instead of chopped pineapple, you could use crushed pineapple or pineapple tidbits.

To shorten prep time, you could use prepared Thai chili sauce instead of homemade and canned pineapple instead of fresh.
Ketchup is good with everything, and it gives this dish an extra dimension of tanginess. And kids love it!
Use lean ground beef for the best results and less fat.

Prepare your meat ahead of time and store it in the fridge until you are ready to begin.

You can use any sauce you like with this dish.

Similarly, feel free to use other seeds like sunflower or pepitas.
For more great recipes, check out our food blog. We add new ones every day.
Pineapple Ground Beef
Ingredients
1 1/2

pounds

ground beef

you can also you chicken, turkey, or pork

1/4

teaspoon

black pepper

1/4

teaspoon

chili flakes

3

tablespoons

unsalted butter

4

cloves

garlic

minced

1

tablespoon

fresh ginger

grated

1

red bell pepper

seeds removed and cut into chunks

2

cups

fresh pineapple chunks

1/3

cup

soy sauce

or tamari for GF

1/4

cup

Thai chili sauce

you can also use homemade

1/4

cup

green onions

chopped

1

tablespoon

sesame seeds

1 1/2

cups

cilantro

chopped

1/2

cup

Thai basil

chopped

2

tablespoons

lime juice

1/4

cup

unsalted roasted peanuts

chopped
Instructions
Place a wok or a large skillet, over medium heat and add the beef, black pepper, and chili flakes. Cook it breaking up the meat with a wooden spoon until browned, about 4-5 minutes.

Next, add the butter, garlic, and ginger, stir, and cook for 2 more minutes, until the beef gets crispy.

After that, add the bell pepper chunks and 1 cup pineapple chunks.

Also, add the soy sauce, and sweet chili sauce, stir, and cook until the sauce coats the beef, 2-3 minutes.

Mix in the green onions and sesame seeds. Remove from the heat.

In a medium bowl, toss the remaining 1 cup pineapple chunks with the chopped cilantro, basil, lime juice, and peanuts.

Serve the beef over bowls of rice and top with the pineapple cilantro salad. Enjoy!
Deliciousness to your inbox
Enjoy weekly hand picked recipes and recommendations