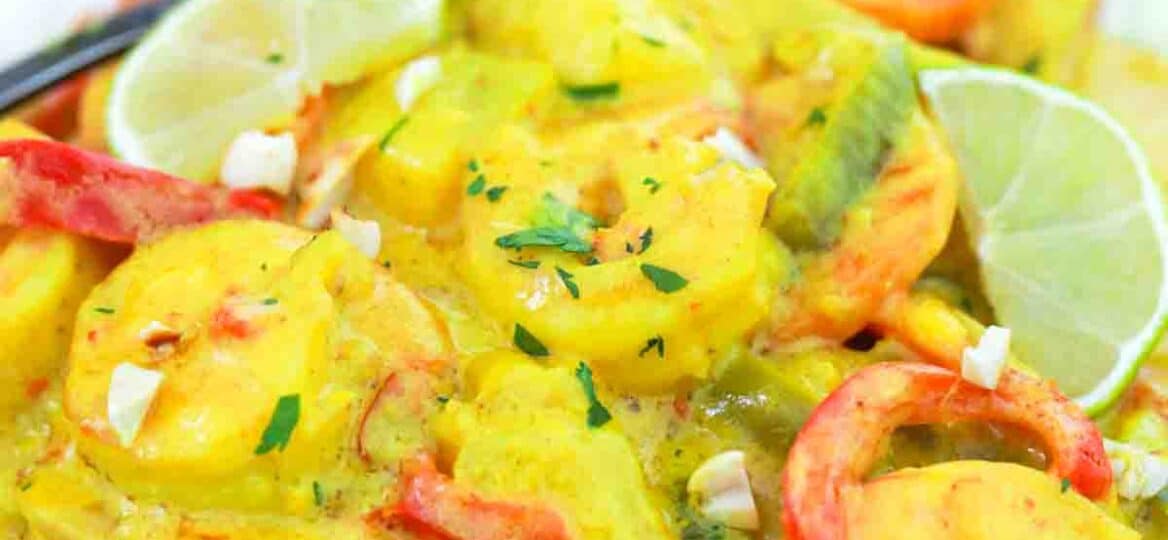 Pineapple Coconut Shrimp Curry Recipe
Pineapple Coconut Shrimp Curry is sweet and tangy with a bit of crunch and fresh vegetables, coated in a creamy and flavorful coconut sauce. The pineapple adds just the right amount of sweetness to the spiciness of the curry and chili pepper, so it is not too sweet or too spicy. Low in saturated fat and high in flavor, this is one of the best Thai shrimp recipes you will find.
Looking for other main dishes to try? Our Crispy Orange Shrimp made with orange juice, maple syrup, and sesame seeds is outstanding. And this Coconut Curry Chicken made with yellow curry, red curry paste, and coconut milk is delicious. For something different, try our Cajun Shrimp and Sausage dinner made with andouille sausage, okra, and mushrooms.
Thai food dates back to those who migrated from China to Thailand many centuries ago. In fact, it is thought to be approximately 1,400 years old. The most common ingredients used at the time were vegetables, herbs, and seafood.
Curry is actually an Indian food that dates back to 2600 BC. When the two finally met, amazing recipes were made. This pineapple curry shrimp with coconut milk is both hot and creamy with a mild yellow curry and lots of crunchy fresh veggies.
If your family enjoys Thai dishes and you want to try something different, this dish is a perfect recipe for shrimp and pineapple lovers. If you are looking for easy recipes and you love pineapple, serve this pineapple salsa on the side made with red onion, jalapeno, and lime juice.
You can also find other delicious recipes on our food blog like this Szechuan chicken with hoisin sauce and brown sugar and our honey garlic chicken wings seasoned with honey, garlic, and sesame oil.
Ingredients needed:
You do not need much to make this Thai pineapple shrimp curry recipe. Just gather these ingredients and when you are ready, scroll down to our recipe card for the complete instructions and exact measurements.
Deveined shrimp: Peeled and with the tail on.
Whole fat coconut milk: Unsweetened.
Cream of coconut
Olive oil
Fresh ginger: Finely grated.
Garlic cloves: Minced.
Onion: Sliced thin.
Red bell peppers: Quartered, seeded, and sliced.
Green bell pepper: Quartered, seeded, and sliced.
Red chili pepper: Chopped.
Carrots: Sliced thin.
Yellow curry powder
Yellow curry paste
Pineapple juice
Lime juice
Zest of 1 lime
Fresh pineapple chunks
Roasted peanuts: Chopped.
Fresh cilantro: Chopped, for garnish.
Kosher salt: To taste (starting with one teaspoon).
How to make pineapple shrimp curry recipe?
Prepare the shrimp: First, heat oil in a large skillet or pot over medium-high heat. Then, add raw shrimp and just a sprinkle of salt. Continue to cook until they are no longer pink, stirring occasionally, and set aside.
Make the sauce: Next, add curry paste, the garlic, ginger, and curry powder to the pot and bring to a boil, cooking for about one minute, until it is fragrant.
Add the veggies: Then, add veggies and turn the stove down to medium heat. Cook for about 10 minutes, until tender.
Finish cooking: After, add coconut milk and the remaining ingredients except for the peanuts and turn it to medium-low after it comes to a simmer. Let it cook for 30 minutes to two hours until the sauce thickens.
Add shrimp back: Last, throw in the shrimp and cook for a few more minutes.
Serve curry pineapple shrimp: Finally, garnish with cilantro and peanuts and serve atop a bed of white rice.
Recipe variations:
Another oil: You can use vegetable oil, coconut oil, or whatever cooking oil you like.
Fish sauce: For a richer flavor, add fish sauce to your shrimp and pineapple curry.
Soy sauce: You can also use soy sauce. I recommend the low sodium type.
Canned pineapple: You can use frozen or canned pineapple if you do not have fresh.
Heat it up: For an extra kick of spiciness, add red pepper flakes or red peppers.
Add-ins: Feel free to add something else you like such as bamboo shoots, baby corn, tofu, and shallots.
Other meat: If you have a guest who does not like shrimp, you can use chicken, pork, or beef.
Palm sugar: Use palm sugar for less glucose and a lower glycemic index.
Other fruit: Try adding other fruit instead of or in addition to the pineapple. Some good ideas include mandarin oranges, pears, or apples.
How to serve:
This pineapple coconut curry shrimp is an easy dinner recipe for any weeknight meal. It is a flavorful filling meal you can serve with or without rice. Try one of these serving ideas or one of your own:
This delicious recipe goes perfectly with whatever type of curry sauce you like. Or try one of our favorite sauces like this sweet and tangy orange sauce.
You can use any kind of steamed rice instead of white like brown, basmati, or jasmine rice.
For a side dish, try green beans, butternut squash, or a fresh salad. This pear salad would be a great recipe to try.
If you are on a low-carb diet, try our cauliflower rice recipe.
Sprinkle a bit of extra garlic and onion powder on top before serving for extra flavor.
You can use leftovers to make a casserole or add it to a salad. Try it in our crunchy and creamy shrimp salad.
Instead of rice, you can also put this dish on top of your favorite pasta.
Frequently asked questions
What is the difference between green, yellow, and red curry paste?
You will find some kind of Thai curries in almost every Thai food recipe. Green curry paste is the hottest, seasoned with basil, green chilis, and kaffir lime leaves. Thai red curry paste is a bit milder, made with red chilis.
Yellow is the mildest, made with cinnamon, turmeric, and cayenne pepper. There are others like Massaman curry paste, which is mild and sweet, and Penang curry paste, which is rich, sweet, and dry.
What kind of rice should I use for this recipe?
The recipe calls for white rice, but you can use any kind you like. Many Thai dishes use jasmine, but another favorite is basmati. However, you can use long-grain white rice, brown rice, or mysterious black rice. The best way to cook your rice is to steam it but you can also boil it or stir fry it as well.
Does it matter what kind of shrimp I use?
Believe it or not, there are more than 300 different kinds of shrimp. Some of the most common ones include tiger, pink, rock, Atlantic, and Chinese white shrimp. They all come in different sizes too from salad style, which is the tiniest, to the extra colossal shrimp that only come 10 per pound.
What are the nutrition facts in this recipe?
This is a delicious Thai dish that has a lot of vitamins and minerals. For instance, there are 3,500 units of vitamin A, 1,000 milligrams of potassium, 20 grams of protein, 200 milligrams of vitamin C, and 150 milligrams of calcium. You get 450 calories per serving with 40 carbs, 26 grams of fat, and 140 milligrams of cholesterol.
How to store leftovers:
Store: If you have leftover pineapple coconut curry shrimp, put it in a sealed container in the refrigerator. Just be sure to eat it within three days or you will have to freeze it.
Freeze: Pack it into a freezer bag and keep it for about two months.
Thaw: Be sure to thaw it in the fridge overnight before serving for the best flavor.
Reheat: To reheat, pop it into the microwave for 30 to 90 seconds, depending on how much you are reheating.
More shrimp recipes:
Cooking tips:
Be sure to use large shrimp, peeled and deveined, for best results.
Squeeze the excess juice out of your pineapple before using it so it can soak up the curry and other flavors.
It is best not to freeze shrimp that has already been frozen before so you cannot freeze your leftovers unless you use fresh shrimp.
Also, you cannot reheat this dish more than once. Not only does it make the shrimp rubbery, but it can spoil that way.
To shorten prep time, use precooked shrimp and you can skip the first step.
You can also serve the pineapple on the side for those who do not like pineapple.
The longer you simmer, the thicker the sauce. So, if you like thinner curry, just simmer for 30 minutes or less.
Pineapple Coconut Shrimp Curry
Ingredients
1

lb

shrimp

deveined and tail-on

1

tablespoon

olive oil

2

teaspoons

fresh ginger

grated

4

cloves

garlic minced

1

small yellow onion

thinly sliced

1

red bell pepper

seeded and sliced

1

green bell pepper

seeded and sliced

1

red chili pepper

chopped

1 1/2

cups

carrots

sliced

1

tablespoon

yellow curry powder

2-3

tablespoons

curry paste

2

cans

full-fat unsweetened coconut milk

13.5 ounces each

1 2/3

cups

cream of coconut

6

ounces

pineapple juice

Juice of 1 lime

Zest of 1 lime

3

cups

fresh pineapple chunks

1/3

cup

roasted peanuts

chopped

Fresh cilantro

chopped for garnish

Kosher salt

to taste
Instructions
Place a large deep cast iron skillet or dutch oven, over medium-high heat and add the oil. Once hot add the shrimp and season it lightly with salt.

Cook until no longer pink and set aside on a plate.

Add the curry paste, curry powder, fresh ginger, and garlic. Stir and cook until fragrant, about 1 minute.

Next, add the veggies, stir and turn the heat to medium. Cook until tender, about 10 minutes, stirring from time to time.

Add the remaining ingredients except for the chopped peanuts, stir and bring the mixture to a simmer.

Turn heat to medium-low and allow to cook for 20-30 minutes.

Stir in the shrimp and cook for a few more minutes.

Serve over cooked white or brown rice. Garnish with cilantro and chopped peanuts.
Deliciousness to your inbox
Enjoy weekly hand picked recipes and recommendations