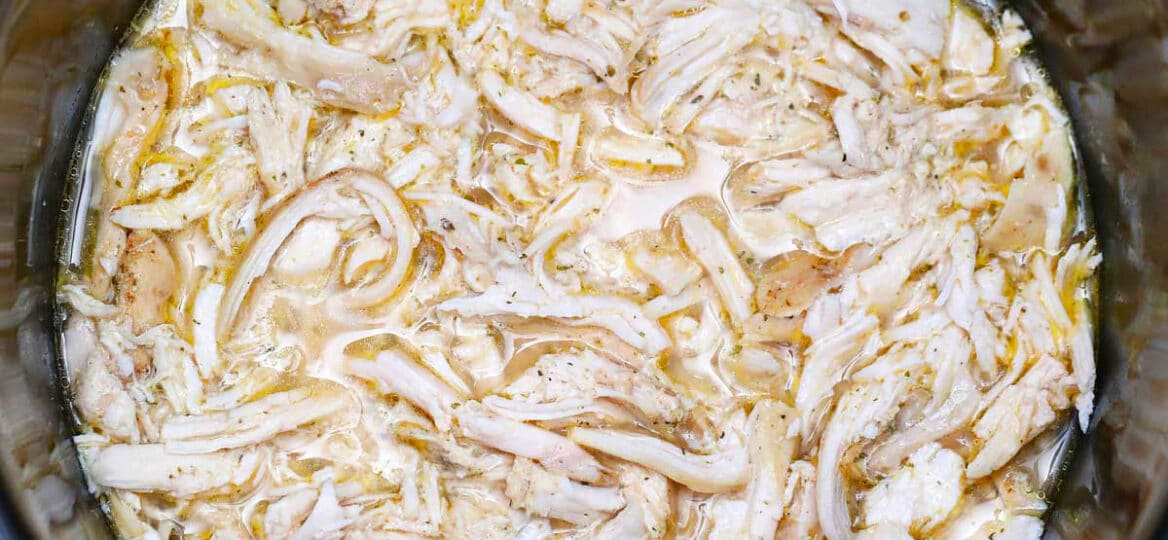 Slow Cooker Chicken Breasts [Video]
Slow Cooker Chicken Breasts are tender, juicy, and perfectly seasoned with your favorite herbs and spices! Perfect for salads, wraps or just served on a bed of rice.
I happened to score lots of chicken breasts the other day and now, we're feasting on them with this easy recipe. It is versatile and you can use it in many other dishes like Crack Chicken Pasta Salad, Tuscan Chicken Pinwheels, and Chicken Noodle Soup!
Crockpot Chicken Breasts Recipe
Slow Cooker Chicken Breasts is just one of the many dishes that show how practical it is to prepare dishes using the crockpot. I love serving this along with vegetable-based sides and some pasta.
But honestly, I can eat this on its own. White meat naturally is not as flavorful as the other parts of the bird because it is very lean. This is a good recipe to make it juicier and tastier.
I sometimes crave a simple dish like this because I get to taste every bit of it without so much going on. The natural flavors come out beautifully after hours in the crockpot. And despite the lengthy cooking time, you will not have to watch over it every single minute.
And you can make tons of other recipes with the leftovers which makes it all the more practical!
How do you make Slow Cooker Chicken Breasts
Mix: Prepare the dry rub by combining the seasonings and spices in a small bowl.
Season: Season the meat with the spice mix you prepared. Make sure to coat all sides.
Set: Before placing the meat, add in the broth and stir in butter until it melts in the crockpot. And in placing the meat, arrange the pieces in a way that overlapping is minimized. Then, add the citrus and herbs.
Cook: Place the lid properly and cook on low for 3 hours.
Can you put frozen Chicken Breasts in the Slow Cooker?
Technically, you can but I do not recommend it. It might not cook as evenly as it would if it were thawed properly.
And more importantly, if you do that, you are putting your health at risk.
The heat in the crockpot may not be enough to quickly raise the temperature to the safe level of 165 degrees Fahrenheit. It is simply not designed that way as you may observe.
What I can advise is to thaw it. Believe me, I have gone through days when I simply forgat to take out my frozen meat to thaw in the fridge from the night before.
What you can do is put the meat, sealed in the bag, in cold water. After a while, it will thaw perfectly for this recipe!
A great and quick option is to cook the frozen chicken breasts in the Instant Pot.
Can I use boneless chicken thighs?
Sure! You can even use bone-in ones, whatever is available. This part is even more flavorful and juicy. You may want to brown it first.
I even have a recipe for the whole bird. But for this one, you do not need to add water. You can also check out this similar crockpot recipe wherein I used thighs in a sauce made with brown sugar and garlic.
Can you overcook Chicken in the Slow Cooker?
Yes, it is possible so you should check it once the recommended time is up. It is done when the meat is tender already, with clear juices if you cut through it, and the thermometer reads at least 165 degrees Fahrenheit.
When overcooked, it can become overly dry. But what is good about this specific recipe is that we added in broth to ensure juiciness. Another remedy is to serve it with gravy.
How to store leftovers:
You can refrigerate the leftovers for up to 4 days. Place them in airtight containers once they have cooled down and that must be done within two hours of sitting out.
More delicious Slow Cooker recipes
Recipe Tips: