Slow Cooker Vegetarian Minestrone Soup
Slow Cooker Vegetarian Minestrone Soup could be your busy weeknight dinner lifesaver! It is healthy, hearty, and the perfect way to use up leftover veggies!
This dish is an easy soup recipe from the Italians. Don't you just love Italian cuisine? I love their Chicken Alfredo, Penne Alla Vodka, and Lemon Chicken Piccata among others. Try them all, too, and let me know what you think!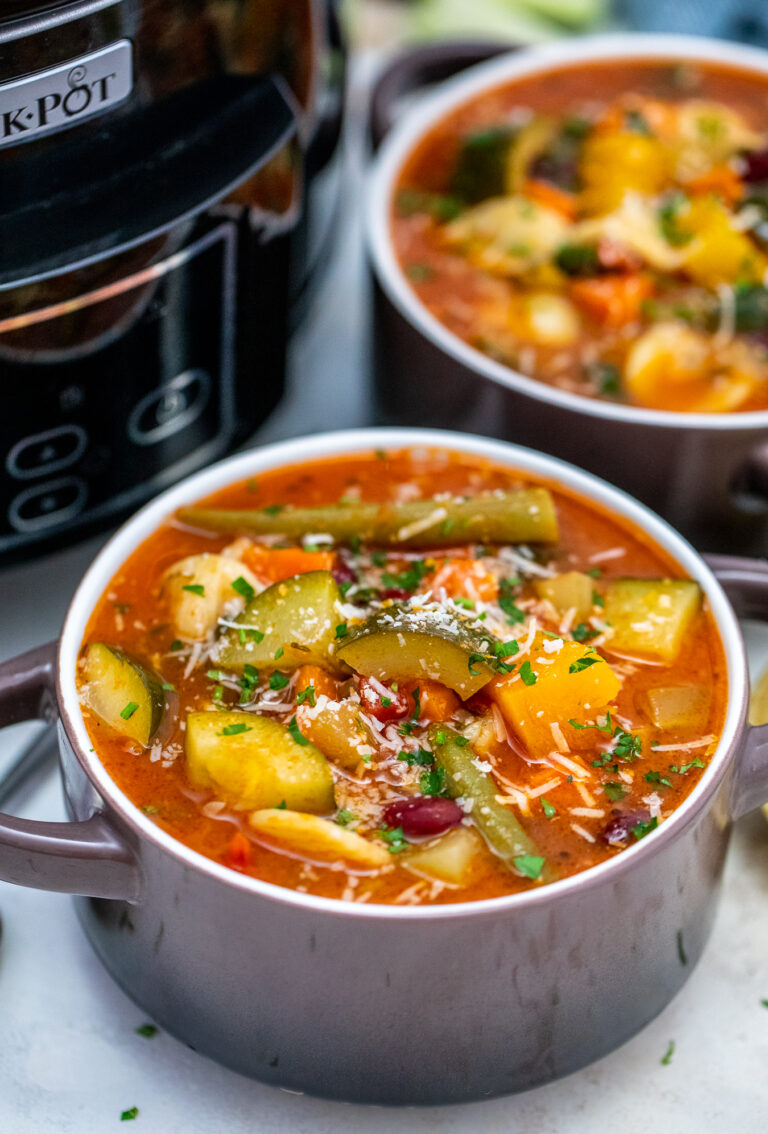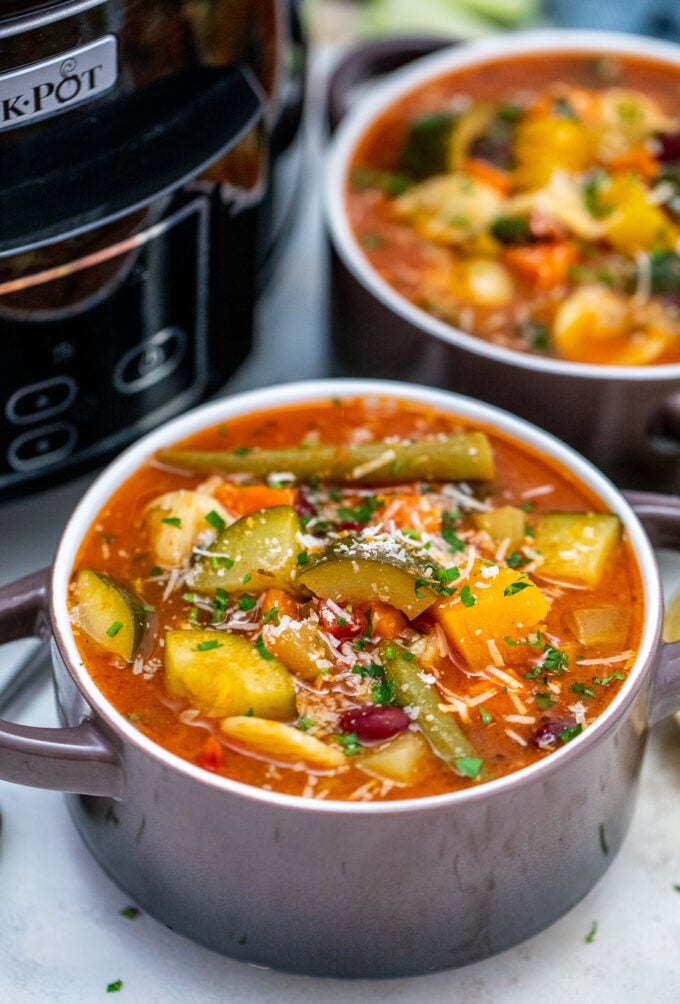 Crockpot Vegetarian Minestrone Soup
Slow Cooker Vegetarian Minestrone Soup is highly versatile with its ingredients, but the regular ones on the list are pasta or grains and beans. Using the crockpot for this recipe is just apt for a no-fuss dinner on a cold night!
There is nothing more comfortable than sipping warm soup when the temperature is lowered down. It warms you up and uplifts your mood instantly. And this time of the year is the perfect time to upgrade your regular menu rotation at home to include this minestrone soup recipe.
My family just loves this dish with its rich flavors and colors! It looks appetizing with all the different veggies and the flavors turn out amazing each time.
Depending on the leftovers for the day, you can make variations of this recipe. But the ingredient list I included in this post is the most complete of the key vegetables that an ideal minestrone soup should have.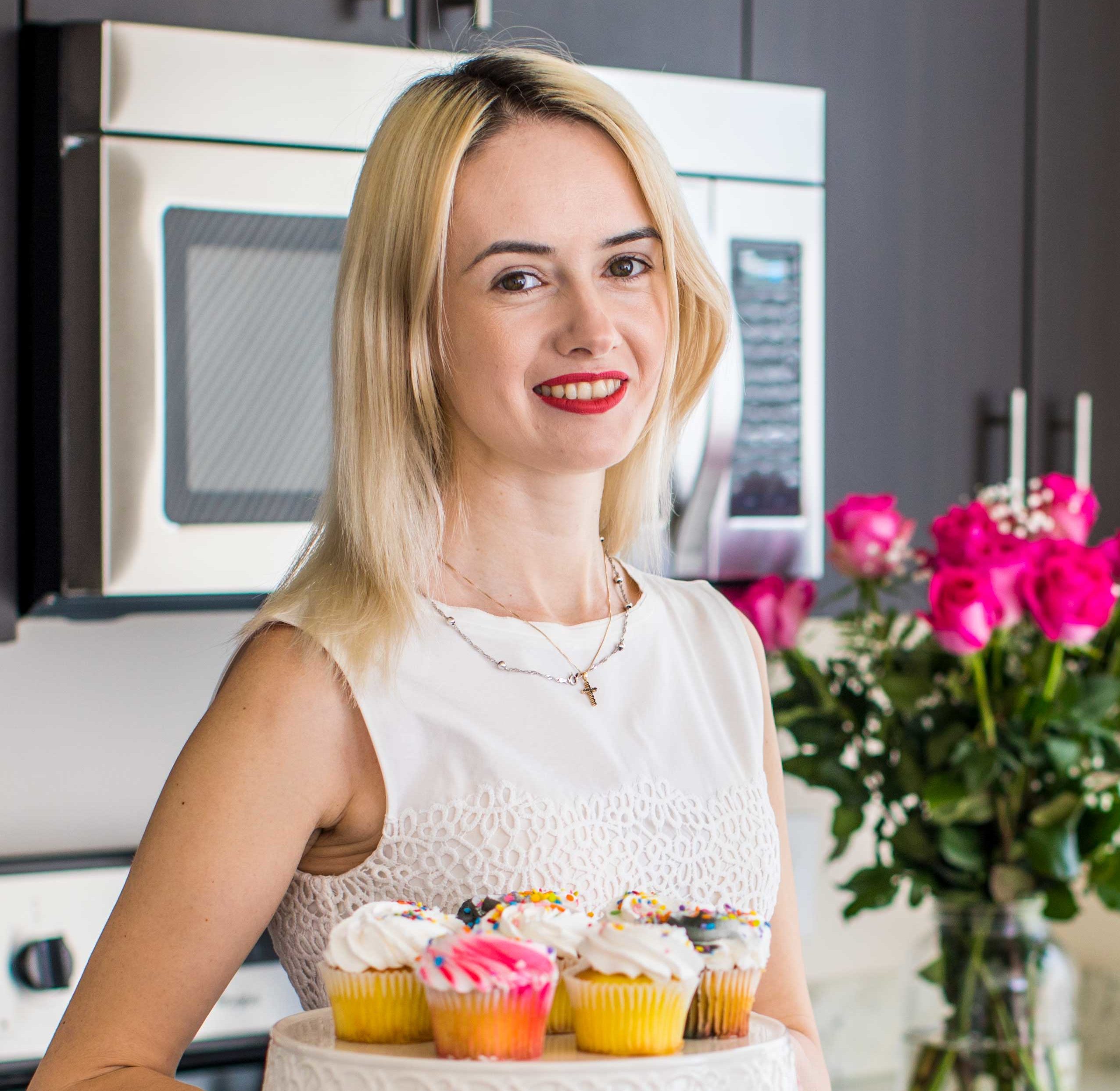 Follow us on Pinterest for more delicious recipes!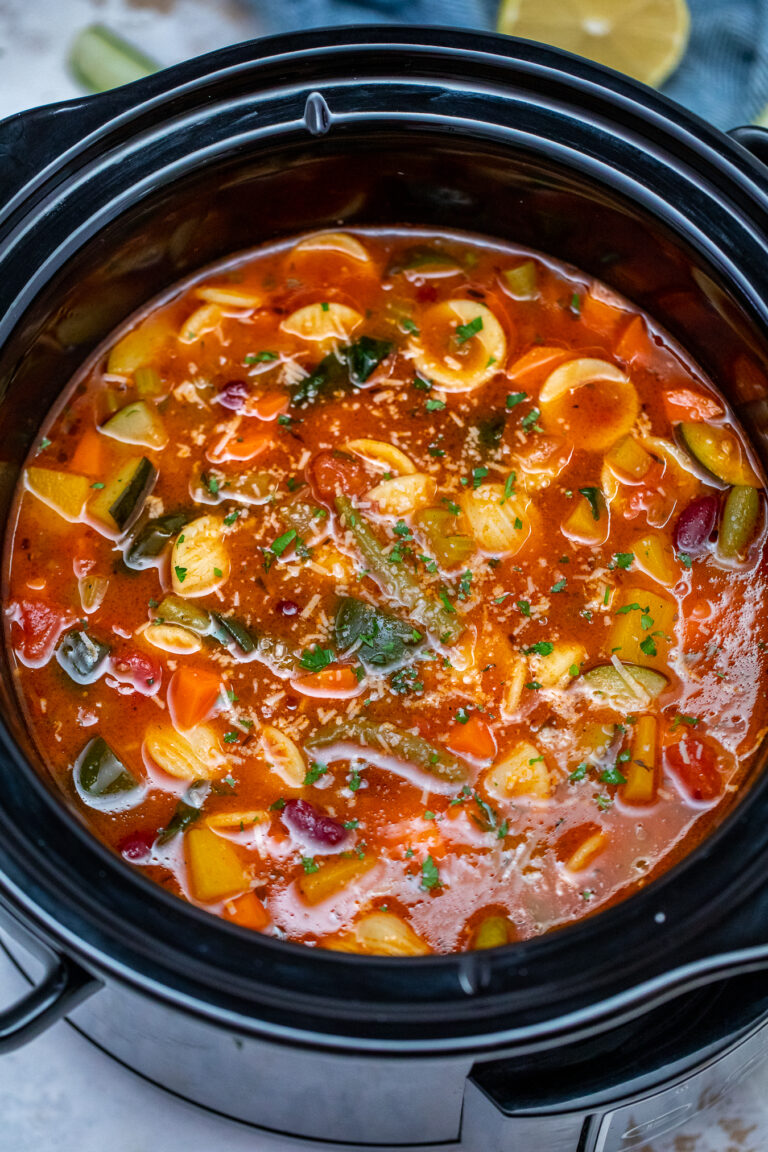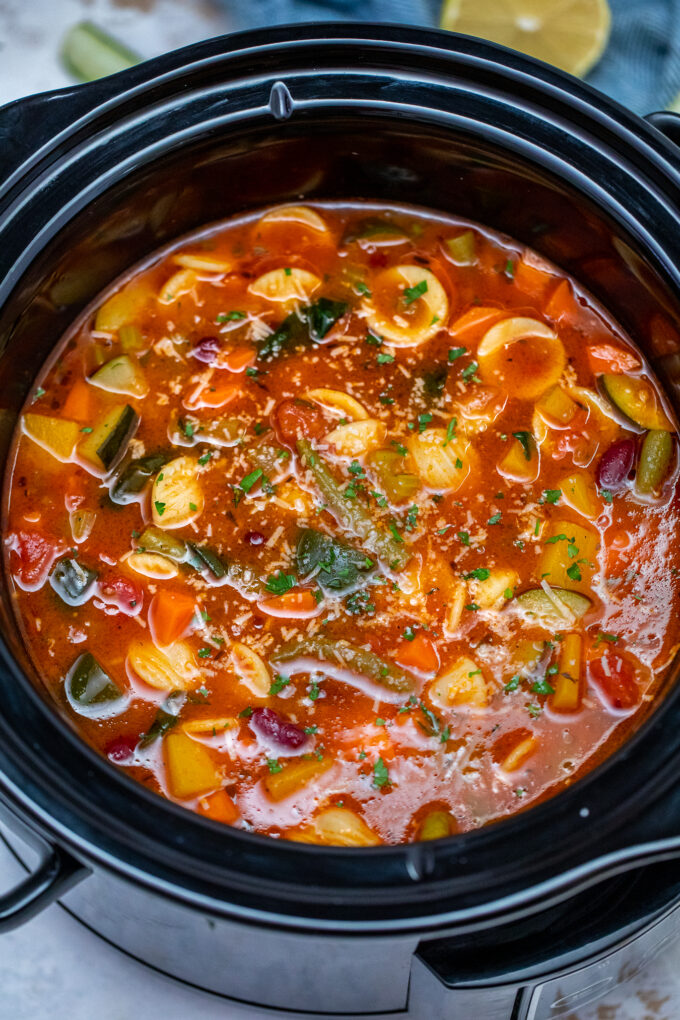 What is Minestrone Soup?
It is a tomato-based dish that originated in Italy, which includes pasta and beans and vegetables like celery and carrots as the key ingredients. It initially started as a staple food that utilizes leftover veggies and was somehow regarded as a poor man's food.
But throughout the centuries, it remained to be a favorite not only among the Italians but people all over the world. And you may use fresh vegetables, of course!
What vegetables go into it?
Tomato, carrots, celery, and aromatics like garlic and onion are the typical ones. This recipe calls for an addition of zucchini, butternut squash, and baby spinach. The beans are green and pink. Aside from the diced tomato, tomato paste is also added.
You can vary this line-up as long as you have the basic ones. Then, you can add in any vegetables that you have on hand like potatoes or those in season.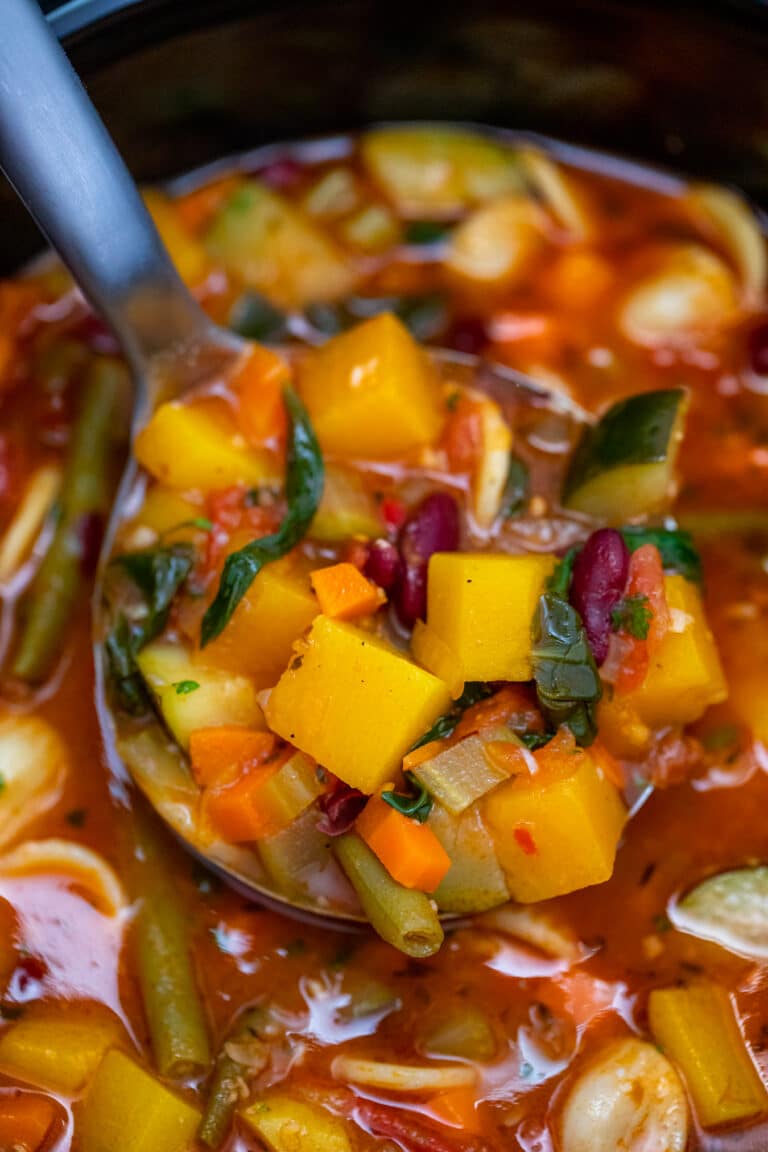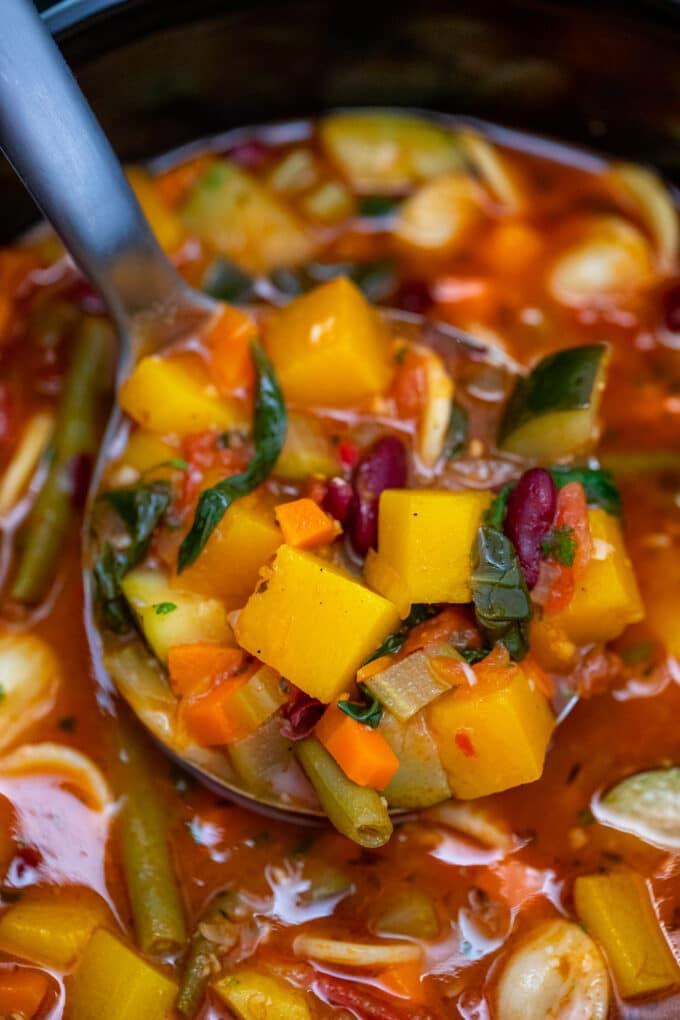 How to make Slow Cooker Vegetarian Minestrone Soup:
Sauté: Heat up the olive oil and sauté the garlic and onions.
Combine: In the crockpot, put the rest of the veggies along with the spices and seasonings except for the spinach and parsley.
Cook: Cook for 6 to 8 hours on low or 3 to 4 hours on high.
Add the pasta and other veggies: In the last thirty minutes or so, add in the pasta and spinach and cook on high.
Serve: Garnish with parsley and parmesan cheese if you like. Then, serve warm!
How to make Olive Garden Copycat Minestrone Soup:
This recipe somehow is already an Olive Garden Copycat of their minestrone soup. It has the same mix of vegetables that Olive Garden uses.
Can I make minestrone soup on the stovetop?
Yes, you can easily make it on the stovetop as well. For this Stovetop Vegan Minestrone Soup recipe for the stovetop version of it.
How to make it in the Instant Pot?
Here is the link to Instant Pot Minestrone Soup. Making it in the Instant Pot is convenient and very simple. It is ready in less than 20 minutes, just ideal for busy weekdays!
How to store:
Refrigerate: Cool it completely and transfer it into an airtight container. Put it in the fridge and it will stay good for 4 days.
Freeze: To freeze it, put it in a freezer bag. Squeeze out air and seal. Lay the freezer bag flat in the freezer, keep for up to 6 months. To reheat, transfer the bag from the freezer to the fridge a night before you intend to serve it. Then, reheat on the stove.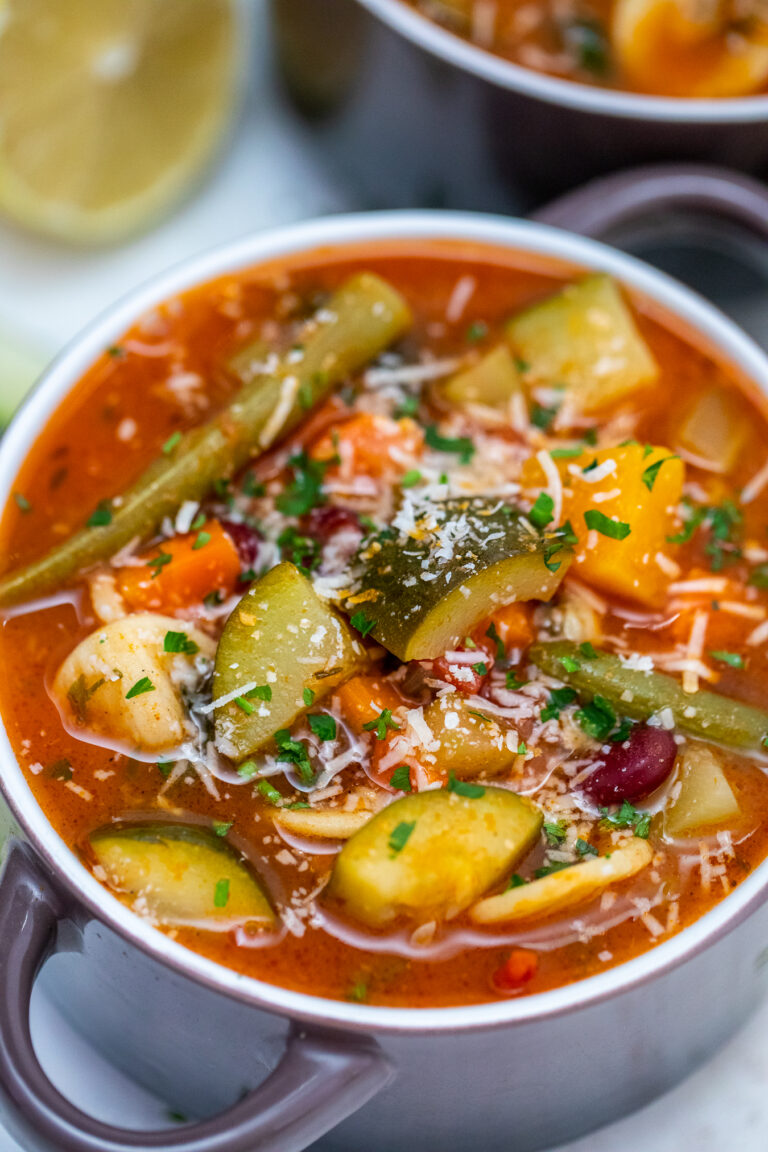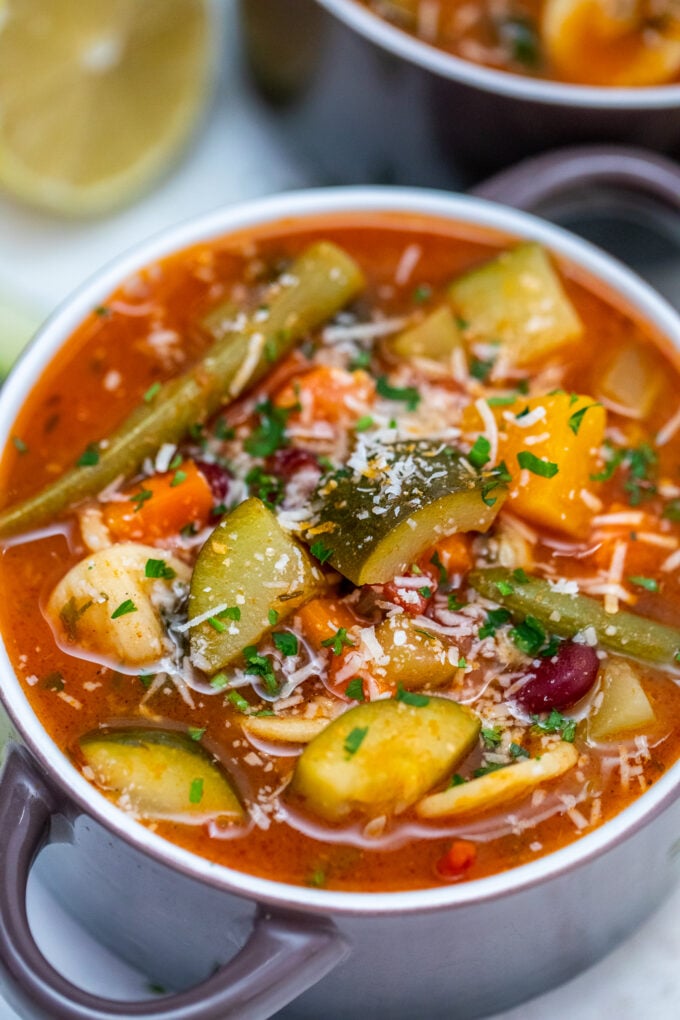 More delicious Slow Cooker Recipes:
Recipe Tips:
You can use cooked pasta for this recipe, too. Simply add it towards the end of the cooking, just enough to heat it through.
Serve it with a baguette, some breadsticks, dinner rolls, or pizza.
Also, to make it gluten-free, use gluten-free pasta.
If you do not have shells or elbow for the pasta, you can use penne or the traditional ditalini.
Feel free to use other veggies in this recipe. Anything you like can be used here.
Save Recipe
Slow Cooker Vegetarian Minestrone Soup
Slow Cooker Vegetarian Minestrone Soup could be your busy weeknight dinner lifesaver! It is healthy, hearty, and the perfect way to use up leftover veggies!
Author: Catalina Castravet
Serves: 6 bowls
Prep time:

30

minutes
Cook time:

10

hours
Total time:

8

hrs

30

mins
Nutrition information
Calories: 208 Carbohydrates: 30 Protein: 7 Fat: 8 Saturated Fat: 2 Cholesterol: 4 Sodium: 1588 Potassium: 635 Fiber: 4 Sugar: 8 Vitamin A: 7113 Vitamin C: 30 Calcium: 152 Iron: 2
Save Recipe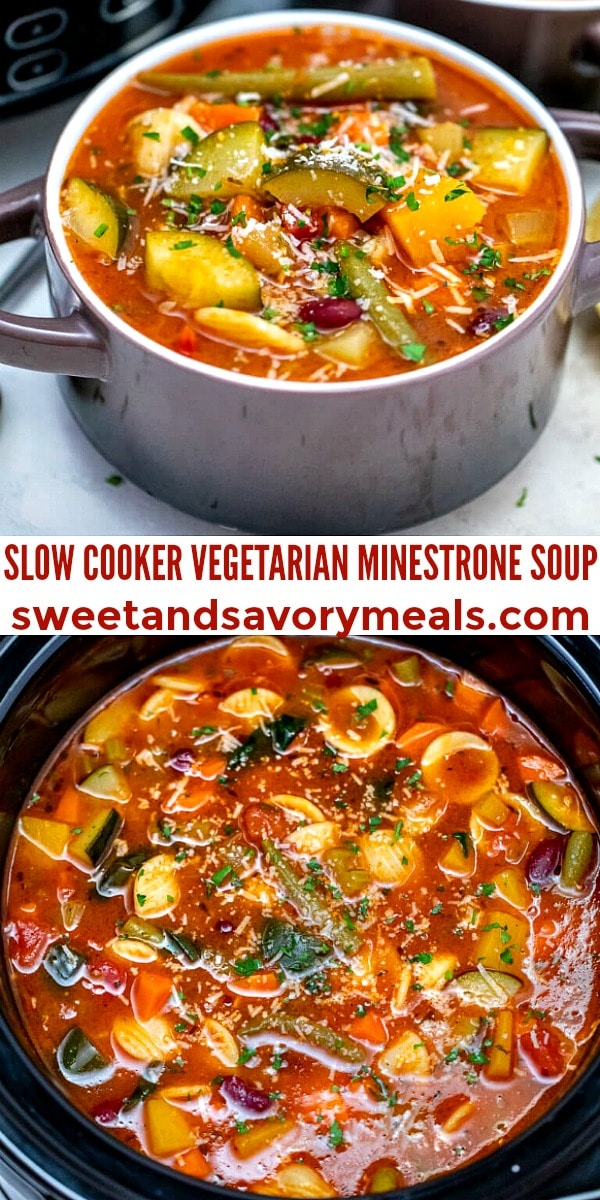 More recipes you might love
Categories: