Turkey Stuffed Peppers [VIDEO]
Last updated on June 18th, 2021 at 07:18 pm
Turkey Stuffed Peppers are an easy, healthy and super delicious dish that is perfect for dinner. They are stuffed with brown rice, ground turkey, onion, garlic and are one of the most satisfying meals we have ever made. Watch recipe step by step video below.
We love how presentable they look, and how flavorful they taste. We cut the peppers in half and use as a serving vessel, which makes them even more special. You can serve them as is, or with some roasted asparagus, roasted bok choy, or with a French green bean salad.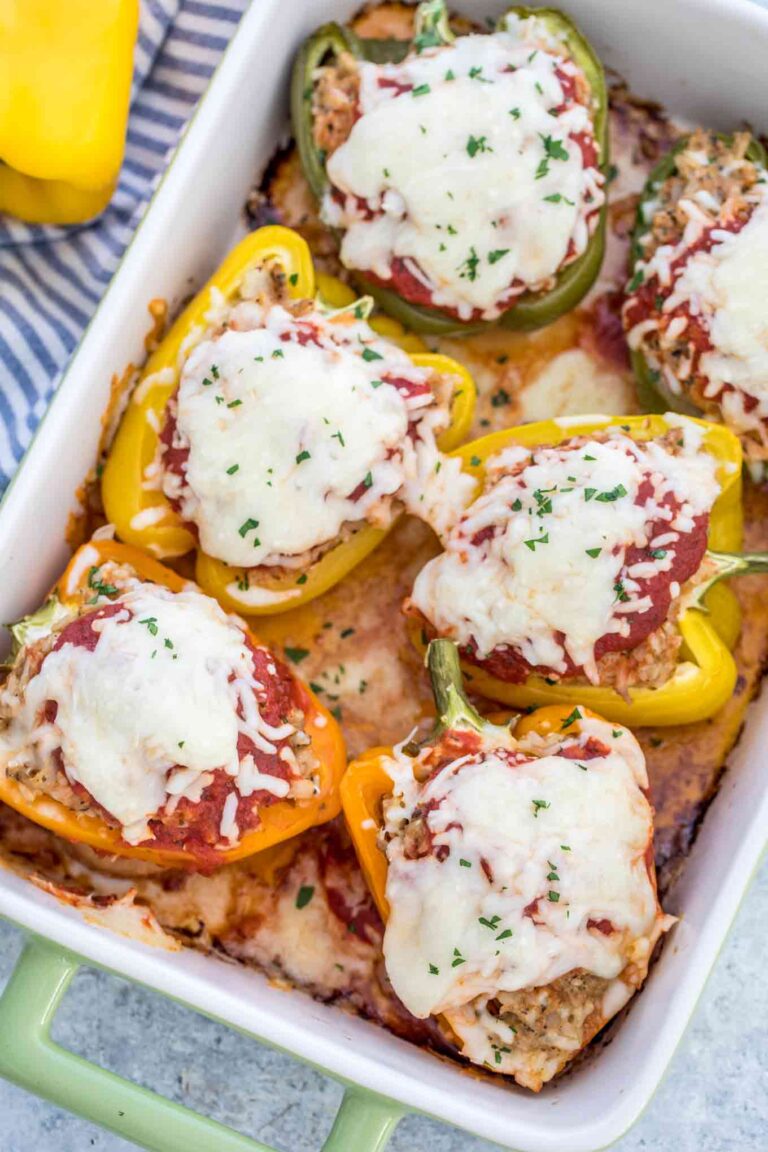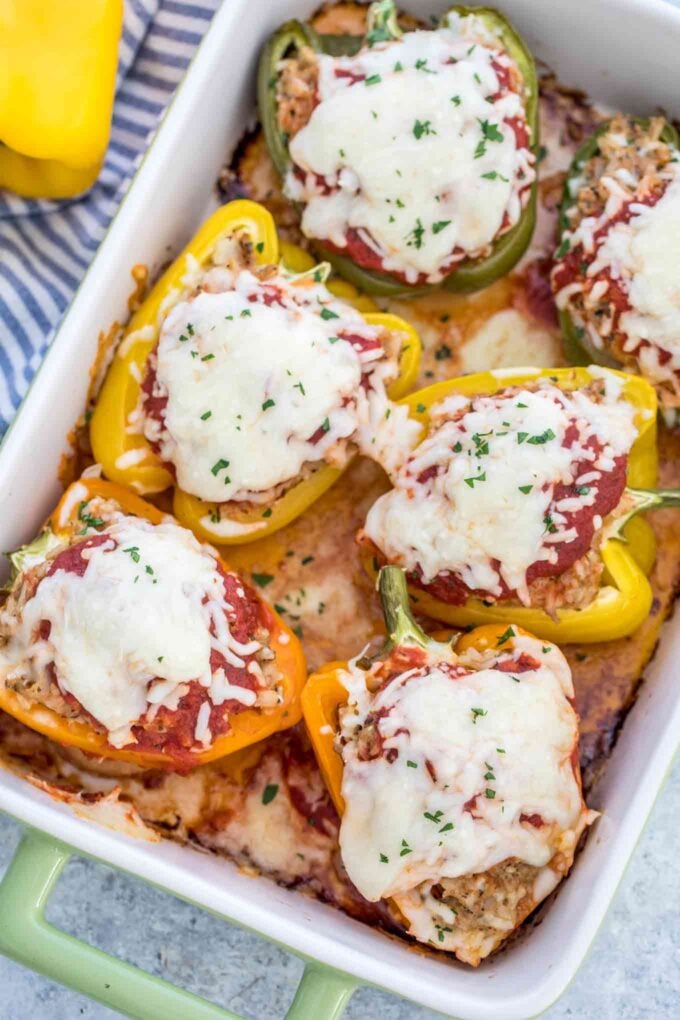 Easy Turkey Stuffed Peppers
Turkey Stuffed Peppers are easy to prepare and everyone loves them! They are the perfect healthy dinner dish that is ready in about one hour. This recipe is very versatile and you can replace the filling with your favorite ingredients. We love how festive the dish looks, and we try using various pepper colors to brighten up the plate. In addition, they all have a bit of different taste, which is a great compliment to this recipe. For example, red or yellow peppers are sweeter than green. However, you can go with only one type of pepper if desired.
Since we used ground turkey, we went with brown rice here, to keep the meal on a healthier side. While most recipes call to cook the pepper and pre-cook the meat prior to stuffing, we don't. The meat, and pepper when cooked together from scratch give this dish a far better taste and flavor, while reducing the prep work. Similarly, you could use any rice type desired. Even quinoa or cauliflower rice will work just fine.
Also, the stuffed pepper is an easy meal that can be prepared ahead of time and frozen. It reheats really well, and the vessel presentation is always a huge hit!
How to make Turkey Stuffed Peppers?
To ensure soft and tender peppers, we are cooking them in one go in the oven once they are stuffed. This way, the cooking time is a bit longer, but it's all hands-off time. In addition, cooking the meat and peppers together get them a richer and nicer aroma.
For seasoning, we have used onion, garlic, and some seasoning. Similarly, we cut them from top to bottom to make smaller portions while giving them a festive look. However, you could also cut them across the top as we did here.
Stuffed bell peppers can be made with any kind of filling, such as ground beef, chicken, or pork. Also, you can make them vegetarian, just replace the meat with chopped mushrooms or beans.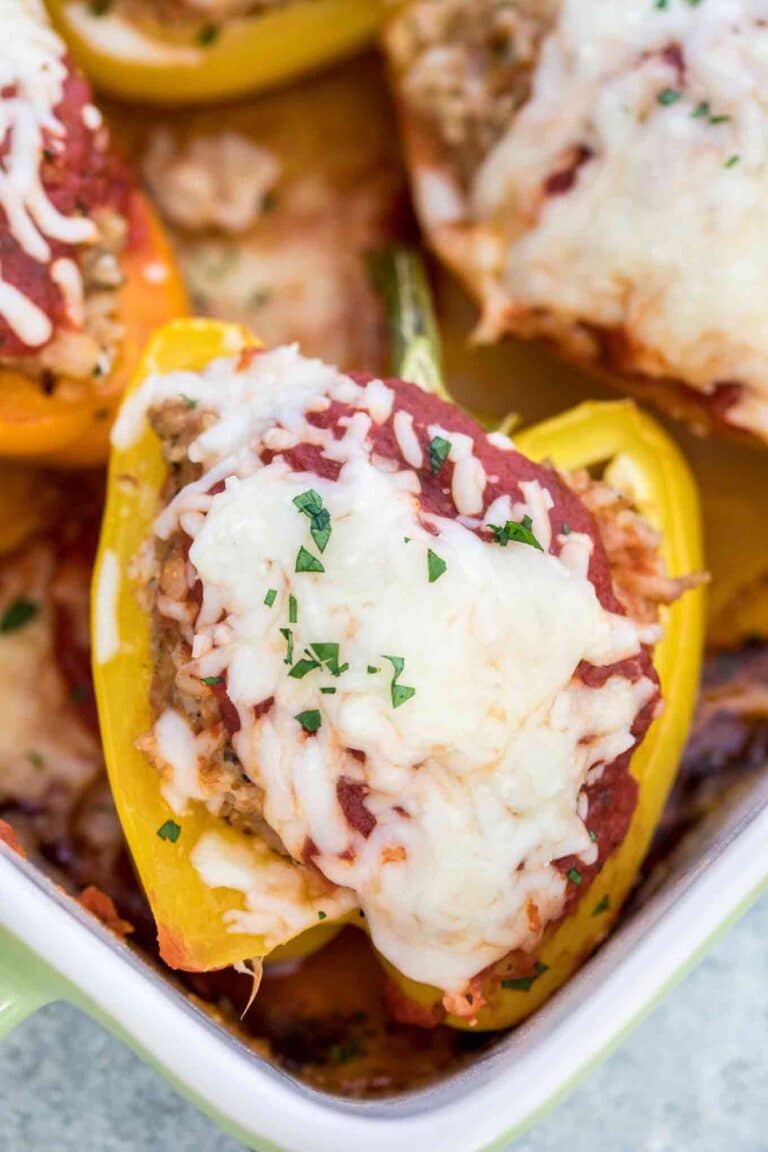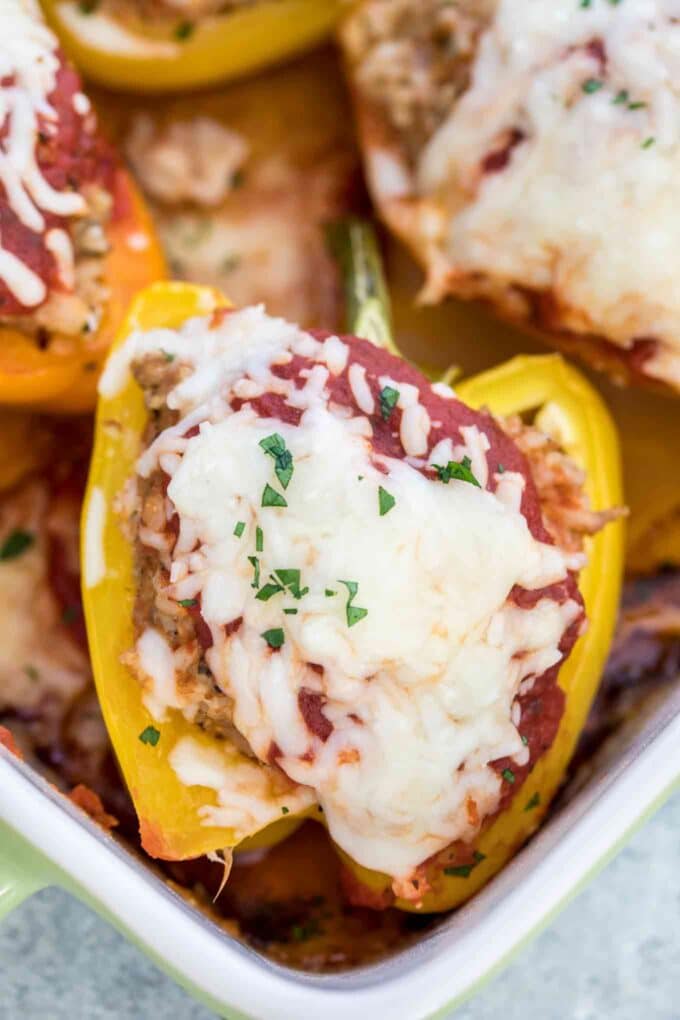 HOW LONG DO YOU COOK TURKEY STUFFED PEPPERS?
Oven – you will need to bake them covered in foil at 350 degrees F for about 40-50 minutes depending on the filling. Make sure to include a bit of liquid in the pan to help create some steam. Check on them periodically to make sure not to overcook them or get them mushy.
Instant Pot – cook them for 5 minutes on High Pressure followed by 5 minutes Natural Pressure Release. Check out the Instant Pot recipe with step by step details and video here.
Slow cooker – cover and cook on LOW for 4 to 5 hours or on HIGH for 2 to 3 hours.
On the Stovetop – place them in the pot with some liquid and keep them covered while cooking. Cooking time should be between 20-25 minutes.
HOW TO STORE TURKEY STUFFED PEPPERS?
Refrigerate them in airtight containers or resealable plastic bags. Properly stored, cooked stuffed peppers will last for 3 to 5 days in the refrigerator.
Can you freeze them?
This is a great dish to freeze and they are a great make-ahead meal. Once they are completely baked, let them cool off prior to freezing. Once cooled, simply transfer them to an airtight container and freeze for up to 3 months.
To reheat, first, thaw them in the fridge overnight and then bake in the oven at 350°F for about 10 minutes, or until heated through.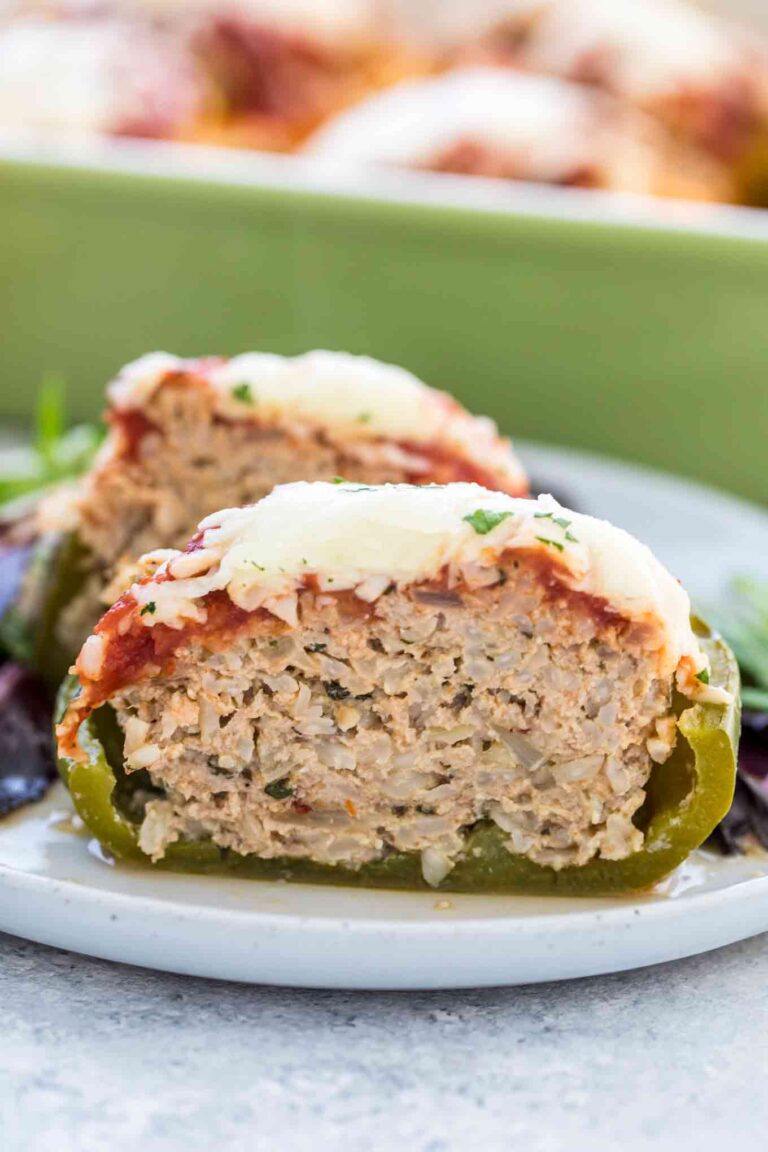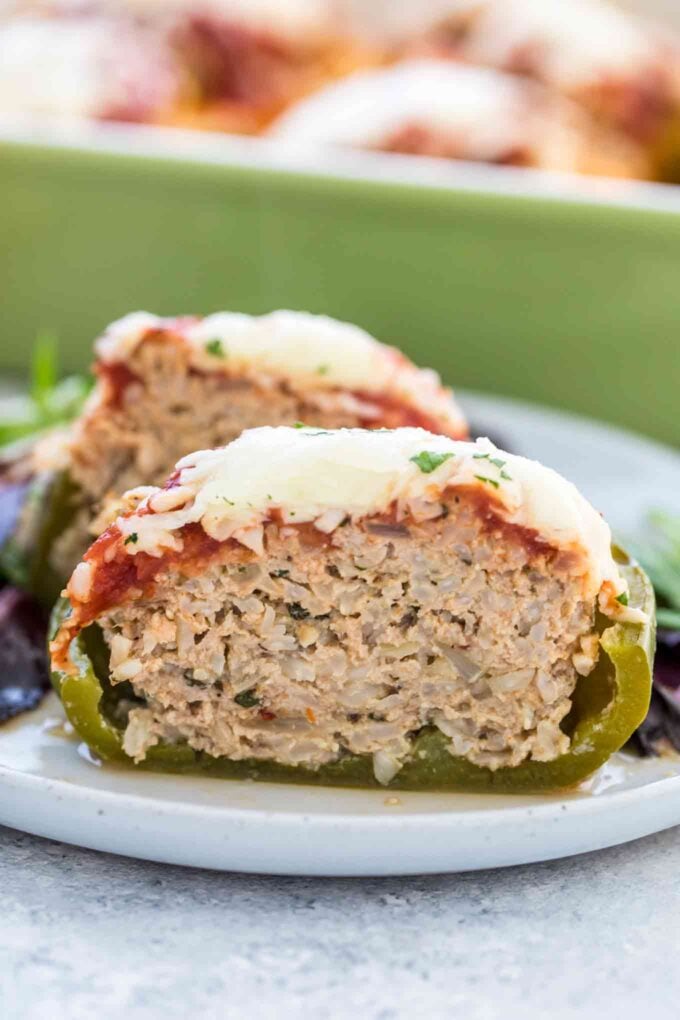 Recipe Tips:
For a festive look, chose a rainbow of large sweet bell peppers to stuff.
Cover tightly with foil and bake for about 40 minutes. Then, uncover and cook for another 10-15 minutes.
To ensure they are thoroughly cooked, use an instant-read thermometer into the center of a pepper. The recommended internal temperature should be 165 degrees F for ground turkey. For other meats such as ground beef, pork or lamb internal temperature should be a minimum of 160 degrees F.
You can also pre-cook the meat, and use it for fillings.
Brown rice can be replaced with another quick-cooking grain. Try quinoa or even orzo.
For cheese lovers, sprinkle some shredded cheese on top during the last 5 minutes of baking.
Similarly, sprinkle a handful of chopped fresh oregano or parsley over each pepper before serving.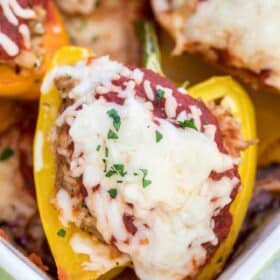 Turkey Stuffed Peppers
Turkey Stuffed Peppers are an easy, healthy and super delicious dish that is perfect for dinner. They are stuffed with brown rice, ground turkey, onion, garlic and are one of the most satisfying meals we have ever made.
Save
Share
Print
Pin
Rate
Servings:
8
pepper halves
Ingredients
For the Rice:
1

cup

long grain rice

(uncooked)

2 1/4

cup

water

1

tablespoon

olive oil

1/4

teaspoon

salt
Stuffed Bell Peppers Filling:
4

medium bell peppers

1

lb

ground turkey

1

small sweet onion

(finely diced)

4

cloves

garlic

(minced)

1/4

cup

whole wheat bread crumbs

1

teaspoon

Italian seasoning

1

teaspoon

dried parsley flakes

1

teaspoon

dried basil

1

teaspoon

paprika

1/4

teaspoon

red pepper flakes

1/2

teaspoon

salt or more based on preference

1/4

teaspoon

ground black pepper

1

tablespoon

Worcestershire sauce

1

egg

(beaten)

3

cups

Cooked Brown Rice
Topping:
1

cup

pasta sauce or marinara sauce

1

cup

mozzarella cheese

(shredded)

Fresh parsley

(chopped)
Instructions
How to Cook the Brown Rice:
In a medium saucepan over high heat bring water to a boil.

Once water is boiling, add brown rice, olive oil, and salt. Stir and bring to a simmer.

Cover, reduce heat to low and simmer for 45 minutes, without opening the pot.

After 45 minutes, turn off heat and let sit for 15 minutes. This step is important.

Open pot and using a fork, fluff the rice.
Stuffed Bell Peppers Filling:
Preheat oven to 350 degrees F (175 degrees C).

Wash the peppers, and slice them in half. Remove the seeds and clean the inside well by removing gently all the veins.

In a large bowl combine all the ingredients from the "Stuffed Bell Peppers Filling" list. Stir well to fully combine.

If you have time, you can also brown the turkey in a skillet before adding it to the mixture. This adds extra flavor but dirties another pan. Both ways, the peppers will turn out delicious.

Spoon an equal amount of the mixture into each hollowed pepper boat, and arrange them in a very lightly oiled baking dish with the hollowed sides facing upward.

Add about 1/2 cup of water to the bottom of the baking dish.

Cover with foil and bake covered for 40-45 minutes, until the internal temperature of the filling is 165 degrees F.

Remove from oven, top each pepper vessel with a few tablespoons of marinara sauce and sprinkle shredded cheese on top.

Return to the oven and bake for another 5-10 minutes until the cheese is fully melted.

Garnish with fresh parsley and serve.
Notes
You can use leftover cooked brown rice or get some from your local Chinese take-out place to reduce prep time.
Nutrition
Calories:
330
kcal
|
Carbohydrates:
48
g
|
Protein:
23
g
|
Fat:
5
g
|
Saturated Fat:
0
g
|
Cholesterol:
54
mg
|
Sodium:
426
mg
|
Potassium:
573
mg
|
Fiber:
4
g
|
Sugar:
6
g
|
Vitamin A:
2250
IU
|
Vitamin C:
81.1
mg
|
Calcium:
182
mg
|
Iron:
2.4
mg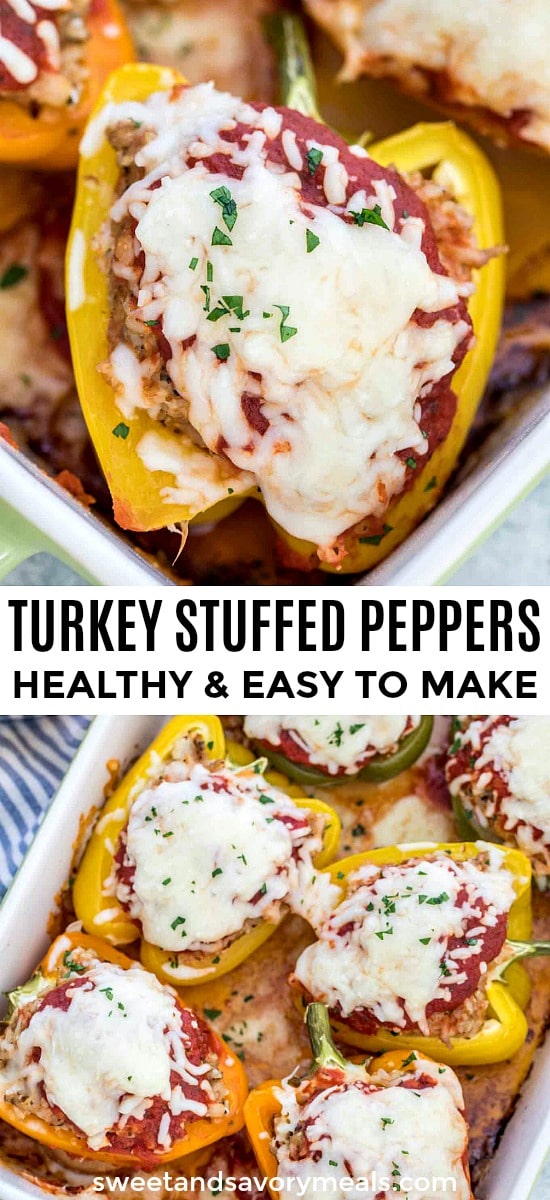 More recipes you might love