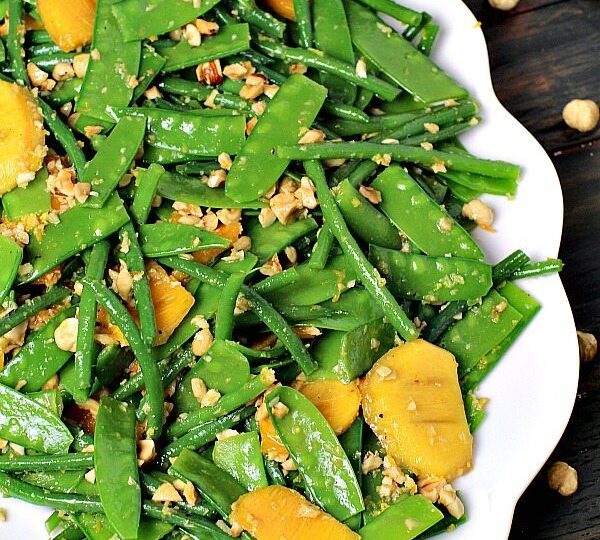 French Green Bean Salad with snow peas, sweet persimmon and toasted hazelnuts, combined with fresh orange and lemon zest for a citrus undertone.
I love making easy and delicious salads like BLT Potato Salad and Garlic Kale Salad.
French Green Bean Salad
This French Green Bean Salad has been inspired by the OTTOLENGHI cookbook, by Yotam Ottolenghi and Sami Tamini. A few months ago, at a friend's house, I had a taste of the original salad. I was blown away by the textures and flavors of french green beans, snow peas and toasted hazelnut. Obviously I had to recreate it, but because I am a huge fan of savory and sweet combos, I decided to add some sweet persimmons to mine and a dash of lemon zest. In addition, I can never have enough lemon, it just adds such a refreshing undertone.
This French Green Bean Salad is gorgeous and delicious. In addition, it can be easy served as a side dish, or it can even be a vegan main meal, since its very filling. Orange juice, orange zest, lemon zest, toasted hazelnuts, crunchy french green beans, snow peas and sweet persimmons make for one outstanding combo and you will find yourself reaching for seconds. To save some time, I recommend buying already toasted hazelnuts, this way you don't have to toast and try to get rid of the skin.
How to make lemon zest
Follow the easy steps below:
First, rinse the lemon.
Then, set your tool over a cutting board. A microplane produces a very fine zest, perfect for baking and cooking. Also, if you don't have a microplane, use the smallest holes on an ordinary grater.
Next, grate the yellow skin of the lemon only. Grate just enough to get through the yellow skin, this way you can avoid the bitter white pith underneath.
Rotate the lemon and repeat. Once the white pith is exposed, rotate the lemon and zest the next strip of peel. Repeat until most of the peel is removed, or until you have enough zest for your recipe.
Deliciousness to your inbox
Enjoy weekly hand picked recipes and recommendations