French Green Bean Salad with snow peas, sweet persimmon and toasted hazelnuts, combined with fresh orange and lemon zest for a citrus undertone.
I love making easy and delicious salads like BLT Potato Salad and Garlic Kale Salad.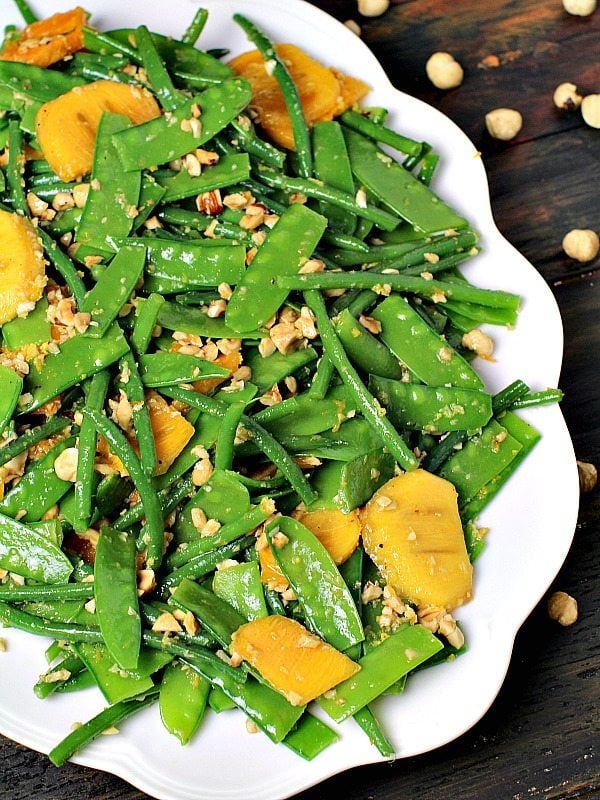 French Green Bean Salad
This French Green Bean Salad has been inspired by the OTTOLENGHI cookbook, by Yotam Ottolenghi and Sami Tamini. A few months ago, at a friend's house, I had a taste of the original salad. I was blown away by the textures and flavors of french green beans, snow peas and toasted hazelnut. Obviously I had to recreate it, but because I am a huge fan of savory and sweet combos, I decided to add some sweet persimmons to mine and a dash of lemon zest. In addition, I can never have enough lemon, it just adds such a refreshing undertone.
This French Green Bean Salad is gorgeous and delicious. In addition, it can be easy served as a side dish, or it can even be a vegan main meal, since its very filling. Orange juice, orange zest, lemon zest, toasted hazelnuts, crunchy french green beans, snow peas and sweet persimmons make for one outstanding combo and you will find yourself reaching for seconds. To save some time, I recommend buying already toasted hazelnuts, this way you don't have to toast and try to get rid of the skin.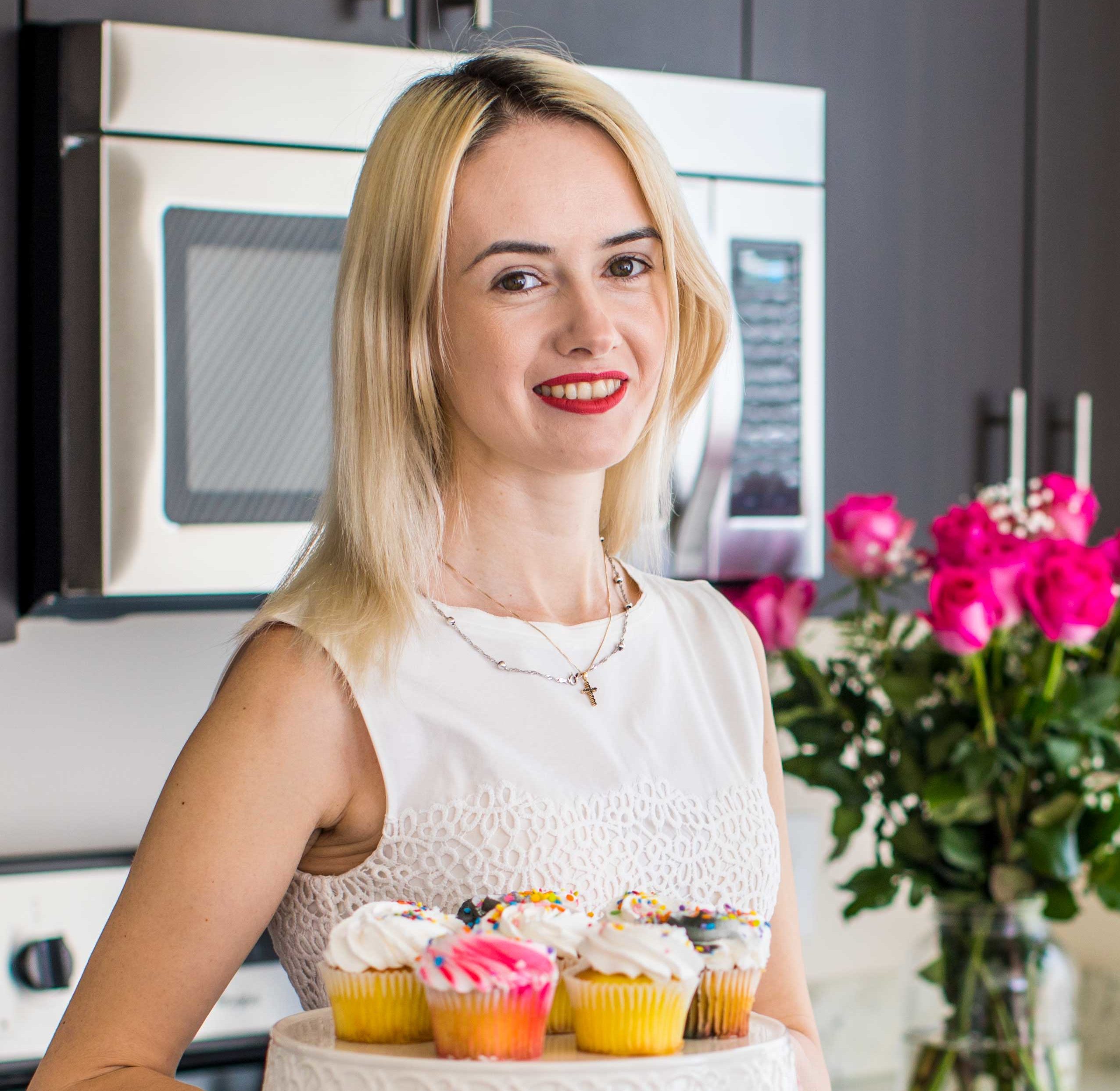 Follow us on Pinterest for more delicious recipes!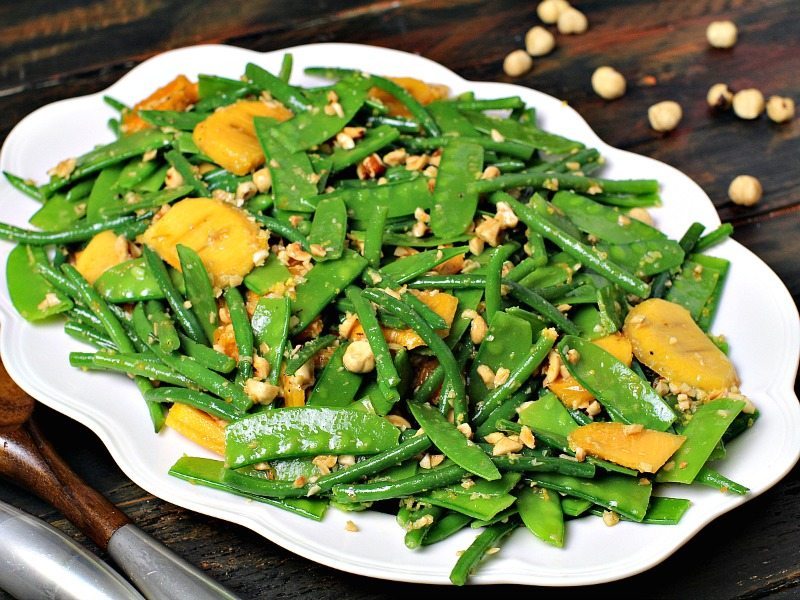 How to make lemon zest
Follow the easy steps below:
First, rinse the lemon.
Then, set your tool over a cutting board. A microplane produces a very fine zest, perfect for baking and cooking. Also, if you don't have a microplane, use the smallest holes on an ordinary grater.
Next, grate the yellow skin of the lemon only. Grate just enough to get through the yellow skin, this way you can avoid the bitter white pith underneath.
Rotate the lemon and repeat. Once the white pith is exposed, rotate the lemon and zest the next strip of peel. Repeat until most of the peel is removed, or until you have enough zest for your recipe.
Save Recipe
Author: Catalina Castravet
Serves: 5 servings
Prep time:

25

minutes
Cook time:

5

minutes
Total time:

30

mins
Ingredients
1 lb french green beans
1 lb snow peas
1/3 cup hazelnuts (toasted, unskinned and chopped)
5 persimmons (unskinned and sliced)
1 garlic clove (minced)
1 tablespoon orange zest
1 teaspoon lemon zest
1 tablespoon lemon juice
4 tablespoons olive oil
2 tablespoon walnut or hazelnut oil
salt and freshly ground pepper
Instructions
Fill 2 large sauce pans with water and bring to a boil.
Wash and trim the ends of the french green beans and snow peas.
Once the water is boiling, add the french beans to the water and blench for 4-5 minutes, stir a few times. Transfer to a colander, drain all the water and cool down under very cold tap water. Drain completely.
Add the snow peas to the second sauce pan of boiling water, blench for 2 minutes, stir gently a few times. Transfer to a colander, drain all the water and cool down under very cold tap water. Drain completely.
If you bought unskinned and toasted hazelnuts, chop them, if no, preheat oven to 350F, scatter the hazelnuts over a baking sheet and toast in the oven for 10 minutes. Remove from oven, cool down and with a kitchen towel, rub well to remove the skin, chop and set aside.
In a small bowl mix the olive oil, walnut oil and orange juice, set aside.
Unskin and slice the persimmons.
In a large salad bowl, add the french beans, snow peas, sliced persimmon, minced garlic, orange zest, lemon zest and the oil mixture. Season with salt and pepper and toss gently.
Serve!
Calories: 269 Carbohydrates: 15 Protein: 5 Fat: 22 Saturated Fat: 2 Cholesterol: 0 Sodium: 9 Potassium: 427 Fiber: 5 Sugar: 7 Vitamin A: 1610 Vitamin C: 70.1 Calcium: 82 Iron: 3.3
Save Recipe
More recipes you might love