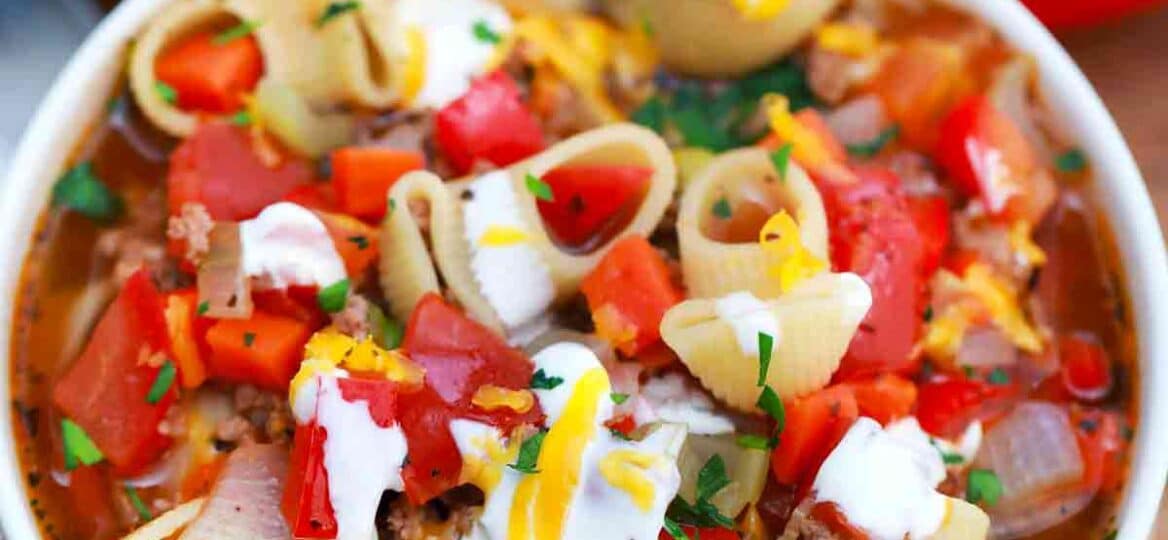 Beef and Macaroni Soup [Video]
Beef and Macaroni Soup is a great dish for cooler weather! Loaded with protein and vegetables, this soup recipe is sure to heat up your day!
Looking for dishes to make on a chilly day? Warm-up your body with my recipes for the classic Red Velvet Hot Chocolate, a sweet breakfast with Hot Cross Buns, and a caffeinated drink of Spicy Iced Coffee Latte to start up your day.
Hamburger Soup
Beef and Macaroni Soup is a foolproof meal that is simple and comforting to warm yourself. It is even great to serve if you are feeling under the weather, so you could get the needed nourishment.
I really think that everyone should learn how to make this recipe. It is very handy if you want something quick yet fulfilling, and in addition, storing leftovers is also fine as it freezes well.
Not to mention, it even works perfectly for a simple get together at lunch or dinner. This classic dish just fits with any occasion which is why it really goes a long way to learn how to make it.
My recipe is one of the simplest yet extremely tasty that you can find. With the beef and macaroni surrounded by the thick creamy tomatoes, it is surely something that anyone cannot get enough of.
Can you put macaroni in soup?
Yes, in fact, it is a common practice! However, leaving them too long can make the pasta absorb too much water.
For that reason, if you are not sure if the dish will be finished after the meal, you can cook them separately. By doing so, you'll only add in the cooked pasta when serving.
How to make Beef and Macaroni Soup
Cook meat. Cook the beef, onion, and garlic, in your desired container, preferably a soup pot. Remove excess fat.

Add tomato mixture. In the same pot, pour in the broth, tomatoes, paste, Worcestershire sauce, and seasonings. Leave it until it boils and let it simmer for an additional 5 minutes.
Add pasta. Add the macaroni and vegetables. Let simmer for 8 minutes or depending on when the pasta becomes tender. Add seasoning to achieve the desired taste.

Serve. Garnish with sour cream, parsley, or cheese. Serve in a nice bowl.
Recipe Variations:
There are also other ways to enjoy this recipe aside from the beef and macaroni combination. Chicken with macaroni is also quite popular, and it is also called in some countries as Sopas.
Aside from the meat, you can just increase the number of vegetables and beans, and you'll have a Macaroni Vegetable soup. This consists of adding zucchini, carrots, cannellini beans, and corn.
All these variations are really tasty, and you should try them once in a while.
How to store Beef and Macaroni Soup?
If you are cooking it in large batches, it would be great to cook the pasta separately and store it in a different container as well.
However, if you boiled them together, it is easy to store them as well. You only need to wait for it cool down before placing them in the fridge with a cover in a resealable container.
To enjoy it again, simply reheat on the stove and add seasoning to taste.
More delicious soup recipes:
Nothing beats a classic soup when it comes to dishes that are quick and suitable for cold weather. If you enjoyed this recipe and want more, make sure to take a look at the following dishes:
Recipe Tips:
Adding shredded cheese on top of the dish makes it really creamier. So, if you want a thicker consistency, do add a generous amount of cheese.
In other countries, they even add evaporated or fresh milk to make it tastier and creamier.
Feel free to make this recipe with other meats. Beef, pork, or chicken can be used instead of beef.
You can use more or fewer veggies. Also, you can add some of your favorite vegetables such as mushrooms, carrots, celery, etc.