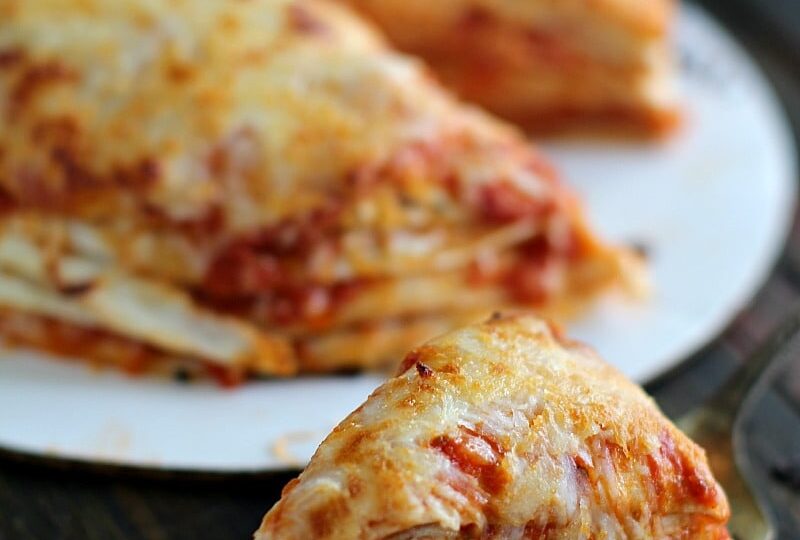 Tortilla Pizza requires 4 Ingredients only, is delicious and cheesy and a breeze to make for a perfect weeknight dinner.
We love making easy and delicious pasta dishes, like our popular Instant Pot Chicken Pot Pie Pasta, Instant Pot Pizza Pasta and the cheesy Instant Pot Cheeseburger Macaroni.
Best Tortilla Pizza
This Tortilla Pizza is one of our go-to weeknight dinners because it's easy to make and the flavor possibilities are endless. In addition, who can turn down a pile of cheese?! I even made a step by step video to show you how easy it is to make:
This Cheesy Tortilla Pizza happened today, and my husband was super excited to dive into that ocean of cheese! I used marinara sauce and creamy mozzarella cheese on this stack of white flour tortillas. Also, each tortilla is topped with a hefty amount of salty pepperoni.
This Tortilla Pizza is super fun to make with kids. My toddler had a blast putting marinara sauce on the flour tortillas, and adding extra pepperoni and cheese!
Pin This Tortilla Pizza Chicken Recipe to your Favorite Board
Tortilla Pizza Recipe Tips:
Use quality pepperoni, it will make a huge difference in this dish.
If you prefer the dish spicy add jalapenos, or add some hot sauce into the mixture.
This meal is loaded with cheese, don't skip it, because it's what makes it so creamy and comforting.
Mozzarella cheese can also be substituted with provolone cheese or sharp cheddar. For a spicy twist, use Pepper Jack.
You can add sliced mushrooms or black pitted olives to this dish.
Can you use other meats to make this Tortilla Pizza?
Absolutely! You can substitute pepperoni with chicken, turkey, or bacon. The cooking time might vary as well based on each meat type.
How to freeze and thaw this Tortilla Pizza?
To freeze, cover the pan tightly with plastic wrap and foil. Freeze for up to 3 months. When ready to cook, thaw in the refrigerator overnight. Remove cover and bake at 350 degrees for about 30-45 min.
Looking for more cheesy recipes? Check these out:
Tortilla Pizza Recipe Video:
Deliciousness to your inbox
Enjoy weekly hand picked recipes and recommendations