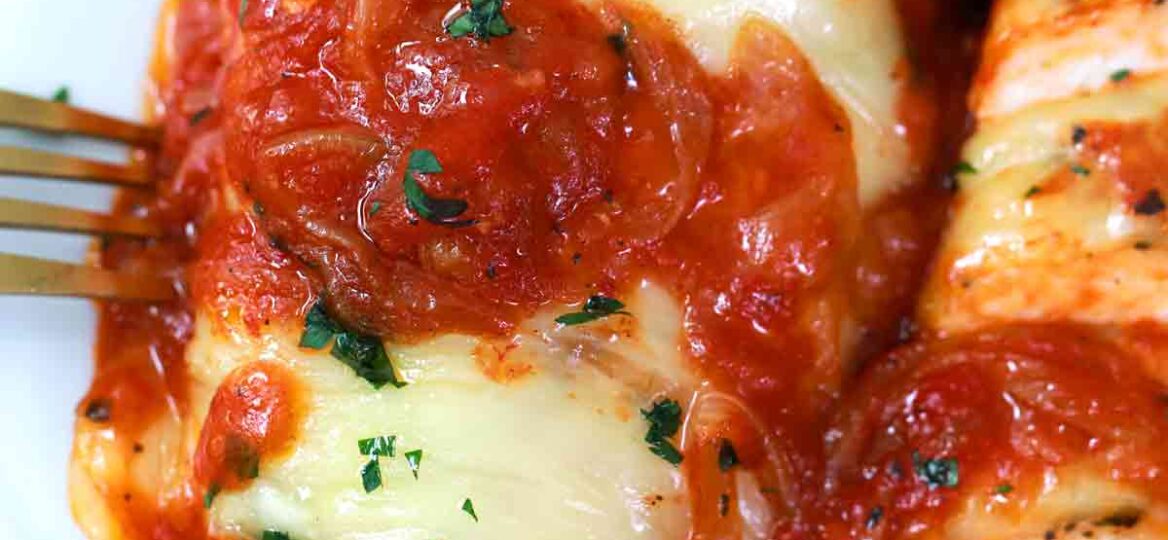 French Onion Chicken Recipe
French Onion Chicken features the classic flavors of French onion soup, transformed into an easy and cheesy chicken entrée! This traditional dish is perfect for a company but simple enough for an everyday meal.
For more cheesy, comforting entrees, make sure to try our Bacon Cheeseburger Meatloaf, Slow Cooker Lazy Lasagna, and Hamburger Casserole!
French Onion Chicken
French Onion Chicken stars juicy, golden chicken is smothered in Provolone and Swiss cheese then simmered in a savory onion sauce. It's inspired by our popular Instant Pot French Onion Soup, and just as delicious!
Caramelizing the onions adds incomparable flavor to the sauce, so be patient while sautéing them. In addition, it's a very flexible recipe, too.
You can add mushrooms or bacon to the sauce, or use a different type of cheese. It's such an elegant dish that we regularly serve to guests, but since it's so simple to make, it always makes an appearance at our dinner table, too. You've got an instant hit on your hands with this one!
Ingredients needed for French Onion Chicken:
Chicken: Pound breast meat (skinless) into uniform sizes.
Onion sauce: This amazing sauce is made with thin slices of sweet onions, broth, and Worcestershire, plus butter. Prep some cornstarch to thicken.
Seasonings: To build flavor, we're adding Italian herbs, salt, basil, and fresh pepper.
Cheese: We're combining Provolone and Swiss (or mozzarella) for a melty, cheesy finish. You can also add parmesan if you wish.
How to make the best French Onion Chicken?
Sauté. First, stir-fry the onions in butter until fragrant, soft, and caramelized. Set aside.
Sear. Season your breast fillets with herbs, salt, and pepper, plus a dash of olive oil to make the seasonings stick. Then, sear this until golden and done. Set aside.
Finish the sauce. Return your sauteed onions then sprinkle a little cornstarch on top. After stirring this, pour in your Worcestershire and broth. Whisk very well until all the cornstarch is completely dissolved, then let everything simmer until thick.
Add the chicken back. To the sauce, place the breast fillet and spoon the sauce all over. Top with both kinds of cheese. Bake in a 400F oven for about 8 mins. until gooey and melted.
Serve. Plate up with more herbs or parsley, and enjoy hot!
Recipe variations and substitutions:
Skillet version: Follow the recipe, but instead of baking, cover and let the cheese melt in the pan on the stove.
Slow cooker. Make the sauce and pour it into your slow cooker. Place raw chicken on top. Cook on high for 8 hrs., or on low for 4 hrs. During the last hour, top with the cheese.
Make it with other herbs: Instead of Italian herbs, use fresh basil and oregano for a more intense herbed flavor.
Use other cheeses: Mix and match your favorite cheeses! We've made this with Gouda, Gruyere, cheddar (try smoked cheddar, it's amazing!), etc. Just make sure there's at least one melty cheese for the best texture.
Bacon: Sauté chopped bacon with the onions. It gives the dish a heartier flavor with a subtle smoky touch.
Spicy version: Add dried chili flakes, cayenne, or hot sauce for some heat.
Creamy: Finish the onion sauce with a little heavy cream.
How to make French onion chicken in the slow cooker?
For the slow cooker, we like making the sauce in a skillet first. Letting the onions caramelize gives incredible flavor.
Once you're done with the sauce, you can pour it into the slow cooker, arrange the fillets on top, and let it cook for 8 hrs. (HIGH), or 4 hrs. (LOW). Add the cheese during the last hour so it melts.
What to serve with it?
It's delicious with warm dinner rolls or crusty bread on the side! You can also serve it over pasta, rice, or with a light salad. Finally, it's perfect with many vegetable side dishes like steamed broccoli, caramelized cabbage, mashed potatoes, and roasted asparagus.
More chicken recipes to try:
How to store leftovers?
After all the leftovers have cooled down, store them in an air-tight container and keep chilled for up to 4 days. To reheat, microwave until hot or warm up in a skillet on low heat with a splash of broth.
Recipe tips:
When pounding the breast meat, make sure they're the same size and thickness or they may not cook evenly.
You can use any kind of onions you have, even the red variety! Do note that the sweet ones are milder, which is perfect if you don't want such an intense onion flavor.
Also, feel free to sub with veggie broth if you wish.
You can also use flour instead of cornstarch for the sauce.
Deliciousness to your inbox
Enjoy weekly hand picked recipes and recommendations