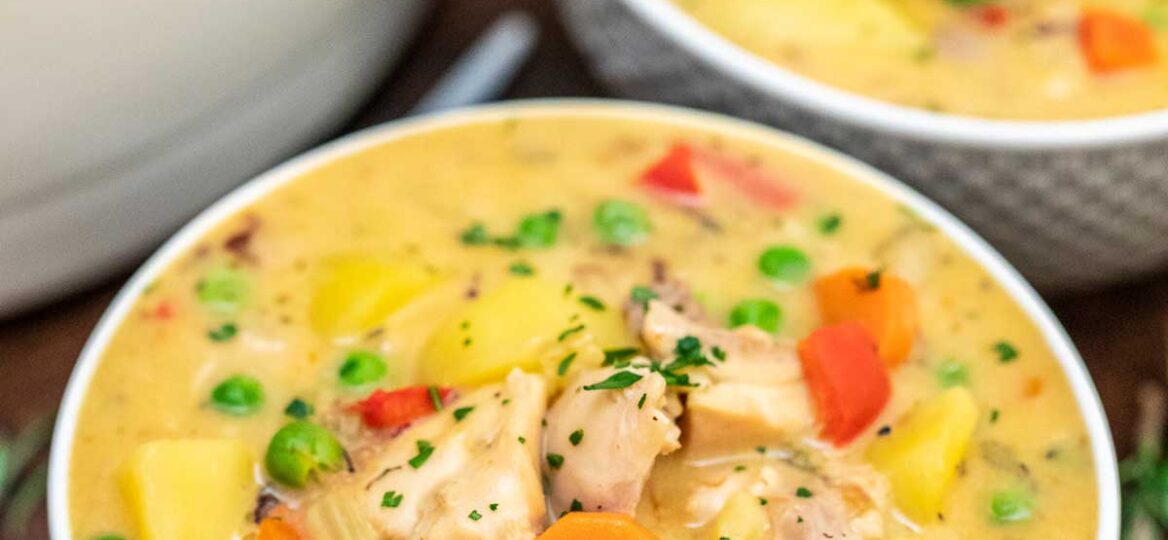 Chicken Stew Recipe [Video]
Chicken Stew is warm, hearty, and is the perfect dish to combat the winter or fall! Made with tender chicken thighs in a savory vegetable-laden broth!
If you want to have a homey and comforting meal, this is the way to go! It is simply perfect when it is cold just like Slow Cooker Hot and Sour Soup, Instant Pot Lobster Chowder, and Creamy Tomato Bisque!
Chicken Stew Recipe
Chicken Stew smells amazing as it cooks! It has a creamy base which I love to sip and mop with bread. And the vegetables add more flavors and pop of colors to it, making it more appetizing.
My favorite aspect of this dish is the chicken itself. This recipe makes use of the thigh part which becomes fall-apart tender as it cooks. The natural fat in it adds juiciness and flavor to the meat.
You see, there is not a lot that is needed for this dish. Everything is simple and you can make it just about any time. You will also use just one pot for this!
The flavors and texture of this dish will make anyone think that it has been left simmering for hours but, you can finish cooking within an hour!
How do you make Chicken Stew
Brown the cubes: In a Dutch oven or similar pot, heat some oil and put the meat in to cook slightly until golden brown. Set them aside.
Cook the veggies: In the same pot, add in the rest of the veggies as well as the aromatics, except for the spuds and green beans. Season and stir in flour. Cook for a couple more minutes.
Add broth: Add the spuds along with the white wine and broth. Cover the pot, allow the soup to boil, and then reduce the heat to a steady simmer for half an hour.
Add the cream: Open the lid and put in the green beans. Stir in the cream and thicken if you want. To thicken, add a mixture of cornstarch and broth.
Serve: Remove the bay leaves, garnish with fresh herbs, then, serve warm.
Is Chicken Stew good for you?
Yes! Unlike other kinds of meat, chicken is quite lean and rich in protein. To make sure you keep the calorie count down, remove the skin.
The white wine has antioxidants, so, it is good for you, too. The broth that you use must be low in sodium, so, keep that in check. The various vegetables and aromatics give you fiber and vitamins at the very least.
Overall, this dish is good for you as long as you make the right choices with the ingredients. Another thing to watch out for is the side dish that you eat with it. But you are good as long as you keep everything in moderation.
Can I use thighs or drumsticks to make Chicken Stew?
Yes! For recipes like this, we boil and simmer the stew for quite a long time. Hence, we can use just about any kind of meat or part for that matter.
The less expensive ones are typically the harder ones, but for this dish, the thighs or drumsticks are good parts to use as they are already flavorful and not easily dry out.
How do you store Chicken Stew?
Refrigerate: Put it in the fridge, placed in an airtight container, for up to 3 or 4 days.
Freeze: Extend its shelf life by freezing it in a freezer bag. Consume within 4 to 6 months. To reheat, thaw first in the fridge then, reheat on the stovetop.
Other Stew Recipes:
Recipe Tips:
To make sure that you mix the slurry well, place the cornstarch and water in a mason jar and shake well.
If you intend to freeze this, you might as well use a flour and water mixture as the thickening agent, not cornstarch. The outcome has a better texture.
You can add sweet potatoes in it which can also act as a thickener.
Deliciousness to your inbox
Enjoy weekly hand picked recipes and recommendations