Last updated on September 29th, 2021 at 03:24 am
Moo Shu Pork features eggs, fresh vegetables, and tender pork in a flavor-packed Asian sauce. Stuff into warm tortillas and dip in hoisin sauce, eat over rice, or scoop into lettuce cups for a low-carb meal!
For more one-skillet Asian-inspired meals, try our Teriyaki Beef and Broccoli, healthy String Bean Chicken Breast, and take-out style Shrimp Fried Rice.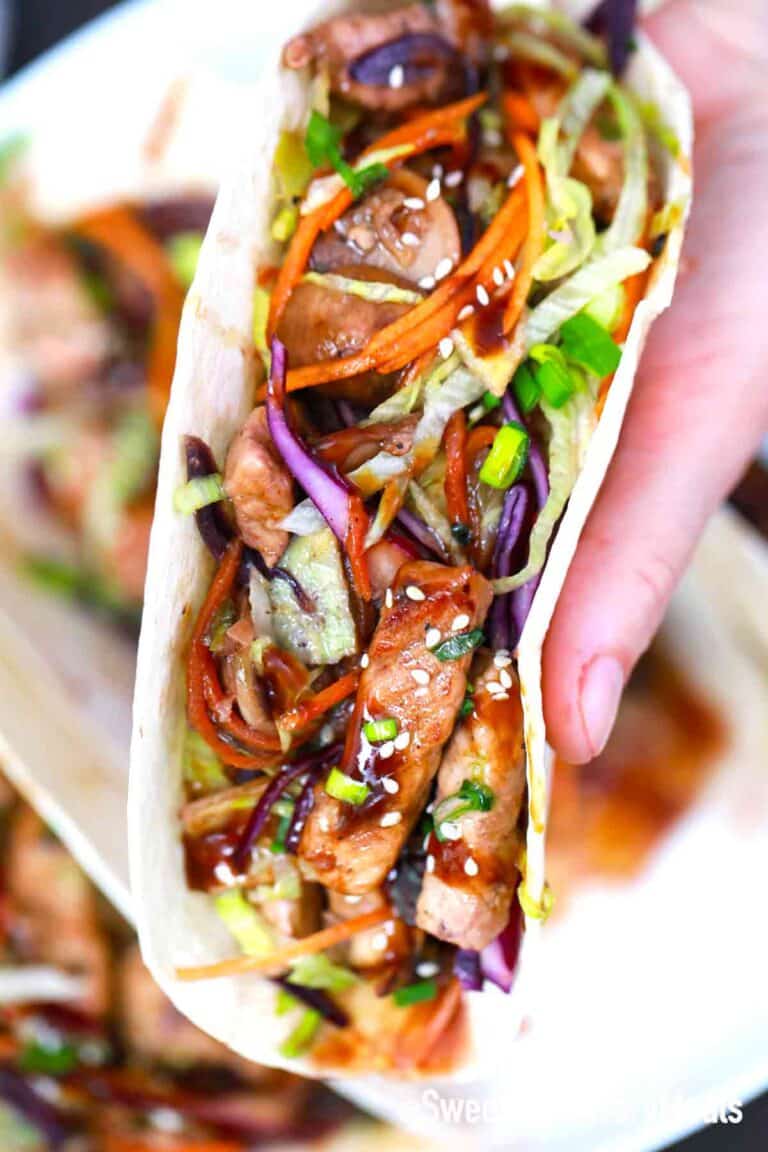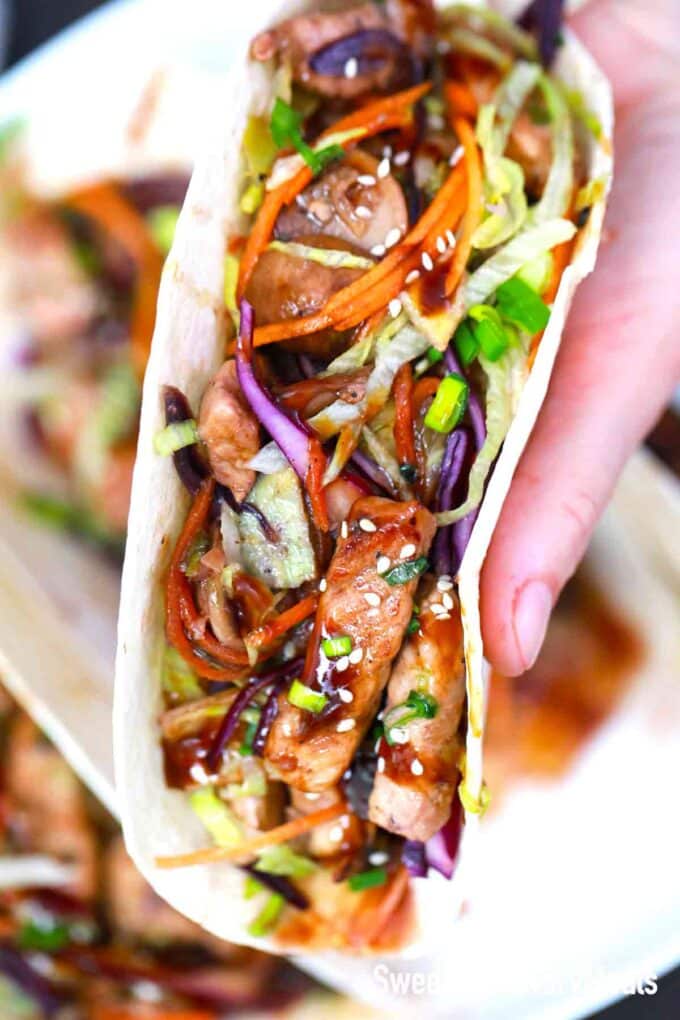 Classic Moo Shu Pork Recipe
Moo Shu Pork combines juicy strips of meat, chopped eggs, and tender-crisp veggies. It's brought together by an Asian sauce featuring hoisin, soy and oyster sauce, ginger, garlic, and other seasonings. It's fast and full of flavor, perfect for weeknight meals.
In addition, it's such a fun dish to share. You can serve the dish family-style with sides of flour tortillas, sauce, rice, and noodles. Then, encourage everyone to build their own serving and enjoy it their way!
What is Moo Shu Pork?
It's a Chinese dish that became popular in American-Chinese restaurant menus in the 1960s.
Traditionally, this dish has thin slices of pork and eggs all sauteed with vegetables (common options are carrots, mushrooms, and bean sprouts) and seasoned with a fragrant, savory Asian sauce.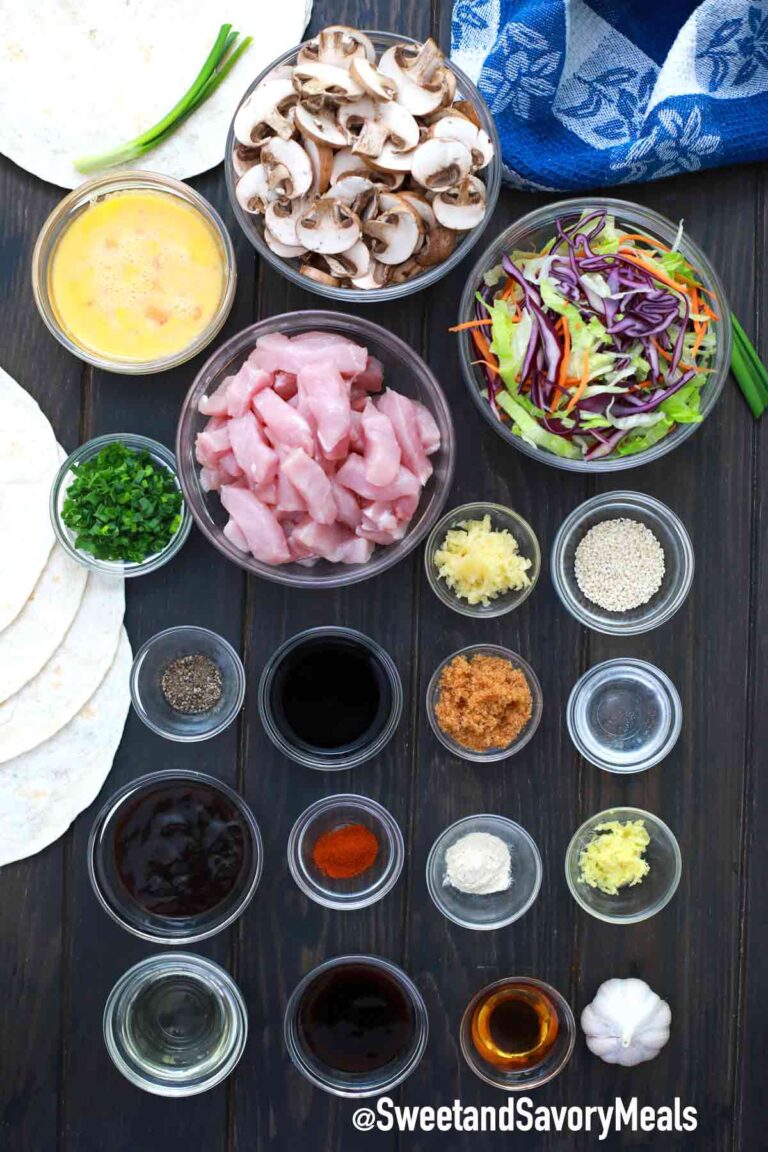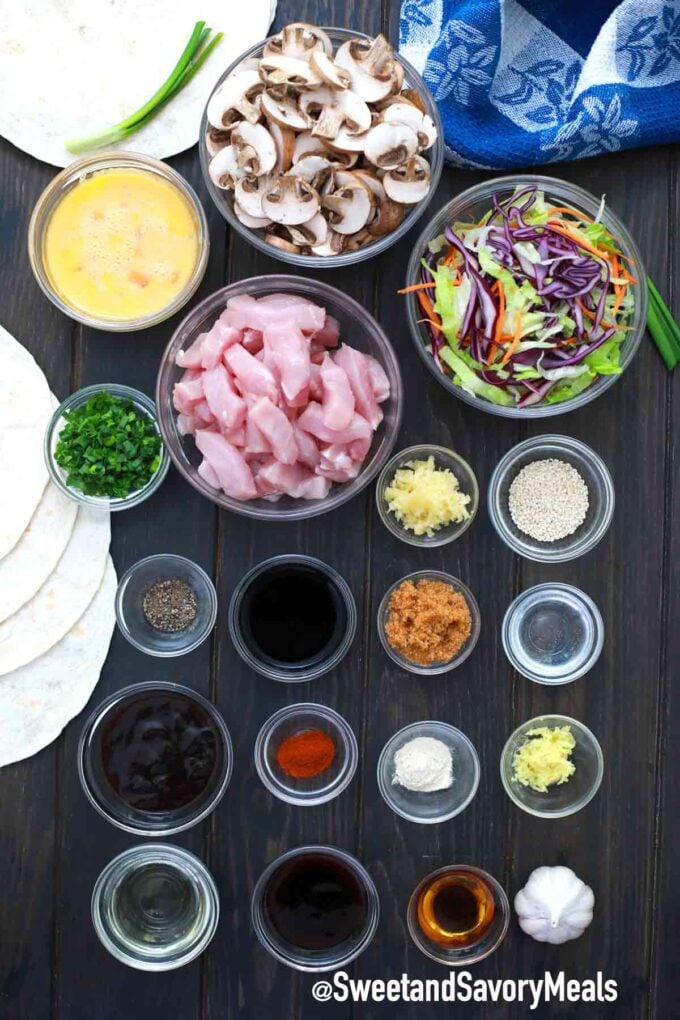 What goes into homemade Moo Shu pork
Marinade: Combine hoisin with some rice vinegar, regular and toasted sesame oil, onion powder, soy sauce, cayenne, brown sugar, oyster sauce, and minced fresh garlic and ginger.

Meat: We're using very thinly sliced pork chops.
Oil: Peanut is preferred, but feel free to use canola or vegetable.
Eggs: Whisk like you would for a scramble.
Vegetables: Shiitake mushrooms, fresh cabbage coleslaw, and scallions.
How to cook homemade Moo Shu pork from scratch
Marinade. Submerge the meat slices in half of the marinade for 5 mins. Reserve the other half for the stir-fry.
Fry. Cook the eggs in hot oil until you have a large, flat omelet. Then, slice it into strips.
Stir-fry. Sauté the marinated meat until browned, then set aside. After this, sauté the vegetables and season with the reserved marinade. Add your browned meat plus the chopped eggs, and mix everything well.
Serve. Enjoy with a side of hoisin and warm tortillas.
Recipe variations:
Other cuts of pork: Quick-cooking cuts like tenderloin and pork steak will work instead of chops, too.
Beef: For the meat, use thin strips of flank or skirt steak.
Chicken: Breast or thigh fillets sliced very thinly are a lighter alternative to pork.
Seafood: Try making this with fresh shrimp!
Vegetarian: Use crispy tofu or tempeh instead of the meat.
Spicy: Slice up some red peppers, add a tablespoon of red chili flakes, or double the cayenne.
Include other vegetables: Add carrots, use other types of mushrooms like cremini or Baby Bella, broccoli or cauliflower florets, baby corn, snow peas, red cabbage for color, string beans, white onions, and other veggies.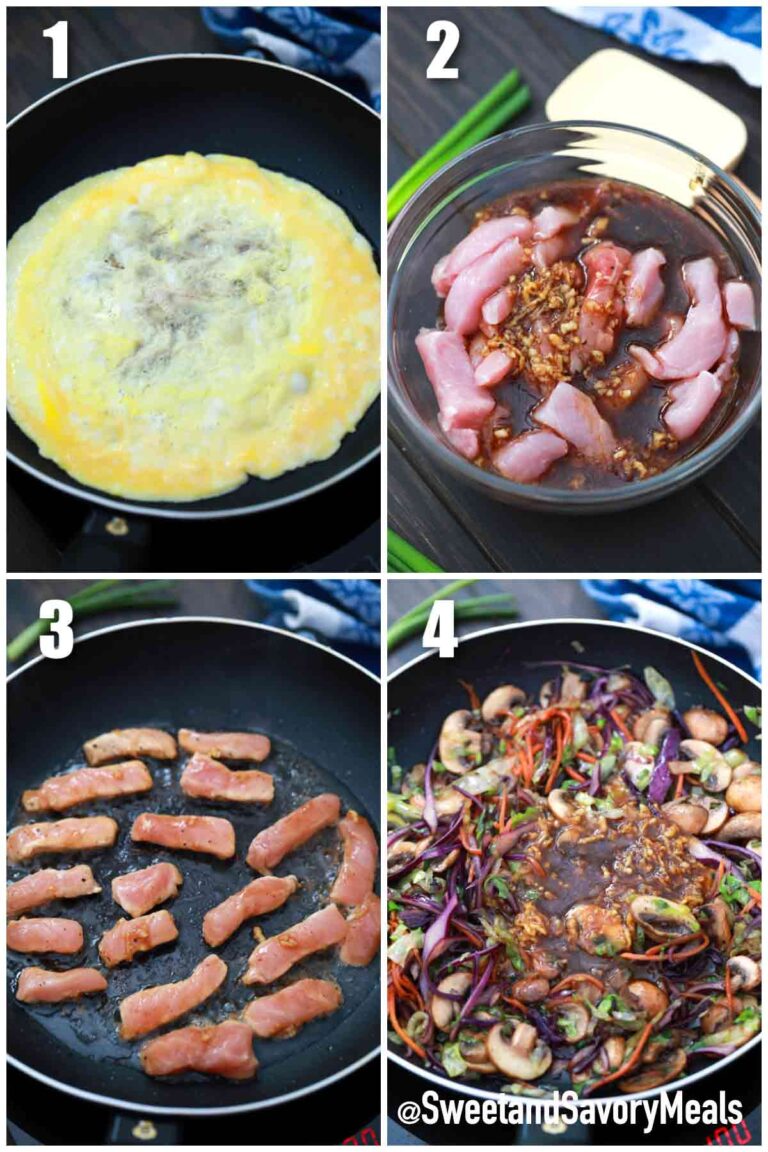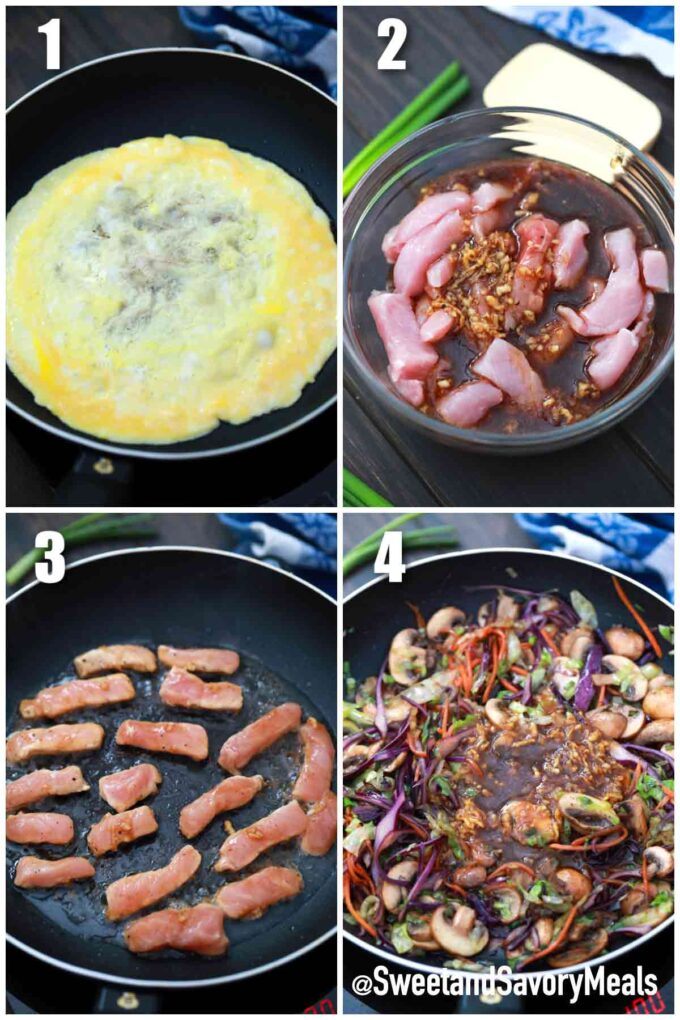 Frequently Asked Questions
How does homemade Moo Shu pork taste like?
It tastes like fragrant, savory Asian BBQ with a touch of sesame oil plus fresh ginger and garlic. There's a subtle kick thanks to the cayenne and fresh-ground black pepper. In short, it tastes amazing!
What is the meaning of Moo Shu in English?
It comes from the Mandarin terms "mu" which means "tree wood" and "xu," which means "whiskers." This refers to the traditional wood ear mushrooms plus the slivers of pork (that looks like think whiskers) in original versions of the dish.
How is Moo Shu different from Moo Shi?
"Moo shi" is simply another spelling of the dish. Other terms are "mu xu," mu shu," and "mu xu rou."
How to eat homemade Moo Shu pork?
In the US, this dish is typically enjoyed with a small serving of hoisin sauce on the side plus Mandarin pancakes which are thin, steamed wrappers very similar to flour tortillas. You spoon the meat in there and fold it like a taco, dip it into the hoisin, and take a bite!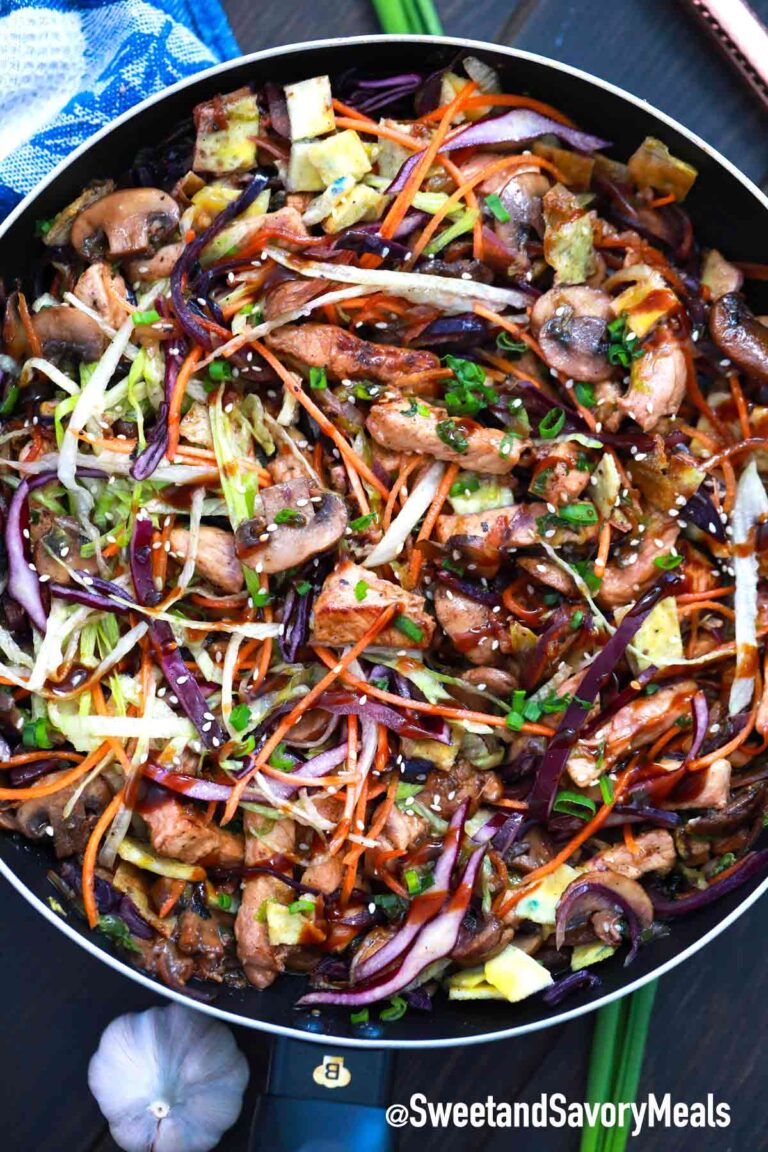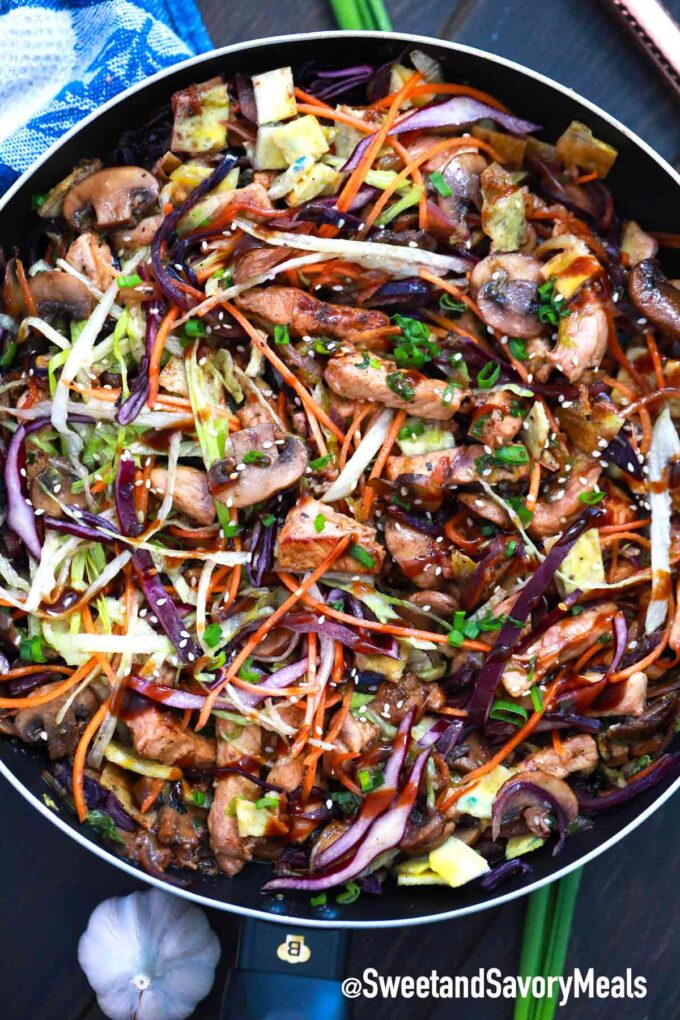 How to serve:
Enjoy it fast-food style with a small bowl of hoisin and warm Mandarin pancakes or small flour tortillas.
In addition, it's also fantastic on top of rice (fried, brown, or white) and noodles! For a low-carb version, serve with some cauliflower rice or inside lettuce cups.
Craving for a full Chinese take-out feast? Serve it alongside other dishes like Chicken Egg Rolls, Hunan Beef, Crispy Honey Sesame Chicken, and Crispy Baked Tofu.
How to store leftovers:
Transfer the cooled leftovers to an air-tight container, and store in the fridge for up to 3 days. Microwave until hot when ready to eat.
How to freeze:
Sure! After cooling the dish down, scoop into a Ziploc bag then push all the air out before sealing. Freeze for up to 3 months.
When ready to serve, defrost overnight inside the lower section of the fridge. You can also thaw it faster by placing it in a big bowl of water at room temp.
Once it's defrosted, you can microwave it until hot. You can also warm it slowly in a skillet until heated through.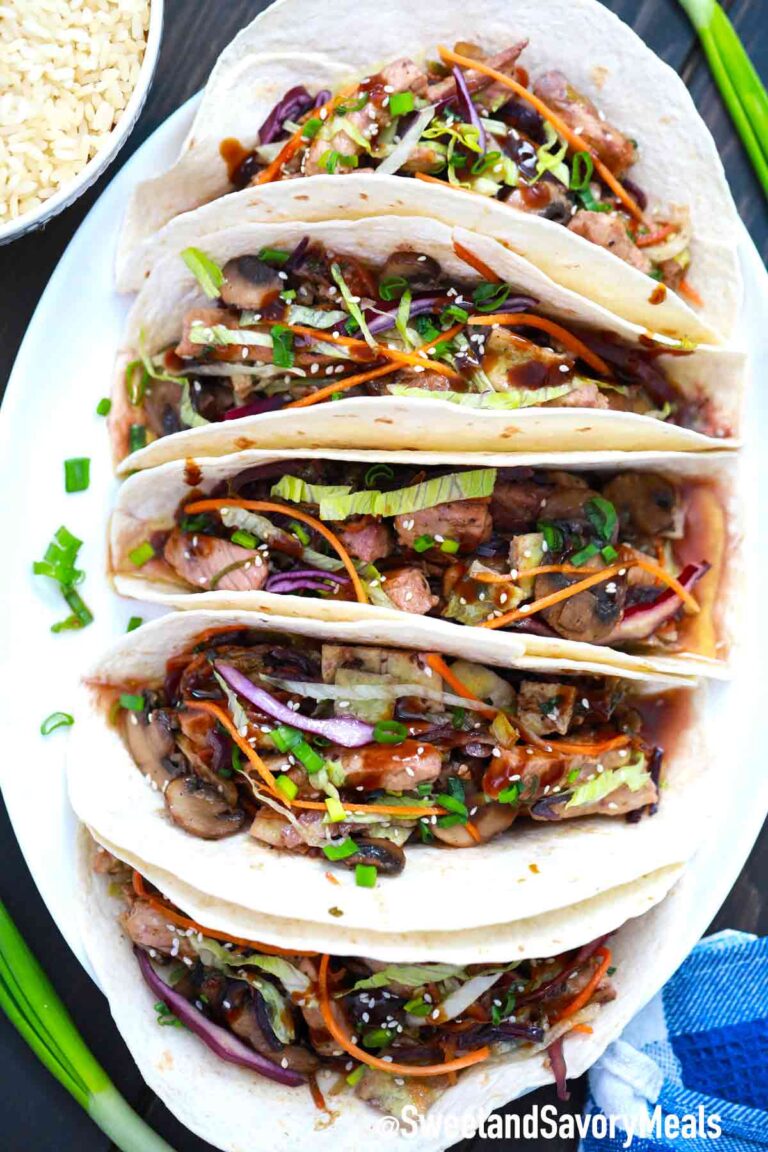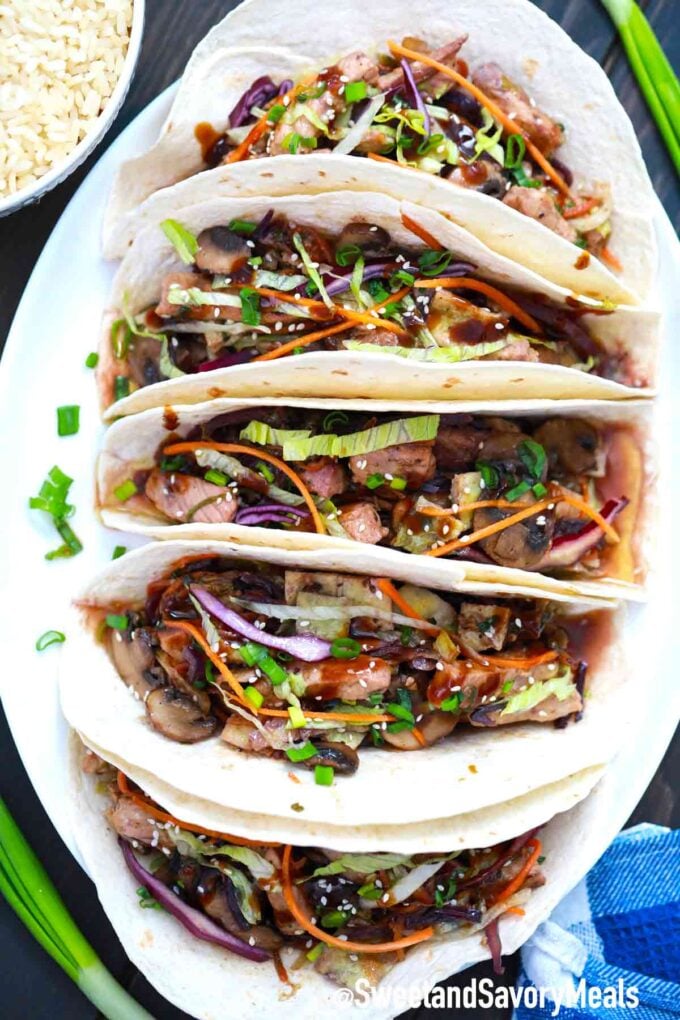 Recipe tips:
Trim the fat off the chops if you prefer leaner protein.
Use low-sodium sauces to lower the salt content of the dish.
You can use other sweeteners like honey, Stevia, and white sugar in place of the brown.
We use pre-shredded cabbage for convenience, but you can chop your own if you wish.
Try combining red and white cabbages for color.
Other Recipes You Might Like: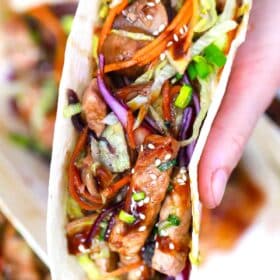 Moo Shu Pork
Moo Shu Pork features eggs, fresh vegetables, and tender pork in a flavor-packed Asian sauce, served in tortillas or lettuce cups.
Save
Share
Print
Pin
Rate
Ingredients
Marinade:
1/2

cup

hoisin sauce

1/4

cup

rice vinegar

2

tablespoons

brown sugar

1

tablespoon

sesame oil

3

tablespoons

oyster sauce

3

tablespoons

soy sauce

2

tablespoons

water

1

teaspoon

onion powder

1

teaspoon

toasted sesame oil

6

cloves

garlic

(minced)

1

teaspoon

minced ginger

1/8

teaspoon

cayenne pepper

freshly-cracked black pepper
Moo Shu Pork Ingredients:
1

pound

boneless pork chops

(sliced into very thin strips)

4

tablespoons

peanut

(or vegetable oil)

2

large eggs

(whisked)

1 14-

ounce

bag coleslaw

8

ounces

shiitake mushrooms

(stemmed and thinly sliced)

4

scallions

(thinly sliced green parts only)

Sesame seeds

for serving: flour tortillas

(lettuce leaves, rice)

toppings: hoisin sauce

(thinly-sliced green onions, toasted sesame seeds)
Instructions
Marinade:
Add all ingredients to a medium bowl and stir until combined. Divide the marinade into two equal portions.
Moo Shu Pork:
Add the thinly sliced pork (chicken or shrimp) to half of the marinade, and toss until evenly coated. Set aside for 30 minutes.

In the meantime, place a large saute pan over medium heat and add 1 tablespoon of oil.

Add the whisked eggs, and let them sit and until they are cooked into an omelet.

Transfer the eggs to a cutting board, and set them aside. Once slightly cooled, chop the omelet into small, thin pieces.

Return the pan to the stove, and increase heat to high heat.

Add 2 more tablespoons of oil, and using a pair of tongs lift the meat out of the marinade and transfer it to the pan into one layer. Discard the marinade.

Cook the pork until tender, and nicely browned, about 4-5 minutes. Then transfer to a separate plate, and set aside.

Add the remaining oil to the pan, along with the coleslaw, mushrooms, and half of the scallions. Saute for 2-3 minutes, or until the coleslaw begins to soften.

Add the reserved marinade, and toss to combine, cook 2-3 more minutes.

Stir in the cooked pork and chopped eggs, and toss until combined. Taste and adjust for salt, pepper, and hoisin sauce. Sprinkle with the remaining green onions.

Serve immediately with flour tortillas, or lettuce cups, and rice on the side.
Nutrition
Calories:
486
kcal
|
Carbohydrates:
36
g
|
Protein:
35
g
|
Fat:
23
g
|
Saturated Fat:
5
g
|
Polyunsaturated Fat:
6
g
|
Monounsaturated Fat:
10
g
|
Trans Fat:
1
g
|
Cholesterol:
159
mg
|
Sodium:
1795
mg
|
Potassium:
1007
mg
|
Fiber:
7
g
|
Sugar:
21
g
|
Vitamin A:
375
IU
|
Vitamin C:
42
mg
|
Calcium:
109
mg
|
Iron:
3
mg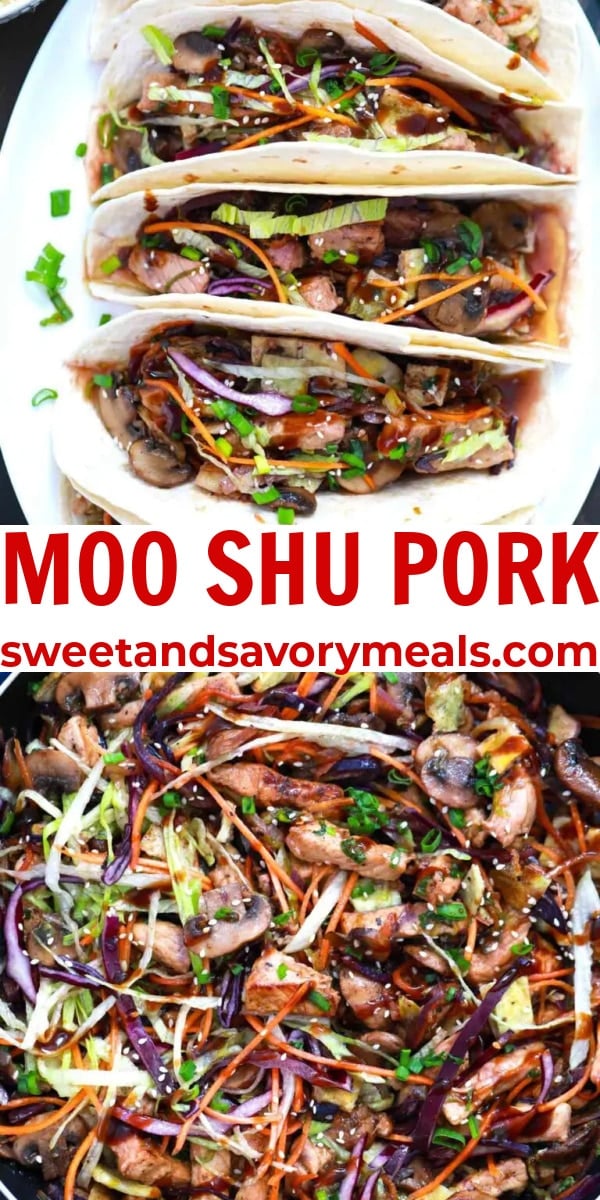 More recipes you might love