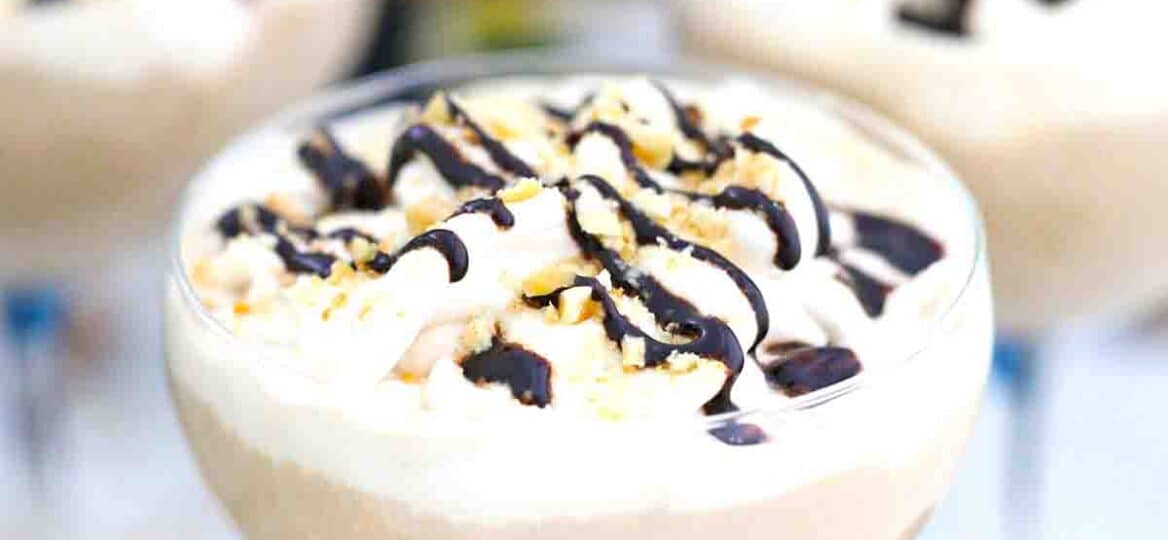 The Nutty Irishman Cocktail [Video]
The Nutty Irishman is a tasty adult beverage made with Irish cream, Irish whiskey, hazelnut liqueur, Kahlua, and espresso coffee for extra flavor. Then top it with homemade Irish whipped cream, crushed hazelnuts, and graham crackers. It is the perfect cocktail for celebrating Saint Patty's Day or any other time you feel like having some Irish drinks with a sweet nutty flavor.
Looking for other recipes to go with your nutty Irishman? Try this recipe for Irish Mint Brownies made with dark chocolate, peppermint extract, powdered sugar, and green food coloring. Or you can serve this yummy beverage with our Irish Colcannon recipe. This Irish version of mashed potatoes has cabbage, bacon, and garlic mixed with potatoes, butter, and a few other ingredients.
Whiskey was first written about by Mr. J. Marshall Robb in his book titled Scotch Whisky from the year 1111. But others believe that the spirit was made in Scotland even earlier than that by the Christian Monks. King James the 4th also mentioned it in 1506 when he visited Inverness. The earliest distillery was the Ferintosh Distillery from the 1760s which was linked to the famous Forbes family.
We all love a cold beer on a Friday or Saturday night but if you want to try something new, fill a glass with this nutty Irishman. Whether you are headed to the local bar for some live music, fun, and good times or you are just having some friends over on a Wednesday for poker, this cocktail will never disappoint!
And you only need a few ingredients including Irish cream, powdered sugar, whipped cream, hazelnut liqueur, Kahlua, and some espresso coffee. Then add some crushed hazelnuts and graham cracker crumbs on top. The nutty Irishman rated 5 stars in our reviews. In fact, even your mom will love it!
Want something fruitier and perfect for summer? Our boozy watermelon lemonade is delicious. Make it with pineapple juice, simple syrup, lemon juice, English cucumbers, white rum, and fresh watermelon. If you are looking for a non-alcoholic Irish beverage, try this shamrock shake recipe. All you need is vanilla ice cream, half and half, mint, and milk. Top it with whipped topping and a maraschino cherry.
Ingredients needed:
To make this delicious cocktail, all you need are the ingredients listed here. Then, when you are ready to begin mixing, scroll down to the bottom of this page and find our handy recipe card with complete instructions and exact measurements.
To make the whipped Irish cream:
Irish cream: We used Baileys.
Powdered sugar: Or confectioners' sugar.

Heavy whipping cream
To make the cocktail:
Hazelnut liqueur: We used Frangelico.
Kahlua
Espresso coffee
Crushed hazelnuts

Graham crackers
Irish cream
How to make the nutty Irishman from scratch?
Whip up the Irish whipped topping: To begin, stir together the powdered sugar and cream in the bowl of your stand mixer. Beat on high until you have stiff peaks. Then, add the Irish cream slowly with the mixer on low.

Chill the cream: After, transfer the whipped cream into a piping bag and put it in the fridge to chill while you prepare the rest of the cocktail.

Mix the cocktail: Next, pour Irish cream into a shaker and add the hazelnut liqueur, Kahlua, and espresso coffee.

Shake it up: Then, fill the shaker the rest of the way with ice and shake until the outside gets frosty.

Strain and garnish: The last step is to strain the mixture over a mug with a fine mesh strainer before topping with the Irish whipped cream, graham cracker cookie crumbs, and hazelnuts.

Drizzle and serve: Finally, drizzle chocolate syrup on top and serve cold.
Recipe variations:
Light cream: For a lighter cocktail, use light cream or whole milk.
On the rocks: Skip the extra heavy cream completely and just serve the Frangelico, Irish cream, Kahlua, and espresso on the rocks with garnishes.

Any coffee: If you do not like or do not have espresso, you can use any coffee.
No coffee: Actually, this tasty beverage is perfectly delicious without any coffee at all!
Hot Irishman: Add a dash of tabasco sauce for a spicy Irishman cocktail.

Other nuts: Feel free to use your own favorite nuts like pistachios, almonds, pecans, walnuts, or cashews.

Add fruit: Another way to make this drink delicious is to add your favorite fruit like cherries, mandarin oranges, or blueberries. Just make sure to crush them in a mixer or food processor first, of course.
Spice it up: You can give this drink extra flavor with your favorite spices like ground nutmeg, cinnamon, or cloves.
How to serve:
Are you planning a weekend night on the patio listening and dancing to some great music? Or having a St. Patty's Day party with a meal, drinks, and live music? Whatever you are planning, the nutty Irishman is the perfect serving drink for any night of the week. Try one of these awesome serving ideas or share your own ideas in the comments section at the bottom of the page.
This amazing cocktail is a wonderful drink for your next brunch with the girls.
Instead of wasting your money on beers at the village bar or restaurant, stay home and stir up this sweet and delicious drink.
The nutty Irishman goes great with any food from burgers to steaks and even desserts.
It does not have to be St. Patty's Day for this delicious drink. You can serve this at any event.

You do not have to serve food at your St. Patty's Day event but you will find that it makes this instant pot corned beef and cabbage taste even more delicious.

Serve the nutty Irishman at your next outdoor seating event like a barbecue or dinner on the patio.

Instead of serving this drink chilled, combine it with hot Irish Coffee and serve it in a mug as an after-dinner drink.
Frequently asked questions
Why do they call it the nutty Irishman?
Well, some say it was named after the bar that first served it. The Nutty Irishman in Long Island, New York, however, does not claim to have invented the cocktail.
In fact, they do not even have it on their menu! The original nutty Irishman was made with just hazelnut liqueur and Irish whiskey, but nobody is quite sure who made the first one. But the name, of course, comes from the Irish whiskey and hazelnut liqueur.
What is Frangelico liqueur?
This specialty liquor made from the highest-quality hazelnuts is made with cocoa, vanilla, coffee, and alcohol. It is most often used in baked goods, desserts, and cocktails like the nutty Irishman.
However, you can also drink Frangelico on its own. Just remember, it has a high alcohol content of 40% ABV. You can also just pour it into a shot glass or add it to your coffee.
What is Irish whiskey?
Made in Ireland, of course, this is one of the most popular whiskeys in the world. It is smoother than regular whiskey because it dries the malted barley with peat smoke. The name comes from what the Irish call uisce beatha, which means water of life.
It was one of the first distilled drinks in Europe, made in the 11th century. As the story goes, Irish monks brought the recipe to southern Europe in 1000 AD as a way to make perfume. But the crafty Irishmen used it to make whiskey.
What is the nutrient information in this recipe?
Each serving contains 200 calories, 5 grams fat, and 3 grams saturated fat. It also has 6 grams carbohydrates, 6 grams sugar, 17 mg cholesterol, and 31 mg sodium. But you also get 1 mg vitamin C, 50 units vitamin A, and 9 mg calcium as well as 1 mg iron, 126 mg potassium, and 1 gram protein.
How to store leftovers:
Store: You can store leftovers in a pitcher or jar with a lid in the refrigerator for several days.

Freeze: If you made way too much of this delicious cocktail beverage, you could always freeze it. Although it probably will not freeze all the way, it will stay fresh longer in the freezer than in the fridge. Pour it into a freezer bag or freezer-safe container and it can be stored for up to three months.

Thaw: To thaw, just remove it from the freezer the night before you plan on serving it. Or you can drink it in its slushy state for a different twist.
More recipes with Baileys:
Recipe tips:
You can use amaretto instead of Frangelico. It is another sweet Italian liquor with an almond flavor.
Half and half is the best option for cream as it is not too thin or too thick.

If you do not have a stand mixer, you can use a hand mixer and a large bowl.

For those who do not have a piping bag, put the cream into a zipper baggie and cut one of the corners off.
Most people with a home bar have all the essential ingredients for this drink. The main things you need are Kahlua, Baileys, and hazelnut liqueur.

To make it easier and shorten prep time, pour each liquor into a frosty shot glass until you need to add them.

The bartender at any establishment that makes adult beverages should know how to prepare the nutty Irishman. If not, you can give him the recipe if the music is not too loud. Sometimes it is hard to hear over a loud band. The bartender will not consider it rude so do not worry about that.

My favorite cocktail used to be Long Island iced tea but now it is the nutty Irishman for me!
The Nutty Irishman
Ingredients
Irish whipped cream:
2/3

cup

heavy whipping cream

cold

1

tablespoon

powdered sugar

1/4

cup

Irish cream

or Baileys
The cocktail:
4

oz

Irish cream

or Baileys

4

oz

hazelnut liqueur

like Frangelico

4

oz

Kahlua

4

oz

espresso coffee
Garnish:
1

tablespoon

crushed hazelnuts

1

tablespoon

graham cracker crumbs

Chocolate sauce
Instructions
Irish whipped cream:
Add the cold heavy whipping cream and powdered sugar to a chilled medium bowl and using a hand mixer, whisk together.

Start on low-medium speed, and after that increase to high and whip until stiff peaks form. After that, slowly add the Irish cream and beat just until combined. Transfer the cream to a piping bag and chill.
The cocktail:
In a shaker, add the cocktail ingredients then fill with ice. Shake until the shaker feels frosty, then strain the drink into 2 glasses.

Pipe the Irish whipped cream on top and garnish with chopped hazelnuts, graham cookie crumbs, and a drizzle of chocolate syrup. Serve.
Deliciousness to your inbox
Enjoy weekly hand picked recipes and recommendations