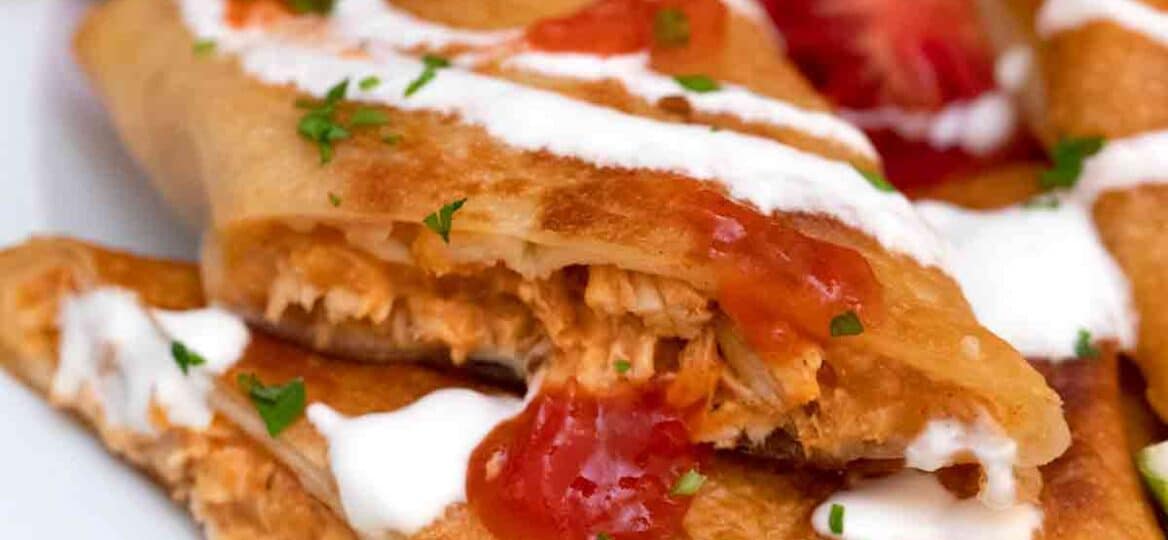 Chicken Chimichangas Recipe
Chicken Chimichangas are hearty, meaty, crispy on the outside and juicy on the inside! Made with shredded chicken, refried beans, spices, and salsa, it can be either baked or fried. Satisfy your Mexican food cravings with this easy recipe you can make at home any time!
Individually packed and a complete meal-in-one, this dish is practical and budget-friendly. It makes for a great lunch box item. Want more lunch box recipes like this? Try making Silver Dollars, Crack Turkey Pinwheels, and Cheeseburger Pasta.
Mexican Chicken Chimichangas
Chicken Chimichangas are related to Mexican cuisine that has a soft spot in my heart. I love Mexican-inspired dishes like this because they are festive in terms of flavors and colors.
On the outside, the tortilla is golden and crispy. And it just provides that textural balance that the moist filling needs. And that makes this dish so delightful to eat!
Based on your own preference, these can be either fried to golden perfection, or for a healthier alternative, you can brush them with oil, sprinkle just a pinch of sea salt on top, and bake in the oven.
Even kids enjoy this sumptuous Mexican-inspired favorite. The mixture of flavors through the addition of various spices is pure genius. And the meat? It is heavenly!
We like to make these with leftover shredded chicken, but I have made them with shredded beef and even leftover pulled pork!
And this recipe is so versatile that you can add, omit, and swap ingredients depending on your preferences or what you have on hand.
And you can serve it at any given time during the day. Eat it as a hearty lunch or dinner, or devour it on game day. For game day, I usually use smaller tortillas and make these into almost bite-size pieces. We like to serve them with a bowl of salsa and munch on it during the game.
What are Chicken Chimichangas?
Simply put, these are fried burritos.
Chicken is the main protein of the filling, but other meats can be used as well. You can even make them vegetarian. The protein is mixed with a sauce, refried beans, cheese, and a variety of topping choices, this dish is hearty and flavorful.
What is the difference between burritos and chimichangas?
Both the burritos and the chimes have flour tortilla as the wrapper. The filling is essentially the same.
The only difference between the two is that the latter is deep-fried to give the dish a crispy exterior.
How to make Chicken Chimichangas?
Make the filling: In a heated pan, put the oil and sauté the aromatics. Mix in the liquids and spices. Then, reduce the mixture. Add in salt and pepper to taste. Then, add the cream cheese and shredded white meat.
Assemble: At the center of the tortilla, spread some refried beans. Top it with a layer of the filling and another layer of cheese. Fold at the sides, then roll into a tight log. Secure the sides with a toothpick.
Fry: Heat oil in a pot to about 360 to 365 degrees Fahrenheit. Once hot enough, dip in the logs, two at a time, and fry until golden brown on both sides. Drain the oil.
Serve: Remove the toothpick, garnish, and serve with your favorite toppings.
Chimichangas Variations and Substitutions:
Here are some suggestions on how you can further be creative with this recipe.
Replace the meat with other types like beef or pork. And while you can use the rotisserie kind, you can also prepare the shredded chicken in a variety of ways. You can even use ground turkey.
If you have leftover taco meat, it will be great in this recipe!
You can make the filling a bit spicier by changing the cheese to pepper jack. Or, you can simply add jalapenos and some hot sauce.
For the cheese, you can always have a mixture of cheddar, Colby Jack, Monterey Jack, and mozzarella. This recipe uses the cheddar-mozzarella mixture but you can always explore options.
Make these vegetarian by using a mixture of beans or veggies. We like slicing a variety of bell peppers and some mushrooms, for the veggie version.
If you have some firm grilled/baked/or fried tofu on hand, you can definitely use it in this recipe as well.
Make them gluten-free by using gluten-free tortillas.
Topping Suggestions:
Your dish will never be complete without toppings. Here are some options.
guacamole
sour cream
tomatoes
cilantro
more sauce
more cheese
cotija cheese
tortilla chips and lime on the side
How to store Chicken Chimichangas?
Refrigerate: You can make the filling a day in advance. Then, simply assemble and cook the next day.
Freeze: You also have an option to freeze them individually wrapped for 6 months. Thaw before frying or baking.
More Mexican Recipes:
Recipe Tips:
Serve it with Mexican rice or a Mexican salad for a full Tex-Mex cuisine experience.
When using canned refried beans, dilute the beans a little bit. Or, you can always refer to this homemade recipe.
For a less greasy version, wrap each chimichanga in foil then bake at around 400 degrees Fahrenheit. You can brush some butter or just a bit of oil on each piece to give that nice golden brown color when cooked.
Another option when baking these is to lightly spray them with cooking oil, to help crisp the exterior.